Introduction
Key Points
Coyotes and birds of prey can be a hazard to outdoor cats. Protective vests can help keep them safe
Protective vests come in a variety of styles and type of protection offered
Some vests are better suited to urban areas while others are a better choice in more rural settings
Coyotes live in every state in the U.S. except Hawaii. Because they've adapted to living in suburban and urban areas, it's likely that your neighborhood has coyotes even if you've never seen one. If your feline friend spends any time outdoors, shopping for the best coyote vest for cats now could save their life.  
Coyotes are opportunistic hunters. This means that they will eat anything they can catch, including domestic cats. This is especially true in urban and suburban areas. Dogs also pose a real threat to outdoor cats. A coyote vest will give your feline friend a chance to escape with minimal damage if they are attacked by a coyote, bird of prey, or a dog.
Coyote vests surround your cat's torso and neck with a physical barrier to sharp teeth and claws. Some employ other physical obstructions, including sharp spikes. Others use visual deterrents to disorient coyotes – and even birds of prey like hawks.
It may take some time and practice to accustom your feline friend to a vest, but if coyotes are common in your area (particularly urban or suburban areas), a spike vest is a great way to help keep them safe. Introduce the vest slowly with plenty of treats and positive reinforcement.
Coyotes are more likely to be a problem in Urban and suburban areas because coyotes in rural areas generally have a greater variety of food options and are less accustomed to being around humans. Coyotes living in more heavily populated areas are unafraid of humans and have fewer food options so they are more likely to see you kitty as prey.
On the other hand, large owls are common predators of cats in rural areas, especially if your cat is out at night. Either way, a vest will help keep your cat safe while he is outdoors.
Keeping your cat indoors will eliminate the need for added protection. Another safe option would be to construct an outdoor area that is fully fenced in for your cat. They can enjoy the great outdoors while being safe from predators while also protecting small animals for cats. However, if your cat needs time outside, a coyote vest is a wise investment.
The following review can help you select the right coyote vest to protect your precious kitty from falling prey to a coyote or raptor like a hawk, owl, or eagle.
#1 Overall Best Coyote Vest for Cats: CoyoteVest SpikeVest Dog Harness Vest
Our choice for the overall best coyote vest for cats is the CoyoteVest SpikeVest Dog Harness Vest. The name says that it's for dogs, but it will provide your cat with the same high level of protection from aggressive predators like coyotes and birds of prey. Just be sure to check the size guides to find the right fit for your feline.
The CoyoteVest SpikeVest is crafted from puncture-resistant Cordura fabric to protect your pet from razor-sharp teeth and talons. It features a wide collar to protect two of your cat's most vulnerable areas: their neck and throat.
This vest provides an additional layer of defense in the form of sharp, hard-plastic spikes. These removable spikes will protect your cat's neck and both sides of its back.
You can refer to the manufacturer's instructions to determine which of the five sizes of CoyoteVest SpikeVest to purchase. This waterproof protective vest is available in seven colors and features reflective strips that will make your cat more visible in the dark. This last feature will also ensure that your cat is visible to nighttime drivers, which are another threat to your outdoor kitty.
Overall Best
CoyoteVest SpikeVest Dog Harness Vest
Designed to slow or prevent attacks from aggressive animals
Constructed from a super-tough, puncture-resistant Cordura fabric
Comes with a large, attached neck collar
Available in five sizes and seven colors
Check Amazon
Best Basic Coyote Vest for Cats: Raptor Shield Puncture Resistant Pet Vest for Small Dogs
The Raptor Shield Puncture Resistant Pet Vest for Small Dogs works equally well to protect cats from birds of prey and coyotes.
This vest is made in the U.S.A. from puncture-proof, lightweight, durable, polycarbonate. It's available in four sizes designed to protect pets under 22 pounds. The Raptor Shield Sizing Guide can help you select the proper size for your kitty.
Raptor Shield Puncture Resistant Pet Vest's adjustable neck and chest straps will allow you to customize the fit so your cat will be safe and comfortable.
Best Basic Vest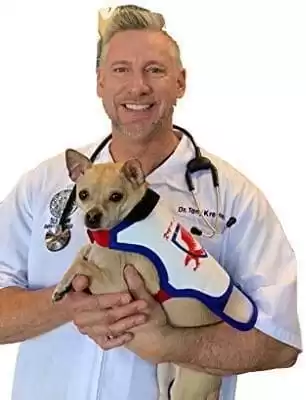 Raptor Shield Puncture Resistant Pet Vest
Protects cats — as well as dogs — from coyotes, birds of prey and other predatory creatures
Puncture-proof and durable construction keeps cats safe
Available in four sizes for pets less than 22 lbs
Adjustable neck and chest straps ensure secure and comfortable fit
Check Amazon
Best Coyote Vest Visual Deterrent: CoyoteVest CoyoteWhiskers Protection Nylon Bristles
CoyoteWhiskers are lightweight, brightly colored nylon bristles that you can attach to your cat's CoyoteVest SpikeVest with Velcro tabs. Because coyotes and birds of prey don't understand what CoyoteWhiskers are — and whether they're a danger – they are less likely to attack.
But as scary as CoyoteWhiskers are to predators, these flexible bristles won't harm your pet. These are also very lightweight and may be more acceptable to cats who do not appreciate wearing clothing.
They're available in eight colors. Some assembly is required. The manufacturer's short video will show you how.
Best With Visual Deterrent
Best Protective Accessory: CoyoteVest HawkShield Pad for CoyoteVest SpikeVest
Simply attach the HawkShield to the top of your cat's CoyoteVest SpikeVest for additional protection from birds of prey and coyotes.
The HawkShield is created from three layers of Kevlar, the same material used in bulletproof vests. It's so tough that it can prevent sharp talons and teeth from puncturing and injuring your pet.
If a raptor manages to grab hold of the HawkShield, the weight of your cat's body will cause the product to separate from the CoyoteVest SpikeVest's. Because of this ingenious design, your cat will have an opportunity to escape.
The HawkShield protective pad is available in seven colors that match the SpikeVest.
Best Protective Accessory
Choosing the Best Coyote Vests for Dogs: What to Look for
When you're looking for the best coyote vest for your cat, you'll want to consider price, features, and accessories. A basic coyote vest starts at $77. Features such as spikes will add to the product's cost, but they also provide an additional layer of protection. Finally, you'll need to decide whether you want to purchase a coyote vest from a manufacturer that offers accessories.
You'll also want to have an accurate weight of your cat and know what his or her measurement are. Some other things to consider are what kind of environment will your cat be in and how much time will he be outside. If you are in a well-populated area where there are a lot of coyotes, you may want ot choose the highest level of protection. If you are in an area with a lot of brush and trees, you'll want to make sure that your cat can escape the vest if it gets caught on a branch.
The Different Types of Coyote Vest: Pros and Cons Compared
The safest place for your beloved feline friend is indoors. Keeping your cat indoors is also best for wild birds and the other small creatures that cats prey on. If your cat does go outside, you may want to provide him some protection from the birds of prey, coyotes, and dogs who will see him as the prey rather than the hunter.
When choosing the best coyote vest for your cat, first you need to be familiar with the different types that are available. From there, you need to choose which vest is best suited to your cat and his environment. There are basic coyote vests and those that have additional features and/or optional accessories.
Let's look at the pros and cons of each type:
Basic Coyote Vests
| | |
| --- | --- |
| Pros! | Cons! |
| Provides a layer of protection between your cat's body and a coyote's teeth or a raptor's talons | Doesn't have any additional features, such as spikes, that may deter a predator attack |
| | Doesn't accommodate accessories that confuse and deter a predator or offer an extra layer of protection |
Coyote Vests with Additional Features or Accessories
Pros!
Cons!
Provides a layer of protection between your dog's
body and a coyote's teeth or a raptor's talons
These are the more expensive options
May offer more protection to your dog's vital
neck and throat area than the basic option
Can get caught on protruding objects
Have additional features such as spikes that
may deter a predator attack
Accommodate accessories that confuse and deter
a predator or offer an extra layer of protection.
Verified Reviews: User Experience
Most users were pleased with the coyote vest that they chose, though there were some buyers who were unhappy with their purchase. Most user complaints had to do with quality and design. One reviewer, who had to replace a coyote vest after two years, said, "For $70 I would have expected/hoped that it could have lasted at least five years. So, now we need a new one and we will definitely be buying a different jacket from a different company."
Another stated, "We expected something more substantial. This jacket has plastic spikes. I'm not sure how much of a deterrent these would be. For the price, it doesn't seem very protective."
The vast majority of users, however, were pleased with the coyote vests. One wrote, "Fits well, true to size. Make sure you measure. We would prefer the Velcro straps be a bit longer. Seems to be comfortable and lightweight and sturdy. If spikes were metal (they are plastic) would be too heavy. Hopefully not only for wildlife but aggressive dogs as well. We have both in our area."
Another customer said, "This is lightweight and well made. I ordered the X-small, which was a little too small for my little Louie. After contacting the seller, I received a replacement and a prepaid mailing envelope. There are a lot of birds of prey in my area, and this vest gives me peace of mind. I am very pleased with the product and the responsive customer service."
Summary
Coyote vests can provide good protection for your cat
Chose the one that is right for you and your cat
Double check size guides and measure your cat carefully to ensure proper fit.
Up Next…
Best Coyote Vests for Dogs: If you have small dogs as well as cats, don't forget about a safety vest for them as well.
The best Cat Harnesses: Keep your cat close to ensure his safety. Check out these harnesses so kitty won't be wandering off.
The Best Cat Cone: If your feline friend does get hurt, he may need a cone to prevent further injury.
The Best Coyote Vest for Cats FAQs (Frequently Asked Questions) 
How do I protect my outdoor cats from coyotes?
You can take steps to make your property less inviting to coyotes. For example, don't leave food, even cat food, outdoors. Fencing your yard may help, but it won't solve the problem since cats tend to wander and coyotes have been known to jump fences. Lights on motion detectors may deter coyotes as well.
A coyote vest for cats will provide a physical barrier between a coyote's teeth and your cat's body. Some coyote vests confuse predators with visual deterrents as well.
Can cats wear coyote vests for dogs?
Yes, a well-fitting coyote vest for dogs in the correct size will work for cats. The only issue is that most cats don't like to have clothes or other items on them.