Dog grooming never goes out of style. It's one of the things that keeps dog-human relationships together and better. So, it's hardly surprising why dog parents are more than willing to book grooming appointments for their fur babies, and the pet grooming market is worth millions of dollars.
Not only does grooming help to remove dead skin cells and stale hair, but it also aids in the early detection of potentially serious diseases.
It may not be easy to estimate how long a professional dog grooming session takes because it depends on factors such as dog breed, behavior, coat condition, and additional services offered by the groomer.
However, using a pair of shears is one of the grooming essentials. Only a pair of grooming shears can transform a worn-out coat into a stylish one.
From curved and straight to thinning shears, every professional needs a variety of shears to serve the needs of their canine clients. Making the right choice of shears and maintaining them is a worthy business investment that can impact your bottom line.
Curved shears are often used around a dog's tail, mane, ribcage, legs, and feet to give a rounded finish. Many of these curved shears are available on the market, with varying attention to comfort and ease of use.
To save you the stress associated with purchase decisions, we rounded up seven of the best-curved dog grooming shears suitable for professionals.
Best Overall: HASHIMOTO Curved Scissors
Best
The Hashimoto curved scissors are our favorite for dog grooming. These curved scissors from Hashimoto need no introduction. For one, they offer the functionality of more expensive professional equipment at a more reasonable price. 
The 6.5-, 7-, or 7.5-inch curved blade on these scissors is manufactured from Japanese Hitachi 440C Stainless Steel, which gives them an incredibly smooth performance.
The curved blades are designed to reach delicate parts of your pup's body, including beneath their legs, toes, and around the hind quarters. But, they need to be resharpened after repeated uses.
Accuracy is made possible by the blade's convex edges, which are on a precisely curved arc, and by the cryogenically tempered steel's long-lasting robustness.
What's more? The Hashimoto curved scissors have a symmetrical craned handle that works with either the right or left finger. However, the finger holes could be better for small hands. 
As another attempt to prove its attention to detail, the craned handle allows you to cut with the blades curving inward or outward.
Professionals, pet owners, or breeders will find these curved scissors to be perfect for controlling coat trimming.
A professional groomer based in Downtown Los Angeles swears by these scissors. He says, "I groom an average of 7 dogs daily, but using these scissors has made trimming a breeze."
Pros and Cons of the HASHIMOTO Curved Scissors
| Pros! | Cons! |
| --- | --- |
| It has an ergonomic design. | Blades need to be resharpened after a short while |
| It's affordable. | The thumb and finger holes may be tight.  |
| The convex edges offer a clean cut. | |
| It provides value for money. | |
Best for Small Dogs: Kenchii Curved Love Dog Grooming Shears
Best for Small Dogs
Are you looking for the best pair of shears for your next appointment with an adorable puffball? Let's introduce you to the Kenchii curved dog grooming shears from the Love Shears collection.
The 7-inch curved shears are designed to cater to small and round dog breeds. So, the Pomeranians, corgis, bichon frisés, Shih Tzus, poodles, and Yorkies of this world can be trimmed to perfection, especially around the ears, paws, and legs.
It has a non-slip, micro-serrated semi-convex edge for precise cutting and is made with durable Japanese alloy steel. Curly hair, straight, or a combination? The razor-sharp edge handles all coat types.
This product comes with oil and a finger insert. Lubricate the blades before grooming to remove dander sticking to the shears. The finger inserts and offset handle contribute to increased comfort and grip. But, some groomers may find the shears a little heavy. 
It's unlikely that you wouldn't like this pair of shears. However, you may be pleased to know Kenchii gives a 30-day unlimited warranty on all products. 
A newly certified professional groomer got these as a gift from her best friend. According to her, the pair fits perfectly, and the ease of use is exceptional.
Pros and Cons of the Kenchii Curved Love Dog Grooming Shears
| Pros! | Cons! |
| --- | --- |
| Durable alloy steel construction. | It's not lightweight. |
| They are sharp and get the job done | The finger holes may be small. |
| It includes an oiler and a silicone ring. | It's relatively expensive. |
Best for Left-Handed Groomers: JASON Left-Handed 7″ Dog Grooming Scissors
Best for Left-Handed Groomers
Here's one for the lefties. With their lightweight design, super comfy offset handles, and built-in rest, these scissors enable left-handed dog groomers to feel as comfortable as possible.
This dog grooming set includes a 7-inch curved scissor, a 7-inch straight scissor, and a 7.50-inch tooth-blending dog grooming scissor. All finished with a gorgeous jeweled tension screw and manufactured from 440c Japanese stainless steel.
Every pair is a dream come true for left-handed groomers when they find the top blade of the sharp edge on the left.
After what seemed like an endless search, a user was happy to find suitable shears for left-handed groomers. "These are genuinely left-handed and moderately priced. I'm totally happy with this purchase."
Pros and Cons of the JASON Left-Handed 7″ Dog Grooming Scissors
| Pros! | Cons! |
| --- | --- |
| This set is versatile. | They may be slightly heavy. |
| It's ergonomically designed for lefties. | The blades may not stay sharp for long. |
| They're lightweight. | |
| It delivers value for money. | |
High-End Option: Precise Cut Dahlia Curved Dog Shears
High-End Option

It may be time to invest in the Precise Cut Dahlia Curved Dog Shears if your grooming salon often attracts big fluffy dogs. These shears are your best bet for adding a bit of style to dogs' haircuts. They have premium quality and will hold up against use and abuse.
The shears aren't suitable for small dog breeds or tight finishing because they have a long 7.0 or 8.0-inch blade. The blade is gently curved to make it easier to maneuver a dog's body and give a smooth result.  
They are designed with removable finger rests, offset thumbs, and other features that improve user comfort. The packaging also consists of detachable finger inserts and a soft suede sheath.
 A dog dad bought these shears for his border collie after seeing them being used at the groomer's. "They are well worth the cost. I'm not a professional groomer, but these shears have been helping me keep my pup in good shape."
Pros and Cons of the Precise Cut Dahlia Curved Dog Shears
| Pros! | Cons! |
| --- | --- |
| They're designed for comfort. | They are only suited for medium and large-sized canines. |
| Easy styling and finishing. | |
| They're available in 2 colors and sizes. | |
| Hand-finished and quality-tested in the U.S. | |
Best for Heavy-Duty Cutting: Gimars 4CR Stainless Steel Round Tip 6-in-1
Best for Heavy-Duty Cutting
This affordable grooming kit includes two straight scissors, a pair of thinning scissors, a pair of curved scissors, and one grooming comb in a compact zipped storage case for everything from trimming to thinning. 
The Gimars 4CR scissors are rust- and corrosion-resistant, thanks to their titanium-coated 4CR stainless steel frame. In addition, they have a sharp convex edge that makes cutting smoother, more stable, more professional, and perfect for heavy-duty cutting through mats and tangles in hair. 
The handles are comfortable to hold. The round tips of the scissors allow for use on delicate parts such as the face and paws.
While this product is touted for its low pricing, its overall quality may need improvement. Heads up: you might have dull blades and poor quality control problems.
The Gimars 4CR is popular among self-taught dog parents. A user describes their experience.
"I have a Havanese and a Goldenpoodle, and I want to always keep up with trimming. The front and tushy of the havanese, where you follow the contours of the body, look great when cut with the curved scissors.
The blunt points allow you to trim right around the eyes without worry."
Another satisfied user remarked, "Even after more than five years of grooming, this set impressed me. It has been in use for two weeks, and so far, so good."
Pros and Cons of the Gimars 4CR Stainless Steel Round Tip 6-in-1
| Pros! | Cons! |
| --- | --- |
| It's affordable. | Right-handed people can only use it. |
| It has a stainless steel build. | There may be issues with quality control. |
| It includes a range of grooming tools. | Blunt blades. |
Best for All Breed Sizes: Sharf Gold Touch Rainbow Curved Pet Grooming Shears
Best for All Breed Sizes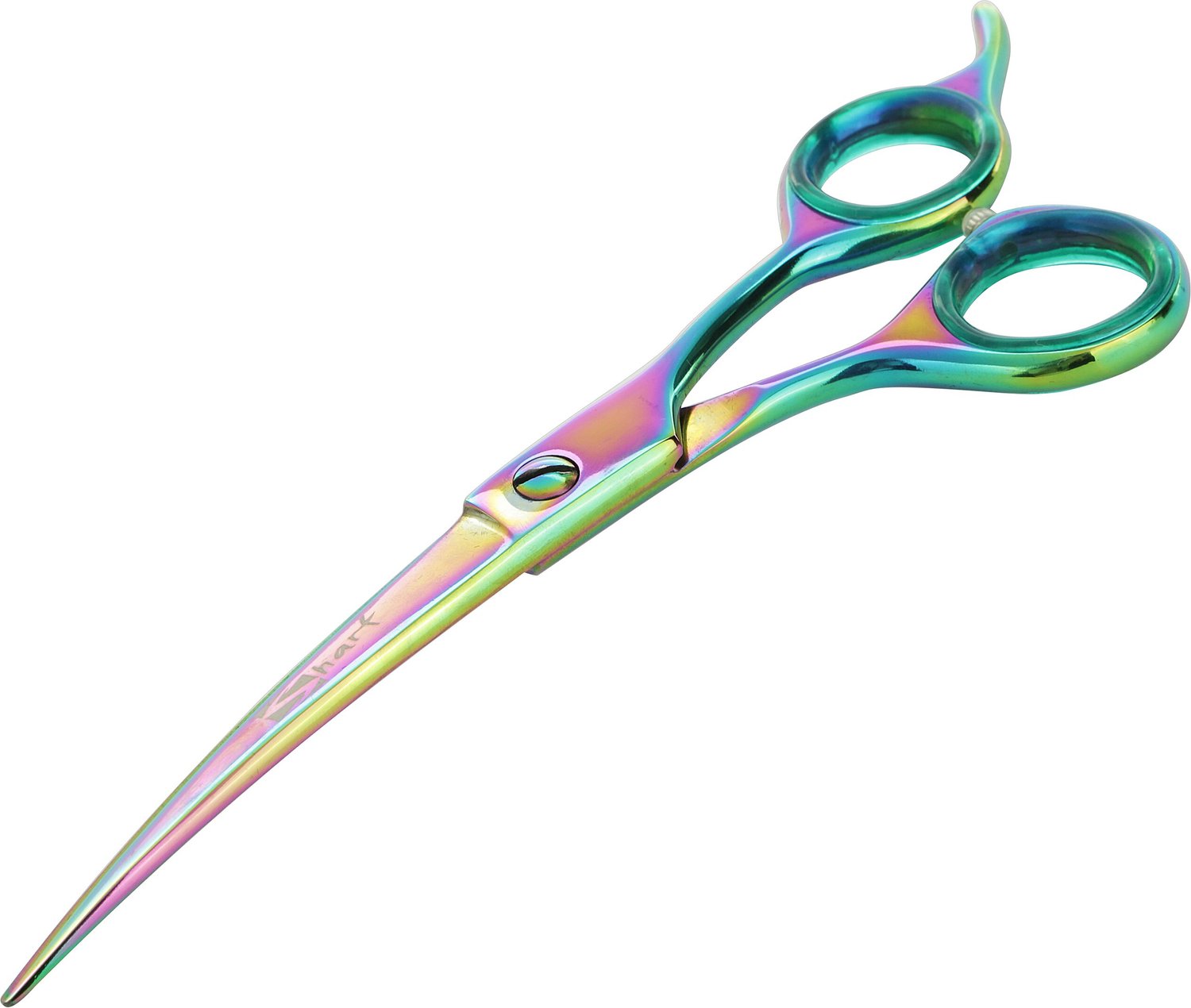 The Sharf Gold Touch Rainbow Curved Pet Grooming Shears are made of Japanese stainless steel 440C, renowned for their ability to cut with razor-sharp precision.
They have a dazzling rainbow finish and curves that help you cut around the contours of a dog's body. They're available in 3 lengths- 6.5 inches, 7.5 inches, and 8.5 inches- making them perfect for small, medium, and large dog breeds.
These high-quality curved scissors can trim your dog's tail, underbelly, and facial fur without pulling or straining. The removable rubber rings on the handles help reduce long-term finger fatigue. However, the rings may keep coming loose during use. The shears may also be quite noisy when cutting.
"I use these for trimming when I don't want a straight line. The included snap-close case is another reason I love this product. The storage case fits nicely in my grooming toolbox," a professional groomer stated.
Pros and Cons of the Sharf Gold Touch Rainbow Curved Pet Grooming Shears
| Pros! | Cons! |
| --- | --- |
| Crafted with durable stainless steel. | They may be noisy. |
| Beautiful, iridescent finish. | Loose rubber rings. |
| Comfortable weight. | |
| Easy to use.  | |
| They're available in different lengths. | |
Best Value for Money: GLADOG Professional Grooming Scissors for Dogs
Best Value for Money
This set of grooming tools is another fantastic choice for pet owners and professional groomers. It features a pair of 6.5-inch thinning shears, 6.5-inch curved scissors, 6.5-inch straight scissors, one pet grooming comb, one cleaning cloth, and a black leather case for safekeeping.
All dog grooming scissors have rounded end tips, making it impossible to accidentally nick your pet's skin when trimming sensitive spots. In addition, given that they are all made of titanium-coated stainless steel, these shears should survive for many years with proper maintenance.
They're designed to hold comfortably and reduce hand strain from prolonged usage. The handles have a rubber bumper that prevents accidental finger gripping. However, the size of the finger holes could be better.
GLADOG offers a 100% warranty on this product if buyers express dissatisfaction. 
 "This set has immense value. It comes with all the tools needed for a nice trim without having to pay a fortune," a user said of the GLADOG Professional Grooming Scissors.
Pros and Cons of the GLADOG Professional Grooming Scissors for Dogs
| Pros! | Cons! |
| --- | --- |
| The handles come with a rubber bumper. | The size of the finger holes could be better. |
| 90-day money-back guarantee. | |
| They have rounded tips and an adjustable screw. | |
Choosing The Best: What To Look For
Comfort
Depending on your locality and customer base, you may have to groom an average of 5 dogs per day. Thus, you want to go for ergonomically designed shears. 
Ensure the finger holes and weight of the shears fit comfortably in your hand. Some of the featured products have a removable finger ring and finger rest to avoid strain. 
Size
Go for curved grooming shears small enough to fit in your hand and equipped with a razor-sharp blade appropriate for snipping through the volume of hair on every dog breed. 
Large dogs are suited for shears with large blades, while small blades are appropriate for small dog breeds.
Safety
You can get grooming shears with rounded tips, depending on your level of expertise. The rounded blade tips maintain their sharpness but also ensure maximum safety. 
Number of pairs
You might be tempted to buy a grooming kit because professional dog groomers typically use a set of four to six grooming tools. However, if you're a new groomer, work with the essentials. Then, you can splurge on nice-to-have tools as your business progresses.
Material
The material used to make grooming shears gives you an idea of its feel and durability. Always pick rust-resistant shears.
Up Next…
More from A-Z Animals