Despite its prevalence in humans and cats, diabetes is a scary diagnosis. Nobody wants to hear that their favorite cat is diabetic. It can seem like a life sentence and a point from which there is no return.
Diabetes is not the end, however. Usually, with some lifestyle changes and medication, you can manage this disorder in your cat. Diabetes does not mean that the quality of life your cat is enjoying has to change.
One way that vets will recommend helping your diabetic cat is by monitoring their diet. There is no better way to control the sugar level of your cat than with their diet. Weight management is also recommended, but diet is known to have a more direct link. 
The best diabetic cat food is one that has lots of protein and a reduced amount of carbs. Now many brands claim to offer this, but as we know, your cat deserves only the best. That's why we've gone on this search for you. Here's our list of the best diabetic cat food you can use to keep your kitty healthy.
A-Z-Animals Top Picks for Best Diabetic Cat Food
1. Best Overall – Tiki Cat Canned Food
Tiki Cat Canned Food is the best overall diabetic cat food we checked for many reasons. With Tiki, you get the best value for the price you pay, little to no carbs, and a great taste that cats love. You also get both dry and wet varieties at an unbelievably low price.
Another thing you'll love is that with Tiki, you get a variety of meats to choose from. There is beef, fish, and poultry. The dry food variety also costs more than wet food, which is advantageous because the best diabetic cat food option is wet food.
Best Overall
2. Best Recommended – Wellness Core Canned Food
Wellness is one of the best cat food brands you can find in the market today. So, when they introduced their CORE variety of high-protein foods, diabetic cat owners leaped for joy. Vets recommend this grain-free, low-carb option diet, and it's all-natural too.
While expensive, Wellness Core Canned food is worth every penny in our books. Your diabetic kitty deserves the best, and with a great diet like this, it might soon stop requiring insulin. Plus, the brand Wellness is known for specializing in grain-free cat formulas, so you can trust their products.
Best Recommended
3. Best Value – Farmina Natural Dry Cat Food
While Farmina isn't specifically designed for diabetic cats, it has high protein and low carb content. Cat parents love that 94% of the protein in this cat food comes from animals which are the best protein source for cats. It's a high-quality meal.
Farmina cat food is also free of plant oils, lentils, chickpeas, and peas but contains natural omega fatty acids. Its glycemic content is also low, so your cat's blood sugar won't spike, and it is excellent for your cat's skin.
Best Value
4. Best In Taste – Hills Wet Cat Food
Cats love the taste of Hills Wet Cat Food, and we aren't surprised. This recipe was created by the best vets and nutritionists. They came up with the best taste with the best value. Hills is excellent for managing your cat's glucose level and weight while promoting a healthy immune system.
Enriched to ensure that your cat has a healthy heart and great vision, Hills is clinically tested for the best. It also has fiber and promotes good urinary health in cats. This cat food is a win for cat parents who want an excellent diet for their diabetic cats.
Best In Taste
5. Best Natural Cat Food- Instinct Cat Food Pate
Instinct Cat Food Pate has grown popular with diabetic cat parents for its high protein content. It is a grain-free, low carbohydrate formula that contains real chicken, turkey, and chicken liver. It also has a dry kibble option with increased levels of protein.
As with all-natural cat food, Instinct has a powerful odor, but we think that's a small price to pay. Your cat will love it and deserves the best quality protein and gluten-free recipe. This brand is becoming more popular among vets too. 
Best Natural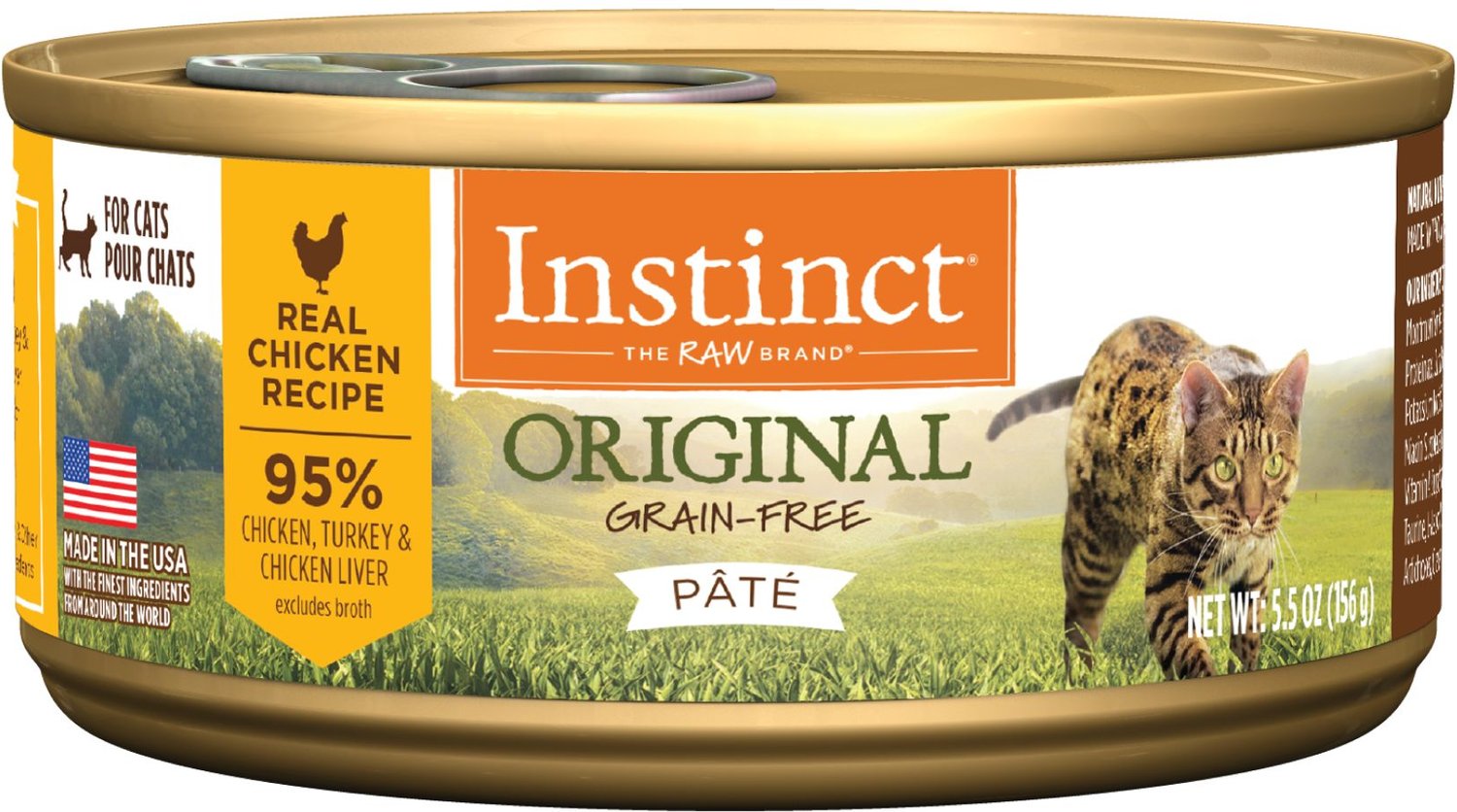 6. Best For Affordability – Fancy Feast Low Carb Formula
When it comes to affordability, Fancy Feast is one of the best low-carb cat foods that we've checked. It is, however, high in protein which makes it great for diabetic cats. Fancy Feast comes with protein varieties like shrimp, turkey, chicken, fish, and beef.
Choosing the right Fancy Feast option for your cat can depend on things like allergies and so on. Just keep in mind that animal proteins are the best for cats. They have the most species-appropriate nutrients.
Best For Affordability
7. Best For Picky Eaters – Purina Vets Diet Management Formula
Purina is as close to a prescription diabetic cat diet that you'll get. It is specially created to give diabetic cats the best. While this formula isn't grain-free, it is high in proteins and full of antioxidants, making it suitable.
Purina is great for maintaining your cat's lean muscle mass and blood sugar level. It is also great for the immune system and does all of this while remaining delicious. Cat's love the taste of Purina, which is also why it's a favorite among vets.
Best For Picky Eaters
Choosing The Best Diabetic Cat Food What To Look For
As you already know by now, you can improve your diabetic cat's condition by selecting the right diet. Ideally, foods high in protein and low in carbs can help immensely. When choosing the best diabetic cat food, below are some important factors to watch out for:
Carb Content
Diabetic cats need foods that contain lower carbs and higher proteins. A reduced carbohydrate consumption will lead to a lower blood sugar level for your cat. When switching, however, please ensure that you monitor your cat's sugar level. Most times, when a diet like this is combined with insulin, it can lower the sugar level too much, which is also problematic.
Calories
Calories affect the weight of your cat. Most diabetic cats are overweight, which stops their cells from properly using insulin. Controlling your cat's calorie intake is a great way to help them gradually lose weight and improve.
Wet Cat Food
Wet cat food is recommended for diabetic cats because most dry cat foods have high starch content. They need it to remain crunchy, which is not the case for wet cat food. As we've already established, high starch content is bad for cats with diabetes. Wet cat food also has moisture which is excellent for your cat's urinary health.
Animal Protein
All felines are carnivores which means that they need meat to be healthy. Your diabetic cat needs the same too. This is why most of the best diabetic cat food we checked and shared here has high animal protein content.
The Different Types of Cat Food: Pros and Cons Compared
When choosing the right cat food for your cat, you should first be aware of the various options. While there are many for the best diabetic cat foods category, we discuss wet cat food, dry cat food, organic cat food, and prescription cat food. Here are the pros and cons of each to help you make a better-informed decision.
Wet Cat Food
As we've already discussed, wet cat food is best as it often has a lower carbohydrate content than dry cat food. It usually comes canned and might not need to be refrigerated except when opened.
| Pros | Cons |
| --- | --- |
| Low carb content | Usually more expensive than the dry option |
| Moisture to keep your cat hydrated. | Might need to be refrigerated when opened and not completely consumed |
| Great for your cat's urinary system |   |
| Moisture also helps to keep your cat feeling full in-between meals which is great for weight loss. |   |
Dry Cat Food
Dry cat food is the most common type of cat food but might not be best for your diabetic cat. This is because it is usually made with a high carb content to maintain its crunchiness. However, some dry cat food can be specifically made with low carb content.
| Pros | Cons |
| --- | --- |
| Usually less expensive than the wet option | Cannot be totally carb-free |
| Does not need refrigeration | Your cat needs an outside moisture source |
| Comes in many varieties |   |
|   |   |
Organic Cat Food
Organic cat food is usually made of only natural ingredients with barely any additives or preservatives. This is healthier otherwise, but it may not have a long shelf life which might discourage buying in bulk.
| Pros | Cons |
| --- | --- |
| Healthier overall with natural ingredients | Does not last long after purchase |
| High-quality ingredients | Might need to be refrigerated to improve its life span |
| Cats love the taste | Might have a strong odor |
Prescription Cat Food
Prescription cat food can be dry or wet, but you'll need a prescription to purchase it.
| Pros | Cons |
| --- | --- |
| Specially formulated for diabetic cats | You need a prescription to purchase |
| Tested and trusted ingredients | Can be on the expensive side |
| Usually has a great taste |   |
Verified Review: User Experience
Tiki Cat Canned Food
Cat parents love the Tiki brand and its many varieties. As one user puts it, "one of our cats was recently diagnosed with diabetes, and we needed to find a low glycemic cat food. This food was lower than the one our vet prescribed, and it's more affordable too."
Wellness Core Canned Food
While customers agree it is pricey, this recommended option seems well worth the price. As one cat parent put it, "Vet suggested to try this when my boys stopped eating their RX can food. I warm the plates up, yes my boys are spoiled". Users also love that this option is grain-free.
Farmina Natural Dry Cat Food
Farmina is also expensive, but it's worth it for all the value you get. Add that to the fact that it is organic and grain-free with a low carb content, and you have a winner. As one user perfectly puts it, "All 9 of my cats love this food. I have spent thousands trying to find a top food for my nine rescues, and this is it."
Hills Wet Cat Food
Have no worries when your vet prescribes Hills Wet Cat Food; you'll be getting the best. Most users say their cat loves this meal, and it is well worth the price. "We purchased this upon advice from our cat's vet, and he really likes it. It appears to be doing its job in helping maintain a healthy weight and providing balanced and complete nutrition."
Instinct Cat Food Pate
Many users who are looking for top-quality cat food go for Instinct. You, however, have to first make sure that your cat likes it, so we'd suggest a trial first. Cats who love this option, however, go all the way. As this user describes, "My cats are trying to open the newly arrived case of this Salmon Pate; that is how much they love this food! They will do it, too. I had to put the case out of their reach."
Fancy Feast Low Carb Formula
Cat parents love the Fancy Feast brand for its variety of low-carb options. They even come in a variety pack for those who want to switch occasionally to keep their cats interested. As one user puts it, "My cats love this stuff. I started feeding them wet food twice a day after reading that it's healthier for your cat than dry food. I have noticed an improvement in their coat, making them very shiny."
Purina Vets Diet Management Formula
There's a reason why Purina is prescribed for diabetic cats. It's because it works! But don't just take our word for it; here's what one cat parent had to say: "My kitty cat has been on this food since about 2-3 years ago. She had been diagnosed with diabetes (she's 18 years old) about six years ago. About a year ago, she was tested for diabetes and is no longer considered diabetic (she's considered pre-diabetic)." How awesome is that?!
Products for This Review
More from A-Z Animals