Keeping rabbits outdoors is a great way to care for these adorable, furry friends. You do need to take a few extra steps to make sure that they have access to clean, safe accommodations. Food and water are also important since you may not always be on hand to monitor what they need when they live outside.
Fortunately, we have plenty of outdoor rabbit hutches on our list that will keep your pet safe from predators while taking care of all of their needs. All of these hutches are made for outdoor use (durable!) and are designed with rabbits in mind. Some are roomy and luxurious while others make great budget-friendly options. We have researched and reviewed the best outdoor rabbit hutches to help you find just the right home for your rabbit.
#1 Overall Best Outdoor Rabbit Hutch: Aivituvin Upgraded Outdoor Rabbit House with Two Deeper No-Leak Trays
In our review, the best outdoor rabbit hutch is the Aivituvin Upgraded Outdoor Rabbit House with Two Deeper No-Leak Trays. This hutch is a fantastic balance of price and performance. At less than $200, it boasts two levels, including a home to protect your rabbits from the elements and provide a safe enclosed space. The ramp to get to the home is a bit steep for smaller bunnies but is safe for paws and doesn't have any wire or mesh. The sides are made of mesh, however. If you have predators nearby, you may want to establish another boundary around your bunnies' hutch that further deters them.
You can use this hutch indoors or outdoors, although we don't recommend moving it inside without a thorough cleaning. "Our bunny loves having the levels to play in and I love the easy cleanup and moving it if needed," said one reviewer. To clean the cage, you can remove the bottom trays and clean them. The top and doors also open, making getting soiled bedding much easier. You do need to find another place to put your bunnies while you do a deep clean.
There is some assembly required with this hutch, which comes in labeled pieces. It includes instructions but you will need to provide a power drill or screwdriver. "It came with assembly instructions that were fairly easy to follow," said one reviewer. "I recommend using a drill because there are a lot of screws, including for the wheels. One of the holes to drill into didn't line up but it wasn't a big deal to correct since it wasn't a huge hole and just a small point." For the few reviewers who received damaged or broken parts, it was easy to contact the company and get new ones shipped out quickly.
The price of this hutch can vary from retailer to retailer. We recommend shopping around for the best deal and waiting for a sale to save the most money. It is still a budget-friendly option, even if you need to purchase right away.
Best Overall
2. Best for Budgets: Trixie Natura 1-Story Rabbit Hutch
This adorable little rabbit hutch is such a great value! The Trixie Natural 1-Story rabbit hutch is elevated to protect it from potential predators and make it easier for you to see and interact with your bunny while they are inside. It comes in two sizes; we recommend the large so that you give your rabbit maximum room. Both have an enclosed part to give your rabbit a cozy place to go. The open part takes up around 2/3 of the overall space and is protected by mesh.
One of the reasons the Trixie hutch is such a great outdoor hutch is the glazed pine finish. It looks great and is one of the most durable on our list. This means that the budget-friendly purchase can last for years, making it an even better value. To clean it, simply lift up on the hinged roof to remove soiled bedding or open the door for deeper cleaning.
This is a smaller hutch and only has one level. It's best for one rabbit and you may even want to set up an additional run area for them to get supervised exercise. Some reviewers also made modifications to make it a custom setup, including adding wire mesh to make an elevated walking surface or brackets to reinforce the frame. "It meets my expectations," said one reviewer. "Easy to clean. Not too difficult to assemble. Had to add some brackets to the legs to make it sturdier (it rocked when lifting the lid). But for the money, who can complain?"
Best for Budgets
TRIXIE NaturaRabbit Hutch
Elevated to protect your bunnies from predators
Available in two sizes -- we recommend the large for maximum room
An enclosed area provides a cozy place for your pet
The open area is protected by mesh
Features an attractive glazed-pine finish
Check Chewy
Check Amazon
3. Best Luxury Hutch: Aivituvin Extra Large Outdoor Bunny House
This extra-large hutch from Aivituvin is one of the biggest mansions on the bunny block! It is 87.8-inches long and has three wings for your bunny to use. The center section has two stories: an enclosed house above and a protected open section below. There are four doors so that you can always get to your bunny and access inside the hutch.
Cleaning is a bit trickier with this hutch. The bottom is a removable PVC liner. You can wipe it clean, although this requires that you move bedding, bunnies, and practically crawl inside. You can also take it out and let your bunnies roam on the ground below. Some reviewers preferred this setup. Fortunately, the enclosed house portion does have a slide-out tray on the bottom that is much easier to clean.
Best Luxury Hutch
Aivituvin Extra Large Rabbit Hutch
This 87.8-inch bunny mansion has three wings
The center section features two stories
Four doors provide you with complete access to your pet
Features a removable, "wipe clean" PVC liner
The enclosed house portion has an easy-clean slide-out tray
Check Amazon
4. Best Rabbit Run: Rockever Wooden Small Animal Hutch
This run-style hutch has plenty of open space for your rabbit to hop along. It does include an enclosure on one side, a key feature to provide rabbits with a place to go that is dark and cozy. The open portion is protected by mesh sides and a mesh top. It doesn't have a bottom and rests directly on the grass. This can be a bit messier but many bunnies like it.
Remember that this run is mostly open to the elements. You may want to provide a sturdier enclosure nearby or bring your rabbit inside at night or during inclement weather to make sure that they are comfortable. This is also a smaller run than some others on our list. If you have one bunny or just want to use it to allow for outdoor exercise, it is a good choice. For those with multiple bunnies looking for an outdoor home they can use long-term, this might be too small.
Best Rabbit Run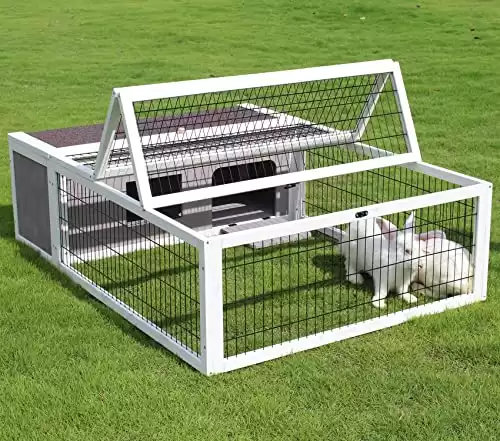 Rockever Small Animal Hutch
Features a cozy enclosure
The open portion is mesh-covered
The bottom of the hutch is open and sits directly on the grass
This run is not intended to replace a more secure rabbit hutch
Check Amazon
Choosing the Best: What to Look For
When deciding between the many outdoor rabbit hutches on the market, look for one that is big enough for your bunny (or bunnies), has a safe enclosure, and is easy to clean and use.
Size
Rabbits need plenty of room to hop, exercise, sleep, and explore. The hutch should also have space available for a feeding dish, water bottle, and some enrichment toys. Your bunny will also need a place to go to the bathroom on their bedding (purchased separately), although many designate an area themselves.
If you have more than one rabbit or keep larger bunnies, it's best to get a hutch with multiple wings and levels. This ensures that your bunnies have enough room to move around without getting in each other's way. The enclosure should also be big enough to let all of the bunnies in the hutch inside at the same time, such as during a storm or when predators are nearby and the bunnies are stressed.
Safe Enclosure
Predators like raccoons, coyotes, and foxes are some of the biggest threats to bunnies outdoors. Your hutch should have sturdy enough mesh that these animals can't bite or chew through it. Latches should also be strong, especially to keep out raccoons. Some reviewers who loved a particular hutch's design chose it and then added their own hardware to beef up security. This is an option but will add to the overall cost and assembly time.
Easy to Clean
Keeping your rabbit's environment clean is essential to making sure that they are happy and healthy. Many rabbit hutches for indoor use have bottom trays that slide out to make cleaning up urine and other waste easy and efficient. This same feature can be used for outdoor hutches as well. Some outdoor hutches go directly onto the ground without a barrier. Urine and other liquid waste soak directly into the grass. If you go this route, you will need to move the hutch periodically to keep things sanitary and to keep your grass healthy.
The Different Types of Rabbit Hutches: Pros and Cons Compared
For an outdoor rabbit hutch, you can choose between an indoor/outdoor hutch or a strictly outdoor hutch. Each option has its own pros and cons, as well as best situations for use.
Indoor/Outdoor Rabbit Hutch
| Pros | Cons |
| --- | --- |
| Most versatile option | Often more expensive |
| More house-like design | Hardware might be flimsier |
| Easier to clean | |
| | |
Outdoor Rabbit Hutch
| Pros | Cons |
| --- | --- |
| Durable and sturdy | Doesn't have a tray at the bottom |
| Budget-friendly | Requires periodic moving in the yard |
| Plenty of enclosed space and run space | |
| | |
Verified Review: User Experience
The Aivituvin Upgraded hutch is a popular choice for bunnies indoors and outdoors. Some rabbits even prefer it to other available spaces to run or play. "I have had this hutch for 2 months now, and my buns have been in it for almost a month with no issues whatsoever!" said one rabbit owner. "This comfortably houses 2 rabbits that are small-mid size; if you have a large pair, then this is not the hutch for you unless they are able to have most of their time spent outside the hutch. I have a playpen attached to the front now so they can enter and exit of their own will, and they still spend a decent amount of time inside it because they like it so much."
The extra-large hutch from Aivituvin is a great outdoor choice. It is quite large and perfect for multiple rabbits, as long as you have the budget and space. "My two Holland Lops fit comfortably in the main cabin and have plenty of room to move around down at the bottom," said one reviewer. "The hutch feels pretty sturdy but we don't want to take the chance of a coyote trying to get them so we bring our bunnies in at night."
Other reviewers opted to replace the latches with sturdier ones to prevent raccoons from getting inside. "The roofing is extremely cheap and the hardware is not predator proof," wrote one reviewer. "We had to purchase separate hardware to keep the ring-tailed bandits out."