If you're a fan of houseplants, then you're likely familiar with the lovely vine, pothos. Over the years, horticulturists have developed over a dozen different cultivated varieties of this wildly popular houseplant.
In this guide, we'll discuss three of the most popular cultivated pothos varieties. We'll cover an overview of the pothos plant, physical descriptions of each cultivar, and growing tips. The three cultivars we'll delve into are:
'Marble Queen' Pothos
'Neon' Pothos
'Pearls and Jade' Pothos
So, without further ado, let's jump in!
The Original Pothos
Before we discuss these five cultivars, we'll talk about the species from which these variations originate- Epipremnum aureum. This species of climbing vines, also known as devil's ivy or golden pothos, is native to the Solomon Islands of the South Pacific. From this archipelago, pothos plants spread to Hawai'i and tropical regions around the world.
When grown outdoors, this plant needs tropical heat and humidity. However, popular for its beginner-friendly resilience and lovely trailing vines, pothos is now grown as an indoor houseplant across growing regions.
Since the 1950s, horticulturists have been developing various cultivars of this houseplant. As it continues to grow in popularity, new cultivars still pop up on the market. While cultivated varieties exist through human intervention, there are no known naturally occurring varieties of this species in the wild.
Cultivated Pothos Varieties: 'Marble Queen'
If you love variegated leaves, then check out this stunning cultivar of pothos. 'Marble Queen' pothos, aka Epipremnum aureum 'Marble Queen,' has stunning variegation. It has vividly green leaves delightfully mottled with cream-white coloring. The amount of mottling varies from leaf to leaf, adding to the visual richness of this gorgeous vine. Some leaves are covered in so much white that they look like they're white with green splotches- a truly gorgeous plant!
True to the species, the leaves of this juvenile pothos plant are heart-shaped with smooth, entire margins. Typically, this cultivar's leaves grow to about 4-6 inches long and about 2-3 inches wide. Expect this houseplant to reach about 5-6 feet long with a 3-foot spread. It can, however, reach up to 10 feet long indoors with some extra love and fine-tuning of its growing preferences.
To thrive, 'Marble Queen' prefers the following conditions:
Temperatures between 65-85 degrees F
Fertile, well-draining, mildly acidic, loamy soil
Once-a-month light fertilizer application into damp soil from early Spring to late Summer.
This cultivar of pothos has some tolerance to drought, and you'll want to water it only when the top half of the soil is dry. If you water 'Marble Queen' too much, root rot can set in.
Cultivated Pothos Varieties: 'Neon'
Beloved for its electric lime-green leaf color, 'Neon' pothos is an excellent choice for adding high contrast and depth among darker-leafed houseplants. While this cultivar is not variegated, its spectacularly neon green foliage provides just as much interest and beauty.
The yellow-green leaves of 'Neon' pothos are also heart-shaped but have notably sharp, pointed ends. The margins are smooth and entire.
To encourage growth and to maintain the vivid neon green leaves, you'll want to make sure this cultivar has access to bright, indirect light. While it can tolerate partial shade just fine, you'll likely notice that the leaves become darker and less yellow-green without bright lighting.
So, to live its best pothos life, you'll want to provide this plant with the following:
Bright, indirect light
Well-draining, slightly acidic (6.0-6.5 pH), loamy soil
Temperatures between 55-90 degrees F
Once-a-month light fertilizer application into damp soil from early Spring to late Summer.
To keep your 'Neon' pothos happy and healthy, you'll want to water it when the top two to three inches of the potting soil is dry. Like other pothos cultivars, this plant is remarkably resilient, so don't sweat too hard if you don't always meet its ideal growing conditions.
Cultivated Pothos Varieties: 'Pearls and Jade'
A newer cultivar on the houseplant scene, horticulturists in Florida developed 'Pearls and Jade' pothos as a mutation of 'Marble Queen.' Interestingly, researchers created this cultivar by exposing 'Marble Queen' pothos to gamma-ray radiation, which causes genetic mutation of the plant cells and produces different physical characteristics from the original plant. Once the genetic structure of the plant is changed, horticulturists propagate that mutated plant from cuttings, and new clones grow that share the genetic mutation, and thus, a new cultivar is born. In the case of 'Pearls and Jade' pothos, this mutation causes a distinct variegation pattern of the foliage and smaller leaves than 'Marble Queen.'
Specifically, 'Pearls and Jade' pothos has white, green, and silver coloring of the leaves, and while 'Marble Queen' is highly mottled, 'Pearls and Jade' tends to display a more bordered variegation effect. The leaves are softly heart-shaped and typically grow 2.5-3 inches long and 1.5-2 inches wide.
This cultivar tends to share the same growing preferences of 'Marble Queen' as mentioned above.
Up Next:
More from A-Z Animals
---
The Featured Image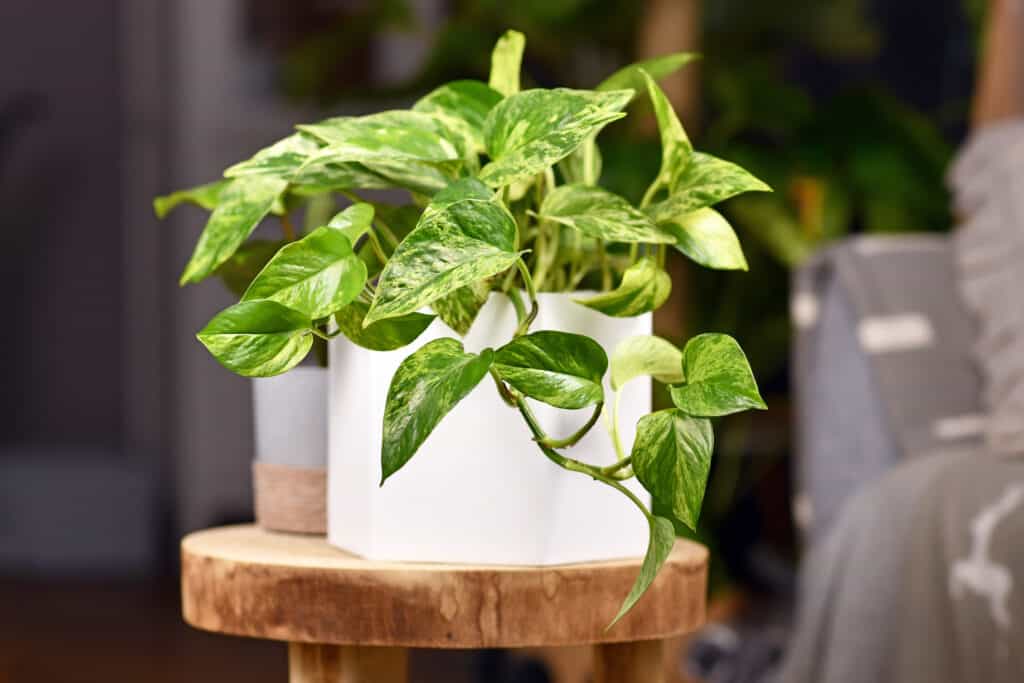 ---
Sources

National Library of Medicine, Available here: https://www.ncbi.nlm.nih.gov/pmc/articles/PMC9102721/
University of Florida, Available here: https://edis.ifas.ufl.edu/publication/EP441
PISTILS NURSERY, Available here: https://pistilsnursery.com/products/epipremnum-aureum-marble-queen#:~:text=Epipremnum%20aureum%20'Marble%20Queen'%20is,others%20with%20larger%20green%20patches.