Key Points
Understanding dog types helps pet owners choose breeds that fit personalities and lifestyles.
There are many types of dogs, but all members of the genus Canis have common physical characteristics.
Dogs have one of two scientific names depending on the species.
Scientific Name
Dogs are the domesticated descendants of the Wolf. There are many types of dogs, which we will list in detail below. Dogs have one of two scientific names depending on the species. The two scientific names for dogs are:
Canis familiaris (domestic dog) — The most common and best fit for most types of pet dogs.
Canis lupus familiaris (domestic wolf-dog) — A subspecies of the Wolf.
All types of dogs are in the family Canidae, the dog-like carnivorans or canids, while the genus Canis means "dog" and includes wolves, dogs, coyotes, and jackals. Their subfamily is Caninae, or canines, while their tribe is the dog-like or "true dog" tribe Canini and their sub-tribe is the wolf-like canids of Canina. Dogs are one of the first animals to be domesticated by prehistoric man.
History of Domestication
Humans and dogs have been in a long-standing partnership since ancient times. This partnership was likely formed out of the human need for help with herding, hunting, and alarm systems, as well as a source of food. In return, dogs were provided with protection, shelter, and companionship. The exact time that this relationship was forged is still being discussed.
Research conducted using mitochondrial DNA has revealed that wolves and dogs diverged into separate species about 100,000 years ago. While mtDNA research has provided some insight into the period of domestication that may have occurred between 40,000 and 20,000 years ago, scientists have not reached an accord on the exact findings. Some theories state that the animals were first domesticated in East Asia. Others suggest it was in the Middle East, while others propose that domestication took place in Europe at a later stage.
Experts now acknowledge that the range of different dog breeds we see today has only recently come about. Nevertheless, the remarkable variety of dogs is a reminder of their traditional and diverse domestication processes. Dog sizes range from tiny teacup poodles, which weigh as little as one pound, to enormous mastiffs tipping the scales at over 200 lbs. Furthermore, there are differences in the skull, body, and limb shapes of breeds, and they also have varying abilities, such as searching, retrieving, guiding, and herding.
Humans were originally hunter-gatherers, and as they moved around, so did their dogs. This meant that the two populations were geographically isolated for a while. As the human population increased and trade networks developed, people reconnected, and the dog population was genetically mixed. About 500 years ago, breeders created different types of dogs from a fairly homogenous gene pool of dogs with mixed genetic heritages that had originated from various places.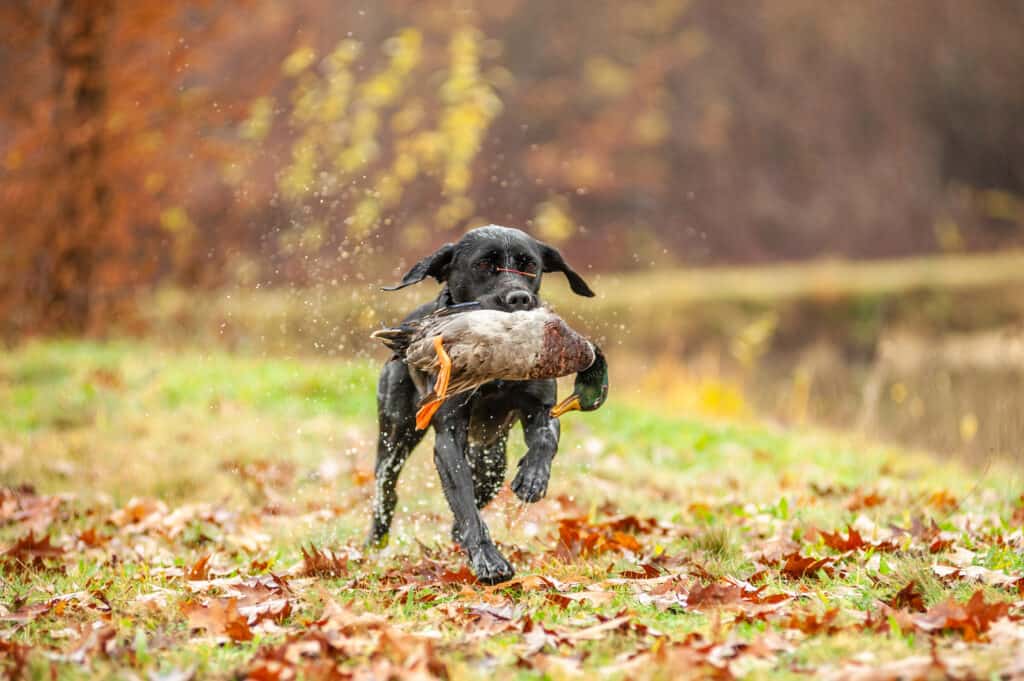 Characteristics
There are many types of dogs, but all members of the genus Canis have common physical characteristics. Bone structure, behavior, and reproduction are just a few markers that are unique to canids. Many types of dogs have unique characteristics that distinguish them from wolves. You can use some of these markers to determine whether a canid is a wolf or a dog.
Canine teeth
Dogs are decedents of wolves and have a dental pattern that reflects their carnivorous diet. Their teeth are sharp and designed to rip apart and chew meat. The four sharp, pointed teeth many humans have are called 'canines' for their resemblance. Teeth are one of the easiest ways to identify a canine. Most canids (of the family Canidae) have 42 teeth, with a dental formula of:
Types of Dog Teeth And Their Function
| | | | |
| --- | --- | --- | --- |
| Tooth Type | Lower Teeth Count | Upper Teeth Count | Function |
| Molars | 6 | 4 | Shearing |
| Premolars | 8 | 8 | Shearing |
| Canines | 2 | 2 | Ripping |
| Incisors | 6 | 6 | Biting |
Learn everything you need to know about dog teeth here.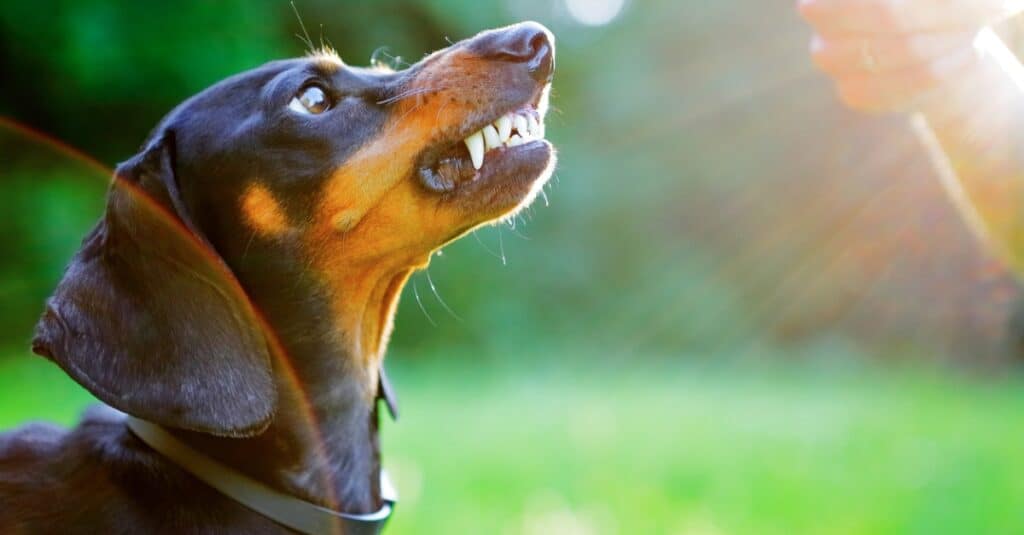 Other canid features
Canids generally share similar skull features, basic body shape, monogamous and pack behavior, and retention of adult offspring.
Diet
Because dogs descended from wolves, they are carnivores with biology designed for a meat-based diet. However, very few pet dogs today eat strictly meat. Modern dog food is much more affordable than a pure meat diet and offers a wider range of nutrients.
Today dog food is often made by blending meat with grains and vegetables. Different meats like salmon, chicken, venison, beef, and pork are often used in dog food. These meats are commonly combined with potatoes, peas, carrots, and other vegetables.
Depending on your pet's dietary needs, there are many dog foods to choose from. There are dog foods to help your pet gain weight and dog food to help them lose weight. There are even dog foods for allergies. Many owners start by first choosing wet vs. dry dog food and going from there. Some of the best dog food options are below:
Some house plants are poisonous to dogs, including Begonia, Poinsettia, and Aloe Vera. Many human food items are indigestible or toxic to dogs, such as chocolate, onion, garlic, macadamia nuts, xylitol, and nicotine. Diet-wise, dogs are omnivores and can handle a diet with more starch in it than a wolf, which is more strictly carnivorous.
Features
Dogs have a greater variance in behavioral and physical variation than any other land mammal, including wolves. Dogs have starch gel electrophoresis of red blood cell acid phosphatase. They also have smaller, compressed, and crumpled tympanic bullae. Physically, they have a more domed forehead and "stop" between the nose and forehead.
Wolves have a more prominent temporalis muscle (the muscle that closes the jaws) and do not have dew claws on their back legs. Dogs lack a pre-caudal gland and go into estrus twice instead of once a year. Whereas dogs usually have brown eyes, wolves have amber or pale-colored eyes. Their skin is thicker, and their paws are half the size of those of a wolf.
Dog Exceptions
There are several tribes of the subfamily Caninae. The dog-like tribe Canini is sister to the wolf-like tribe Vulpini. They are in the suborder Caniformia or Canoidea, the dog-like carnivorans. It stands in stark contrast to the cat-like carnivorans, the Feliformia or Feloidea suborder of Carnivora.
Types of Dogs
Several types of dog groups are classified based on what they were bred to do:
Sporting dogs
Sporting dogs were bred to help their hunters capture and retrieve game birds. Retrievers swim and focus on waterfowl, while setters, spaniels, and pointers hunt game birds. Their coats are often thick and water-repellant to protect against the elements. Some examples of sporting dog breeds are Golden Retriever, Labrador Retriever, the Nova Scotia Duck Tolling Retriever, Cocker Spaniel, and German Shorthaired Pointer.
Hound dogs
Hound dogs were bred to chase after warm-blooded, terrestrial prey. They are generally divided into sighthounds, who use speed and vision to chase jackrabbits and antelopes, while scent hounds can use their noses to trail raccoons and people. All have strong prey drives. Some examples of hound dog breeds are Bloodhound, Greyhound, and Dachshund.
Working dogs
Working dogs were bred to perform tasks such as guarding families or pulling sleds and carts. The Boxer, Great Dane, and Rottweiler and a few examples of working dog breeds.
Herding dogs
Herding dogs are a type of working dog, along with service dogs. While herding dogs help herd livestock, service dogs help people with disabilities. However, they differ in that they were bred specifically to herd livestock, such as sheep, cattle, and reindeer. Some are excellent for police and military work. A few examples of herding dog breeds are Border Collie, German Shepherd, and Icelandic Sheepdog.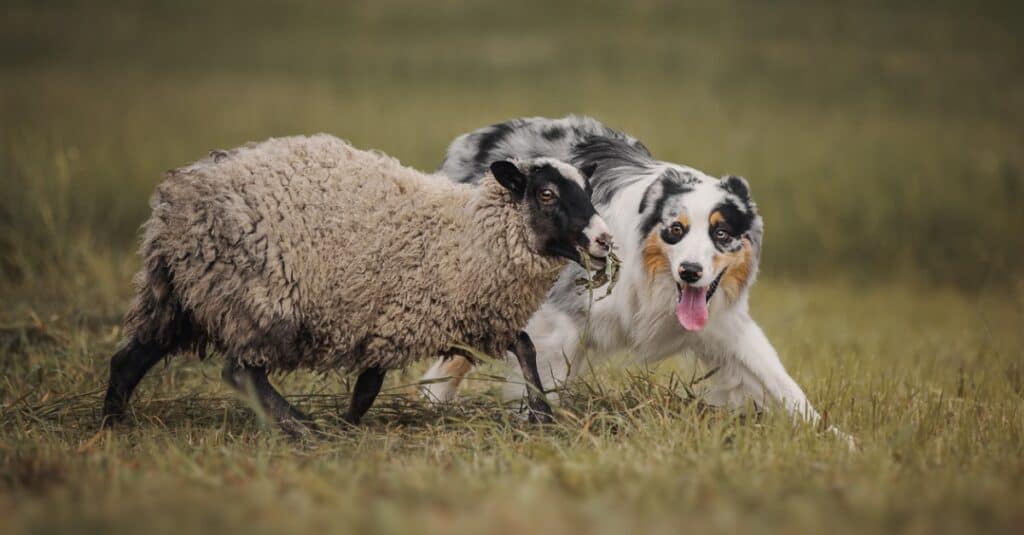 Terrier dogs
Terrier dogs were bred to be small in order to go after vermin hiding in the ground. They include terrier breeds, which have long legs to dig out rodents, and "bully" breeds, which were used for bull-baiting and now make companion dogs. Bull Terrier, Scottish Terrier, and Welsh Terrier are examples of terrier dog breeds. Some terrier breeds, like the Airedale Terrier, Kerry Blue Terrier, and the Irish Terrier, have curly fur.
Toy dogs
Toy dogs were bred for their small size to be companion dogs. They are perfect for city dwellers or anyone living in a small house. A few examples of toy dog breeds are Chihuahua, Pug, and Shih Tzu.
Non-sporting dogs
Non-sporting dogs do not fit into any of the other group types and were bred to be companion animals. The Bulldog, Dalmatian, and toy Poodle are a few examples of non-sporting dogs.
You can check out dogs that can protect you from dangerous animals, like mountain lions, while hiking.
Dog-wolf hybrids
Dogs share a common ancestor with modern wolves. Many large dog breeds have been bred with wolves, such as malamutes and huskies. Some are sought by private citizens, while others have been used for security work. For example, the Russians in the late 1990s created a breeding program for wolf-dog hybrids called Volkosoby or Volkosob, which are used for border control. See a list of 8 dogs that look like wolves here.
Types of Dogs
List of Dog Breeds
Dog Breeds by Letter Pages
Even More Information on Dog Breeds
There are so many fascinating things to learn about dogs! Which breeds are the smartest or most expensive? Which dog breeds are the best choices for apartment living or emotional support? What are the best names for a yellow dog versus a white dog? Here are some additional articles to check out if you want to learn more:
Types of Dogs: All Breeds From A-Z FAQs (Frequently Asked Questions) 
What is a dog?
Any canine descended from the domesticated common ancestor of dogs and wolves, in the family Canidae, genus Canis.
What is the largest dog?
The largest dog ever depends if you're looking at the tallest, longest or heaviest. Freddy the Great Dane in England measured 40.75 inches tall, while the Old English Mastiff Aicama Zorba in England measured 8 feet, 3 inches from nose to tail and was also the heaviest dog in the world at 343lbs. Great Danes are the tallest dog breed and English Mastiffs are the heaviest.
What is the smallest dog?
The smallest dog in terms of height is a Chihuahua in Puerto Rico named Milly, who measured 9.65 cm (3.8 in) tall. The smallest dog breed is the Chihuahua.
What did dogs evolve from?
Dogs evolved and genetically diverged from a common ancestor with wolves in the Late Pleistocene era about 11,700 years ago. The grey wolf is the closest living relative of the dog, with cross-breeding having occurred during the dog's domestication. There is no agreement as to when dogs were domesticated, but the process occurred somewhere around 11,000 years ago when hunter-gatherers closely associated with live populations of aurochs, beer, sheep and goats after beginning an association with wolves.
What are the different types of dogs?
There are 7 types of dogs: Sporting, Hound, Herding, Working, Terrier, Toy and Non-sporting.
What is the scientific name for a dog?
Canis familiaris is the scientific name for a dog if it's considered a distinct species from the wolf. It's Canis lupus familiaris if considered a subspecies of the wolf.
What is the most dangerous dog breed?
Prey dogs are considered to be the most dangerous due to their strong bite and large muscle mass. The Pit Bull is currently said to be the most dangerous dog breed, although the Rottweiler and Inu also have a reputation for being dangerous at different times or in different areas of the world.
Are Dogs really color blind?
No, they do not see in black-and-white. However, they are red-green color-blind.
What are some examples of small dog breeds?
Chihuahua, Boston Terrier, Shih Tzu, Pug, and Dachshund are some small dog breeds.
Are bears related to dogs?
Both animals are not directly related. Dogs and bears are both within the suborder Caniformia but they belong to different families.
Are lilies poisonous to dogs and cats?
Lilies are poisonous to dogs and cats. Although lilies are only mildly toxic to most dogs, they can be a much more serious threat to your feline friend. When a dog eats a lily, it may experience stomach issues, but usually nothing life-threatening. When a cat ingests lilies, the symptoms can range from mild to life-threatening
Are orchids poisonous to cats or dogs?
Orchids, notably the Phalaenopsis Orchid (or Moth Orchid), are safe for dogs and cats to be around. These plants are one of the few ones that are considered non-toxic to both cats and dogs.
Are Onions Poisonous To Dogs Or Cats?
You may be surprised to learn that dogs and cats can become poisoned by all parts of the onion, including the leaves, flesh, skin, and juice, whether cooked or uncooked. And, cats and dogs are not just poisoned by the typical onion, but all vegetables in the onion family! That's right; the entire onion family, whether they're dehydrated or powdered, can deplete a pet's red blood cells and lead to anemia.
Are Mums Poisonous To Dogs Or Cats?
There are several species of mums, all of which are deemed poisonous to dogs and cats. Even dried-up mums are harmful to pets. Scientists say mums are only "mildly toxic" to pets when compared to most toxic plants. Despite this, pet owners should still seek immediate medical attention if they notice any of the following toxic effects associated with mums:
Are Marigolds Poisonous To Dogs or Cats?
The ASCPA defines Marigolds as non-toxic to cats and dogs. But this is particularly peculiar to the Pot Marigold. Yet, if your dog or cat eats too many of these attractive flowers, they may experience negative effects like stomach upset. The side effect, however, is not caused by any toxicity from the flower but as a result of eating something unusual. On the other hand, the Tagetes species is known to create more issues for pets, particularly cats. This toxicity is usually relatively moderate, but it needs to
Are succulents poisonous to dog or cats?
Not all succulents are poisonous to dogs and cats. Succulents are great for pet owners, as most types are perfectly safe for pets. Sempervivum, Burros Tail, Christmas Cactus, Zebra Haworthia, e.t.c., are succulent species that are safe for pets. Other succulent species like the Jade plant, Aloe Vera, Fiddle leaf, e.t.c., are poisonous to dogs.
Are Begonias Poisonous To Dogs or Cats?
Despite being beautiful plants, begonias are poisonous to dogs and cats. So your pet shouldn't eat any part of this houseplant. More than a thousand species of begonia exist and all are poisonous to animals. Although the roots contain most of the poison, all parts of begonias should be always kept out of the reach of your pets.
Are Petunias Poisonous To Dogs or Cats?
For pet-friendly gardeners, petunias are an excellent choice of flower. The petunia plant is not toxic to cats or dogs, making it a safe option for households with several pets. But this doesn't make them a food option for your pets. Discourage your dogs and cat from eating houseplants whether they are toxic or not. So if your pet accidentally eats petunias, you have nothing to worry about. Non-toxic species of petunias include Grandiflora, Multiflora, Milli flora, and so on.
Are Frogs Poisonous To Dogs or Cats?
Although all frogs produce skin fluids, most of them are not poisonous to domestic pets. But this is not the case for pickerel and tree frogs. Both pickerel and tree frogs are commonly found in the United States. They release toxins in their skin as a defense whenever they are attacked by predators. And if your dog or cat bites these frogs, the toxins can make them sick.
Are acorns poisonous to dogs?
Acorns can be harmful to dogs if consumed in copious quantities.
Are azaleas poisonous to dogs?
Grayanotoxin, a neurotoxin found in azaleas, is the source of the plant's danger to your dog. Azalea pollen, petals, and leaves all contain the poison.
Are poinsettias poisonous to dogs?
Poinsettias are not poisonous to dogs. However, they are mildly toxic when ingested.
Are hibiscus poisonous to dogs?
While most hibiscus species are safe for dogs, some hibiscus varieties can be potentially hazardous to your dog.
Are hostas poisonous to dogs?
It's best to keep your dogs away from hosta leaves, stems, and blooms, which are toxic to dogs. They are toxic to dogs because of the poison's glycoside saponins.
Can a fox outrun a dog?
The deciding factor comes down to strength and endurance versus agility and speed. If the fox has a good lead against a solitary dog, the fox will always escape. However, the dog has a natural advantage in a pack.
Who would win a fight: Dogs Vs Porcupines?
A porcupine would win a fight against a dog, but this would be a close one.
If we have a situation where the dog is the aggressor, and the porcupine is attacked, the dog gets too many quills in it to continue its assault. The dog is forced to leave the porcupine alone because it's in so much pain or has too many quills to bite effectively. In this case, the porcupine wins.