Animals!
You love them, and we do too. In fact, we've made it our life's work to share with you every detail about every animal on our planet.
Click to view all our animals or scroll to see some of the more popular animal lists!
Search for Any Animal
Each day we add new animals to our site. Search or scroll to see our progress!
Most Popular Animals
A-Z Animals was founded on three guiding principles: accurate content you can trust, spreading knowledge on the animal kingdom, and giving back.
Today, more than 30,000 species are threatened with extinction, and thousands would already be lost without tireless conservation efforts. Knowing that the first step toward conservation is spreading knowledge of the incredible animals species across our planet, A-Z Animals was founded in 2008 to offer an online encyclopedic resource across animals of all kinds. Read More
Most Popular Pet Dogs
Most Popular Pet Cats
Explore Animals from Around the World
Our Newest Animals
Most Recently Updated Animals
Animals By Letter: Explore A to Z Animal Lists
Frequently Asked Questions About Animals
What are the 6 types of animals?
The 6 types of animals are mammals, fish, amphibians, reptiles, birds and invertebrates. Additionally, animals are classified in many different ways, which you may learn about in this complete guide to animal classification.
Our Endangered Animals Lists
Top 10 World's Smallest Animals
What are the smallest animals in the world? Before we begin, let's define "smallest." After all, single-celled organisms, which can only be seen with microscopes, are crawling over everything — including our bodies! So, for our smallest animals in the world list, we're limiting it to animals viewable with unaided human eyes. Smallest Rabbit: Pygmy […] Read More
---
The 10 Stinkiest Animals in the World
What are the most stinky animals on Earth? Which animals will make your olfactory system weep? We've considered all the candidates and came up with a list. So light a scented candle and strap on a gas mask. We're diving into Mother Nature's pit of aroma-challenged animals! #10 Stinkiest Animal: Sea Hare The sea hare […] Read More
---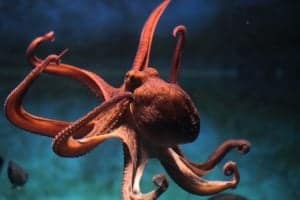 Top 10 Smartest Animals on Earth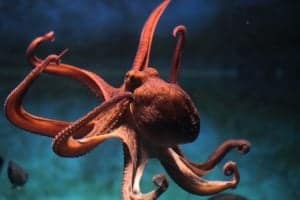 What are the 10 smartest animals on Earth? We've given it some thought and compiled a list. So, without further ado, let the countdown begin! #10 Smartest Animal on Earth: Raccoon Raccoon Reaches For Flower Raccoons may gravitate to the garbage, but they're also super smart. In the early 20th century, research conducted by ethologist […] Read More
---
The Complete Guide to the IUCN: The Basics, History, and Red List Explained
While researching endangered animals, you stumbled upon the acronym IUCN and may have thought: What is the IUCN? So let's answer your questions. IUCN: The Basics The IUCN — which stands for International Union for Conservation of Nature — is the world's largest global environmental network. Established in 1948, the organization develops sustainable solutions to […] Read More
---
The 15 Laziest Animals on Earth
Sure, last weekend, you enjoyed a 32-hour stream-a-thon and are now social media friends with the delivery driver. Still, you're probably more active than the layabouts who made our 15 laziest animals list! #15 Laziest Animal: Cuckoo Bird Cuckoo birds do a lot of flapping around, but they're lazy parents! Instead of incubating their own […] Read More
---
Marble Fox: Your Questions Answered
What is a marble fox? Do they make good pets? Are marble Arctic foxes the same as marble foxes? A reader recently asked these questions, so we got to work and found the answers. Let's dive in! What Is a Marble Fox? Marble foxes aren't a naturally occurring species. Instead, they're the offspring of red […] Read More
---
Top 10 Animals that Hibernate (Excluding Bears)
Bears sleep through winter, but are there other animals that hibernate? The answer is yes! And today, we're counting them down. Ready? Let's go! #10 Hibernating Animal: Ground Squirrel Unlike tree squirrels, many ground squirrels are all about burrowing.  With their brown fur and long claws, ground squirrels look near-identical to their arboreal-dwelling cousins. But […] Read More
---
Presidential Dogs: The Complete Guide to the First Dogs of The U.S.
A reader recently asked: Which U.S. presidents had dogs and what were their breeds? Never ones to ignore animal-related questions, we immediately got to work, dove into research, and emerged with a list of presidential dogs. Which president had eight dogs but no children? Which first family had over 30 pets and gave the White […] Read More
---
Best Dogs for City Living: The Definitive List
What are the best dogs for city living? Good candidates can't be frequent, loud barkers that drive the neighbors mad. Additionally, they must be comfortable in smaller spaces and able to saunter through crowded city streets on a leash — or in a bag — without freaking out. So which breeds fit these needs? Let's […] Read More
---
Are Insects Animals?
To date, scientists have identified about 1,744,204 (or 1.74 million) species. That's an impressive number, but a mere drop in the bucket compared to the number of species waiting to be discovered. Recent estimates place the number of species in the natural world anywhere between 8.7 million and over a trillion! But the estimate includes […] Read More
---