↓
Continue Reading To See This Amazing Video
There are a number of factors that contribute to the most expensive Bonsai trees found around the world. While just about anyone can craft a basic ficus or juniper Bonsai tree from plants purchased at a local hardware store, Bonsai tree value is greatly subjective. What exactly makes a Bonsai tree expensive, and just how much money have certain specimens earned through past sales and exhibitions?
In this article, we will go over some of the most important and necessary qualities that contribute to the value of a Bonsai tree. We'll also go over some of the most expensive Bonsai trees sold around the world, throughout the years. No matter how much they sell for, Bonsai trees are unique and priceless living works of art that you sometimes have to see to believe. Let's check out what makes them special now!
What Qualities Make a Bonsai Tree Valuable?
There are a number of qualities that factor into the sale of an expensive Bonsai tree. While perceived value is largely determined by demand and popularity, many other factors have something to do with pricing Bonsai trees. Here are some of the main considerations that Bonsai tree professionals pay attention to when buying and selling their trees!
Age and Historical Significance
Arguably one of the most impressive things to consider when selling a Bonsai tree is its age and whether or not it has any historical significance. While the history of Bonsai trees stretches back as far as 600 AD, there aren't any existing Bonsai trees that are quite that old. However, some Bonsai tree specimens sold at auction nowadays reach ages of 300-900 years old.
This is incredibly impressive when you consider the fact that Bonsai trees need constant maintenance and care. In fact, some of the oldest Bonsai trees still living are 1,000 years old, receiving care and attention from arborists and Bonsai tree experts. Many Bonsai trees become family affairs, passed down generation after generation in order to keep these ancient miniatures alive.
Occasionally, some Bonsai trees offer an added layer of historical significance that may increase their overall value. However, this is often difficult to determine in the tree's history and shouldn't be the primary reason that someone purchases a Bonsai tree.
Shape or Style
While the overall shape of a Bonsai tree changes as the years go on, stylistic choices greatly influence the cost of a Bonsai tree. Any Bonsai tree artist will be the first to tell you just how difficult and precise Bonsai tree shaping must be in order to promote both health and aesthetic choices. That's why the overall appearance of your tree matters greatly for its selling price.
Bonsai trees are designed to be miniature landscapes that reflect where these trees are from as well as the potential struggles that trees face in these environments. Artists may choose to highlight certain elemental effects and shape their trees accordingly. For example, a white pine Bonsai tree may be gnarled and twisted to make it appear as if winds have shaped it for years, much like its fully-grown counterparts in nature!
Rarity
While you can make a Bonsai tree out of just about any type of tree or woody shrub, certain Bonsai trees are rarer than others. Whether it be because of the plant's fussy nature or the aesthetic appearance of the tree itself, certain Bonsai trees are considered rarer than others. Cedar, redwood, and baobab are some tree species that are considered rare in Bonsai tree production, though this isn't the only thing that contributes to their sale price.
Popularity and Demand
As with all things in our consumerist society, the overall popularity and demand of certain plant species greatly influence its price. Certain Bonsai trees may be priced differently depending on their perceived value, such as the demand of consumers. This increases prices for certain Bonsai trees, even though they may be extremely common plants.
For example, many sources claim that juniper Bonsai trees are the rarest and most expensive Bonsai trees in the world. While this is true to an extent, you can purchase a juniper Bonsai tree from a nursery or garden center for less than $10, depending on your location and the age of the tree. However, juniper trees are long-lived and often the most aesthetically pleasing when displayed at Bonsai tree exhibitions and therefore fetch higher prices than other types of trees.
Container or Pot
Surprisingly, the container or pot that a Bonsai tree grows in may contribute to its cost and value. While Bonsai tree pots are largely considered to be the frame that your living art rests in, certain containers are highly prized for their materials used, aesthetic quality, and even the age of the pot. 
For example, a Bonsai tree may rise in price if it is planted in an antique pot or container, as these are difficult to find nowadays. Plus, antique Bonsai tree pots give us some insight as to what the early days of Bonsai tree popularity were like! Given the fact that you can repot a Bonsai tree in the same pot, year after year, it may be worth the extra price to have an antique container for your ancient tree.
The Most Expensive Bonsai Trees in the World
It's important to note that many Bonsai trees are sold amongst private collectors or are otherwise traded so that the price isn't disclosed. Even more ancient specimens are donated to gardens and museums around the world. However, some Bonsai tree sales have been recorded and are worth mentioning because of their fascinating history! Here are only a few of the most expensive Bonsai trees in the world.
'Miyajima' Japanese White Pine: $1.3 Million
Sold in 2011 at the International Bonsai Convention, a Japanese white pine Bonsai tree shattered records for its $1.3 million price tag. A 'Miyajima' dwarf pine tree cultivar, this Bonsai tree is anywhere from 300-800 years old, depending on the source. No matter what, it is an ancient and beautiful specimen, with a thick and curved trunk and lofted foliage. It was sold by Seiji Morimae, a notorious Bonsai tree artist, into a private collection in Japan.
While the popularity of Bonsai trees was particularly high in 2011, this is still a beautiful specimen and well worth the cost. Morimae also reportedly ordered a custom pot for this tree, likely adding to its overall price tag.
Sargent Juniper Tree: $350,000
Also known as 'Shimpaku', a type of dwarf juniper tree cultivar, a Sargent juniper tree once sold for $350,000. Hosted by the Nippon Bonsai Taikan Exhibition, this juniper tree was sold in 2019 and was also carefully tended to by Seiji Morimae. A few other Bonsai trees designed under the careful tutelage of Morimae and his company, S-Cube, also sold at this exhibition for well over $100,000. 
With horticulture in his family's history, Morimae has his own Bonsai tree garden that's open to the public by reservation.
The Yamaki Pine: Priceless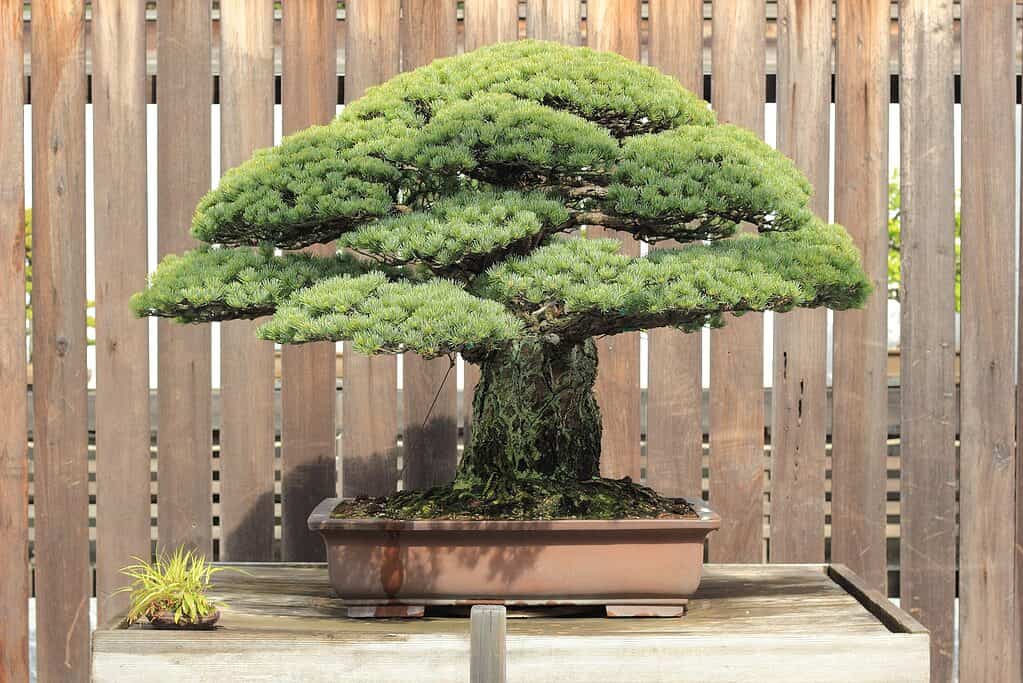 At nearly 400 years old, there's another Japanese white pine on this list worth countless dollars- except this specimen is likely to never be sold. Residing in the US National Bonsai and Penjing Museum within the US National Arboretum in Washington, DC, this Japanese white pine Bonsai tree survived the bombing of Hiroshima. Taken care of for generations by the Yamaki family, this priceless Bonsai tree is simply known nowadays as the Yamaki pine.
Multiple sources claim that the Yamaki family owned a Bonsai tree nursery roughly two miles away from the devastating epicenter of the blast that hit Hiroshima in 1945. There may even be video evidence of this amazing tree still standing in the background of certain news footage taken during this time, making it a revered and one-of-a-kind Bonsai tree.
To celebrate the bicentennial of the United States, the Yamaki pine was–shockingly– gifted to the US in the year 1976. It was sent overseas alongside many other remarkable Bonsai trees, most of which still reside in Washington, DC in a growing and protected collection. 
While the absolute tragedy of Hiroshima will never be forgotten, the Yamaki pine is a haunting reminder of the event, as well as the notion that rebirth and growth continue, decade after decade. This makes the Yamaki pine a truly priceless Bonsai tree among many other incredibly valuable and gorgeous specimens.
Up Next:
More from A-Z Animals
---
The Featured Image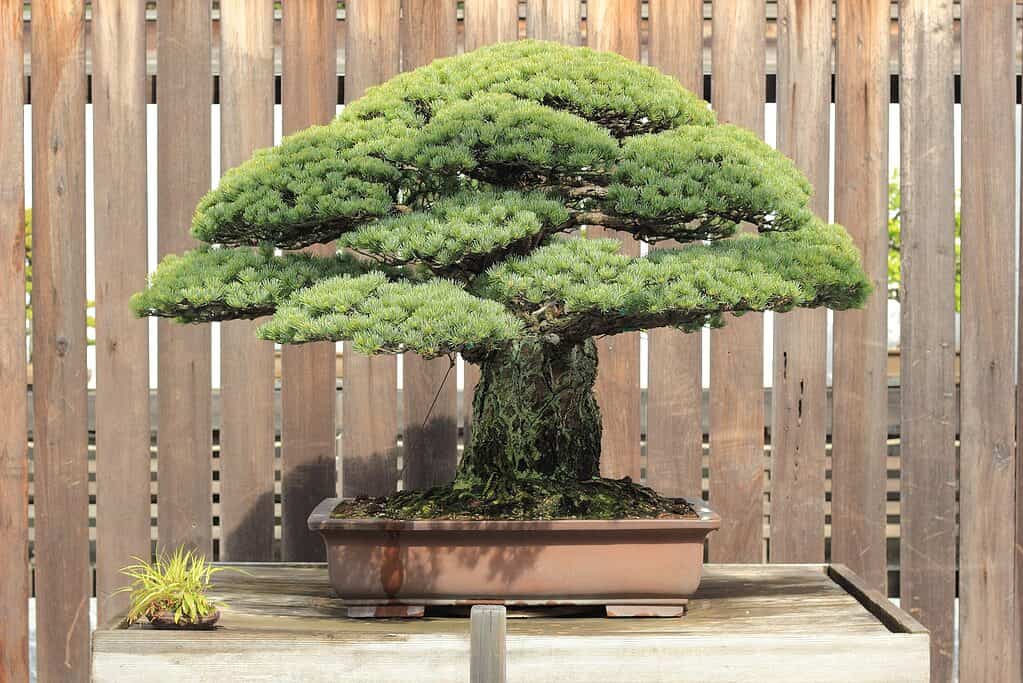 ---