Millions of years ago, Colorado was a hotbed of dinosaur activity. The state has abundant evidence of various species of dinosaurs that roamed the land, including footprint pathways and fossils. Just over a century ago, Colorado became the site of a "Bone Rush" to collect and identify as many dinosaurs as possible. Today, we're going to cover eight types of dinosaurs that lived in Colorado and teach you about them.
You'll learn where they were found, the evidence of their existence gathered by scientists, and where you can see fossils today. Let's start by seeing which creature Colorado named its state dinosaur!
What Is Colorado's State Dinosaur?
Colorado's state dinosaur is the Stegosaurus. The state recognized this genus of dinosaurs as the state dinosaur in 1982. Members of the Stegosaurus genus are covered in armor plates and have upright bony plates on their backs along with thagomizers, their tail spikes.
Fossils belonging to this genus were found in the upper portion of the Morrison Formation, one of the most productive sources of dinosaur fossils in the U.S.
Now that we know about the state dinosaur, let's look at other creatures that also lived in this state.  
What Are The 8 Dinosaurs That Lived In Colorado?
Colorado was a haven for all sorts of dinosaurs. The state was once filled with low-lying plains and many slow-moving rivers running throughout. That made the area a great place to live for dinosaurs. More importantly, the ecological composition of the area preserved many dinosaurs as fossils.
A man named Arthur Lakes made the first discovery of dinosaur bones in 1877 at a place near the town of Morrison. He found large, fossilized bones of various dinosaurs, starting a rush to excavate them that was later called the Bone Wars. The ensuing years allowed for the discovery of many of the eight dinosaurs that lived in Colorado that we're going to explore.
1. Stegosaurus
We've already mentioned that the Stegosaurus genus is the state dinosaur of Colorado. These large herbivorous quadrupeds have a distinctive profile because of their back plates, small heads, and tails. At least three species belonging to Stegosaurus have been located throughout Colorado.
The early fossil evidence of this genus included several dermal plates, portions of the skull, vertebrae, and more, but more complete parts of the body were found over time.
2. Tyrannosaurus Rex
The famous T. rex once stomped around Colorado. The first evidence of a T. rex in the state came from Arthur Lakes who found teeth from this massive creature back in 1874 nearby Golden, Colorado.  
The T. rex is famous for being a very large theropod with massive teeth and an incredibly powerful bite. Films have featured T. rex for decades, portraying them as intelligent, indomitable hunters. This may have been the deadliest of the carnivorous dinosaurs that lived in Colorado.
3. Diplodocus
Diplodocus was a very large sauropod genus. They're known for their long necks and tails as well as their four very large legs. The species Diplodocus longus could grow upwards of 92 feet long from head to tail, and they weighed 30,000 pounds or more! The first bones of this genus were recovered in Colorado in 1877 during the so-called Bone Wars.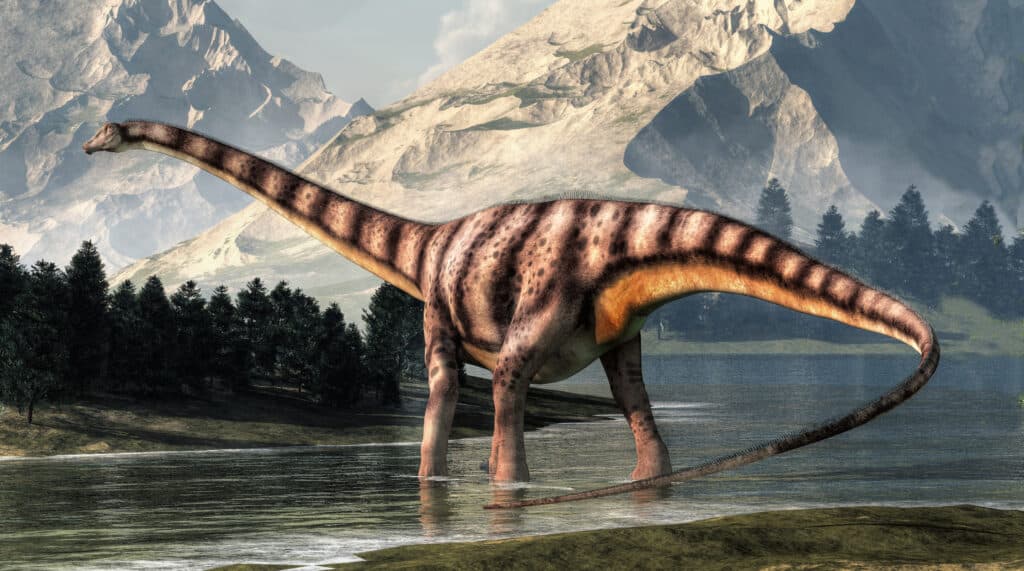 4. Allosaurus
Another massive carnivore, Allosaurus was a theropod dinosaur that was similar in some respects to T. rex. Researchers believe this bipedal dinosaur could have reached up to 32 feet in length and weighed as much as 1,500 to 6,000 pounds.
The genus was first described in 1869, and the fossil came from near Granby Colorado. Three or more species of this dinosaur exist. Scientists discovered most of the fossil materials for this dinosaur in the famous Morrison Formation in Colorado.  
5. Triceratops
Paleontologists have found several fossils from the three-horned Triceratops genus in Colorado. The first fossils were discovered in the 1870s, but they were incorrectly assigned to different taxa. Oddly enough, scientists thought the specimens, discovered in 1887, belonged to mammals. ,
The genus was finally described in 1889. This herbivorous quadruped is known for the three horns on its head and face and the large frill on the back end of its head. It's certainly one of the most recognizable dinosaurs that lived in Colorado.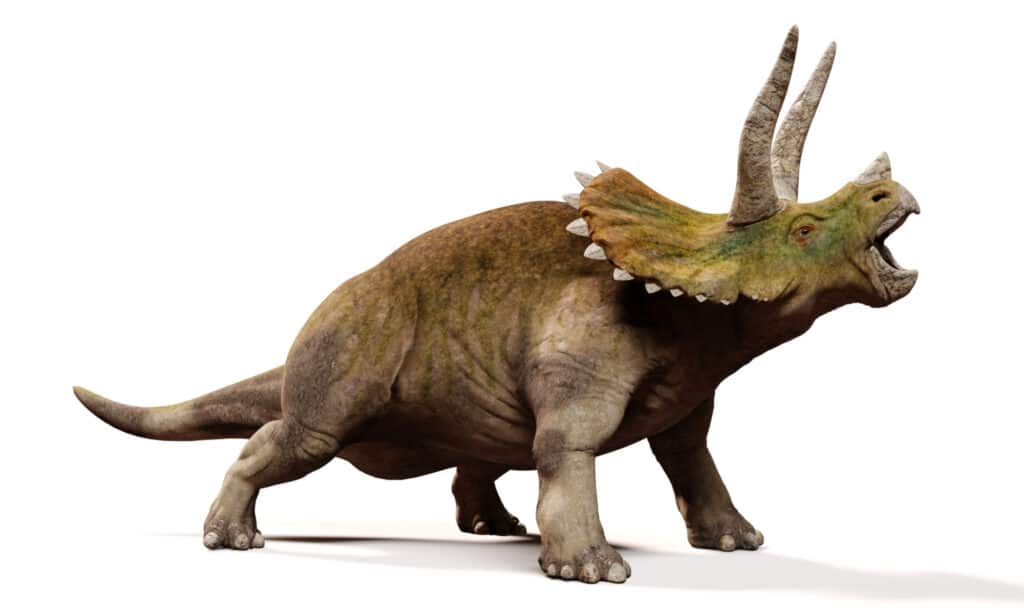 6. Apatosaurus
Apatosaurus is another large sauropod dinosaur with a thick body, long neck, and long tail. Arthur Lakes and Henry C. Beckwith found the first fossils of this dinosaurs in Morrison.
These herbivores could reach lengths of 75 feet and weights of 60,000 to 90,000 pounds while standing upwards of 20 feet tall! Only two species of this dinosaur exist.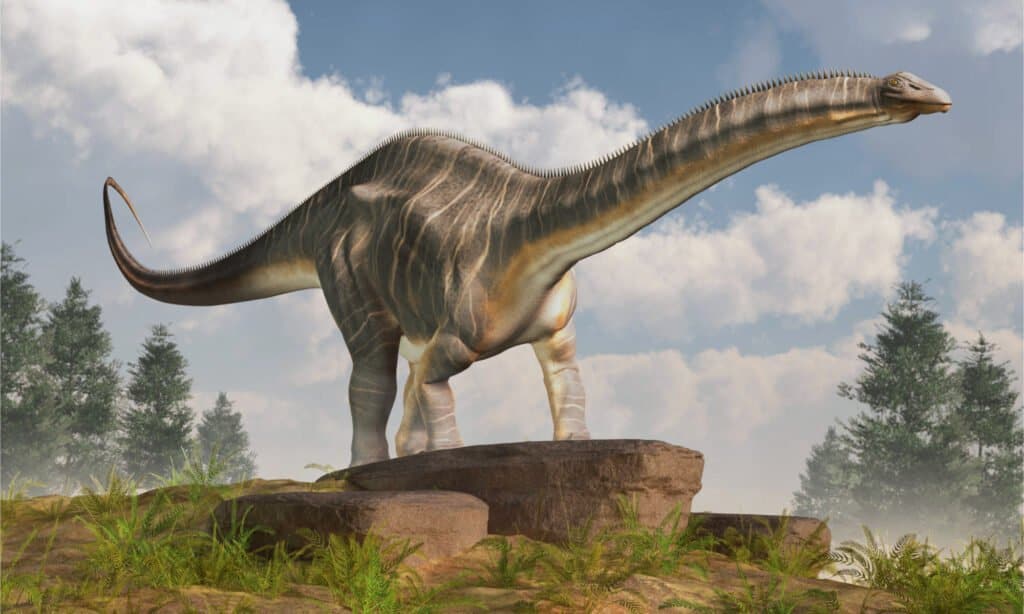 7. Ornithomimus
The Ornithomimus genus is filled with bipedal theropods. They resemble flightless birds with long necks, beaked skulls, and bird-like feet with three toes. Scientists believe these dinosaurs were very swift runners that could have could have been carnivorous or herbivorous.
The type species, Ornithomimus velox, was first described O.C. Marsh in 1890. Researchers discovered the fossils in the Denver Formation of Colorado.  
8. Haplocanthosaurus
Haplocanthosaurus was a sauropod genus that lived during the Jurassic Period. The dinosaur was one of the smaller sauropods of its era since it only weighed about 25,000 to 30,000 pounds and had a total length of between 40 and 50 feet.
Two species belong to this genus, Haplocanthosaurus delfsi and Haplocanthosaurus priscus.
Where Can You See Fossils Of Dinosaurs That Lived In Colorado?
You can see all sorts of dinosaur fossils in Colorado. You'll find dinosaur tracks at Dinosaur Ridge in Morrison, the Comanche National Grasslands in Picketwire Canyon, and Skyline Drive outside of Cañon City. Create a safe journey to those areas, consult locals, and make sure you're prepared to be out in some exposed areas.
You can also see many dinosaur fossils at the Dinosaur Journey in Fruita, Colorado. As part of the Museums of Western Colorado, you'll be at the center of an area where many dinosaur discoveries were made.
Dinosaur Journey is open from 10 a.m. to 4 p.m. every day of the week except on holidays. This museum has various models of dinosaurs that once roamed Colorado and beyond. They have real fossils at the museum as well as a viewable paleontology lab and much more.
If you find yourself craving some information about dinosaurs, this is the place to visit!
Summary Of 8 Dinosaurs That Lived In Colorado (And Where To See Fossils Today)
Rank
Dinosaur
Where To See Fossils
1
Stegosauraus
– Dinosaur Ridge in Morrison
– Comanche National Grasslands, Picketwire Canyon
– Skyline Drive, Cañon City
– Dinosaur Journey in Fruita
2
Tyrannosaurus Rex
– Dinosaur Ridge in Morrison
– Comanche National Grasslands, Picketwire Canyon
– Skyline Drive, Cañon City
– Dinosaur Journey in Fruita
3
Diplodocus
– Dinosaur Ridge in Morrison
– Comanche National Grasslands, Picketwire Canyon
– Skyline Drive, Cañon City
– Dinosaur Journey in Fruita
4
Allosaurus
– Dinosaur Ridge in Morrison
– Comanche National Grasslands, Picketwire Canyon
– Skyline Drive, Cañon City
– Dinosaur Journey in Fruita
5
Triceratops
– Dinosaur Ridge in Morrison
– Comanche National Grasslands, Picketwire Canyon
– Skyline Drive, Cañon City
– Dinosaur Journey in Fruita
6
Apatosaurus
– Dinosaur Ridge in Morrison
– Comanche National Grasslands, Picketwire Canyon
– Skyline Drive, Cañon City
– Dinosaur Journey in Fruita
7
Ornithomimus
– Dinosaur Ridge in Morrison
– Comanche National Grasslands, Picketwire Canyon
– Skyline Drive, Cañon City
– Dinosaur Journey in Fruita
8
Haplocanthosaurus
– Dinosaur Ridge in Morrison
– Comanche National Grasslands, Picketwire Canyon
– Skyline Drive, Cañon City
– Dinosaur Journey in Fruita
Up Next:
More from A-Z Animals
---
The Featured Image
---
Sources

CBC Colorado, Available here: https://www.cbsnews.com/colorado/news/jonathan-charpentier-trex-tooth-boulder-county/
Sawdo Ruth, Stegosaurus Named Colorado's State Fossil, Rocks & Minerals, Available here: https://www.tandfonline.com/doi/abs/10.1080/00357529.1987.11762678
History Colorado, Available here: https://coloradoencyclopedia.org/article/dinosaur-ridge
National Park Service, Available here: https://www.nps.gov/dino/learn/nature/diplodocus-longus.htm