There's something stunning about bold, red flowers in a garden. They're eye-catching and dramatic while adding a bright, cheerful vibe.
Tulips are a diverse flower species with over 3,000 cultivars to choose from in hundreds of shades. These ten red tulips are just a few top picks to add to your garden for some contrast and vibrance.
The History of Red Tulips
Tulips have an intriguing history. At one point, they became the focal point of an era known as Tulipmania. Tulips were the most in-demand plant in the world. At this time, people considered these flowers more romantic than roses.
The red tulip symbolizes deep, lasting, true love. Tulips are native to Central Asia, and this symbolism originates from the Persian legend of fated lovers Farhad and Shirin — a tale of woe similar to Romeo and Juliet.
As a princess, Shinrin's family viewed Farhad as beneath her station and unworthy as a suitor. The star-crossed lovers ultimately took their own lives, and their blood dropped to form stunning red tulips.
Now, many gardeners and tulip lovers associate these beautiful blossoms with the arrival of spring. However, a stunning bouquet of red tulips is always a great option for showing how much you care.
With this captivating history in mind, here are some top breeds of red tulips.
1. Red Impression
Botanical name: Tulipa 'Red Impression'
The Tulipa 'Red Impression' is a Darwin hybrid tulip. This classification means it's a cross between single late tulips and early emperor tulips, leading to their perfectly timed mid-season arrival.
This commanding cultivar has large, deep red blooms with slightly ruffled edges and a velvety texture. The center has a bright yellow patch with black elements.
The Red Impression will grow 20-22 inches tall with proper growing conditions. As it's a Darwin hybrid, the Red Impression has a thick, supportive stem that holds up well in the wind and rain. 
Plant your Red Impression in well-draining soil in full sunlight, ideally in a South or West-facing plot. For best results, plant the bulbs in the fall so they have ample time to vernalize.
2. Red Riding Hood
Botanical name: Tulipa 'Red Riding Hood'
The Tulipa 'Red Riding Hood' has stunning rich, dark red flowers with slightly curved petals that form a bowl-like shape. The petals deepen to a deep crimson close to the stem, and the centers are a contrasting black shade.
Red Riding Hood's foliage is a lovely addition to any garden. The sharp, triangulated leaves are a stunning blue-green shade that develops red-purple stripes in the summer. 
With proper growing conditions, the Red Riding Hood will grow 10-12 inches tall when in full bloom. This is a mid-season bloomer that prefers full sun and has a low tolerance for water. Provide ample space when planting Red Riding Hood tulips en masse.
3. Red Emperor
Botanical name: Tulipa 'Red Emperor'
As the name implies, Tulipa 'Red Emperor' is an emperor tulip. These tulips are a type of fosteriana tulips (Tulipa fosteriana), a naturally occurring species known for reliable perennializing. In other words, you don't have to worry about this showy bloom making an appearance every spring.
The Red Emperor is one of the most well-known and loved fosteriana tulips. Also known as Madame Lefeber, this early bloomer has long-lasting petals and grows up to 16-20 inches tall with proper care.
The Red Emperor has bright red, cup-shaped flowers with pointed petals that curve slightly outward. These stately blooms grow as large as 5-6 inches wide and thrive in full sunlight. Plant them with Tulipa 'White Emperor' for a stunning contrast.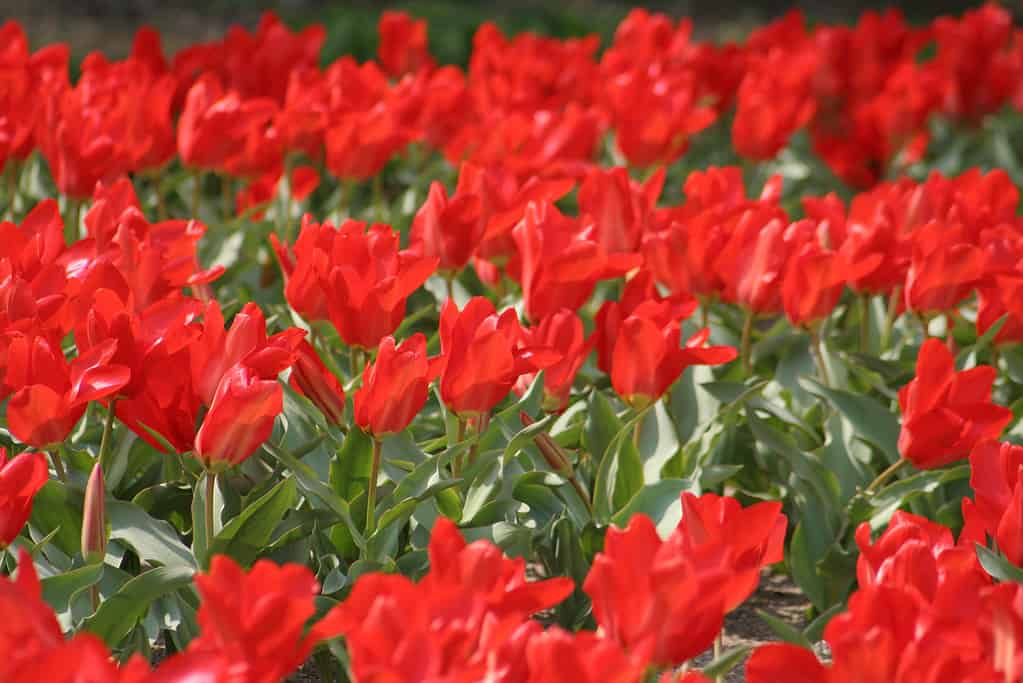 4. Escape Triumph Tulip
Botanical name: Tulipa 'Escape'
The Escape Triumph tulip is famous for its bold and striking appearance. It is the "reddest" tulip, with a deep, crimson color comparable to a long-stemmed red rose. 
Escape is a hybrid variety, and its exact parentage is not clear. However, it is likely a cross between various Triumph tulips, which are themselves hybrids between different tulip species. It is an hybrid between a late and early bloomers, contributing to its mid-season growth habits.
The Escape grows up to 18 inches with a strong stem, making it ideal for cutting and displaying indoors. Give this stunning bloom full sunlight and minimal water for the best results.
5. Kingsblood
Botanical name: Tulipa 'Kingsblood'
Despite its imposing name, the Tulipa 'Kingsblood' is a stunning late-blooming tulip. Its multifaceted petals glow an orange-red, with yellow patches at the bottom of each petal. With single blooms, this flower looks best in groups.
Kingsblood grows up to 24 inches tall with a 4-inch spread at full bloom. It's a low-maintenance tulip that prefers growing on sloping earth for adequate drainage, and does best in areas with cold winters and dry summers.
This variety dates back to the 1950s from famous horticulturists and hybridizers at Konijnenburg & Mark. It's an award-winning hybrid that's still highly in high demand today.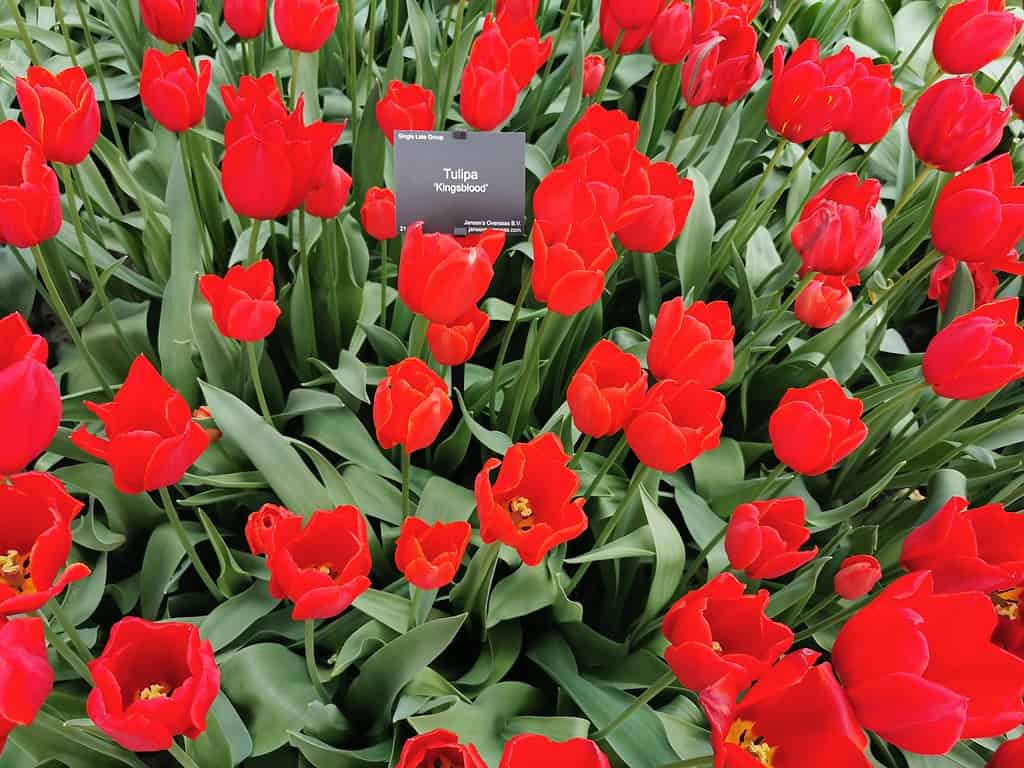 6. Red Hunter
Botanical name: Tulipa linifolia 'Red Hunter'
Unlike many of the hybridized tulips on this list, the Red Hunter is a unique species. Tulipa linifolia, sometimes called the flax-leaf tulip (linifolia is latin for "with leaves like flax"), is a naturally occurring species in Central Asia.
The Red Hunter has bright red flowers with pointed petals that curve slightly outward, and a black center. Its appearance is reminiscent of a poppy, though it's unrelated. There are other Tulipa linifolia cultivars in shades of yellow, including the 'Bright Gem' and 'Bronze Charm'.
These unique blooms grow up to 20 inches tall at full maturity with a 4-inch spread. The Red Hunter is susceptible to wind, and does best in a sheltered garden with full sun exposure and well-draining soil.
7. Temple of Beauty
Botanical name: Tulipa 'Temple of Beauty'
The Tulipa 'Temple of Beauty' is a stunning tulip variety that boasts bright pinkish-red petals with an orange hue on the edges. The petals are pointed and slightly ruffled, giving the flower a delicate and elegant look. With its tall and sturdy stem, this tulip stands tall and proud like a temple, and its beauty is truly captivating.
This late-bloomer can reach an astounding 34 inches in height in ideal conditions and is one of the tallest tulips available. This trait is common among late-season tulips.
For best results, plant this show-stopping tulip in full sun and well-draining soil.
8. Rococo
Botanical name: Tulipa 'Rococo Parrot'
Parrot tulips are known for their frilly, feathered edges and vibrant multicolored appearances — and Rococo is no exception. With its frilled and ruffled petals, this striking showstopper resembles a fancy baroque gown. 
The outer petals are bright red, edged in green and purple, while the inner petals are splashed with deep red brushstrokes. Its unique and extravagant appearance is truly a work of art in the garden, commanding attention and admiration.
Parrot tulips are slightly more challenging to care for than other types, as they're quite fragile. Plant these beauties in full sun in a sheltered area, as heavy winds will break them. These tulips grow up to 22 inches with 5-inch spreads, and are a late bloomer, making their appearance in mid to late May.
9. Red Shine
Botanical name: Tulipa 'Red Shine'
Tulipa 'Red Shine' is a captivating beauty with fiery red petals that gleam under the sun and fade to black at the base. Each petal has a rich, velvety texture, and their ruffled edges add a touch of opulence to its appearance.
What sets the Red Shine apart from other tulips on this list is its status as a lily-flowered tulip. These tulip cultivars tend to be slender, with petals coming to a sharp point. They're often confused with a lily or daffodil.
Unless these blooms are grown in a climate that represents their natural habitat, they may only come back for a couple of seasons. However, they're known to multiply with proper care, replacing themselves over time.
Grow these beauties in well-draining, acidic soil and full sun. The Red Shine does best in climates with frigid winters, and require ample time to vernalize for optimal growth.
10. Valery Gergiev
Botanical name: Tulipa 'Valery Gergiev'
This tulip is named for Valery Gergiev, world-class musician, known for weaving symphonies that sweep audiences off their feet. As the director of the world-renowned Mariinsky Theatre, he's a titan of the opera world, summoning spellbinding performances from his talented troupe.
In recognition of his contributions to music and culture, the Dutch company G. Geerlings & Zonen BV immortalized him with a tulip. The Valery Gergiev tulip boasts regal, deep red petals with fringed edges held strong and tall on a stem – a perfect embodiment of the strength and vitality of his music.
It's fringed petals make the Valery Gergiev stand apart from other tulips, creating a sharp, dramatic look. This tulip loves full sun and well-draining soil. It blooms in the late spring, growing up to 18 inches tall.
The photo featured at the top of this post is © iStock.com/Haidamac
---