Trail riding is a fun pastime for horse owners and their horses. Having the right gear and setup can keep everyone, horses included, happy and comfortable through the day's adventure. Hoof boots provide cushion, support, and traction on trail terrain. They can also protect your horse's hooves. If you don't want to use horseshoes (or can't due to an injury), hoof boots are the perfect solution.
There's no shortage of trail boots available. We've researched and reviewed all of the options to find which are best for your horse, your budget, and the terrain that you plan to go on. Just like your hiking boots, there are hoof boots at a variety of price points. Some are made for rough terrain while others provide support overall.
#1 Overall Best: EasyCare Easyboot Cloud Hoof Boot
In our review, the best hoof boots are the EasyCare Easyboot Cloud Hoof Boots. They are a great balance of price and performance, providing some of the best value of all the options on our list. They are made of canvas for breathability with a thick sole to provide protection from the terrain below. Sizing is also easy using the size measurement guide made specifically for the Easyboot Cloud hoof boots.
The snug fit protects existing injuries and helps prevent new ones. Fortunately, the boots are still easy to put on and off. They include a fold-down back that many reviewers liked. "These are so easy to put on and take off!" said one reviewer with a 33-year-old mare recovering from abscesses. "As soon as I put them on her, she was walking so much better! A few days in them and she was fine. I will note that I did have to take them off for a few hours each day, as the vent holes in them really don't keep the hoof dry. It builds up a bit of moisture. But the pads that come with these are wonderful."
If you are worried about sizing, follow the guidelines provided by EasyCare. They show just where and how to measure your horse's hooves. "They were a good fit and the size chart was very helpful," said one reviewer. "Would definitely recommend." Some reviewers did recommend sizing up, if your horse's hooves fall on the upper end of the measurements for a particular size.
#1 Overall Best
2. Best Budget: Cavallo Entry Level Regular Hoof Boots
Cavallo is a reputable brand of hoof boots that are well-made and provide the comfort that your horse needs. These Entry Level Regular hoof boots are also budget-friendly and a great option for horses and owners that are just starting to use hoof boots. The top portion is made of industrial-grade nylon that provides airflow that is also tough enough to retain its shape and performance even on the trail.
The Velcro closure can be replaced, which we love. This is a great boot to use during the healing process, especially to protect areas with abscesses. "They are being used at this time to keep my thoroughbred's hoof clean and dry while the horrible abscess heals," wrote one reviewer. "Not only is the abscess on the bottom of the hoof but it blew a hole through the hoof wall. It's kept the hoof clean and dry and the hoof is healing well." These aren't waterproof but you can coat them in a waterproofing layer if needed.
Best Budget
3. Best Premium: Cavallo Simple Hoof Boot for Horses
Cavallo Simple hoof boots are high-end and made to provide your horse with the best of the best experiences wearing hoof boots. The top is made of premium leather that is flexible and comfortable. The top collar is filled with foam for extra support and a cushion. The bottom is made of TPU, Thermo Plastic Urethane that protects from rocky terrain and water. These are ideal boots if your horse is recovering from an injury such as abscesses, navicular disease, laminitis/founder, punctures, sole bruising, and contracted heels.
They are pricey but many reviewers stand by their performance and are happy to pay the premium price for the best option available. One reviewer trail riding in west Texas was very happy with their performance even after months of use. "Amazing! We've put close to 300 miles on these boots so far. They are still in great shape and work like magic. I have not had one come off during a ride and the boots don't twist around at a canter, climbing steep hills, or anything else. Nor has my stallion had any irritation or rubbing while wearing these on 3-hour trail rides."
Best Premium
Cavallo Simple Horse Boots
These high-end boots are made of premium leather
Flexible and comfortable
The top collar is filled with foam for extra support and cushioning
The bottom is made of TPU to protect your horse's hooves from rocky terrain and water
These premium boots are perfect for horses that are recovering from an injury
Check Chewy
Check Amazon
4. Best Soaking Hoof Boot: Yeezo Horse Soaking Boot
Some hoof boots are designed to help with infections and other ailments rather than protect your horse's hooves on rough terrain. These soaking hoof boots from Yeezo can be filled with water, including medicated treatments, then strapped onto your horse's hooves. They extend up the leg and are secured with three Velcro straps. The soaking boots are ideal for hoof abscess, thrush, yeast, bruising, and infection. However, they don't provide any protection from rough terrain and should not be used while walking, cantering, or otherwise exploring.
"I have a horse with a hoof and fetlock injury. I have had to soak the hoof every other day for 60 days," said one reviewer. After trying other solutions, the tall Yeezo boots made the biggest difference. "I tried lots of other products but they were either bothersome to the horse or not tall enough so they fell off or leaked soaking liquid. This boot works great. I mix the soaking materials in the bag then slip on his leg and hold up until he sets his hoof down on the pad inside (included)." Your horse will need to stand in one place for the length of the treatment and having a padded boot can make it more comfortable.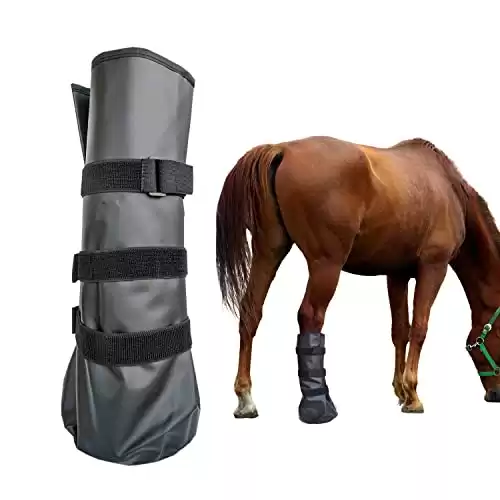 Yeezo Hoof Soaking Boot
Priced per pair
Designed to be filled with water and/or medicated treatments, then applied to your horse's hooves
Secure with three Velcro straps
Made with durable PVC
Not intended for trail use
Check Amazon
Choosing the Best: What to Look For
There are plenty of hoof boots out there and it can be confusing to figure out which ones are the best. We recommend looking for a boot that suits your needs, is easy to put on, and has a snug fit.
Purpose
Hoof boots can be designed to protect tender or injured hooves on rocky and rough terrain. They can also help with treatments and healing. It's important to know what your purpose is to know which kind of hoof boots you need to buy. Trail hoof boots are more rugged, have a protected sole, and often come up just above the hoof. Soaking hoof boots are often taller, secure using Velcro straps, and only have some padding for the sole of the hoof.
Easy to Put On
Even the best hoof boot won't be effective if your horse won't put them on. Look for boots that can slide on and off, then be secured using straps. Some have backs that fold down and up around the hoof. These are often the easiest to put on and take off since you don't need your horse to lift its leg very much. Velcro straps that can be replaced after wear are also nice to keep the boots working longer.
Snug Fit
It is very important that your horse's hoof boots fit snugly, especially if you are using them while riding on trails or rough terrain. Having an ill-fitting hoof boot can make your horse uncomfortable. It can even be dangerous. Loose hoof boots can lead to tripping or injury. Hoof boots that are too tight can cause blisters or reduce the airflow needed for healthy hooves. Look for a hoof boot that provides a sizing guide along with measurements. It's also helpful to read reviews (like this one) to see which boots you should size up or down.
The Different Types of Hoof Boots: Pros and Cons Compared
Hoof boots serve two main purposes: protection from terrain and soaking for injuries. They have different designs, each suited to that purpose.
Protection from Terrain Hoof Boots
| Pros | Cons |
| --- | --- |
| Extra padding on the sole | Often very expensive |
| Great airflow | Fit is super important |
| Durable | |
| | |
Soaking Hoof Boots
| Pros | Cons |
| --- | --- |
| Tall to keep liquid/medication inside | Only suitable for soaking |
| Multiple securing straps | Some horses don't like them |
| Can be cheaper | |
| | |
Verified Review: User Experience
Our top pick, the Care Easyboot Cloud Hoof Boot, gets top marks from many reviewers. They saw immediate and lasting improvement in their horses. "I was hesitant to purchase these – but we had tried everything for this horse (we are a horse rescue) and this was our last hope to provide Dakota with the quality of life he deserves," wrote one reviewer. "From the very first minute that he put his feet back on the ground with his new 'sneakers,' he was a different horse. It was just so wonderful to see him walk comfortably for the first time and that has been about two weeks ago. The boots have worked perfectly even in mud and a slippery hillside that he has to traverse."
The Cavallo hoof boots are expensive but still one of our top recommendations based on how durable they are and their fantastic performance. "I finally found boots I love, after probably 10 other pairs I have bought," said one reviewer. "My two horses have had issues with abscesses and laminitis and I needed boots that they could wear long term and last."
They are also a great choice if you are dealing with an active injury or abscess. "I'm using a couple of sets of these boots for a broodmare with a chronic abscess," said one reviewer. "She took to them well and is able to be turned out wearing them. She wears them in the pasture about 14 hours per day, and I switch out two different pairs to make sure there's always a clean, dry set." 
Fortunately, Cavallo makes a range of hoof boots and their Entry Level boots are a more budget-friendly choice for many horse owners.