Key Points
The best overall pet bed on Chewy today is Best Friends by Sheri The Original Calming Shag Fur Donut Cuddler.
Explore cuddler-style beds, outdoor designs meant to last, and some orthopedic options to offer your pets wonderful, bolstered support.
Consider the style, materials, and sizes before picking the pet bed best suited for your pet, whether you have a little guinea pig or a large pup!
There's nothing quite like relaxing in a comfortable bed, particularly after an exceptionally taxing day. As humans, we love the comfort our beds bring us, and we can definitely extend this level of comfort to our pet counterparts. Whether you have a small rabbit, guinea pig, ferret, cat, or dog, they deserve the ultimate comfort when it's time for them to rest their heads and escape into dreamland for a nighttime frolic.
In the list below, we compiled a list of the best pet beds on Chewy today. We worked to create an inclusive list so even the tiniest of pets can enjoy a luxuriously soft bed. We include pet beds with several size and color options so you can customize your purchase. Sometimes, a pet bed seems perfect but it's an eyesore in your living room or bedroom. We chose some options with an aesthetic that complements any home, both inside and outside!
Best Overall: Best Friends by Sheri The Original Calming Shag Fur Donut Cuddler
Best
The best overall pet bed on Chewy today is Best Friends by Sheri The Original Calming Shag Fur Donut Cuddler. This pet bed is suitable for primarily dogs and cats. It's available in different colors like baby blue, lavender, and cotton candy as well as neutrals like taupe, denim, and frost. It comes in different sizes ranging from extra small all the way up to extra large. This pet bed offers pets ultimate comfort with 9-inch high walls that provide head and neck support and a soft and cozy shag fabric that mimics a mother's fur.
It's a round shape that encompasses your pet's body and it's filled with premium quality AirLOFT fibers. This is an orthopedic bed that you can easily machine wash. It's also dryer safe, which makes it super convenient for you. It has a water-resistant nylon bottom in case there's ever an accident. It's ideal for keeping pets feeling safe and cozy, especially when the weather gets chilly. If you have a pet that loves burrowing, this is a must-have pet bad. With different sizes and colors available, you have plenty of freedom to customize your purchase for your home aesthetic and for the comfort of your pet.
What Buyers Say
Customers rate this pet bed 4.4 out of five stars. Many of them share photos of their cozy pups and cats lounging and living their best lives. One customer begs the manufacturer to make these for humans! She comments that it has both a chic and beautiful appearance so it's more of an addition to her interior decor than a nuisance. It's so easy to wash, which is another perk.
She works with puppies to raise them as guide dogs for the blind. As you probably know, puppies have tons of accidents. She loves these pet beds because her dogs gravitate to them, and all she needs is her laundry room to get them back to clean and fluffy after accidents. One dog mom did have a bit of trouble with her picky pup. She wouldn't stay in it because it wasn't like her previous bed. Her mom tried making it cozy for her, but she now only uses it for travel.
| PROS | CONS |
| --- | --- |
| 9-inch high walls | Some pets may take some time to get accustomed to it, depending on how picky they are |
| Super soft shaggy fabric | |
| Round shape for burrowing | |
Best for Warmth: Frisco Self-Warming Pillow Rectangular Pet Bed
Best for Warmth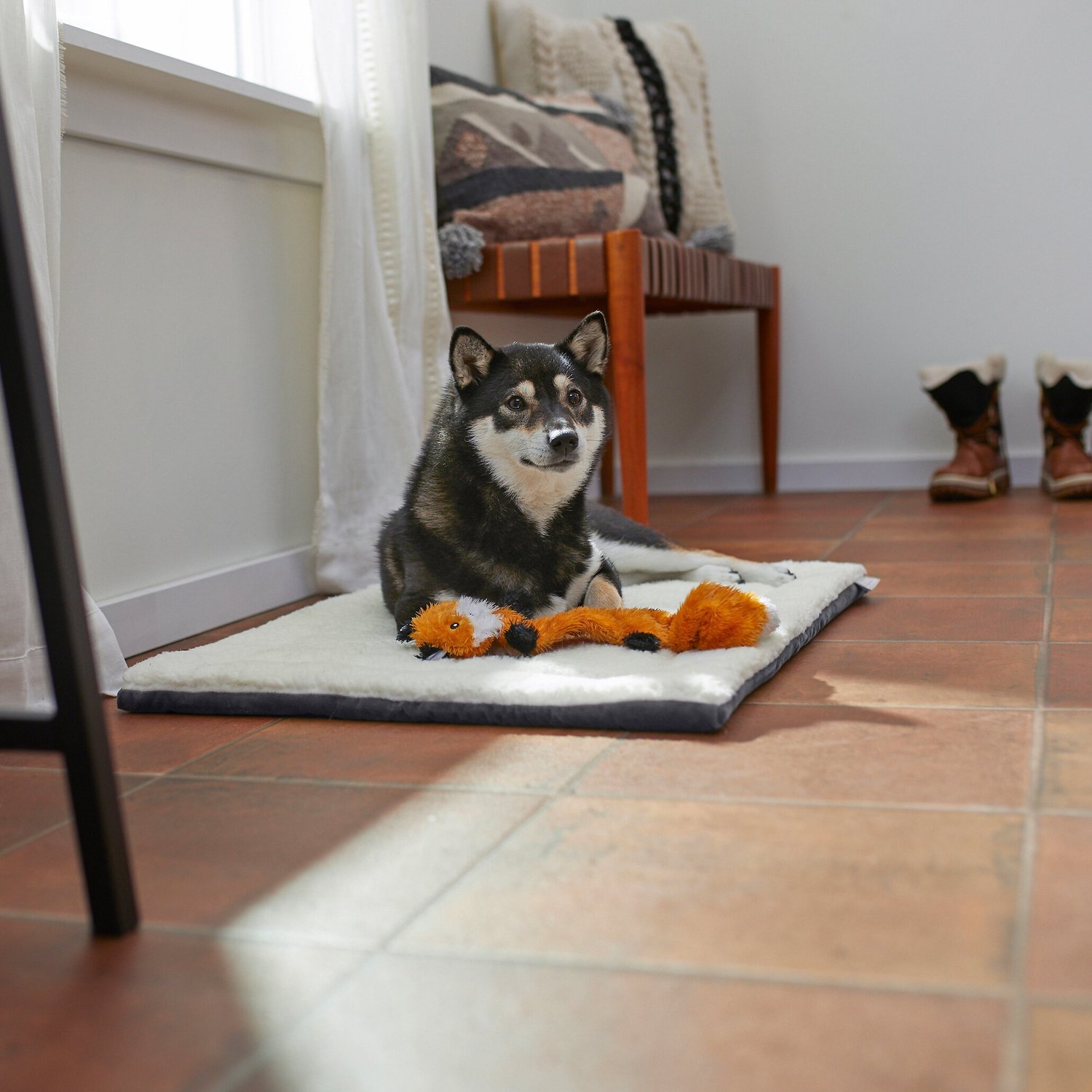 This next pet bed is perfect because it's self-warming. It's very budget friendly as well. It's available in either gray or blue and in two sizes: 24 inches and 30 inches. This is a simple design that lays flat on the floor. It's designed to reflect your pet's own body heat to keep them warm. It's a great place for them to lounge or nap. You can use it as a bed inside of a crate. To keep it clean, all you need to do is throw it in the wash.
What Buyers Say
Customers rate this pet bed 4.6 out of five stars. It's hard to appreciate from the original photo but this is quite a plush, flat bed. One cat owner shares that she has three cats that don't usually like coming inside even though she's often inviting them in. She's tried providing them with different types of shelters and beds, but it wasn't until she came upon this one that they all decided to huddle together to keep themselves warm.
Another pet parent shares that he has a couple of rescue dogs and the littlest one that they just rescued took to this pet bed right away. One customer does warn that when you take the tag off the plastic bag, it may get stuck. This happened to him, and it ripped the fabric slightly. However, if you're careful, that shouldn't be an issue.
| PROS | CONS |
| --- | --- |
| Self-warming design | Be careful when ripping out tags to prevent damage |
| Use inside or outside of a crate | |
| Plush for comfort | |
Best for Small Pets: Frisco Forest Plush Round Cuddler
Best for Small Pets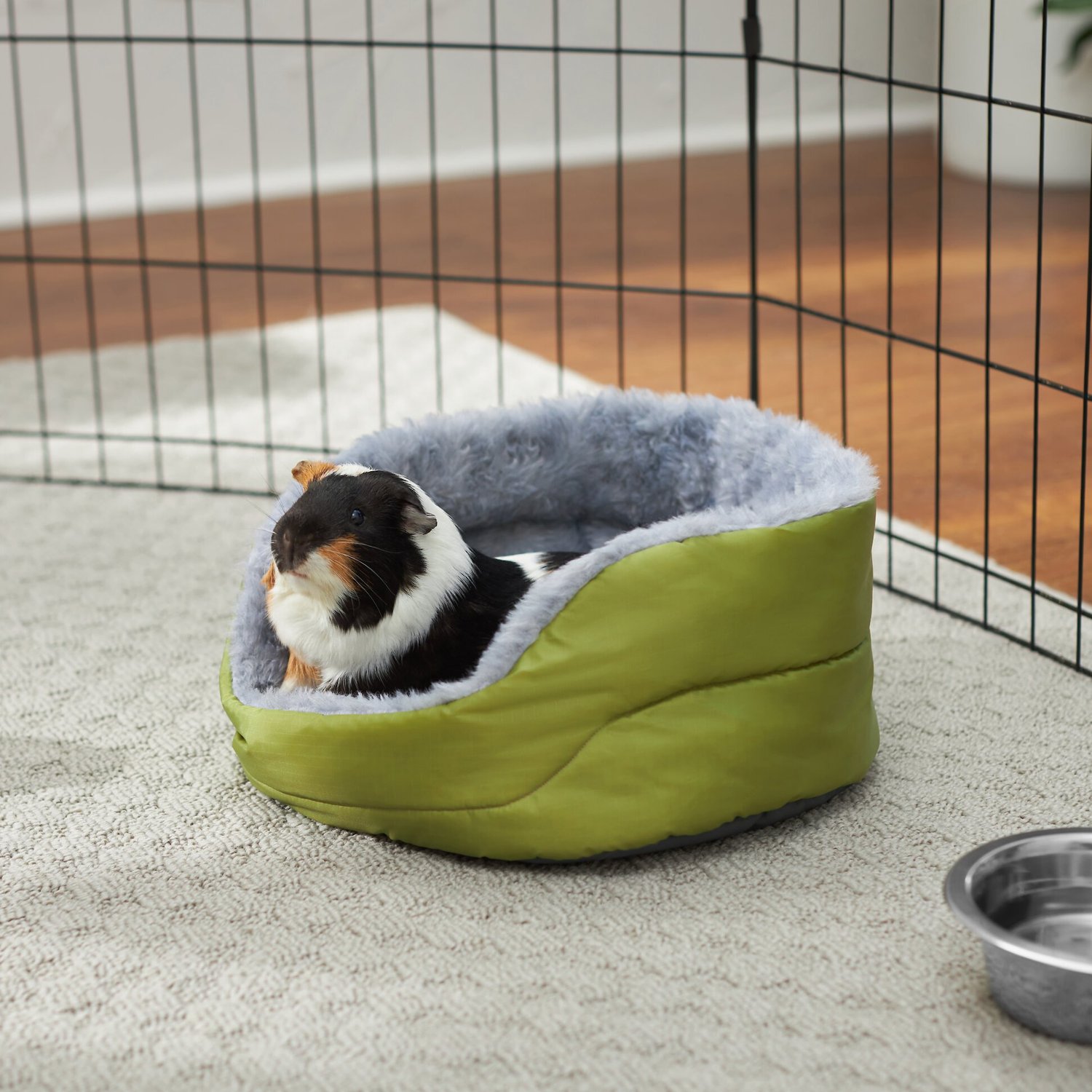 This next pet bed by Frisco is perfect for small pets. It's a cuddler-style bed that helps your small pet feel cozy and supported on all sides. Because it has a cushioned, plush bolster, your pet can enjoy a more restful sleep. It's ideal for small rabbits, guinea pigs, rats, and ferrets. It's also machine washable to make cleaning up a breeze for you.
What Buyers Say
Customers rate this pet bed 4.6 out of five stars. One customer says that the sides of the bed flop down. However, another customer says that all you have to do is turn the sides out for a few minutes after you take it out of the packaging and those floppy sides retain their shape. This is especially the case after you wash it so maybe you want to try washing it before using it. This customer has several guinea pigs and she's purchased a bed for each of them.
| PROS | CONS |
| --- | --- |
| Cuddler-style bed | The sides may be floppy when you first unwrap the packaging |
| Machine washable | |
| Bolstered for comfort | |
Best Orthopedic: FurHaven Velvet Waves Perfect Comfort Orthopedic Sofa
Best Orthopedic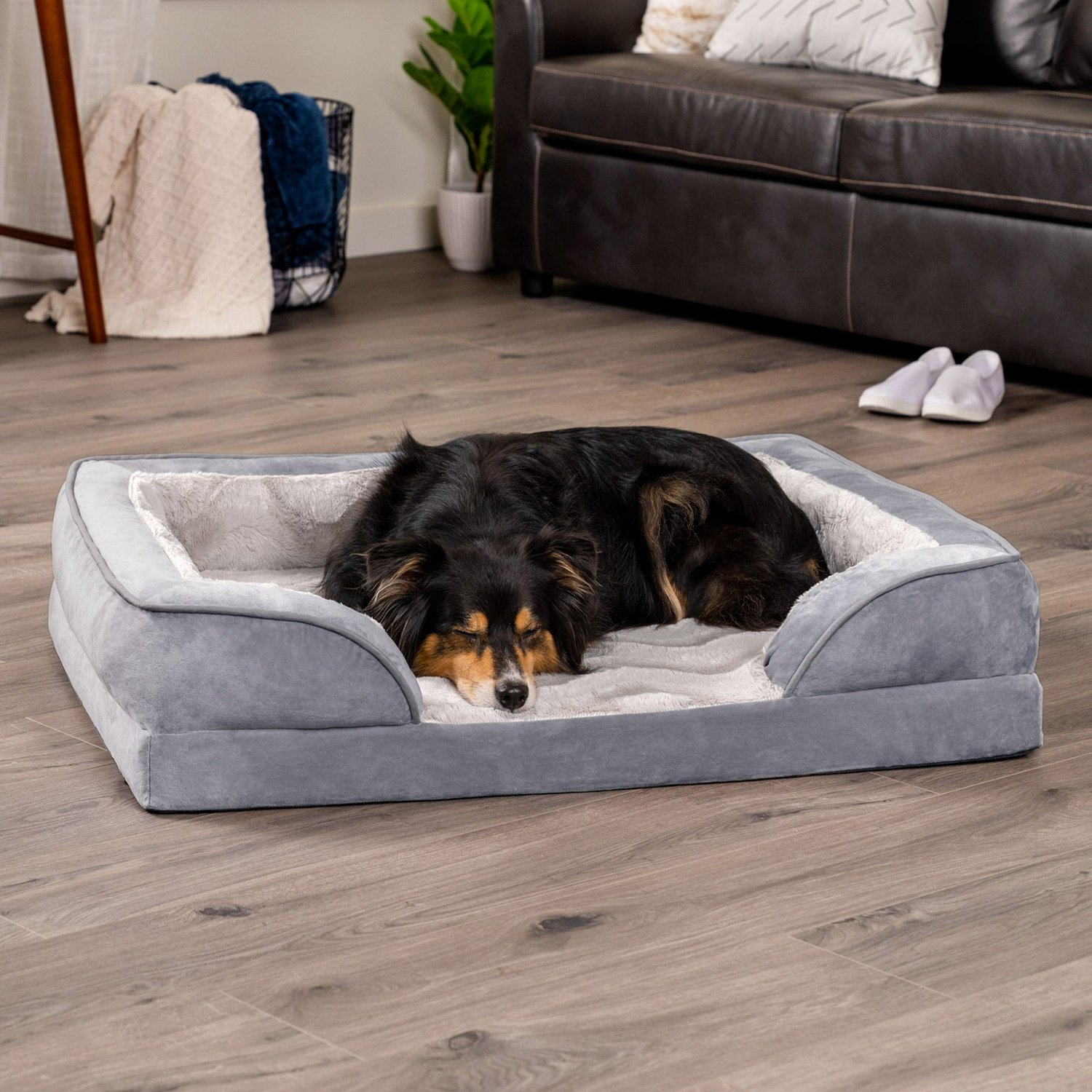 This orthopedic sofa bed by FurHaven is available in sizes ranging from small up to jumbo plus. It comes in granite gray, brownstone, and celadon green. It has a plush faux fur surface for sleeping and orthopedic foam on the bottom for support. The bolsters are filled with 100% recycled fluff. If your pet is older or injured, orthopedic support during sleep is a must. With this sofa bed, your pet gets a wraparound bolster that serves as the perfect pillow to rest their head. As far as cleaning, you just need to remove the zipper cover to throw it in your washing machine. It kind of resembles a sofa, which is a cute look, no matter where you put it.
What Buyers Say
Customers rate this sofa bed 4.6 out of five stars. Some customers are saying that ever since they got it, their dogs will only ever lie on that. Even though sometimes, they have other beds they've purchased and placed throughout different points in their home. One customer purchased this for her cats, and she can't get them to lay in it. She thinks that the new bed and new smell might be a little bit too much for them so she's looking for solutions to lure them into the bed. They haven't even realized just how comfortable it is yet. Another customer admits that she cuddles her 80-pound labradoodle in this bed. She says she doesn't think she's the only one and we don't think she is either!
| PROS | CONS |
| --- | --- |
| Machine washable removable cover | Some pets, especially cats, may take longer to acclimate to the new bed |
| Orthopedic foam for support | |
| Made with recycled materials | |
Best for Ferrets: Marshall Hanging Ferret Hammock
Best for Ferrets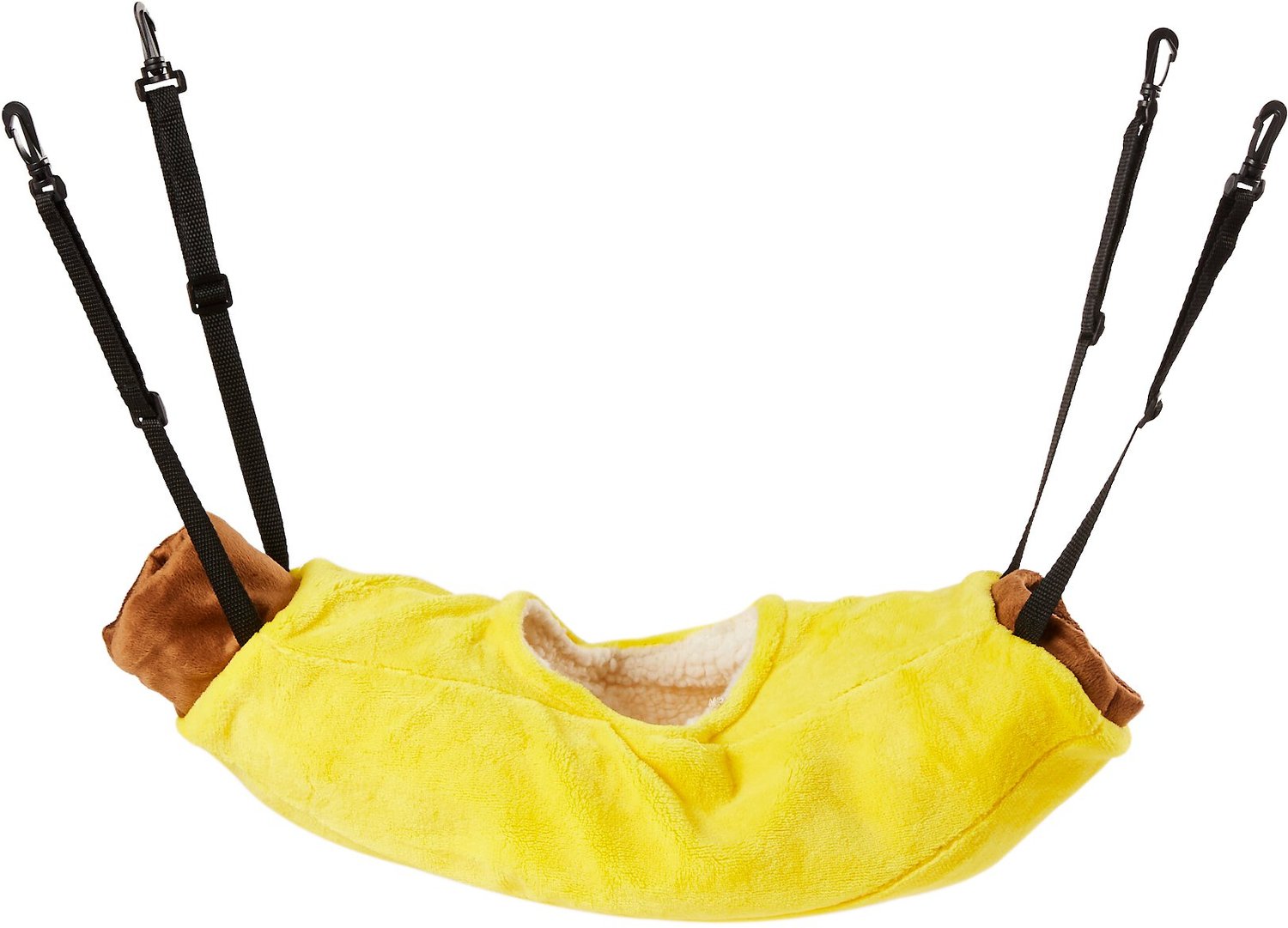 If you have a ferret, this cute hanging hammock is a top favorite. You can get it in the banana version or a monkey version which is a bit different. Since ferrets are so sensitive to heat, hammocks give them the space they need to relax in a cool and comfortable place. Both the monkey and the banana are super adorable designs, and you can even purchase them both to create a theme in your ferret's cage.
They're made with extra soft fleece fabric, and they have a very lightweight fill inside. They come with two adjustable nylon straps that you can attach to the inside of your ferret's cage. These are big enough to hold two ferrets and although it's marketed for ferrets, they're also appropriate for any other small pets that love lounging in a hammock. These are easy to clean; just throw them in the wash!
What Buyers Say
Customers rate this hammock 4.4 out of five stars. One customer shares that the banana is a little long for the cage that they have so it takes her ferret some time to get inside but once she's in, she's very cozy. Another customer purchased this for his rats. One of them, in particular, is a bit aggressive so she has to house him separately. He's a big rat and still, he has plenty of space with his hammock. It's the only one he uses.
| PROS | CONS |
| --- | --- |
| Perfect for pets that need to keep cool | Check the product dimensions to ensure it fits comfortable in your cage |
| Spacious design | |
| Made with extra soft fleece fabric | |
Best for Outdoor Use: Frisco Steel-Framed Elevated Dog Bed
Best for Outdoor Use
If you have a dog that loves lounging outside, a good, sturdy outdoor dog bed makes their time spent outdoors a lot more comfortable. This one is available in small, medium, and large sizes. It comes in brown, terra-cotta, green, gray, and metallic gray. It has a powder-coated steel frame and durable, PVC-coated fabric. That's the sleeping surface that allows your pet to rest comfortably and that is made to last, especially outdoors. The fabric is breathable so even on hot days, your dog stays cool. It's easy to assemble and you can clean it with your regular cleaners or just blast it with your hose. The feet are skid resistant so that it doesn't budge when your dog jumps onto it. It's perfect for outdoor use but you can always bring it indoors as well.
What Buyers Say
Customers rate this dog bed 4.4 out of five stars. One customer shares that she purchased this for her four-month-old golden retriever and he took to it right away. He did try to chew it a few times, so she had to keep an eye on him in the beginning. After she pulled the bed away from him when he tried to chew it, he learned that that was not an appropriate chew toy. Now he just enjoys settling on it and playing with his actual chew toys. Another customer purchased it for indoor use. She has six toy poodles that would always fight over their smaller beds. She purchased this one to give them one big bed to share. It took a little while but now they all enjoy spending time on it, especially after she draped a soft rug and fleece throw on it.
| PROS | CONS |
| --- | --- |
| Durable materials | None |
| Use indoors or outdoors | |
| Skid-resistant feet | |
Criteria: What to Look for in Pet Beds
You have several different options when it comes to pet beds. Some are super lush and meant to mimic your pet's mother's fur for ultimate comfort. Some have a flat appearance with a plush, self-warming design. Before making a final decision, consider the following.
Design
Each pet has a specific need. Ferrets, for example, need a cool resting spot. Breathable hammocks are much better than an extra-plush, encased environment. Cats and dogs usually enjoy burrowing a bit and feeling a sense of safety with a bolstered design. Older pets or those healing from injuries need some orthopedic support to help them rest comfortably.
Materials
Materials are also an important consideration. Some pet beds are made with recycled materials, which complements homes that prioritize sustainability. Some have extra plush padding, which may be suitable for chillier months but not so much if you live in a hot, humid environment. Outdoor pet beds are made with durable materials that can withstand changes in weather.
Size
Now this seems like the most obvious factor but also consider how your pet likes to lounge. Do they cuddle up into a little ball or do they prefer to stretch out? Catering to their sleeping preferences helps make sure you buy the perfect-sized bed. This is especially true if you have more than one pet that loves sleeping together no matter how cramped they are! Going for a bigger size to hold them both is better than two small ones when only one gets used.
Up Next, Explore Some More Highly Rated Products…
The 6 Best Pet Beds on Chewy Today FAQs (Frequently Asked Questions)
What should I look for in a dog bed?
First, look at how your dog enjoys sleeping. This way, you can pick the right style. Next, look for how easy it is to clean. Once you've picked the right style, it's a bummer if it's tough to clean. When you find something that suits both your pup's preferences and your convenience, that's the one! It ensures you can both be happy with your choice.
Do pets actually need beds?
While you may catch your pets snoozing on the hard floor or carpet on some days, they need beds too. They enjoy the comfort and having a place to call their own. Plus, as they get older, an orthopedic bed makes them much more comfortable.