The world is full of beautiful flowers that not only look amazing but many also produce scents, shapes, sounds, and tastes. Without flowers, we'd be in a sticky situation indeed. Bees, butterflies, hoverflies, and immeasurable pollinators drink their nectar to survive and take the pollen when they leave. This pollen fertilizes our crops. Let's discover more about our world's incredible flowers. This article uncovers 16 amazing flowers that start with A, plus 36 in a long list if you wish to go even further.
1. African Lily
African lily is a perennial or evergreen flower with strappy long leaves and amazing white or blue flower heads held high above its foliage. You might know this flower as agapanthus or Lily of the Nile. It has a lot of cultivars, including dwarf and stripey plants that bloom from late spring into fall.
This beautiful flower starting with A is native to South Africa's coastline. It loves sandy soils, well-drained earth, and plenty of sunshine. If yours just won't flower, try placing it in a small container. Agapanthus love restricted roots. Be sure to water it!
2. Aconite
An amazing flower that starts with A is aconite, but it's better known as wolfsbane or monkshood due to its hood-shaped flowers. Native to Western and Central Europe, aconites were historically an important part of the medieval eye and pain treatments.
However, its stunning foxglove-like blue flowers are poisonous, so it's best to keep children and pets far away. Did you know huntsman would dip their arrow in aconite liquid to poison wolves? That's how it got the name Wolfsbane.
3. Amaryllis
These flowers grow from bulbs each year, and we know them best as the Christmas flower.
There are two species: Amaryllis paradisicola and Amaryllis belladonna, and both have large red trumpet-like flowers on strappy, thick green foliage. They happily grow indoors during winter, so we tend to grow them in the festive season.
4. Anemone
In early spring, a beautiful flower that starts with A is anemone. 100-120 species exist, and they're native to Europe, North America, and Japan.
White, blue, yellow, or red flowers sit on delicate long stalks and attract pollinators when there is much nectar about. Anemones love woodlands, where they quickly spread with little assistance.
5. Anthurium
Anthurium flowers are unusual, shiny, leathery-looking beauties with bright red heart-shaped bracts and a spadix covered in miniature flowers. Great houseplants and yard plants for hot zones, anthuriums are popular for their strange looks.
You might know it better as the flamingo flower or boy flower (no prizes for guessing why it's called a "boy" flower!). They originate from the Caribbean and South America and have fairly dry roots. Only water these exotic beauties once the soil is dry an inch down.
6. Aster
Asters bloom all summer long and into fall, so they are popular garden plants. Some folks call them daisies because they have a yellow disk center surrounded by soft, straight petals.
The most common species has purple-blue petals, but there are 170 species. The majority of asters are perennial, and they all grow best in moist soil with plenty of sun on their faces. They'll struggle to flower in the shade.
7. Angelonia
Angelonia, the summer snapdragon, is native to Mexico and Argentina. It's an herbaceous flower that prefers dry habitats and dislikes rain or lots of humidity. Lots of beautiful cultivars bred from Angelonia angustifolia brighten hot zones and Mediterranean gardens.
Its snapdragon-like flowers have evolved with a specialist pollinator, the oil bee. Hairs on Angelonia's inner corolla tempt in oil bees who trample in the pollen. Result!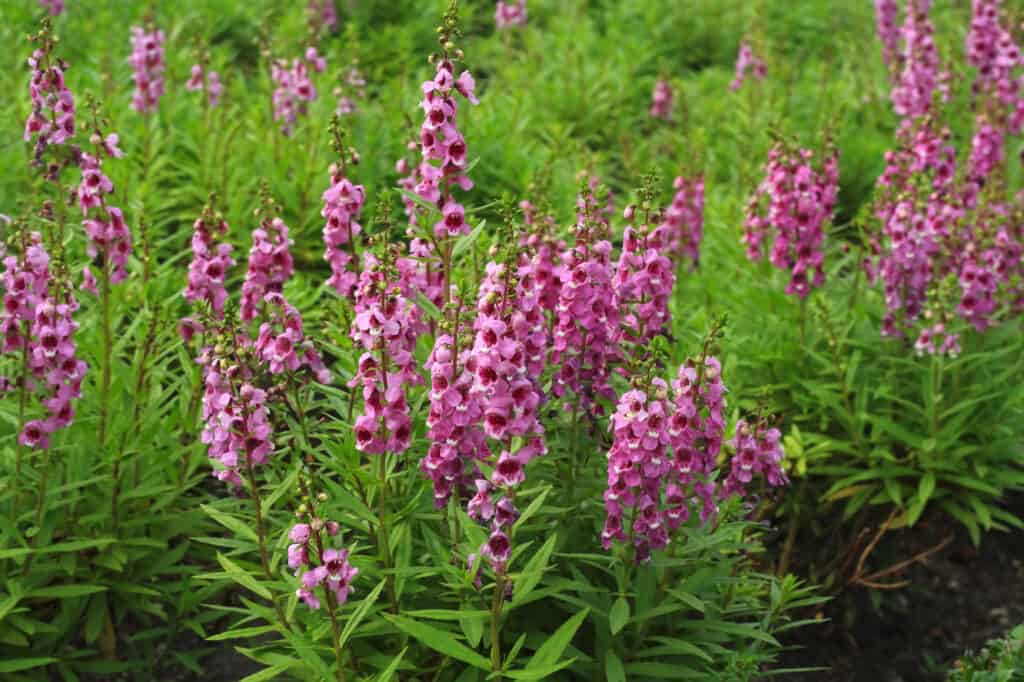 8. African Daisy
African daisies are vibrant colored flowers in shades of yellow, purple, pink, orange, white, and bi-colors, sitting on a froth of mid-green foliage. They're known for their rapid growth habit, often going from nothing to fully flowered in two months.
There are 70 species of African daisy, and they're reliable perennials in zones 10-11, but in the UK and northern Europe, most gardeners treat them as annuals, growing from seed each year. They'll Usain Bolt-style growth habits mean they're popular bedding plants.
9. Astilbe
Astilbe is one of the prettiest and most delicate-looking flowers starting with A.
Astilbes have narrow mid-green to brown foliage topped with a plumed froth of tiny white, pink, red, or purple flowers. Shade is the best spot to grow these fluffy beauties, where they never disappoint you.
Perennial astilbes die down to nothing over winter, then fully re-grow in spring. Their flowers appear in early spring and throughout summer. If you have a shady yard, an astilbe or 10 is essential.
10. Alchemilla
Alchemilla is a low-maintenance perennial that grows in a wide range of soils, from dry chalk to damp, acidic earth. It's better known as Lady's Mantle and a good bet for woodland-style gardens beneath hedges and wildlife-friendly areas.
It grows in spring, first appearing as a mound of scalloped bright green foliage that catches raindrops and shimmers. Then, in spring and summer, billows of frothy yellow flowers emerge. Historically, alchemilla treated muscle spasms, wounds, and "women's ailments." Recent research shows alchemilla does have medicinal properties, so our ancestors were on to something good.
This is a classic low-maintenance plant, but its sap is irritating, so always wear gloves when handling it.
11. Aubrieta
Perennial aubretia is a classic edging plant and one of the brightest amazing flowers that start with A. It flowers in early spring in a huge flush of lilac purple, covering walls, container edges, and open soil with pollinator-friendly blooms.
You may know it better as a lilac bush or purple rock cress. Either way, it's one of those bedding plants that keep on giving and come back better year after year. Plant it in full sun or partial shade for the best flower show.
12. Arum Lily
Arum lily is a beautiful calla lily native to southern and eastern Africa. It's an exotic-looking bold flower that sits on a thick green stalk above a clump of glossy green foliage.
Its blooms are huge and fluted like a vase with a long, spiky spadix. Pink, yellow, orange, and purple versions exist, but the most popular is classic pure white. It's essential in cut flower work and very popular in bouquets.
13. Anthericum
Anthericum is a rhizomatous perennial with grass-like leaves. It has pure white six-petalled flowers that grow along slim but tough two-foot-long stems. If you're after vertical interest in a dry flower border, anthericum is an excellent choice. It'll flower for months in spring.
Anthericum is native to Europe's dry pasture, woods, and rocky shorelines, where it's commonly called St. Bernard's Lily.
14. Alyssum
Carpet-forming alyssum is one of the ground-covering flowers that start with A. Some folks call it sweet alyssum for its sweetly fragrant flowers.
These flowers are the stars of an annual garden and one of the easiest to grow. Each plant produces mat-forming mounds with lance-shaped leaves up to an inch long. In spring, dense clusters of scented white flowers sit atop the carpet. The flowers are so numerous they'll entirely cover the foliage.
Modern cultivars include purple, pink, rose, and apricot alyssums, but it's hard to beat the original white beauty.
15. Angel Trumpet
Angel trumpets have distinctive 12-inch-long trumpet-shaped flowers that hang from their stiff, woody branches. Each flower is sweetly scented during the evening and pollinated by moths.
These amazing flowers start with A natively grows in South America. They can reach 6.5 feet tall and produce either apricot, pink, white, or yellow flowers. They grow outside in tropical zones but are not frost-hardy, so they must head indoors for winter in cool zones and northern Europe.
16. Anise Hyssop
Anise hyssop is often called agastache, and it's one of the best flowers that start with A for pollinators. Bees love agastache, and it brings all the hummingbirds to the yard.
This pollinator magnet belongs to the mint family and loves full sun and well-drained soil. Reaching several feet tall, agastache's licorice-scented tiny purple flowers bloom all summer on towering spikes. Its hairy, rough foliage is pest and disease-resistant so long as it's not consistently damp.
36 Amazing Flowers That Start With A – Continued!

We've met 16 amazing flowers that start with A and admired their characteristics, but if you don't want to stop there, here are 36 flowers that start with A.
| Flowers that start with A | Scientific name |
| --- | --- |
| African Lily | Agapanthus africanus |
| Aconite | Aconite napellus |
| Allium | Allium sativum |
| Amaryllis | Amaryllis |
| Anemone | Anemone coronaria |
| Aster | Aster amellus |
| Angelonia | Angelonia angustifolia |
| African daisy | Osteospermum spp. |
| Astilbe | Astilbe |
| Alchemilla | Alchemilla vulgaris |
| Aubrietia | Aubretia |
| Arum lily | Zantedeschia aethiopica |
| Anthurium | Anthurium |
| Alyssum | Lobularia maritima |
| Alpine aster | Aster alpinus |
| Angel trumpet | Brugmansia |
| Anise hyssop | Agastache |
| Avens | Avena fatua |
| Ageratum | Ageratum houstonianum |
| Astrantia | Astrantia |
| Aubretia | Aubrieta deltoidea |
| Alstroemeria | Alstroemeria aurea |
| Aquilegia | Aquilegia vulgaris |
| Acanthus | Acanthus mollis |
| Aconitum | Aconitum napellus |
| Agave | Agave |
| Asclepias syriaca | Asclepias syriaca |
| Antirrhinum | Antirrhinum majus |
| Ajuga | Ajuga reptans |
| Aloe vera | Aloe barbadensis miller |
| Aralia | Polyscias fruticosa |
| Asclepius | Asclepius |
| Asplenium | Asplenium nidus |
| Apple blossom | Malus |
| Acorus | Acorus calamus |
---
The Featured Image
---