Africa has several different types of habitats from jungles and forests to grasslands and deserts. The second-largest continent after Asia, it is home to many beautiful and dangerous animals of various sizes, both diurnal and nocturnal.
These include mammals, reptiles, birds, and insects, with many being unique to Africa. Because of its biodiversity, it is a popular location for animal researchers as well as safari enthusiasts. It contains over 1,100 different mammal species, plus over 60 carnivore species, 100,000 insect species, 3,000 freshwater fish species, and over 2,600 bird species. Its populations of insects comprise 15-20% of all insects in the world.
The Official National Animals of Africa
Since Africa is made up of several countries containing their own culture and languages, as well as different types of habitats, there aren't official African animals that represent the entire continent. Hence, each country has its own official national animal, with some countries having more than one national animal or sharing the same national animal as that of other countries.
National animals are often categorized according to type, especially if a country has more than one. For example, the Leopard is the official national animal (land mammal) of both Rwanda and Somalia, while the American Fish Eagle is the national bird of Namibia and Zambia, and the Oryx is the national animal of Namibia. South Africa's official national animal is the Springbok, its national bird is the Blue Crane, and its national fish the Galjoen.
The Top African Wildlife
The top wild African animals are those that people most often seek out in safaris, with many being animals native to Africa. These safari animals are housed in national parks, game reserves, and other sanctuaries for both human safety as well as to avoid their becoming part of the extinct animals in Africa. Among the best-known African animals are the "Big Five" which are the Lion, Leopard, Elephant, Rhinoceros, and Buffalo. All of them can be seen in South Africa and are native animals: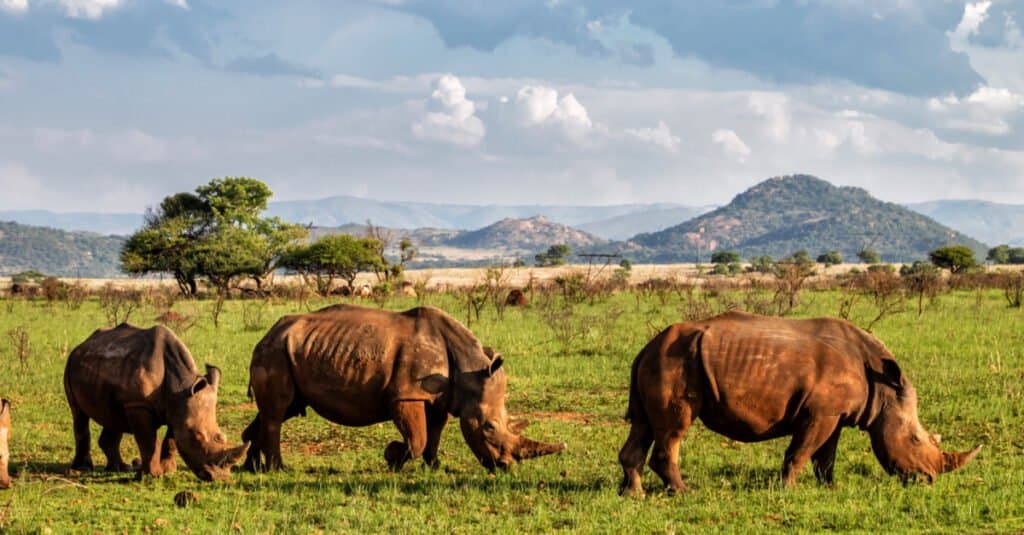 Finding Top Wild African Animals: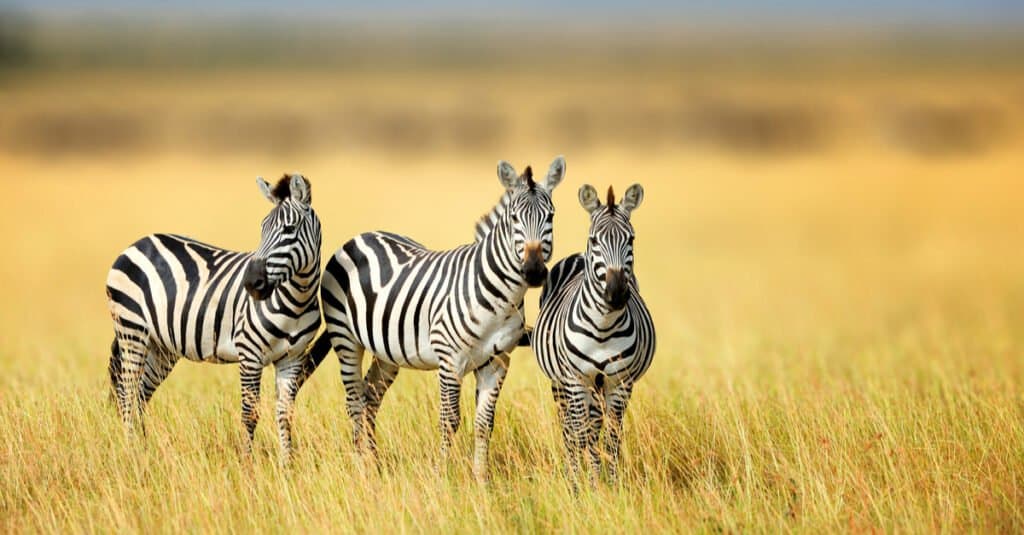 The Most Dangerous African Animals Today
Land animals in Africa are popular attractions for safari enthusiasts, although they are not always treated with caution and respect. Many dangerous African animals are among the most dangerous in the world after human beings, whether hostile or poisonous. Fortunately, most dangerous African animals can be safely seen in national parks and game reserves. The top 10 most dangerous African animals and their estimated number of human deaths per year are:
Mosquito: Causes diseases including Malaria, Yellow Fever, Zeka Virus, West Nile Virus, and Dengue Fever; 1,000,000 deaths.
Hippopotamus: Territorial and weighs up to 1,500kg, making it the third-largest animal after the elephant and rhino; 3,000 deaths.
African Elephant: Largest land animal; weighs up to 7,000kg and is unpredictable; tramples victims; 500 deaths.
Nile Crocodile: Aggressive, fatal attacks; 300 deaths.
Lion: Apex predator; kills locals during their daily lives or on the fringes of game reserves; 200 deaths.
Cape Buffalo: Nicknamed "widowmaker" and "black death"; fearless, aggressive, and unpredictable; will stalk and kill humans if alone; tramples and gores victims to death; weighs up to 1,000kg; 200 deaths.
Great White Shark: Most aggressive shark towards humans; charges at prey up to 40km an hour before taking a large bite; humans die from blood loss in 20 percent of cases; 2 deaths.
Rhinoceros: Weighs up to 2,800kg and second largest animal after the elephant; irritable, and charges with long, sharp horns up to 64km an hour when threatened; unknown.
Puff Adder: Not the most venomous snake but causes the most fatalities due to its wide habitat range, camoflauge colors and aggressiveness; 20 percent fatality rate from untreated bites; unknown.
Black Mamba: Largest venomous snake in Africa, growing up to 2.5m; one of the world's fastest snakes, moving at 20km an hour; highly aggressive; one of the most venomous snakes in the world with a 100% fatality for untreated bites; unknown.
Endangered Animals In Africa
Several species are endangered or vulnerable due to hunting and poaching, particularly large and dangerous animals which are prized as trophies. Endangered animals in Africa include the Black Rhino, White Rhino, Rothschild's Giraffe, Grévy's Zebra, (African) Wild Dog, Grey Crowned Crane and Okapi. Additionally, the Lion, Leopard, Cheetah and African Forest Elephant are vulnerable species.
Birds in Africa
There are many different types of birds in Africa. In fact, there are 2,341 species of native African birds, 25 of those species are endemic, meaning you can't find them anywhere else. You can find birds all over the continent. A few iconic species include:
Types of African Fish
Africa is home to an abundance of freshwater and marine fish. There are hundreds of freshwater lakes and rivers in Africa. Some of the most notable are the African Great Lakes, a system of 7 lakes in East, South, and Central Africa. These lakes are known for their cichlid populations. One of the great lakes, Lake Malawi is an especially popular fishing destination, with over 1,000 species of fish. Fishing in Lake Malawi is best between September and April, but underwater viewing is best between May and October.
With Western Africa bordering the Atlantic Ocean, and Eastern Africa the Indian Ocean, you will easily find thousands of marine fish species. Kenya, Tanzania, and Zanzibar are popular fishing destinations where you can catch several species of tuna, sharks, mackerel, marlin, barracuda, and more. The best time for deep-sea fishing off these coasts is between October and April. If you're interested in viewing marine wildlife, Mozambique has a marine conservation area where you can enjoy manta rays, sharks, eels, and a variety of reef fish. October to March is the best time for snorkeling in Mozambique.
Snakes in Africa
A wide variety of snakes call Africa home. There are snakes in every type of habitat, from tropical, to desert, and aquatic. You'll find both venomous and non-venomous snakes in Africa. Venomous snakes in Africa have three different types of venom- Cytotoxic, neurotoxic, and haemotoxic. Cytotoxins kill cells. They destroy the cells in soft tissue and internal organs. Neurotoxins affect neural pathways and can cause paralysis. Haemotixins destroy red blood cells and prevent blood from clotting.
Some of the deadliest snakes in Africa include:
Black Mamba: Africa's longest snake, and one of the fastest snakes in the world. Black mambas are found in Southern and Eastern Africa. They live in savannahs and rocky hills.
Boomslang: One of the most venomous snakes in the world. Native to the savannahs of sub-Saharan Africa.
Bush Viper: Arboreal snakes found in the tropical rainforests of Western and Central Africa.
Cape Cobra: Only found in Southern Africa. They live in a varitey of habitats, like grasslands, savannahs, and deserts.
West African Carpet Viper: Endemic to the dry savannahs of West Africa. It is the most dangerous snake in Africa.
Eastern Green Mamba: Arboreal snakes native to the coastal regions of Southern and East Africa. They can be found in the dense vegetation of tropical rainforests.
Puff Adder: Found throughout sub-Saharan Africa, typically in open forests, grasslands, and rocky savannahs.
A few nonvenomous snakes native to Africa:
Ball Python: Live north of the equator in Western and Central Africa. They are found near water in grasslands and forests.
Brown House Snake: Distributed throughout Southern Africa. These snakes are popular as pets.
Spotted Bush Snake: Found in a variety of habitats close to water sources. They have a large range, from Southern Africa northward into Central Africa, from east to west coasts.
African Rock Python: The largest snake in Africa. Native to sub-Saharan Africa, in a range of habitats near permanent bodies of water.
Rivers in Africa
There are numerous massive rivers in Africa that are home to a variety of wildlife and African animals. African rivers range from the Nile River, which stretches more than 4,000 miles in length and is a haven of wildlife in the harshness of the Sahara Desert to the Okavango River, which has an inland delta that covers 600,000 acres in swamps and floods during dry seasons to create a gathering ground for thousands of animals. Some notable African rivers include:
Orange River: Flows 1,300 miles across South Africa and forms the boundary with Namibia. The Orange River is home to a number of endemic fish including the Numaquab barb, Maluti redfin, and Orange River mudfish.
Zambezi River: A massive 2,200 miles river that is home to Victoria Falls, one of the Seven Natural Wonders of the World. The Zambezi is home to a wide variety of wildlife including bull sharks and many bird species.
African Countries Animals Lists
Click any of the countries below to see a detailed list of animals located in that country!
African Animals
African Animals List
Africa FAQs (Frequently Asked Questions) 
What are other animals native to Africa?
Greater Kudu
Common Ostrich
African Civet
Dik-Dik
Wildebeest
Great Wild Crane
Mantled Guereza
Hartebeest
Warthog
Spotted Hyena
Okapi
What is an unusual animal one wouldn't expect to find in Africa?
There is a penguin colony in South Africa. The west coast near the Cape has cold Antarctic currents.
What are some of Africa's world records with regards to animals?
Four out of five of the world's fastest land animals: The fastest is the cheetah, with speeds of 70mph. The wildebeest, lion and Thomson's gazelle all run at about 50mph.
The world's biggest frog: The Goliath frog is in Cameroon. It can grow to one foot long.
The world's smallest butterfly: The Dwarf Blue Butterfly has a wingspan of only 0.5″ and is in South Africa.
The world's largest and smallest chameleons: Both in Madagascar, which contains about half of all chameleon species in the world.
The only place you can find shoals of fresh water sardines: They are in Lake Tanganyika.
The world's largest and heaviest beetle: The Goliath beetle can grow to 5 inches in length and weigh up to 0.25lbs. It lives in tropical Africa.
The largest primate, the Gorilla: Males weigh up to 200kg.
The largest cat, the Lion: It is also the largest of all African carnivores and an apex predator in any African ecosystem.
The second largest reptile, after the saltwater crocodile: The Nile crocodile grows to 5m or 20ft in length on average.
The largest seal colony in the southern hemisphere: Cape Cross in Namibia.
What are some extinct animals in Africa?
Animals in Africa that went extinct recently are the Northern White Rhino (2018) and the Western Black Rhino (2006). The next most recent extinct animal was the Bubal Hartebeest (1923).