Is it time to spruce up your garden, but you're not sure where to start? The possibilities are relatively endless, making the decision process slightly daunting. But it doesn't have to be! Start by watching your garden for a few days to determine where the sun hits. That way, you'll know where to place sun-loving plants. Then, consider adding some additional items in locations that don't receive as much sun. We've gathered a list of fourteen shrubs that thrive in zone 7 shade gardens, so you can hit the ground running. Or… in this case… planting. 
1. Canadian Hemlock
The Canadian hemlock (Tsuga canadensis) is a part of the Pinaceae (pine) family. Save plenty of room for it because it likes to spread out! It only grows five feet tall but will easily reach ten feet wide. Canadian hemlock showcases dense growth and doesn't flower. It has some of the smallest needles and cones in the whole plant family. But it is low maintenance and loves shade.
2. Gold Dust Plant
The gold dust plant (Aucuba japonica) is native to parts of Asia. It reaches roughly six to ten feet tall and grows nearly as wide. This shade-loving plant thrives in poor soil as long as it's moist. Its flowers aren't significant, but they are lovely. The tiny, purple-ish flowers arrive every year under proper conditions.
3. California Sweetshrub
California sweetshrub (Calycanthus occidentalis) is native to the southwestern United States. At maturity, it grows as tall and wide as twelve feet. Its dark red or purplish brown flowers blossom every summer. They are highly fragrant. This shrub prefers partial shade and makes the ideal hedge.
4. Checkerberry
Meet this member of the blueberry family. Checkerberry (Gaultheria procumbens), or American wintergreen, thrives in moderate shade. It loves rich soil, and its low growth makes it perfect for ground cover. It only reaches eight inches high but spans up to a foot wide.
The beautiful flowers make a magnificent show when they bloom. But that's not the only thing the plant is good for. Wildlife eats the fruit, and the leaves get turned into oil for many applications.
5. Chinese Fringe Flower
Chinese fringe flower (Loropetalum chinense) belongs to the Hamamelidaceae (witch hazel) family. Its expansive size (up to eight feet tall and wide) develops in a rounded habit. This shrub is native to parts of Asia. It prefers full sun or partial shade and rich, moist soil.
The plant produces stunning white, pink, red, or purple blossoms starting in March or April. They are highly fragrant and attract lots of wildlife.
6. Coast Leucothoe
Coast leucothoe (Leucothoe axillaris) belongs to the blueberry family. It grows roughly four feet tall and six feet wide. This shrub prefers full to partial shade. It is native to the Southeastern United States and prefers moist environments.
The stunning white flowers attract lots of pollinators, including butterflies and bees. But it is very important to use caution around this plant. It is toxic to humans and is highly flammable. Keep it away from houses or other outbuildings.
7. Red Tip Photinia
This member of the Rosaceae (rose) family is highly drought tolerant. Red tip photinia (Photinia x fraseri) gets up to fifteen feet tall and wide. It develops beautiful, fragrant white flowers in April and May.
8. Japanese Skimmia
Japanese skimmia (Skimmia japonica) is native to China and Japan. It doesn't just prefer shade; it needs full or partial shade. The foliage will scorch in direct sun. This shrub reaches four feet tall and five feet wide.
Plant this species in rich, well-draining soil and get rewarded with white, cream-like, or pink blooms in April that attract the birds.
9. California Holly
This shrub is a member of the Rosaceae (rose) family. California holly (Heteromeles arbutifolia) grows as tall as twenty feet and thrives in partial shade. It develops beautiful white flowers and bright red berries that grow in clusters and bloom from spring through fall. Its showy green leaves contrast the pretty display.
California holly prefers dry, poor, well-draining soil. Its berries are toxic in high amounts, but that doesn't stop the birds from flocking to it.
10. Tree Peony
Tree peony (Paeonia suffruticosa) is native to Bhutan, Tibet, and China. It grows roughly five feet tall and four feet wide. Tree peony takes many years to get established, but they live long. The best part is that there is no need to prune them.
It produces magnificent flowers in shades of gold, white, yellow, and pink that bloom from April to May. These stunning blossoms attract countless butterflies annually.
11. Furin-tsutsuji
This interesting shrub is native to Japan. Furin-tsutsuji (Enkianthus campanulatus) grows roughly ten feet tall and six feet wide. It develops yellow or orange flowers in early summer. This low-maintenance plant likes full sun or partial shade. Plant this shrub in moist, well-draining soil for best results.
12. Spirea
Snowmound spirea (Spiraea nipponica 'Snowmound') is a beautiful, drought-tolerant shrub. It reaches four feet high and wide. This size is significantly smaller than other spirea species, which can reach up to eight feet. It is tolerant of many different soil types, making it easy to grow in countless environments. It produces clusters of white flowers every spring that attract butterflies.
13. Barberry
These shrubs are slightly shorter than some other species. Most barberry (Berberis vulgaris) plants only reach up to two feet tall. However, there are dwarf varieties that rarely get taller than one and a half feet. It is native to Asia but was introduced to the Americas as early as the 1600s.
This shrub can reach up to ten feet tall and has long, sharp thorns protecting its valuable fruit. Pollinators and birds love this shrub, so you'll get plenty of flying friends after planting it.
14. Elderberry
Elderberries (Sambucus spp.) have grown in popularity after word of their medicinal prowess got out. These amazing shrubs are tall (eight to ten feet) and can get unruly. That makes them the ideal addition to borders or corners of the fence that you won't use otherwise. The best part about them is that they produce delicious and nutritious fruit!
Elderberry shrubs prefer rich soil but don't mind wet or dry environments. They develop lovely, fragrant, star-shaped flowers every spring. Wildlife and pollinators love visiting this plant for shade, the flowers, and to eat.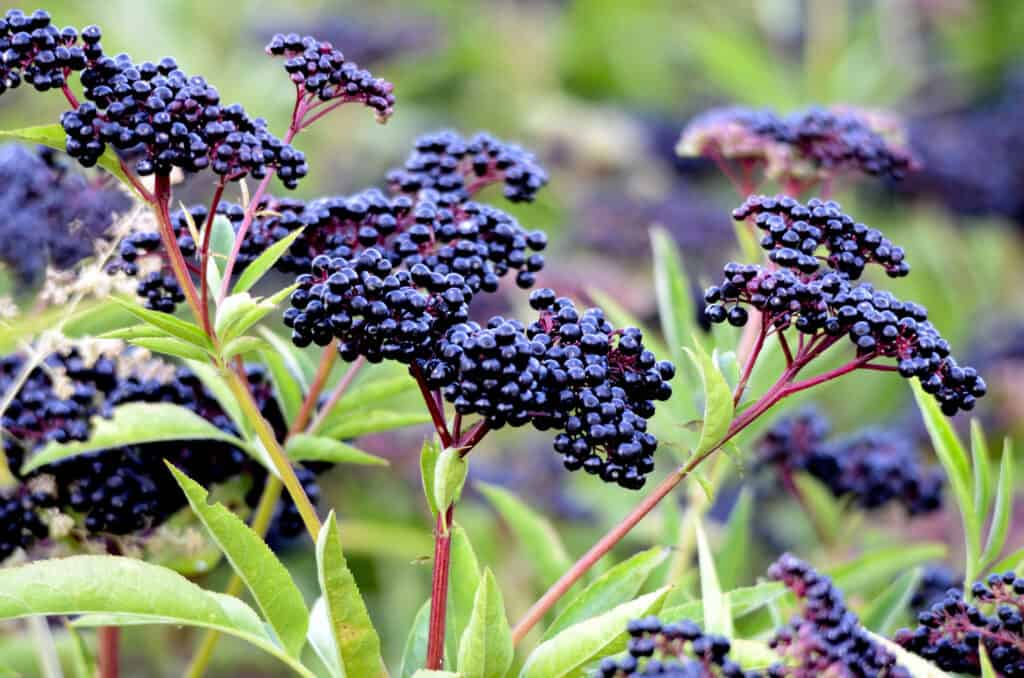 Summary of 14 Shrubs That Thrive in Zone 7 Shade Gardens
| Number | Shrub | Scientific Name |
| --- | --- | --- |
| 1 | Canadian hemlock | Tsuga canadensis |
| 2 | Gold dust plant | Aucuba japonica |
| 3 | California sweetshrub | Calycanthus occidentalis |
| 4 | Checkerberry | Gaultheria procumbens |
| 5 | Chinese fringe flower | Loropetalum chinense |
| 6 | Coast leucothoe | Leucothoe axillaris |
| 7 | Red tip photinia | Photinia x fraseri |
| 8 | Japanese skimmia | Skimmia japonica |
| 9 | California holly | Heteromeles arbutifolia |
| 10 | Tree peony | Paeonia suffruticosa |
| 11 | Furin-tsutsuji | Enkianthus campanulatus |
| 12 | Spirea | Spiraea nipponica 'Snowmound' |
| 13 | Barberry | Berberis vulgaris |
| 14 | Elderberry | Sambucus spp. |
The photo featured at the top of this post is © Anna Multanen/Shutterstock.com
---