Key Points
The #1 Best Overall electronic cat toy that moves is the PetFusion Ambush Cat Toy.
Electronic cat toys that move are a fantastic way to get even the most lethargic cat to get up and move. Cats are natural-born hunters and these toys help to simulate that feeling for them. This leads to your cat getting the physical and mental stimulation they need to be happy and healthy. 
Our guide to finding the best electronic cat toys will help you determine which toy will be the most beneficial for your feline friend. In addition, we've included pros and cons to help you make the best overall decision.
Is your cat getting the mental and physical stimulation she needs to thrive? Cats lacking in either area are liable to experience boredom, stress, and even higher obesity risk. This is why, despite what you may be led to believe, playtime is as essential for cats as it is for dogs.
Of course, you're a busy person and there will always be times when you need a hand entertaining your cat — even if it's a robotic one. Electronic cat toys that move will keep your cat engaged, stimulated, and happy. They also provide motivation for cats who are reluctant to exercise. At their core, these electronic toys encourage your cat to be a cat. They reinforce her natural role as a hunter, and they promote feline behaviors, such as swatting, stalking, pouncing, and chasing.
If your cat could use an outlet for pent-up energy, an electronic toy that moves may be able to help. Here are six solid choices that will appeal to a variety of cats and owners complete with pros and cons to help you make the best decision possible!
Top Picks: The Best Electronic Cat Toys That Move Today
#1. Best Overall: PetFusion Ambush Cat Toy
Based on our extensive research, the best moving electronic cat toy is the PetFusion Ambush Cat Toy. With a feather teaser that simulates fast-moving prey, the Ambush puts your cat's hunting skills to the test.
This toy encourages exercise with a colorful feather that automatically rotates and peeks out from six holes at random. For cats who might get a little carried away, there's one feather replacement included. The toy also lights up to pique feline curiosity. The PetFusion Ambush requires four AA batteries, which are included. To preserve battery life, the toy turns off automatically after eight minutes of use.
Additionally, the toy is equipped with anti-slip feet that keep it in place no matter what surface your cat plays with it on. The motor has a very quiet sound as well. However, for more noise-sensitive cats it may be overwhelming.
Pros and Cons of the PetFusion Ambush Cat Toy
| Pros | Cons |
| --- | --- |
| The toy features colorful feathers that engage your cat. | The motor may be a bit noisy for cats who are highly sensitive to noise. |
| There are feather replacements included. | |
| Comes with four AA batteries. | |
| There is an eight-minute auto-shutoff feature. | |
| Equipped with anti-slip feet. | |
Best Overall
2. Best for Kittens: HexBug Nano Robotic Toy
The Hexbug Nano Robotic Toy is a fantastic option for kittens that want to have some fun! This is a pocket-sized toy for your teeny kitten that will keep them entertained. This mini robotic "insect" mimics the quick movements of prey to engage your cat's hunting instincts. A fuzzy tail trails behind the toy to further intrigue your cat.
This toy moves around fairly effortlessly. It avoids obstacles and can even flip itself over if it lands on its backside. The small size, however, does mean this toy can be lost easily underneath couches or other furniture. Another downside is that it only works on hard surfaces, so if you've got carpet everywhere this won't be the right toy choice.
While we've selected the HexBug as a top choice for kittens, plenty of happy reviewers report their older cats like chasing these toys around, too. Another great thing about this toy is that it is very quiet. This is perfect since many cats can be a bit apprehensive about toys that make a lot of noise. Batteries are also included with the purchase of the toy. Overall, this is definitely a great choice for kittens as it is a great exercise for their bodies and minds and is pretty quiet.
Pros and Cons of the HexBug Nano Robotic Toy
| Pros | Cons |
| --- | --- |
| This is a great option for kittens that will exercise bought their minds and their bodies. | It is pretty small and can get lost underneath the couch and other areas in the house. |
| The fuzzy tail at the end encourages your cat to play with it. | Only works on hard surfaces. |
| It mimics the movement of prey which keeps your cat engaged. | |
| The toy operates quietly. | |
| Comes in a variety of colors. | |
Best for Kittens
3. Best for Multiple Cats: APPLYSU Interactive Cat Toy
For those of you with more cats to love, the APPLYSU Interactive Cat Toy is a fantastic choice. Households with multiple cats will appreciate this toy's dual interactive components. This 2-in-1 toy features both a feather teaser and a laser cat toy for double the fun. At the touch of a button, you can send both toys spinning around at random speeds.
This toy takes about an hour to charge completely and should last for four hours of continuous play. The outer shell is made with eco-friendly ABS material that is durable enough for cats who are a little rougher on their toys.
Many reviewers noted that they love how this toy can clamp onto most surfaces with a plastic tightening screw. Feel free to stick it on your desk, attach it to a shelf, or secure it to a cat tree. Another feature most cat owners love is the low noise level. This toy operates at under 36 decibels (akin to a quiet library or whisper), so it shouldn't scare your cat—or grate on your nerves.
However, some reviewers did note that they felt as though the red laser dot moves way too fast for their cats to keep up with it. Since the laser dot is too fast for some cats, it leads to them losing interest in the toy.
Pros and Cons of the APPLYSU Interactive Cat Toy
| Pros | Cons |
| --- | --- |
| Perfect interactive toy for households with multiple cats. | Some reviewers found that the red dot moved too fast to keep their cats engaged in the toy. |
| Features dual-play options thanks to the feather tease and laser pointer. | |
| The battery only takes an hour to charge and lasts up to four hours. | |
| The outer shell is made from ABS material that is both eco-friendly and safe for cats to come into contact with. | |
Best for Multiple Cats
4. Best for Weight Loss: Bentopal Automatic Cat Toy
The Bentopal Automatic Cat Toy is the ultimate kitty workout toy. With its irregular, unpredictable movements, the Bentopal requires focus and swift redirections. There are two speeds, which allow for use on both hard floors and carpets. A long-lasting battery also means that the fun can keep going and going.
When your cat is ready to play, the Bentopal will run for 10 minutes. After 10 minutes, it shuts down for 1.5 hours, giving your pet the perfect blend of exercise and rest. So if you happen to be out of the house for a while, you can rest assured that your kitty won't be bored or overtired. Should the feather teaser become lost or damaged, you can buy replacement tails as well.
Overall, this is a fun toy that will entice your cat to stalk and chase after it. The only downside we found when scoping out reviews is that more aggressive cats may wreck the replaceable accessories by chewing through them.
Pros and Cons of the Bentopal Automatic Cat Toy
| Pros | Cons |
| --- | --- |
| The erratic movements encourage your cat's hunting instincts. | More aggressive cats may chew and break apart the accessories. |
| There is an automatic mode that allows the toy to be on for 10 minutes and then shuts down for 90 minutes. | |
| You can buy replacement accessories. | |
Best for Weight Loss
BENTOPAL Automatic Cat Toy
Features irregular, unpredictable movements
Encourages focus and speedy redirection
Feather attachment captures your cat's attention
Two speeds for use on carpet or hard floors
Long-lasting battery
Check Amazon
5. Best for Practicing Hunting Skills: PetSafe Dancing Dot Laser Cat Toy
The PetSafe Dancing Dot Laser Cat Toy is a fun and interactive toy for your cat to practice their instinctual hunting skills. This toy offers tons of mental and physical stimulation for your cat thanks to the quick and changing movements of the laser. By lighting up the ground with the laser, it immediately catches your cat's attention and gets them ready to pounce. The higher up the laser is placed the more ground it can cover. The laser is a Class 1, which means that it is safe for your cat to play with.
There are two automatic modes available. These can all be set up to turn on whether you're at home or not. One of the modes, known as the Play-All-Day mode, allows you to set up a timer that turns the toy on every 15 minutes in the span of two hours. Additionally, you can also schedule in a rest mode as well. This means that you don't have to worry about your cat tiring themselves out to the point of exhaustion.
The only real downside is the fact that the motor is a bit noisy. While this might not bother most cats, it can be an issue for noise-averse ones.
Pros and Cons of the PetSafe Dancing Dot Laser
| Pros | Cons |
| --- | --- |
| Uses a Class 1 laser. | The motor can be noisy for some cats. |
| The laser catches your cat's attention immediately. | |
| There are two automatic modes that can be preprogrammed. | |
| There is a rest mode programming available. | |
Best for Practicing Hunting Skills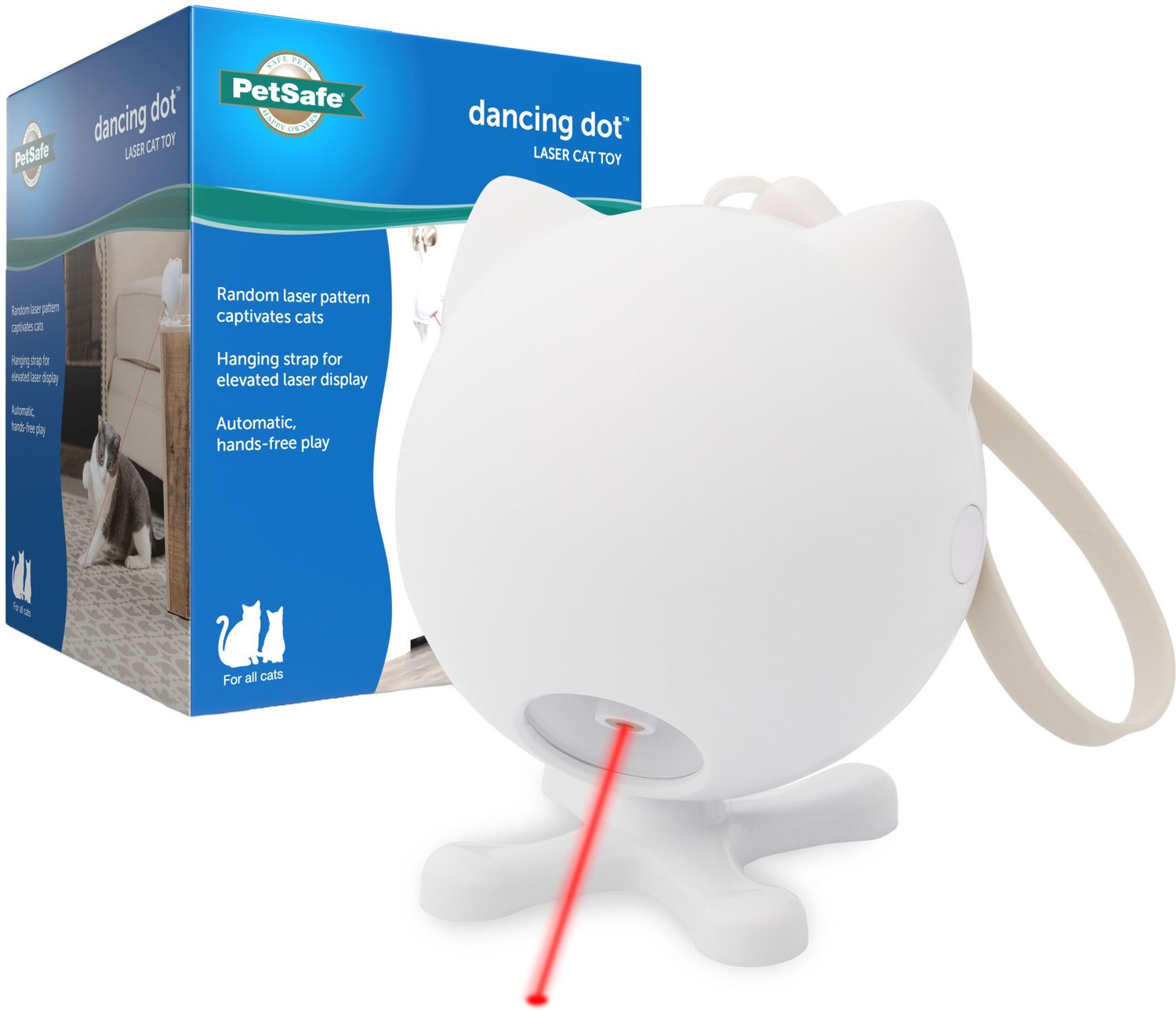 6. Best Value: Electronic Floppy Fish Cat Toy
If you're looking for an affordable toy that will still be fun for your cat, then try out the Electronic Floppy Fish Cat Toy. Maybe your cat prefers fish. In this case, this floppy carp might be a hit. At the touch of your cat's paw, this battery-powered toy starts flopping up a storm. The fish actually has a sensor inside of it that detects when your cat touches the toy. A pouch of catnip is also conveniently stashed inside the fish to make your cat go wild. This entices your cat to keep playing as the smell will drive them wild!
For messier cats, this cotton fish toy can be cleaned, just don't forget to take out the battery pack and catnip pouch, first. The fish is USB rechargeable, which means that you don't have to waste any money on batteries. Additionally, the fish only takes one hour to charge and will give your cat 12 hours of playtime fun!
The biggest con we've come across when researching this toy is that the movement of the fish begins to get compromised over time. However, at such an affordable price and with a rechargeable battery, this is definitely a great toy for the price.
Pros and Cons of the Electronic Floppy Fish Cat Toy
| Pros | Cons |
| --- | --- |
| The fish is washable. | The movement of the fish becomes compromised over time. |
| You can recharge the fish with a USB, saving you money on batteries. | |
| This is an affordable toy that will keep your cat engaged. | |
| Once charged, the fish can move for up to 12 hours. | |
| There is a sensor in it that prompts it to move when your cat touches it. | |
Best Value
Electric Floppy Fish Cat Toy
Activated when your cat touches it
Features a hidden stash of catnip to hold your cat's attention
USB-rechargeable
Made of safe, durable cotton
Can be cleaned after removing the battery pack and catnip pouch
Check Amazon
How to Choose the Best Electronic Cat Toy
There are a lot of reasons to invest in an electronic cat toy that moves. For many cats, an interactive toy is one of the best ways for them to get their daily exercise. After all, cats have natural hunting instincts. These toys help to nurture that instinct and allow them to expend that energy safely. However, there are a lot of different toys to choose from and it can be easy to become overwhelmed. Still, choosing the right toy for your furry friend doesn't have to be hard!
When it comes down to choosing the best electronic cat toy, it's important to take the following factors into consideration:
Power source
Durability
Safety
We'll take a look at each of these factors in more detail below:
Power Source
When we're dealing with electronic toys, we need to look at how they're powered. Some run on batteries (which will need constant replacing), while others are USB-rechargeable. Consider, too, how long the power lasts. You might want to pass on a toy that eats through batteries faster than you can replace them.
Durability
Your cat's new electronic toy must stand up to her level of play. Owners of hyperactive kittens or especially curious cats who like to claw and bite should look for sturdy, high-quality materials that are meant to last. Buyer reviews can be pretty telling in this regard, and we stuck to products that can stand up to more active cats.
Safety
For cats who like to chew, electronic toys with cords or small parts that may become loose can pose a choking hazard. It's best to avoid such toys if you have an active chewer or a very curious kitten. In the interest of safety, you should also be on the lookout for secure battery compartments, non-toxic materials, and toys that automatically shut down after a set amount of time.
The 2 Different Types of Electronic Cat Toys
Electronic cat toys are not all made the same. Some electronic cat toys are powered by batteries and others are rechargeable.
Here are the benefits and drawbacks to both — and what might work best for you:
Battery-activated toys — These electronic toys require batteries to run. Best for kitties who won't be playing with a new toy constantly. No need to wait for a charge. Becomes expensive as you have to replace batteries.
USB-rechargeable toys — An incredibly convenient option for cats who play for long periods of time. You can easily recharge the toy without needing to buy new batteries. You'll have to remember to power up the toy before you want to use it. Many toys can't be used while they're charging.
The Best Electronic Cat Toys That Move — Reviewed and Ranked FAQs (Frequently Asked Questions)
How do I keep my indoor cat entertained?
Interactive cat toys are an easy, and usually effective, tool for entertaining indoor cats. You can also keep things fresh and stave off boredom by routinely rotating which toys are available to your cat. Also worth considering are cat scratchers and cat trees that offer vertical space.
Do cats like moving toys?
Yes! As natural-born hunters, cats enjoy playing with things that simulate prey. Toys like the HexBug Nano and the PetFusion Ambush are great for engaging your cat's inner hunter.