If you're a horse owner or thinking of becoming one, there are several things you need to make sure your pet stays happy and healthy. These things can change from one season to another. When the temperatures drop and winter's frigid weather rolls in, it's essential to have a horse blanket to keep them comfortable. 
Horses are like humans in a few ways, one of which being they aren't the biggest fan of cold weather. Thankfully, there are a plethora of horse blankets on the market that will keep them toasty without over-heating them. 
If you've never purchased a horse blanket before, how do you know what to look for? What factors should you consider? How much do you need to spend? Don't worry about any of that – we've got your back! 
Through plenty of research, we've found the top four horse blankets available today. We provide in-depth reviews, along with a buyer's guide that tells you exactly what you should look for when buying a new blanket for your equine friend. 
You'll also find real-life reviews from people who've already tried out the blankets. Additionally, there's a list of frequently asked questions to make sure you're as prepared as possible to spend your hard-earned money on the best blanket for your horse. 
A-Z-Animals Top Picks for Horse Blankets
1. Overall Best: Derby Originals 600D Winter Horse Blanket
After a deep dive into everything there is to know about horse blankets, we think that Derby Originals 600D Winter Horse Blanket earns the top spot. One reason we love this blanket is that it's available in a large variety of sizes. No matter what size horse you have, they can comfortably wear a Derby Originals blanket. 
There are three colors of this 600D nylon blanket to choose from. This material on the exterior provides a waterproofing feature that can help if you live in a wet or snowy climate. The interior consists of 250-gram poly-fil insulation that keeps your horse nice and warm. 
The nylon outside of the blanket is incredibly breathable, preventing your pet from overheating. It's also rip-resistant, providing you with a long-lasting and durable option for your horse. The inner layer that completes this blanket is 210T taffeta poly/nylon. 
When you place it on your horse, it should fit snugly without being too tight. There are two convenient double front buckles that can easily be adjusted if needed. The built-in elastic leg straps help the blanket to stay in place without restricting the horse's ability to move. 
Overall Best
2. Best Budget: Tough 1 1200D Snuggit Turnout Blanket
Hold your horses – did you know you didn't have to spend a ton of money to get a comfortable and warm blanket for your horse? The Tough Snuggit Turnout Blanket is our go-to choice for a horse blanket that won't break the bank.
If you're looking for a heavy-duty blanket, this is it! It's made with 1200D polyester and can withstand a horse chewing on the material. You'll find 300-gram poly-fil insulation inside this blanket that will keep your horse warm even on winter's coldest days. 
The interior is lined with 210D polyester, which is a soft material that won't rub or chafe the horse's skin. We like that the materials this blanket is made with, prevent it from getting as dirty as others. It's easy to put it on your equine friend and the blanket stays in place once it's on. 
There are several stress points throughout that are reinforced with double-sewn seams. You'll find double buckles on the front closure. The all-metal hardware is rust-resistant, making it perfect for wearing in the winter. Lastly, there are elastic adjustable leg and neck straps that keep the blanket secure. 
Best Budget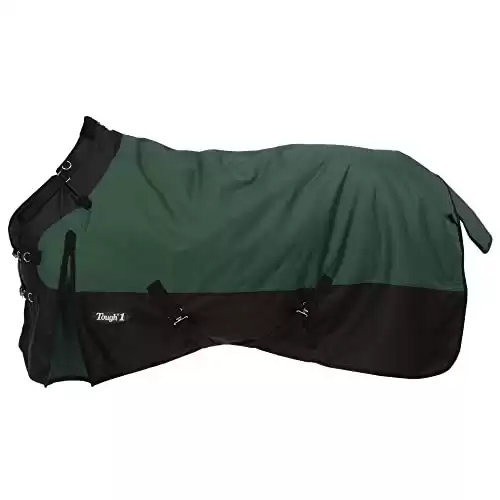 3. Best for Frigid Winters: AJ Tack Wholesale Horse Turnout Blanket
The AJ Tack Wholesale Horse Turnout Blanket comes through for people living in more extreme climates. If you have harsh winters, consider this blanket for your horse. It's available in 10 different sizes and ranges from 66 to 84 inches long. We like that there are four colors that you can choose from, which is especially convenient if you have multiple horses. 
The outer shell is made with 1200D nylon that is entirely waterproof and heavy-duty without compromising breathability. Inside you'll find 400-gram poly-fil insulation that's paired with an inner lining of 70D nylon. This material is less prone to dirt and will be easier to clean when the time comes. 
The lack of a center seam on this blanket makes it even more waterproof. You'll see that there's reinforced stitching around the outside, including the stressed areas. This blanket will stay in place and keep your horse's body heat at a comfortable temperature. 
There are front buckles that are easy to adjust, as well as a hook-and-loop closure to keep the blanket secure. The AJ Tack Wholesale Horse Turnout Blanket has a removable elastic belly and leg straps as well. 
Best for Frigid Winters
4. Best Adjustable: Weatherbeeta Comfitec Blanket
Speaking of adjustability, the Weatherbeeta Comfitec Blanket is great if you have a growing horse. It's sold in a large range of sizes, from 48 inches all the way up to 87 inches. Young colts and adult horses will both benefit from the Weatherbeeta Comfitec Blanket when colder temps roll around. 
Horse parents appreciate the eclectic variety of patterns, prints, and colors available for this blanket. It's incredibly lightweight without sacrificing warmth. Lightweight blankets are easier to put on and keep clean. 
We suggest horse owners use this blanket for the months leading up to winter. This blanket for horses is comparable to us humans wearing a light fall jacket. The exterior is made with durable 1200D ripstop fabric. This fabric is waterproof and can even repel mud and dirt. 
The interior lining is designed using 210D Oxford polyester, which allows the blanket to be breathable. You'll find soft, 100% boat fleece padding around the outside that prevents chaffing and rubbing against your horse's coat. 
Like other blankets on our list, the Weatherbeeta Comfitec Blanket has fully adjustable gussets at the shoulders, along with two buckles across the chest. The tail flap and removable leg straps are also great features of this blanket. 
Best Adjustable
Choosing the Best: What to Look For
When it comes to their demands and general tolerance to the cold, each horse is unique. Some horses are also harsher than others when it comes to their blankets. When it comes to purchasing adequate blankets for your horses, keep all of these particular variables in mind. Other factors to consider throughout the purchasing process are listed below.
Sheets vs. Blankets
Sheets are horse apparel items that are devoid of stuffing or insulation. A few are waterproof for light coverage in the wintertime, while others are constructed of cotton blends for ventilation in the summer. Horse sheets are an excellent alternative for horses in temperate climes that want weather protection but not extra warmth. 
They are also appropriate for clipped horses that require daytime protection. Horse blankets with fill between the outer and inner layers give extra warmth for the horse in the winter. Blankets are available in various weights to serve horses in various climates.
Living Conditions
Winter coats may be sufficient for horses with stalls or shelter. Although, if they do not have complete shelter from the cold, a blanket may be the best option. Consider how much time they spend outdoors vs. in a covered shelter. If it would be too cold for you to handle, it likely is for your horse. 
Location
The climate where your horse lives, as well as the environment they're used to, might influence how they react to cooler temps. An equine used to living in Hawaii will react differently to a 30-degree night than the one used to living in Minnesota.
Coat
Unclipped horses may not require blankets since they can develop the required hair coat to keep warm, but clipped horses, whether partly or fully clipped, will require a blanket when the temperature lowers. If you want to maintain an unclipped horse's hair coat to a minimum, blanketing them is a good idea.
Age
Horses who are older may have a tougher difficulty staying warm and putting on weight during the cold months. As a result, elderly horses may require larger blankets than younger horses.
Travel 
It may be okay to blanket throughout travel according to where you are going. If the horse is not acclimated to a cooler area, it may be prone to cold in the trailer, comparable to the location factor. Additionally, if the horse is totally clipped or has a thin coat, a sheet or blanket may be required to keep them warm during the cooler months of travel. 
When choosing a blanket, keep in consideration how much airflow your trailer has. Due to chilly winds, trailers that let in extra air, including stock trailers, may demand blanketing. However, in trailers with much less ventilation or with numerous horses riding together, it may be necessary to use a lighter blanket for your horse. A general rule of thumb is to have a variety of blanket weights so you can switch them out depending on the season.
The Different Types of Horse Blankets: Pros and Cons Compared
Turnout blankets, also known as turnout rugs, are meant to keep your horse warm and comfortable while out in the field. They generally have a weatherproof outer layer that varies in denier and fills level. The fabric thickness is determined by the denier (typically 600D or 1200D), with higher deniers being more robust and less prone to tearing. Turnouts are ideal for horses who perhaps reside or spend time outdoors.
Turnout blankets are similar to stable blankets, except stable blankets are not waterproof. As a result, they are great for horses who reside indoors. You may choose from a variety of deniers and fillings depending on how harsh your horse is on blankets and how much insulation they require.
Verified Review: User Experience
One of the main purposes of this article is to help you find a blanket that can withstand freezing winter temperatures. A Chewy customer sang the praises of the Derby Originals 600D Winter Horse Blanket by saying: 
"I got the 78" purple one for my thoroughbred mare who is 16.1. It held up GREAT during the Minnesota winter last year and kept her SO warm and dry. Not a single tear and she wore it in the turnout time many many times." 
One way to ensure your horse is staying warm during the cooler months is to get a waterproof blanket. Snow and rain can quickly make anyone feel much colder. An Amazon user has this to say about their experience with the Tough 1 1200D Snuggit Turnout: 
"This is a fantastic blanket! It fits perfectly true to size on my Appy, I ordered one size up since he was between numbers and it works great. It's also incredibly waterproof! He'd been out rolling in the mud/rain and not only was the blanket perfectly in place, but he was also 100% dry under it. He's with about ten other horses and bites are inevitably exchanged but after two months there's not a single rip in this blanket. Fantastic price/quality!"
The Best Horse Blankets for Staying Warm in Winter FAQs (Frequently Asked Questions) 
When should you blanket a horse in winter?
When a horse is blanketed, the impacts of cold and inclement weather are reduced. When the temperature drops below 5 degrees F or the wind chill drops below 5 degrees F, there is no shelter available.
How cold can horses tolerate with a blanket?
Horses in good physical condition can survive temperatures as low as -40 degrees Fahrenheit with ease. Strong winds, on the other hand, can cause issues by ruffling the horse's hair and disrupting the protective layer of warm air buried beneath it.
What size blanket does my horse need?
It's critical to measure your horse in order to purchase the best-fitting blanket. Begin in the middle of their chest and work your way down the side of their body, taking care to include the largest area of their shoulders and hindquarters.
Should you blanket an old horse?
Cold weather often affects older horses more than younger horses. Turning out older horses in inclement weather can be difficult due to wet and windy conditions. 
It's usually safer to blanket your senior horse if he's skinny or has health issues that cause him to eat more or less. 
Even though your horse appears to be in good health, if you detect him shivering, he needs a blanket. You may need to add blankets if the horse continues to be chilly.
Just make sure not to overcook them. Remove or check beneath the covers on a frequent basis for friction or discomfort, skin illness, or weight loss. If you keep blankets on for a period of time, these issues can soon develop.
Should you blanket a wet horse?
No, a horse must be dry before being covered. If a blanket gets wet, remove it from the horse before it gets too cold. Use a wool chiller with a ventilated lining instead, which allows moisture to drain while keeping the horse warm. Fleece will help drain away moisture fast, but if you don't remove it once the horse has dried, the cloth will remain wet and chilly.