Despite its small size Hawaii is one of the four most ecologically diverse US states, the others being California, Texas, and Alabama. It is estimated that over 21,000 species have been recorded in the Hawaii rainforest, surrounding ocean, and other locations.
Some of the most notable animals in Hawaii are manta rays, chameleons, dolphins, geckos, whales, and tiger sharks.
The Official State Animals of Hawaii
Hawaii is known for its unique culture and beautiful landscapes, but did you know that it also has official state animals? From the beautiful and graceful Hawaiian monk seal to the majestic and powerful nēnē, Hawaii's state animals represent the natural beauty and diversity of the islands.
In this section, we'll explore the fascinating history and characteristics of Hawaii's state animals, and learn why they are so important to the people and the land of Hawaii.
As such an environmental hot spot it shouldn't be surprising that Hawaii has many state animals.
The Official state bird of Hawaii: Nene
The Nene (Branta sandvicensis) is also known as the Hawaiian Goose. Though it is believed to be evolved from the Canadian Goose, the Nene is a different species and is exclusively found on the islands of Hawai'i, Kaua'i, Molokai, Maui, and Oahu. It features a black head, a white and black striped neck, and an alternating brown and white feather pattern.
The official state bird of Hawaii is the nēnē, also known as the Hawaiian goose. This unique bird is not only a symbol of the state's natural beauty and diversity but also a testament to the power of conservation and preservation efforts.
The animal's official IUCN status is vulnerable.
The Official fish of Hawaii: Humuhumunukunukuapua`a
The official fish of Hawaii is the Humuhumunukunukuapua`a (Rhinecanthus rectangulus), otherwise known as the Hawaiian triggerfish or reef triggerfish. a name that's almost as distinctive as the fish itself. This colorful and unique fish is not only a symbol of the state's ocean ecosystem, but also a beloved cultural icon that has inspired music, art, and even the state's license plates.
This colorful fish has blue lips, a diagonal black marking down the side, and streaks of yellow along its back. They can grow to be about 12 inches in length and can be rather aggressive. There have even been reports of the fish biting nearby swimmers. After briefly lapsing as the state's official fish in 1990 it was permanently reinstated in 2006 by the governor.
The Official mammal of Hawaii: The Hawaiian Monk Seal
The Hawaiian Monk Seal (Neomonachus schauinslandi) is the official mammal of Hawaii, sort of. It is technically one of two official mammals but the other is specifically a marine mammal. Its native name is ʻIlio-holo-i-ka-uaua which translates to "dog that runs in rough water". Hawaiian Monk Seals are endangered and native to the Hawaiian island region. They are the only native seal found in the area.
The Hawaiian monk seal is a critically endangered marine mammal that is endemic to the Hawaiian Islands. With an estimated population of just over 1,100 individuals, the Hawaiian monk seal is one of the rarest marine mammals in the world.
These seals are known for their distinctive appearance, with a sleek, black, or dark brown coat and large, soulful eyes. They are also known for their docile and curious nature, which has made them a popular subject for photographers and marine wildlife enthusiasts.
The Official aquatic mammal of Hawaii: Humpback Whale
The humpback whale (Megaptera novaeangliae) is officially recognized as the official aquatic mammal of Hawaii, but it is also often considered the official overall state animal. Given the island's deep connection with the ocean and related species, it is easy to see why.
The humpback whale has high cultural significance and is featured on many Hawaiian emblems including the trade dollar. The whale is believed to be one of the animals that aumakua or family ancestors could take shape of and appear in visions or dreams to provide guidance.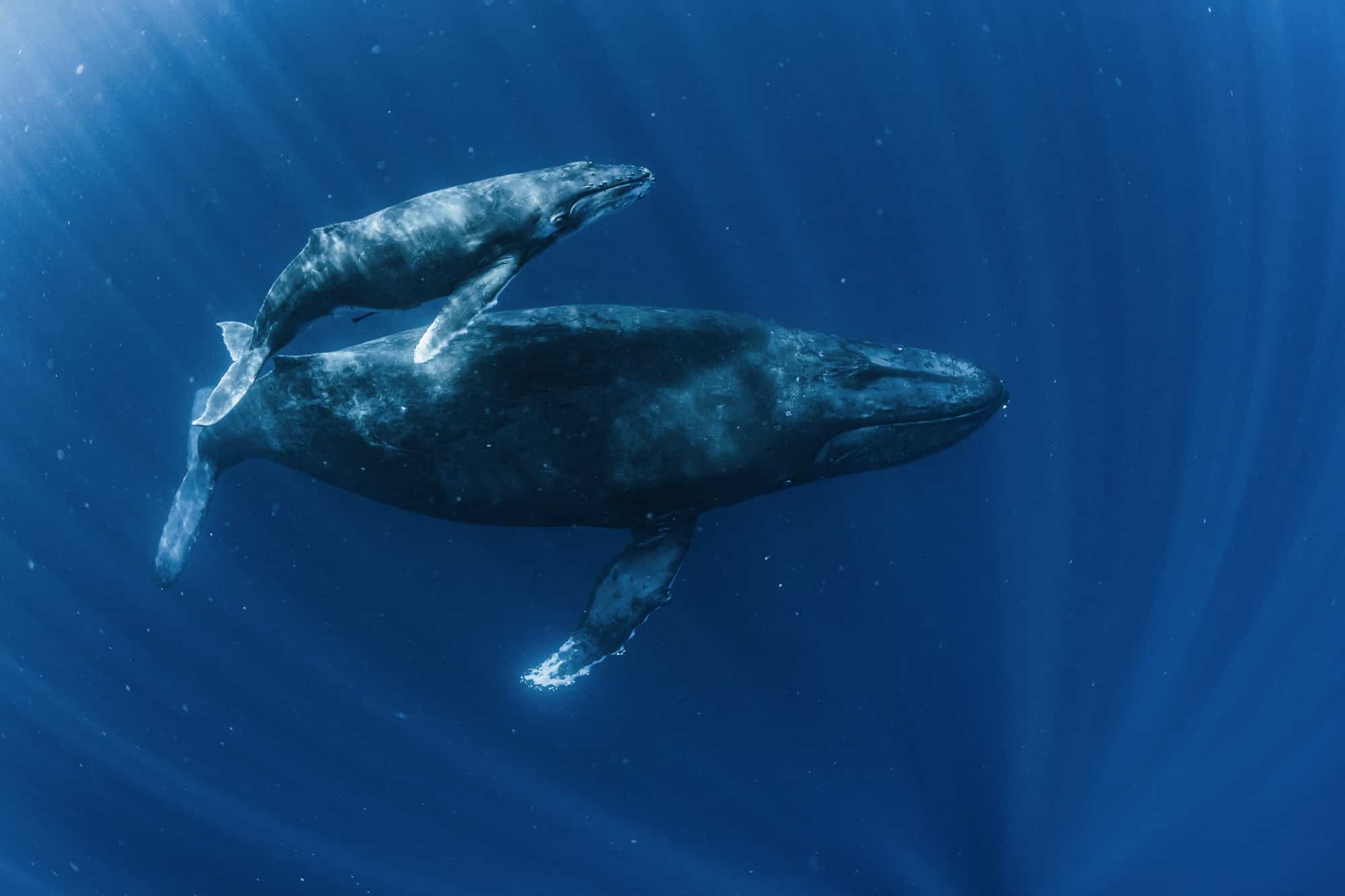 ©iStock.com/inusuke
Where to Find The Top Wild Animals in Hawaii
To find many of the most popular wild animals in Hawaii you'll want to take an official wildlife tour. If you take an ocean-based tour you may see monk seals, humpback whales, manta rays, sharks, and dolphins.
If you don your snorkel gear and stick to the shallow waters and coral surrounding the island you may see giant sea turtles as well as beautiful coral reefs.
If you stick to land or to the Hawaiian rainforest you may glimpse chameleons and the hoary bat (the only native land mammal to Hawaii), mongoose, and the nene.
Recommended locations for wildlife sightings include:
The Most Dangerous Animals In Hawaii Today
Hawaii is generally free from dangerous wildlife and poisonous creatures, making it an ideal eco-tourist destination. However, there are still a few animals you'll want to avoid when traveling there.
While there are technically no snakes in Hawaii, there are some sea snakes like the Yellow-Bellied Sea Snake (Hydrophis platurus). There are also sharks in the coastal waters around the islands, such as tiger sharks and great white sharks. While the likelihood of an attack from a shark is extremely low it could easily be fatal. Keep in mind that there have been a grand total of 11 recorded shark fatalities in Hawaii since 1828, almost all around Maui.
There are also Conus (Conidae), a cone snail with a toxin that can be deadly to humans. The creature feeds on small fish and marine worms. And lastly, Black Widow (Latrodectus Mactans) spiders can be found on the island as well, though they are hardly ever fatal.
Endangered Animals in Hawaii
Hawaiian endangered animals include:
Nene goose – The official state bird of Hawaii

Oahu Tree snails – A colorful snail with as few as 100 known subspecies

in existence. Frequently threatened by chameleons as predators.
Hawaiian Monk Seals – The only native seal to Hawaii
Hawaiian Hoary Bat – One of only two native mammals in Hawaii
Sea Turtle – Highly sensitive to pollution and habitat destruction. Getting close can result in major fines.
Crested Honeycreeper – Large birds found in Maui. It is estimated that only 3,800 remain today.
Hawaiian Moorhen – A dark charcoal-colored

bird with a distinctive bright red beak

Hawaiian Hawk – A solitary raptor currently believed to only breed on the big island
Below you can find a complete list of Hawaiian animals. We currently track 175 animals in the United States (Hawaii) and are adding more every day!
The Largest Animals Found in Hawaii
Hawaii is known for its breathtaking natural beauty and unique ecosystem, home to a variety of flora and fauna found nowhere else in the world. Among the many fascinating creatures that inhabit the islands, some of the most impressive is the largest animals found in Hawaii.
From giant whales to enormous sea turtles, these creatures inspire awe and wonder in visitors and locals alike. Let's take a closer look at the largest animals found in Hawaii, exploring their characteristics, behaviors, and habitats, and learning what makes them so special.
Here are large animals found in Hawaii:
Humpback whales
Green sea turtles
Spinner dolphins
Manta rays
False killer whales
Tiger sharks
Hawaiian monk seals
Rarest Animals in Hawaii
Hawaii is known for its beautiful beaches, lush rainforests, and unique wildlife. However, many of the animal species native to Hawaii are now endangered or threatened due to habitat loss, invasive species, and other human activities.
Let's explore some of the rarest animals in Hawaii:
Hawaiian Monk Seal: The Hawaiian monk seal is a critically endangered species of seal that's found only in Hawaii. The population of these seals has been declining for decades due to hunting, disease, and habitat loss. Today, there are estimated to be fewer than 1,400 Hawaiian monk seals left in the wild.
Hawaiian Hoary Bat: The Hawaiian hoary bat is a unique species of bat that's found only in Hawaii. It's the only land mammal native to Hawaii and is listed as an endangered species due to habitat loss and the effects of pesticides on its prey. The Hawaiian hoary bat is one of the rarest bat species in the world, with an estimated population of fewer than 1,000 individuals.
Nene Goose: The nene goose, also known as the Hawaiian goose, is the state bird of Hawaii and is an endangered species. The population of these geese was once reduced to just 30 individuals, but conservation efforts have helped to increase the population to around 3,000 individuals. Habitat loss, hunting, and predation by non-native species continue to threaten the nene goose's survival.
Hawaiian Crow: The Hawaiian crow, also known as the alala, is a critically endangered species of crow that's found only in Hawaii. The population of these crows has declined drastically due to habitat loss, disease, and predation by non-native species. Today, there are believed to be fewer than 200 Hawaiian crows left in the wild.
Hawaiian Happy-Face Spider: The Hawaiian happy-face spider is a unique and colorful species of spider that's found only in Hawaii. It's one of the rarest spiders in the world and is listed as a vulnerable species due to habitat loss and the effects of climate change. The happy-face spider gets its name from the distinct smiley-face pattern on its abdomen.
In conclusion, Hawaii is home to a diverse range of animal species, but many are now endangered or threatened due to human activities.
Snakes in Hawaii
There are no native snakes found in Hawaii. Because the Hawaiian ecosystem consists of species that have adapted to environments free of snakes, their taking hold on the island could be catastrophic to local wildlife. There are one snake species that is widespread in Hawaii, but it's a harmless snake named the Brahminy blind snake that is only six inches and preys on insects like ants.
Invasive species like boa constrictors, garter snakes, and ball pythons have all been found in Hawaii in limited numbers. Also, be aware that yellow-bellied sea snakes could be found in the waters around the islands, but there is no record of anyone being attacked by one in the state.
There are two species of ticks found in Hawaii; the brown dog tick and the spinose ear tick.
Native Plants and Climate of Hawaii
You can't imagine Hawaii without envisioning thick, verdant plant life accented with brilliantly colored flowers. There are different types of plants and trees that grow in this western state. Some of these native plants include pua kala, kou, hinahina, and blue morning glory.
Hawaii is in the tropics and is well-known for its year-round, mostly warm climate. The state only really has two seasons — summer (May-October) and winter (October-April). The average temperatures by month are the following:
| Month | Average High (°F) | Average Low (°F) |
| --- | --- | --- |
| January | 79.2 | 65.9 |
| February | 79.3 | 66.3 |
| March | 80.0 | 67.2 |
| April | 81.1 | 68.3 |
| May | 82.5 | 69.7 |
| June | 84.1 | 71.5 |
| July | 85.5 | 72.6 |
| August | 85.9 | 73.0 |
| September | 85.0 | 72.4 |
| October | 83.4 | 71.3 |
| November | 81.4 | 69.6 |
| December | 79.6 | 67.4 |
Despite the warm temperatures seen here, believe it or not, Hawaii has recorded a temperature as low as 8°F before!
The Flag of Hawaii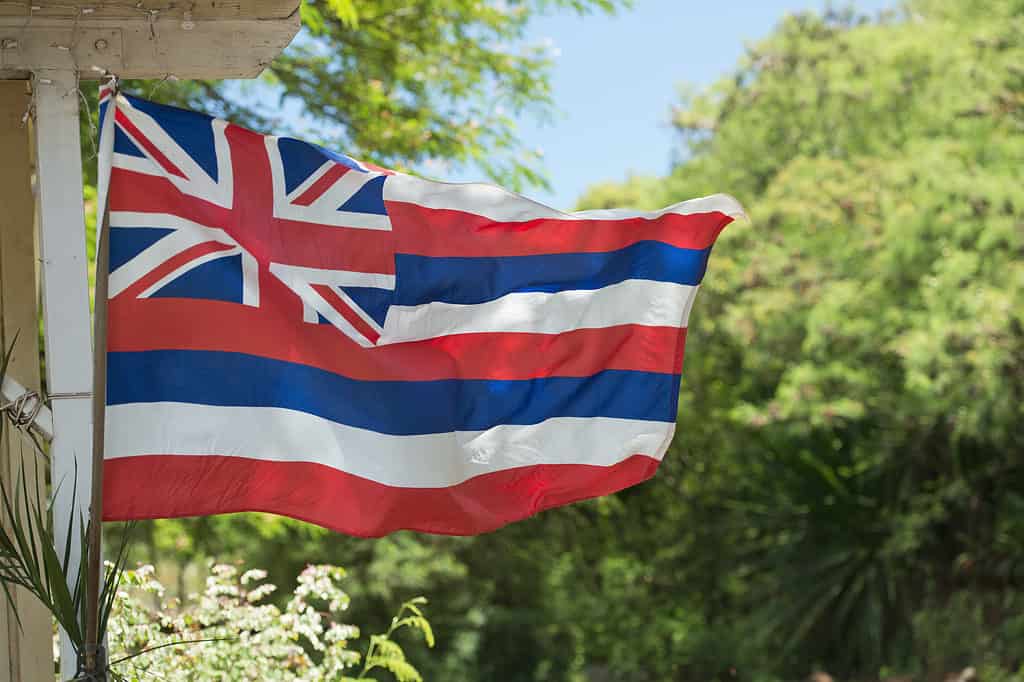 The flag of Hawaii, also known as the "Ka Hae Hawaiʻi" in Hawaiian, features a distinctive design that reflects the history and culture of the Hawaiian Islands. The flag consists of eight stripes of white, red, and blue, representing the eight main islands of Hawaii, with the Union Jack of the United Kingdom in the upper left corner, a nod to the period of British influence in Hawaii in the 19th century.
The center of the flag features the Hawaiian royal coat of arms, which includes a shield with a cross and eight alternating triangles in white, representing the eight islands, and red, representing the blood of warriors.
The current design of the Hawaiian flag was first created in 1816 by King Kamehameha I, who sought to unify the islands under a single banner. At the time, the flag featured only the Union Jack in the corner and a red and white stripe pattern.
The flag of Hawaii has eight horizontal stripes which represent the eight main islands. The red stripes signify the Hawaiian gods, the white stripes indicate truth and the blue stripes symbolize the surrounding ocean. An alternative theory is that the red, white, and blue are a representation of Hawaii's history with Britain, America, and France. Hawaii is the only U.S. state to include the flag of another country in its flag.
Endangered Animals in Hawaii
Hawaii is home to over 483 endangered species. From the Anthricinan Yellow-Faced Bee to the Pacific Hawaiian Damselfly, there are tons of unique and beautiful animals whose populations are rapidly declining. Most of these animals are endangered due to human interference. These interferences include habitat destruction caused by development and urbanization along coastal areas where they live.
More Articles Related to Hawaii
Read about:
Hawaiian Animals
Hawaiian Animals List
Animals in Hawaii FAQs (Frequently Asked Questions)
How old are the Hawaiian Islands?
The oldest Hawaiian Island is Kauai, which is about 5.1 million years old. The islands are forming as the Pacific Plate moves about 4 inches per year across a magma hotspot which forms volcanoes that breach the surface as it continues moving at a slow pace. The newest island is the Big Island, which formed about .7 million years ago. Over time, islands will continue forming to the East of the Big Island, with the next island known as Loihi. It's expected to breach the ocean surface in between 10,000 and 100,00 years.
What are the biggest sharks in Hawaii?
The biggest shark in Hawaiian waters is the whale shark. Beyond the whale shark, great whites, megamouth sharks, tiger sharks, and other large species are in Hawaii.