If you're like most American shoppers, Amazon Prime Day is a big deal. If you're a Prime member, you can save tons of money on a range of products – if you act fast. There are tons of dog products on sale this annual Prime Day. However, sorting through them before the deals run out can be challenging.
Luckily for you, we sorted through all of the dog-related Prime Day deals to show you the five best options. These products represent the deepest deals you can find for your dog today.
A-Z-Animals Top Picks for Dog Products to Pick Up On Prime Day
1. Best Dog Treat Deal: Wag Chicken Breast Jerky
You can stock up on tons of dog treats on Prime Day. Amazon has marked down these jerky treats substantially, making them a good choice for just about any dog. As the name suggests, the primary ingredient is chicken. While the treats are a bit larger, you can easily pull them apart for smaller dogs.
Because these treats are dried, you don't have to worry about them going bad. Therefore, as long as your dog can eat chicken, we recommend stocking up on these treats.
We love that the company sources all of the ingredients in these treats from the USA. The texture remains quite chewy, as it is made like typical jerky. Therefore, we do recommend keeping plenty of water close by for your canine when using these treats.
Best Dog Treat Deal
2. Best Dog Food Deal: Nutro Natural Choice Adult Dry Dog Food
To save money, we recommend stocking up on dog food on Prime Day. This dry dog food by Nutro lasts a long time, so you can easily stock up for your pet for months to come. Today, Amazon has discounted it substantially, allowing you to save lots of money on each bag you purchase.
Most experts consider Nutro to be a quality dog food brand. This recipe features chicken as the primary ingredient, which provides plenty of protein. Whole grains are also included, which are recommended for most dogs. Plus, antioxidants and omega-fatty acids were added for your dog's overall health.
Best Dog Food Deal
3. Best Dog Crate Deal: MidWest Homes for Pets New World Dog Crate
We highly recommend that every dog have a dog crate, and this Prime Day is a good time to get one. This crate by Midwest Homes for Pets has been deeply discounted, allowing you to save plenty of money. Multiple sizes are available ranging from 24″ to 48″. Choose the option that fits your dog the best.
Your dog should be able to turn around and stand in the crate. However, they should not be able to walk around.
This crate features extra security measures to prevent breakouts. The plastic pan comes with a waterproof covering to make cleaning easier and prevent accidents from spilling onto the floor. Plus, it's pretty comfortable to lay on.
Best Dog Crate Deal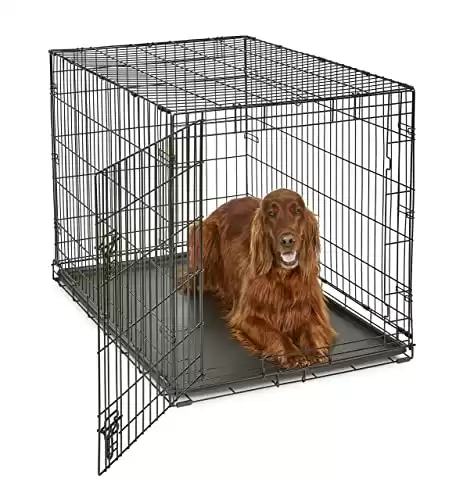 4. Best Dog Toy Deal: Chew King Fetch Balls
Never buy tennis balls again with these extremely durable and completely waterproof fetch balls. Because these balls are made with only natural rubber, they stand up to rough play and water much better than others. Plus, they are extremely bouncy.
Thanks to the included hole, you can shove treats inside to promote play and prompt your dog's interest. We particularly love filling it with peanut butter and then freezing it, as this can keep a dog's interest for hours.
Plus, to keep your dog's tongue from getting stuck, each ball has a small air vent. Chew King really thought of everything with these balls.
Best Dog Toy Deal
5. Best GPS Tracker Deal: Tractive Waterproof GPS Dog Tracker
For one reason or another, most dogs get lost at some point. Luckily, most dogs end up home shortly after they run off. However, this GPS tracker by Tractive can help ensure that your dog doesn't stay away from home for long. It allows you to follow your dog's location via an app on your phone.
When your dog gets lost, you can find see their location quite easily. Plus, even if your dog isn't away from home, you can use the tracker to keep track of their activity and sleeping cycles. For dogs who are overweight (which is most dogs in America), this is a huge benefit.
Best GPS Tracker Deal
How to Choose the Best Prime Day Deals for Dogs
There are tons of Prime Day deals out there. However, some are better than others. Here are some of the factors you should consider when choosing what deals to take advantage of:
Discount Amount
Useability
Your Dog's Preferences
Let's take a look at each factor:
Discount Amount
Prime Day deals range substantially in the amount of savings they offer. Some items may be discounted as much as 80%, while others may only be discounted by 10% or even less. Therefore, be sure to look at how much you're actually saving before making your purchase.
Useability
Just because something is heavily discounted doesn't mean you'll use it enough to justify the purchase. Even if an item is heavily discounted, if you never use it, you aren't actually saving any money.
Therefore, be sure that you only purchase deals you know your dog will use. A discounted dog crate won't do you much good if you can't fit it anywhere reasonable.
Your Dog's Preferences
Does your dog only eat dry food? Then don't stock up on a bunch of wet food – even if it is 60% off. If your dog won't touch something, it isn't going to be a good purchase no matter how much the discount is.
Dogs that don't like to chase balls shouldn't have balls purchased for them. Older dogs that can't get in and out of beds easily don't need a bolster bed, even if it is highly discounted.
The 5 Best Dog Products to Pick Up On Prime Day FAQs (Frequently Asked Questions) 
Do Prime Day Dog Deals Sell Out?
Sometimes. Some Prime Day deals are only available on a limited quantity of an item. For instance, there may be 500 tennis balls available. Once all of those are claimed, no one else can take advantage of the deal. This isn't true for all deals, but about 40% of them do have a limited quantity available.
How Long Do Prime Day Dog Deals Last?
It depends. Most items are on sale for at least two hours. However, others are one sale throughout the whole Prime Day sale. It really varies from item to item. Different deals are also released at different times, so you'll need to check back often for new deals.