Omaha, Nebraska, is a large city, and with all those people, you're bound to have some dog lovers. Owning a dog means making sure they're happy and well cared for; this includes exercising your dog and making sure it has the opportunity to socialize with other pups. Luckily, Omaha has plenty of dog parks to choose from, and this article will cover 7 of the best.
From small dog parks with artificial grass to large parks with lake access, there is something for everyone. You and your furry friend will have the opportunity to explore and make new friends without having to go very far. Let's go over the best dog parks in Omaha and the reasons why you should visit them.
1. Hefflinger Dog Park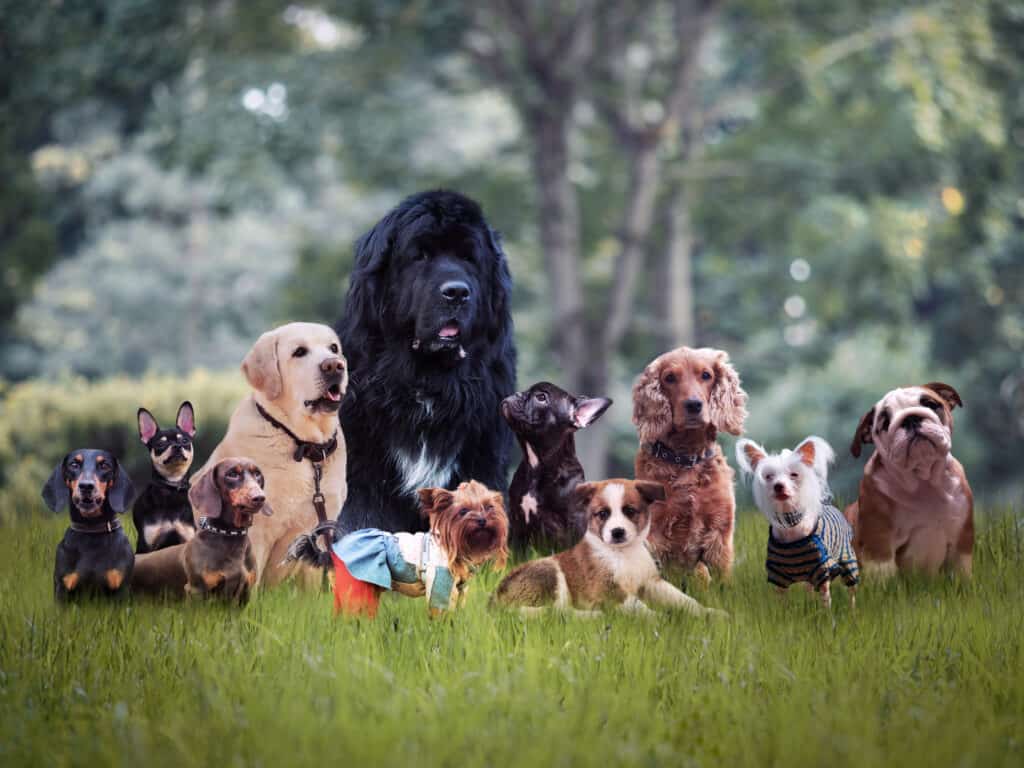 | Hefflinger Dog Park | |
| --- | --- |
| Location | Hefflinger Park Rd, Omaha, NE 68164 |
| Hours | 5 AM-11 PM |
| Price | Free |
Found in north Omaha in Hefflinger Park, Hefflinger dog park is a fun visit with your pooch if in the area. This large dog park is broken up into three different sections, one for small dogs, one for large dogs, and one for all dogs. The landscaping in each section consists mostly of dirt and grassy patches, and some gravel in the large dog section. Trees have been recently planted around the park, so they are still small, but some provide shade over picnic tables. 
Doggy bags are provided near the entrance of the park but run out quickly, so it's always good to bring your own. A few pieces of agility equipment are spread through each section, providing your furry friend with entertainment. Water fountains are found in each section, so you don't have to worry about your dog getting dehydrated or having to go into other sections for water. 
This is one of the more popular dog parks in North Omaha due to its large size and friendly patrons. If your dog loves to socialize weekends tend to be the busiest, so your pooch would have plenty of friends to play with. If your furry friend doesn't do well with other dogs, then weekdays are a good time to go. 
2. Bark Park Omaha
| Bark Park Omaha | |
| --- | --- |
| Location | 6515 Shirley St, Omaha, NE 68106 |
| Hours | Sunrise – Sunset |
| Price | Free |
You can find Bark Park Omaha in central Omaha down the street from Stinson Park. This large dog park is divided into two sections, one for small dogs under 30 pounds and one for large dogs 30 pounds and over. Both sections have recently been landscaped with wood chips to combat how muddy it can get. Currently, no trees or canopies are inside the park, so the only shade is from surrounding buildings during certain times of the day.
Agility equipment like tunnels, A-frames, steps, and hoops are spread across both sections so you can teach your pooch new tricks or just let them play on them. Owners can use the benches that are located along the fences to watch their pup play and socialize. Doggy bags are provided at this park, as well as waste bins so you can help keep the park clean. 
A water hose is available to rinse your dogs or fill up a water bowl to keep them hydrated. The park doesn't get too busy most of the week except Sundays. Late afternoons tend to have the most patrons while mornings are usually pretty empty. 
3. Dewey Park Dog Park
| Dewey Park Dog Park | |
| --- | --- |
| Location | 550 Turner Blvd, Omaha, NE 68105 |
| Hours | 5 AM-11 PM |
| Price | Free |
Located in east Omaha is a recently built, mid-size dog park inside Dewey Park. This dog park is separated into two sections, one for small dogs and one for large dogs. Both sections are landscaped with concrete walkways and self-cleaning synthetic turf so your pooch won't go home covered in mud. Canopies and benches are all around the park, so owners can sit in the shade while their pup socializes.   
At this dog park, your dog will have plenty to do. You can find agility equipment scattered around both sections like a tunnel, a seesaw, and a large a-frame. When the weather starts to heat up, there is a doggy splash pad in both sections of the park for all the dogs to play in and stay cool. Doggy poop bags are provided near the entrance, but it's always best to bring your own in case they're out. 
Water fountains can be found outside the dog park if you don't bring your own water. Bathrooms and parking are very close to the dog park, making it easily accessible. The dog park isn't small, but it's not large either, so it can fill up fast. Every day of the week, this park gets busy around late afternoon to evening, but mornings and early afternoons tend to be slow. 
4. Miller Dog Park
| Miller Dog Park | |
| --- | --- |
| Location | 2707 Redick Ave, Omaha, NE 68112 |
| Hours | 7 AM-10 PM |
| Price | Free |
Opening in November of 2020, Miller Dog Park is an off-leash dog area located inside Miller Park in north Omaha. This dog park features two separate areas, one 2-acre area for small dogs and one 5-acre area for all dogs. Both areas are landscaped with artificial turf and concrete walkways. There are multiple benches, some under canopies, in both areas so owners can sit and watch their pups have fun.
Your furry friend has plenty of room to run and play as well as agility obstacles to play on. The park offers bottle-fill stations to make it easy to keep you and your pup hydrated. Doggy poop bags are well stocked, and there are trash cans spread around the park to ensure cleanliness. Weekends can get pretty busy all day, and due to its smaller size, the park can get pretty packed, while weekdays usually only get busy in the early evening.  
5. Hanscom Dog Park
| Hanscom Dog Park | |
| --- | --- |
| Location | Hanscom Park Dr, Omaha, NE 68105 |
| Hours | 24 Hours |
| Price | Free |
The Hanscom Dog Park is a large, fenced, off-leash dog area that provides more than enough space for your furry friend to run, play, and socialize. The dog park has three separate areas, one for large dogs, one for small dogs, and one for all dogs. Each section has grass and dirt as the landscape. Large trees are all over the park providing tons of shade over the picnic tables dispersed throughout.
A dog water fountain is inside the park, but it is only in operation between Memorial Day and Labor Day. Patrons of the park have donated dog bowls for all dogs to use when the fountain is shut off. Doggy bags aren't provided, be sure to bring your own, so you can clean up after your pup. Due to its large size, even when this park is busy, it doesn't get overcrowded, and there's plenty of room for all the dogs to run and play.
6. Walnut Creek Dog Park
| Walnut Creek Dog Park | |
| --- | --- |
| Location | 11601 S 96th St, Papillion, NE 68046 |
| Hours | 6 AM-10 PM |
| Price | Free |
Located in southern Omaha, Walnut Creek Dog Park is a beautiful waterfront off-leash area that your pup is sure to love. The park is separated into three areas; a large breed area, a small breed area, and a natural environment. Both the large and small breed areas are landscaped with grass and dirt. The natural environment area is perfect for letting your dog explore tall grass and swim in a nearby lake.
Doggy bags are not provided by the park but sometimes there are some donated by regular patrons. There are multiple trash cans around each area to make cleaning up after your pup easy. While each area is fenced and secure, be sure to keep an eye on your pup in the natural environment as there have been reports of small snakes near the edge of bodies of water. Walnut Creek Dog Park is very large, and your dog will always have somewhere to explore or other furry friends to play with. 
7. Omaha Dog Bar
| Omaha Dog Bar | |
| --- | --- |
| Location | 1231 S 14th St, Omaha, NE 68108 |
| Hours | Monday (Closed)Tuesday-Friday (12PM-9PM) Saturday & Sunday (10AM-8PM) |
| Price | Daily($10) Monthy ($40) Yearly ($249) |
While Omaha Dog Bar is technically a dog cafe, there is a very large outdoor area for your pup to play and socialize with other furry friends while you grab a drink or a bite to eat. This is a 21+ dog bar that serves alcoholic drinks. You can find this off-leash dog cafe in eastern Omaha. Memberships are required for entry as well as up-to-date vaccination records for your dog. 
At the Omaha Dog Bar, you will find a 10,000 sq ft. fenced off-leash, artificially turfed outdoor area for you and your dog to enjoy. There are tables and seats for bar patrons and agility equipment for the pups to use. Their menu offers tasty treats for both you and your furry friend, and they have free Wi-fi! The outdoor dog area always has staff available to monitor your dog and ensure their safety. 
The photo featured at the top of this post is © Przemek Iciak/Shutterstock.com
---