Humans love potatoes. We eat them in so many ways – boiled, roasted, mashed, or baked. We eat them as fries or hash browns, or even potato cakes. Not only that, but we use them in many recipes. Because we eat these delicious root vegetables so often, you might wonder if your cat can eat them too. It sure is nice when you can share a bit of your dinner with your feline friend. So, can cats eat potatoes? Let's find out!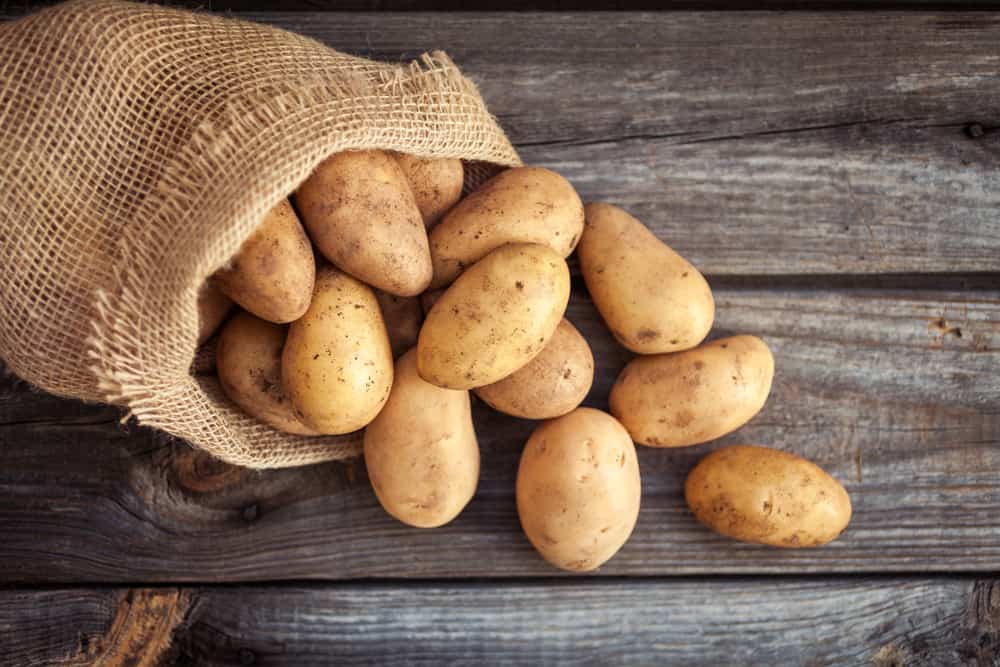 Can Cats Eat Potatoes?
Generally, sources agree that eating well-cooked, plain white potatoes is safe for your cat. There is a massive warning that comes with this answer, though: raw and green potatoes can be deadly to your feline friend. Experts also caution against feeding cats any potatoes with seasoning. Butter, milk, and salt can all cause tummy troubles for your kitty, while chives and garlic are toxic to them.
4 Things to Know Before Feeding Your Cat Potatoes
Before your cat eats potatoes, here are four things to which you should pay close attention.
1. Never Feed Your Cat Raw or Greeb Potatoes
As previously stated, raw or green potatoes are extremely dangerous for your cat to eat. They contain solanine, a chemical compound found in members of the nightshade family. This includes potatoes and tomatoes, along with several others. All members of this family of plants are toxic to cats, including the stems, leaves, roots, seeds, and skins. If you have these plants in your garden, it's best to keep your kitty inside so they cannot chew on them. Be sure to research any plants you'd like to bring indoors before doing so, as many other plants and flowers pose a risk to cats, too.
It is also very important to note that boiling does not remove enough solanine to make potatoes safe for cats. Roasting or frying potatoes removes the chemical, but frying results in too much fat for cats. Raw potatoes also contain oxalic acid, arsenic, tannins, and nitrate. All of these can be toxic to cats.
2. There Are No Real Health Benefits to Feeding Your Cat Potatoes
Potatoes are mostly starch. While they do contain some vitamins and minerals, your cat's digestive system is designed to gather everything it needs from eating meat. Some people argue that wild cats eat the stomach contents of their prey, but the ratio of plant material to meat is hardly worth mentioning.
All this is to say, there is really no benefit to letting your cat eat potatoes. You may notice potatoes listed in the ingredients of your cat's food. That's because this starchy root vegetable is a good binder for kibble so that it all sticks together for cooking. It's fine to feed your cat kibble or wet food with potatoes in it, but don't go making a whole diet of potatoes for them.
3. Your Cat Probably Won't Like Potatoes
Because cats are obligate carnivores, meaning they must eat meat to live, things like potatoes rarely appeal to them. The plain, cooked potatoes that are safe for cats to eat will likely not interest them at all. Without the butter and salt and other seasonings we use to make potatoes great, we probably wouldn't be too interested in them either!
If you're determined to have your cat try potatoes, peel them first. Then roast them well, let them cool completely, and offer the cat a very small piece (about the size of a kibble).
4. Limit How Often Your Cat Eats Potatoes and How Much They Eat
As we previously discussed, potatoes don't provide much in the way of nutrition for your cat. However, they are still a source of calories. If your cat decides they do like potatoes, be sure to only give them a small amount occasionally as a treat. Treats should only make up about 10% of the calories a cat eats every day along with their balanced diet. So, a bite-sized amount now and then is safe. Too many potatoes can unbalance their diet and lead to stomach upset, including vomiting and diarrhea.
Can Cats Eat Sweet Potatoes?
Yes, cats can eat sweet potatoes. Sweet potatoes and yams are from the morning glory family and do not contain solanine. That means you can safely feed them to your cat. However, they must be cooked! Even humans cannot consume certain kinds of yams raw because of the plant proteins found in them. While sweet potatoes and yams do contain vitamins and minerals, your cat does not get the same nutritional value from them as you do. However, a small amount of cooked, plain, unseasoned sweet potato or yam can add some fiber to your kitty's diet. Before using them in this way, talk to your veterinarian, as there may be better options for adding fiber.
What Food Should I Feed My Cat?
While cats eating potatoes is not entirely a bad thing, there are much more beneficial foods. Your cat needs food specifically for them. This ensures they get the nutrients they require. The best cat food for your feline friend depends on their individual needs. Kittens require more protein, fat, and calcium than adult cats. Senior cats may need food that's easier to digest and has different levels of certain vitamins or minerals to help with health problems.
The Association of American Feed Control Officials (AAFCO) determines how much and what kinds of nutrients, vitamins, and minerals pet food should contain. These nutrient profiles are the standard for cat and dog foods in the U.S. Other countries have their own organizations that make these determinations about pet food. Canada has the Pet Food Association of Canada (PFAC), while others use the World Small Animal Veterinary Association (WSAVA) guidelines. Always look for your country organization's seal on the bag or can that lets you know the food follows their rules.
There are two very important things to consider when choosing cat food. The first is that cats are obligate carnivores, as previously mentioned, and must have the right amount of protein in their food. The second is that cats require taurine that comes directly from animal meat. Eating potatoes won't provide either of these things for cats.
Protein
You must select cat food with plenty of protein. AAFCO states that adult cat food must contain at least 26% protein. Kittens need at least 30% protein. A lower protein count in your kitten's food may cause problems with growth and development. For adults, low protein causes heart concerns and muscle loss.
Taurine
Taurine is an essential amino acid for cats. That means they must consume this protein to live. Taurine helps build muscle and repair damaged muscle. The biggest concern with the lack of taurine is a heart condition called dilated cardiomyopathy (DCM). This is one of three types of cardiomyopathy seen in cats.
Unlike dogs, cats cannot make taurine from other related amino acids. This process within the body is called synthesizing. Cats must get taurine from directly meat, fish, or eggs. Taurine is also contained in milk, but most cats are actually lactose intolerant and should not drink cow's milk.
Are There Human Foods Cats Absolutely Should Not Eat?
Yes, there are several foods that cats should never eat. Dr. Ian Billinghurst, a veterinary surgeon, wrote an e-book called Danger Foods for Dogs & Cats that gives great explanations about what foods are not safe for your pets and why. Some foods listed can cause severe illness or even death. A few of the most dangerous foods for cats include raw/green potatoes and tomatoes, raw yeast dough, chocolate, and grapes/raisins. While you may not think your cat would be interested in these items, it's better to be safe than sorry. Keep risky foods and drinks out of their reach. If you're ever unsure about feeding your cat something, ask your veterinarian before trying.
What Should I Do If My Cat Eats Raw or Green Potatoes (Or the Plant)?
If your cat eats raw or green potatoes of any kind or any part of the plant, call your veterinarian right away. Don't panic, and listen carefully to what they tell you. Make sure to note what kind of potatoes/plant parts and how much you think your cat ate.
Your regular veterinarian may ask you to proceed to the nearest emergency veterinarian if they are unequipped to handle your situation. Your quick action and cooperation with the veterinarian, staff, and poison control are what will save your cat's life. Again, don't panic!
Pet Poison Control
The veterinarian may ask you to reach out to a poison control center, like Pet Poison Helpline, for help and to get a case number. Don't think your veterinarian doesn't know what they're doing if they ask you to do this! The poison control center advocates have access to immediate information to help your cat as quickly as possible. After all, that is what they are dedicated to doing. They will provide you with a case number that the veterinarian can use to speak with a pet poison expert about your specific problem.
What Happens Once My Cat Is With the Veterinarian?
Depending on how many potatoes your cat ate, they may need to be hospitalized and placed on IV fluids. They might have to be given activated charcoal, a substance that binds to chemicals in the digestive tract to prevent them from being absorbed by the body. Your veterinarian may also run blood work several times to ensure your kitty's organs aren't taking damage from solanine. If there is damage, your veterinarian will know how to help your cat get better. Most cats recover within 24-38 hours if treatment is started right away. Waiting until signs of toxicity show up may be a death sentence for your cat.
What Are the Signs of Solanine Toxicity in Cats?
It is important to say again that you should not wait for signs to appear if you see your cat eat raw or green potatoes or the plant. Sometimes, we don't see our cats eating something they shouldn't.
Here are some signs to watch out for:
Hypersalivation (drooling), which often means the cat is nauseous
Inappetence (not wanting to eat)
Excessive vomiting or dry heaving
Severe diarrhea
Lethargy (lack of energy)
Drowsiness or inability to stay awake
Anisocoria (pupils of different sizes)
Nystagmus (involuntary eye movements, jerking back and forth/up and down)
Muscle weakness and tremors
Ataxia (falling over as if drunk)
Seizures
Difficulty breathing
Paralysis
If you notice any of these signs in your cat, regardless of the reason, call your veterinarian immediately!
Final Thoughts
Cats can eat potatoes, whether white, sweet, or yams. However, these all must be cooked and unseasoned to be safe. Remember, boiling doesn't count! You must roast or fry the potatoes to remove the toxins. Your feline friend doesn't get much benefit from eating them, so potatoes should only be fed as treats if they even like them. When in doubt about feeding new foods, as your veterinarian. If your cat eats raw or green potatoes or any part of the plant or you notice signs of toxicity, call your veterinarian immediately.
The photo featured at the top of this post is © josera/Shutterstock.com
Protect Your Beloved Kitty: Get Pet Insurance!
Did you know some emergency surgeries for cats can run upwards of $5,000? Don't put your cat or your wallet at risk! Click the button below to get a free and instant quote on a comprehensive plan for your cat.
A-Z Animals may earn a small commission from using this service.
---