Many people call Dungeness crabs the Kings of the North because they are one of the most popular seafood choices in the Pacific Northwest. They are easily identifiable by their purple-hue shells, which measure up to 10 inches wide. These crabs form part of a massive fishery that supports communities from Alaska to California. In fact, sometimes the harvest for the year results in 54 million pounds of crab. As a result, 99% of Dungeness crabs bought in the U.S. were fished from the U.S., unlike other types of seafood. Dungeness crab market prices in 2023 have dropped significantly. Let's discover why.
U.S. Crab 2023 Retail Prices
The average retail price for a Dungeness crab in 2023 is between $5.9 and $10.88 per pound or $13 and $24 per kilogram. Furthermore, Europeans looking to indulge in these succulent crabs can pay between EUR 5.41 and EUR 9.99 per pound or EUR 11.93 and EUR 22.02 per kilogram in New York and Washington.
Wholesale prices
Dungeness crab's wholesale price in 2023 is approximately $4.12 to $7.62 per pound or $9.1 and $16.8 per kilogram.
U.S. Dungeness Crab Export Prices
While retail and wholesale prices have decreased over the past few years, export prices have steadily increased. For example, in 2011, Dungeness crab prices were around $9.59 per kilogram; by 2020, the price had risen to $12.07 per kilogram. Therefore the export costs increased by 25.7% during that time.
U.S. Dungeness Crab Import Prices
Like, exports, the import price of Dungeness crabs into the United States over the last five years has increased. For example, in 2012, the import price of Dungeness crabs was $8.62 per kilogram, but it rose to $12.07 per kilogram in 2020. Therefore the costs of importing Dungeness crab into the U.S. increased by $3.45 per kilogram or 40.1% during that period. Imported crab is predicted to keep rising over the next few years. In 2022, the price decreased to $10.33 per kilogram, but based on trends, it is likely to rise to $11 per kg in 2023 and $11.50 per kg in 2024.
Why Has the Price of Dungeness Crabs Dropped So Much?
Unfortunately, due to the economy and recessions, there's not a huge demand for Dungeness crab, which many consider a luxury. Therefore, people aren't buying crabs. A way for crabbers to make up for the low prices is by catching more stock. However, many fisheries closed early last year (2022) due to low harvest numbers, so obtaining more crab is not always possible.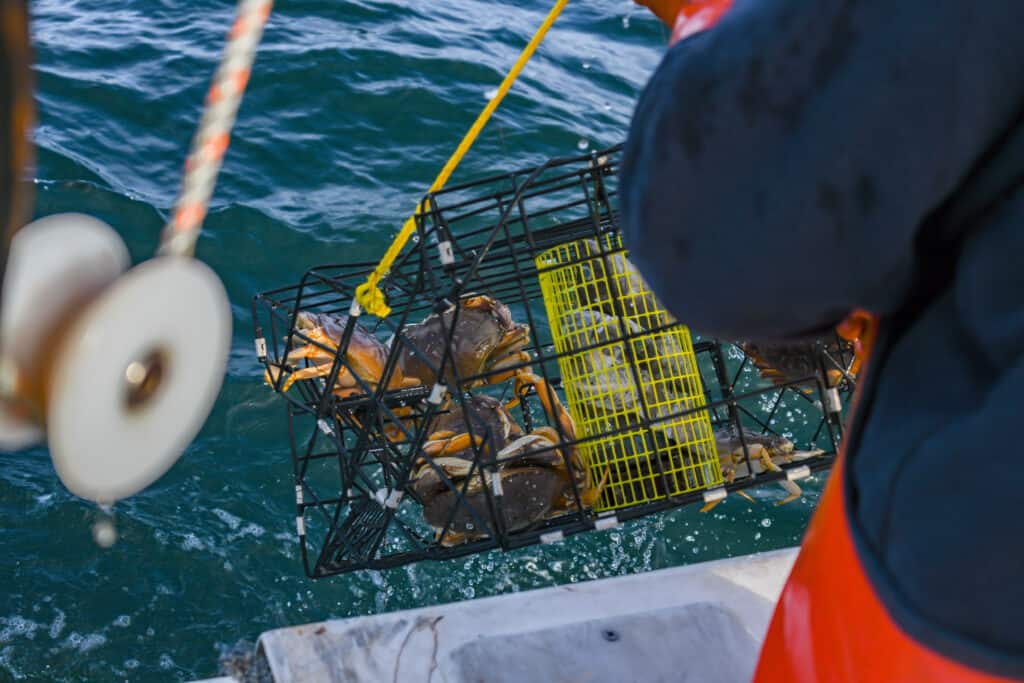 Dungeness Crab Overview
These crabs can live for 8 to 13 years, but when harvested commercially, they are usually around 4 years old. Adults molt at the same time every year, males in the late summer and females in the spring. While they are still juveniles (first two years), Dungeness crabs can molt up to seven times annually, but once they mature, they only molt once a year.
Due to oceanic conditions, including ocean temperature, currents, and food availability, populations undergo cyclic fluctuations. Mating takes place in the late spring or summer once molting has occurred. However, the eggs are not fertilized immediately. Females can carry viable sperm until their eggs are fully developed. But, some females don't reproduce annually, especially larger crabs that molt less frequently.
Habitat
In its natural habitat, Dungeness crabs live in sandy or muddy bottom areas and eelgrass beds. The juveniles often visit shallow estuarine sites with sturdy structures, like woody debris or pilings, and avoid sharing a habitat with adults. They use their claws for defense, chip away at shells till they open, and rip apart large prey. Adults primarily feed on crustaceans, fish, and bivalves. However, juveniles feed on shrimp, fish, mollusks, and crustaceans. Dungeness crabs fall prey to animals like sea lions, seals, humans, and fish. Furthermore, they fall victim to pollution, as they are affected by urban runoff, like pesticides, insecticides, and herbicides.
Dungeness Crab Recipe Ideas
There are plenty of recipes that include Dungeness crabs, including these delicious meals:
Easy Crab Tortellini
Try this easy but luxurious Dungeness tortellini using wonton wrappers. It's not too difficult to make, and the results are spectacular.
Crab Chowder
During winter, there is nothing more satisfying than crab chowder made with Dungeness meat. Simply add onion, thyme, celery, potatoes, clam juice, and cream.
Barbequed Crabs
Summer calls for a fun Dungeness crab barbeque. Cook the legs and shell on an outdoor grill and serve with a garlic-butter sauce. Simple but incredibly delicious.
The photo featured at the top of this post is © Jennifer Nicole Buchanan/Shutterstock.com
---