Undoubtedly, California is a hub for the most stunning stretches of coastline. Millions of tourists flock to the state yearly to visit the beaches, lakes, and other swimming spots. Others enjoy taking scenic drives along the beautiful Pacific Coast Highway. While each beach stretch has its charm, some are more enthralling than others.
From the idyllic shores of Santa Monica to the bustling Coronado beach, the Golden State has an array of options for you. Even though California's temperatures will never get warmer than the tropical islands, you can still enjoy basking in the heat along water bodies. Although the water bodies are much cooler, the state will blow you away with windswept beaches.
So, which are the best swimming spots in California? Here is a list of beaches, lakes, swimming holes, and rivers where you can cool off your toes. Grab your sunscreen and that beach towel for an incredible exploration. 
The Best Time for Swimming 
Choosing California for your swimming experience depends on your preferences and weather aspects. Maybe your trip is business-oriented or a family or friends time. The weather on the Golden State coast can be unpredictable. But early fall or mid-summer can guarantee you sunny days. 
There are a few dynamics to note. 
Split the State in Half 
Being a massive state, California is split into Southern and Northern regions. Beautiful beaches dominate the northern region, but the wind picks up in the afternoon with cooler days. 
However, if you want wind-free and sunny days, you can bet on the southern beaches. 
May Gray 
The May Gray phenomenon occurs with warming weather and people getting excited to get outdoors. The term refers to a marine layer that hangs over the coast during early summer. It might be hard to forecast, but at least half of May offers sunshine. 
June Gloom 
When it comes to June, you can enjoy short sunny days. The marine layer can burn off by midday. It's, therefore, best to plan the summer trip when you can get the best of sunny days. 
Remember, everyone wants to experience beach life in summer, leading to large crowds. This means higher hotel prices, more traffic, and competition for beach space. 
The beaches and other swimming spots will be fully packed in September or August. If you want to avoid crowded places, you can plan for your trip after Labor Day. 
The surfing experience in California is incredible, but if you're looking for bigger waves, November to March is the right time. Most people assume that beaches in California are always sunny, which is a misguided stereotype. 
Pay attention to UV radiation when considering temperature and weather dynamics. Between 10 am and 4 pm are the worst hours of the day when the rays are intense. The best thing about this time is that the swimming spots are less crowded. Having good sunscreen will save your skin from cancerous radiation. 
The Best Swimming Spots in California 
Let's explore some of the best swimming spots you can enjoy on sunny days. 
Swimming Holes
The cold water provides a sweet relief during summer days. Dipping your body in natural water bodies is refreshing and a great way of fighting summer heat. Whether planning a fun family trip, a solo adventure, or a cute outdoor date, head to the best swimming holes in the state. 
Fortunately, swimming holes are plenty in Southern California, and discovering even a quarter of them is amazing. Some of them include the following:
Under the Bridge to Nowhere
This arch bridge was constructed in 1936 in the San Gabriel Mountains in Asuza, California. An adventure to Under the Bridge to Nowhere will excite outdoor enthusiasts, including hikers. Right beneath the 9.3-mile hiking trail are secret swimming holes. Blowout Creek provides excellent swimming in the narrow, deep canyon for rope swingers, cliff divers, and boaters. 
On the left is a slippery and steep path to a spot for swinging on a rope or cliff-jumping. The clear water on the right side of the bridge is warmer during the summer season, offering convenient swimming. 
Deep Creek Hot Springs 
The geothermal springs offer hot-water and cold-water pools ideal for different swimming experiences. 
Located in the heart of San Bernardino National Forest, the springs are accessible through several hiking trails. Be cautious of dunking your head due to fatal and rare diseases found in the waters. 
Lakes
The Golden State offers blue lakes, wide-open spaces, and sunshine. California lakes number in thousands and stretch miles across exquisite landscapes. Apart from providing enthralling swimming, fishing, and boating experiences, these lakes also offer rich history. 
From the lakes in Southern California, such as Big Bear Lake and Silverhead, to Lake Tahoe in Northern California, you can explore great water bodies in California. 
Lake Havasu 
Lake Havasu is a good destination if you're looking for an excellent swimming experience in summer and boat riding. This huge reservoir sits on the border between Arizona and California. It's a massive playground for watersports and speedboat enthusiasts. The lake boasts about 300 days of sunshine yearly and 400 miles of coastline. 
Lake Tahoe
Swimming in the largest alpine lake in California will make your summer remarkable. It's an internationally famous lake with the deepest depths and stretches about 200 miles northeast of San Francisco. 
The trails around the lake bring hikers and mountain bikers together, while winter brings skiers. Driving around the lake offers plenty of scenic views and opportunities for picturesque overlooks. 
Lake Tahoe virtually fits all travelers, as there are stays in vacation homes, luxurious resorts, and old-fashioned motels. In addition, it's an ideal destination for family or friend trips.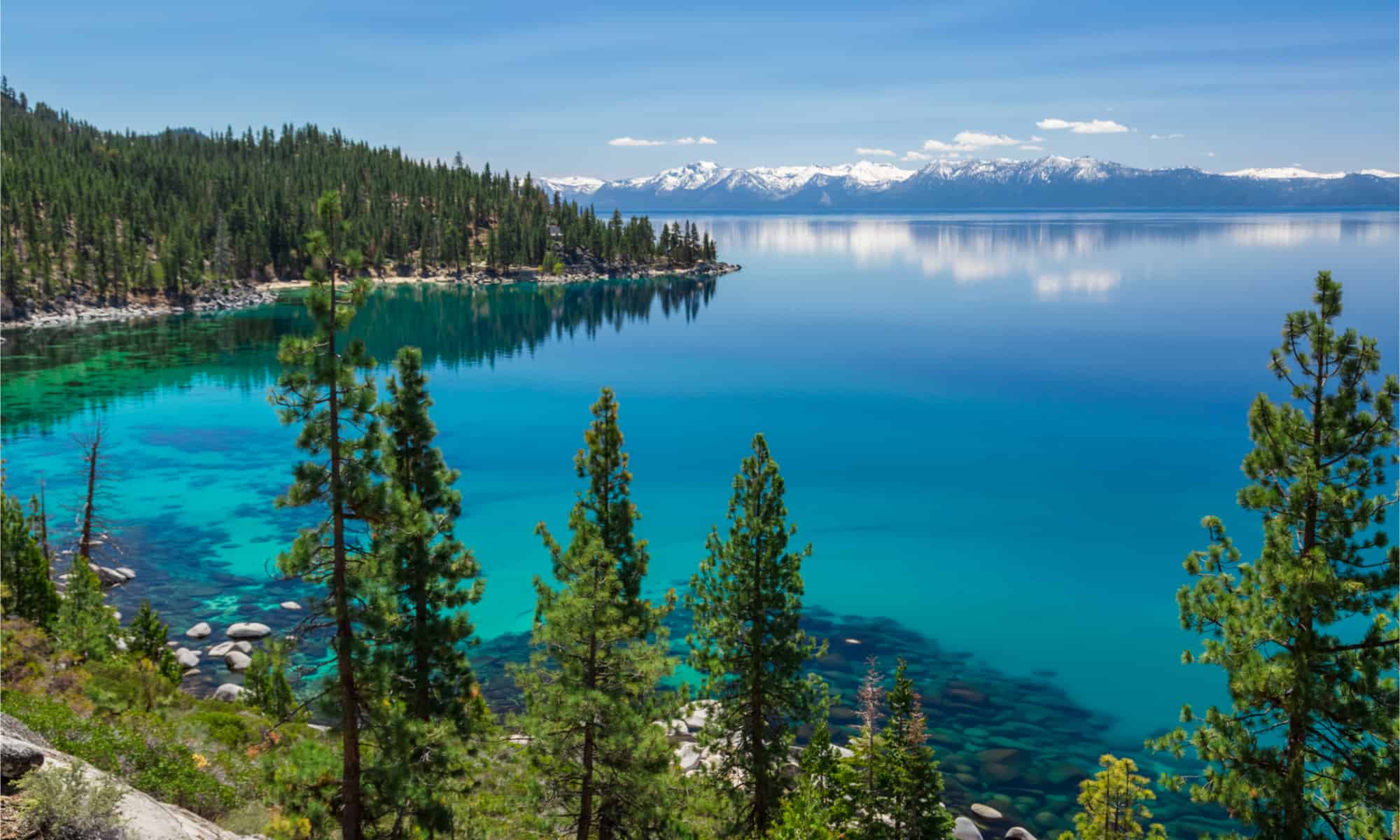 Mammoth Lakes Basin 
One of the best summer decisions you can make is to visit Mammoth Lakes. The luxury enclave is located along the Sierra Nevada mountains, near impressive natural formations like Yosemite National Park and Devils Postpile National Monument. 
Apart from swimming, the area is well known for snowboarding, ice skating, snowmobiling, and skiing.  The summer is also beautiful for hiking and mountain biking, and local property owners offer discounted rates on condos, resort rooms, and cabins. You can stay in Bishop town, which has cheaper rates, especially during the winter skiing season. 
Rivers for Swimming
California is a diverse state in the U.S. It's a hub of mountains, deserts, forests, and impressive waterways. The several rivers are water sources for millions of households and tourist destinations. Most rivers stretch over 250 miles, while some follow within the states and others through the state. 
San Joaquin River
The 366-mile river flows from the Sierra Nevada through the San Joaquin Valley, finally pouring into the Pacific Ocean. San Joaquin River is a wildlife corridor and a great source of irrigation water. 
The recreational center is a hub of fun activities, including hiking, wildlife viewing, camping, and swimming. 
Colorado River
The Colorado River runs through several western U.S. states, including:
Colorado
Utah
Arizona
Nevada
California.
A swimming spot offers relief from the summer heat. However, it's recommended that you wear comfortable footwear during your swimming seasons due to rocky areas. Another precaution is to avoid swimming near boat docks or camps. For added comfort, place a light mat under the towel, especially when sunbathing.
The river's temperatures vary from near-freezing in open water to temperate in the shallows. You can carry an insulated swimming costume just in case the temperature drops. 
The Colorado River has several places where people can swim, including:
Glenwood Springs
Bullhead City/Laughlin
Lake Havasu.
Note: Some parts of the river run through Native American reservations, such as the Navajo Nation and the Hualapai Reservation. Be sure to get the necessary permits and follow the tribal authorities' rules and regulations if you plan to swim in the areas.
Eel River
Eel River is a 196 mile-long (315 kilometers) river in northwestern California. It flows through the following counties before emptying into the Pacific Ocean near Ferndale Town:
Mendocino
Lake
Trinity
Humboldt.
It's also known as "the river" where residents of Willits, a small town known as Gateway to the Redwoods, head when summer temperature climbs. There are also several swimming holes along Hearst Road where you'll likely have the beach entirely to yourself. 
Owens River 
Located in eastern California, the Owens River is among the best swimming spots in the state. It's approximately 183 miles and drains through Owens Valley. The Owens Valley climate is semiarid, characterized by abundant sunshine, high potential evapotranspiration, low precipitation, and frequent winds. The hidden oasis provides excellent swimming opportunities during winter and summer days. 
Beaches
If you're hunting for swimming beaches, California offers you endless opportunities. The picturesque coastlines and scenic beaches will make your vacation unique. Remarkably, southern California is known for picture-perfect weather and sunny skies, making it an ideal destination for a swimming experience. 
The best beaches include the following. 
Santa Monica Beach 
Arguably, Santa Monica beach is the most popular beach spot in California. With countless fun activities and amazing views, there's never a dull moment at the beach. If you're not scared of heights, a ride at the Pacific Wheel will awaken your adrenaline. 
Temperatures are highest in August and September at 71 degrees Fahrenheit and low in June at 65 degrees Fahrenheit. 
The beach is best for sunbathing, walking, swimming, shopping, and cycling. Some amenities include outdoor showers, picnic areas, a bike path, restrooms, and athletic equipment. 
La Jolla 
La Jolla offers you a spectacular coastline view from secluded covers to sandy shores and rocky reefs. Catch a glimpse of sea lions and seals from this jewel of San Diego. Then, pay a visit to La Jolla Shores, where beachgoers flock. 
Expect high temperatures in August and September at 76 degrees Fahrenheit, perfect weather to escape the summer heat. The beach is suitable for scuba diving, swimming, body surfing, sunbathing, and boogie boarding. Some amenities include a beachfront boat launch, showers, parking lots, parks, and a lifeguard station. 
San Clemente 
If swimming, surfing, and camping top your priority list, ensure you visit San Clemente State Beach. There are stunning beaches for fun activities and exploration. For professional surfers, you can visit Trestles. But if you're a novice, San Onofre and T Street are ideal. 
San Clemente is suitable for snorkeling, wildlife viewing, surfing, swimming, and camping. Find amenities to make you comfortable, like a fire ring, parking lots, trails, RV sites, BBQ, and picnic area. 
Extra Large Pools or Water Parks
Not everyone likes to swim in nature's water bodies like beaches, rivers, or lakes. But that doesn't mean you cannot enjoy swimming in extra-large pools. The best pools include the following.
Coliseum Pool
Columns and vaulted arches surround the big, stunning pool at Pelican Hill. Over a million tiles cover the pool's walls and floor, ringing class to the pool. Located on high cliffs with a view of the Pacific Ocean gives you a floating horizon. 
Unfortunately, the Coliseum Pool isn't open to the public. It's a private pool only available to guests staying at the resort or to club members. 
But there are still some ways you can enjoy it even if you're not a guest. The resort offers day packages with access to the pool, so you can still take a dip in the water, enjoy the beautiful views, and have a great time. 
All you need to do is book a spa treatment, grab a bite to eat at one of the resort's restaurants, or purchase a day pass. Be sure to check with the resort directly to confirm availability and pricing for day packages.
The Rooftop Pool at Andaz Hotel
The combination of breathtaking views and swimming will make your overall experience unforgettable. 
Located at Andaz Hotel, the Rooftop Pool overlooks the Hollywood Hills and is primarily suitable for Hollywood parties. However, the serene amenity is also home to morning and evening yoga classes. 
The Rooftop Pool is not available for public use, unfortunately. It's only for the hotel's guests or those visiting the hotel's restaurant or bar. So, if you want to take a dip in the pool, ensure you have a valid room key or are dining or having a drink at the hotel's restaurant or bar.
Mosaic Pool
Swimming in California has never been this exciting. The Mosaic Pool, located at Montage Laguna beach, offers spectacular ocean views. It's a favorite guest meeting spot, thanks to stunning sunsets. 
To access the pool, you must be a member of the hotel's spar or fitness club. So, if you're interested in experiencing the Mosaic Pool, you'll need to book a stay at the resort or inquire about their spa or fitness club membership options.
Wrapping Up
Swimming is noted as the fourth most common activity in the U.S. It works on your cardiovascular system and the entire body. California offers you endless opportunities to soak your body in water bodies. From beaches to rivers, lakes, and pools, the sunshine state should be your top priority destination, especially during summer. 
Summary of the Best Swimming Spots in California: Lakes, Rivers, and More
Here's a recap of the top swimming spots in the state of California that we took a look at:
| Number | Swimming Spot |
| --- | --- |
| 1 | Under the Bridge to Nowhere |
| 2 | Deep Creek Hot Springs  |
| 3 | Lake Havasu |
| 4 | Lake Tahoe |
| 5 | Mammoth Lakes Basin |
| 6 | San Joaquin River |
| 7 | Colorado River |
| 8 | Eel River |
| 9 | Owens River |
| 10 | Santa Monica Beach  |
| 11 | La Jolla  |
| 12 | San Clemente  |
| 13 | Coliseum Pool |
| 14 | The Rooftop Pool at Andaz Hotel |
| 15 | Mosaic Pool |
Up Next:
More from A-Z Animals
---
The Featured Image
---