Racehorses have been sold for enormous prices throughout history due to their pedigree, breeding ability, and race performance. While some have had incredible success stories, others have had disappointing journeys.
Either way, it's fascinating to learn why these horses sell for such high amounts. In the end, though, one horse trumps them all. Read more to find out which horse sold for $70 million!
Why are Racehorses so Expensive?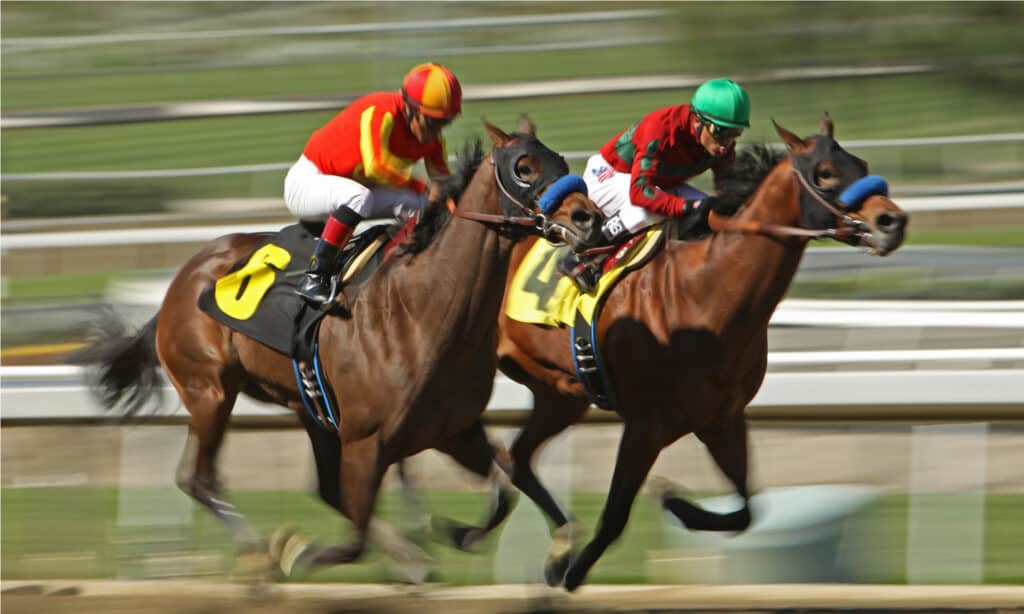 Racehorses are expensive due to several factors. First, many buyers desire to breed these racehorses and produce race-winning offspring. Purebred horses who perform well on the course can be sold at a higher price than those with normal to mediocre capacities. In other cases, some buyers bid astronomical amounts because they want to continue racing the horses.
The difference in price between male and female horses isn't extreme. In terms of breeding, most people would be shocked because while females can only have one child per year, males can mate on hundreds of occasions throughout the year. 
Owners who desire to breed their horse with a prize-winning stallion must pay what is called a stud fee to the stallion's owner. After this transaction, the two horses are allowed to mate in the hopes that their offspring will grow to be a winning horse. At auctions, most stallions are worth around 300 times their stud fee.
Some auctions include horses for purchase that have never been raced. For example, the foal auction at Tattersalls allows buyers to purchase horses that have never proved their worth on the course. These horses are only one year old but still go for millions in the auction. Buyers must guess how the horse will perform based on pedigree and physical quality alone. Buyers have won the lottery if the horse performs well when raced because their stud fee and auction price will skyrocket. If the horse performs poorly, the buyer usually loses money. 
Horses With the Highest Stud Fee
Several well-known and prize-winning stallions have outstanding stud fees, usually hundreds of thousands. Below is a list of some of the most remarkable horses with expensive stud fees.
Frankel was born in 2008 at the Juddmonte Farms stables in Lexington, Kentucky. This British stallion has won 14 races, and his stud fee totalled $220,000 as of 2019.
Galileo is an Irish stallion with a stud fee of $663,000 as of 2019. His race-winning offspring number is over 300! In addition, estimates report that Galileo is worth at least $199 million.
Tapit is an American horse that is worth $140 million. Although he is an ordinary racehorse void of big wins, he has fathered exceptional racehorses. His stud fee is $300,000, proving that you can't judge a book by its cover!
The Most Expensive Horse Ever Sold
The most expensive racehorse ever sold is Fushaichi Pegasus. Fushaichi Pegasus is an American Thoroughbred who won the Kentucky Derby in 2000. As a yearling (one-year-old), he sold for $4 million to Fusao Sekiguchi. He was named by Sekiguchi, who combined "Fusao" and the Japanese word for one, "Ichi." By using "Ichi," Sekiguchi wanted to assert that Fushaichi Pegasus was to be number one on the course. In 2000, Fushaichi Pegasus won the San Felipe Stakes, Jerome Handicap, Wood Memorial Stakes, and the Kentucky Derby.
After several achievements, Fushaichi Pegasus sold for $70 million to the breeding operation Coolmore Stud. Coolmore Stud hoped that his offspring would have the same talents, winning horse races and accumulating massive amounts of prize money. Therefore, although he was a racehorse, Fusaichi Pegasus was sold to be bred rather than raced.
Unfortunately, offspring resulting from breeding Fusaichi Pegasus did not fulfill breeders' and buyers' expectations. In fact, most failed to prove themselves as valuable racehorses, and very few became winners on the course. Bandini, Roman Ruler, and Haradasun are the notable racing horses that resulted from breeding Fusaichi Pegasus. However, Fushaichi Pegasus's failed offspring resulted in a decrease in his stud fee by $142,500. As of 2019, his stud fee was $7,500.
Other Notable Horses
While the price of Fusaichi Pegasus remains the highest bid for any horse in all of history, other impressive horses with extravagant prices exist. Five of these most expensive racehorses are described below.
Justify
Purchased as a yearling for $500,000, Justify is a Thoroughbred who was undefeated after racing for six years, winning the Triple Crown in 2018. In 2018, he was sold for $60 million to Coolmore Stud.
McIlrath's Captain Jim
McIlrath's Captain Jim went for $112,500 in 2003. However, he wasn't a racing horse but a working horse. He wasn't sold to work but to be bred. McIlrath's Captain Jim is considered the most expensive working horse ever sold.
Shareef Dancer
Shareef Dancer, a Thoroughbred, sold for $40 million in 1983, making it one of the most expensive horses ever sold. Factors like horse racing popularity, speed, and pedigree allowed the price for Shareef Dancer to skyrocket. In addition, Shareef Dancer descended from another incredible racehorse, Northern Dancer.
The Green Monkey
The Green Monkey sold for $16 million when he was only two years old. He descended from Northern Dancer, like Shareef Dancer, and from the famed Secretariat. Unfortunately, Green Monkey never won a race and died in 2018.
Seattle Dancer
Another offspring of Northern Dancer, Seattle Dancer, was sold in 1985 as a yearling for $13.1 million. Seattle Dancer set the record for the most expensive yearling ever sold. He won many races before the end of his race career. Afterward, Seattle Dancer was bred and produced several race-winning horses.
Up Next
---
FAQs (Frequently Asked Questions) 
Which horse breed is best for racing?
The Thoroughbred is considered the best breed for horse racing with a top speed at 43.97 miles per hour.
How much are top racehorses worth?
Top racehorses are worth approximately 300 times their stud fee.
Where are racehorses bred?
Racehorses are bred in breeding operations or by individual breeders across the globe. For instance, one of the most prominent racehorse breeding operations is Coolmore Stud, which is located in Ireland.
Sources

Wikipedia, Available here: https://en.wikipedia.org/wiki/Fusaichi_Pegasus
Matthew Ponsford, Available here: https://www.cnn.com/style/article/worlds-most-expensive-horse/index.html
Miles Henry, Available here: https://horseracingsense.com/most-expensive-horses-in-the-world/#:~:text=Some%20of%20the%20most%20expensive,Pegasus%2C%20purchased%20for%20%2470%20million
Lucy Robinson, Available here: https://www.horsefactbook.com/breeds/best-horse-breeds-for-racing/