It has been asserted throughout time that white roses were the original roses to be produced. According to legend, the white rose was once stained with blood by the goddess Aphrodite, making it crimson. Naturally, this implies that the red rose was the second to exist.
Any flower business needs white roses to succeed. Its timeless appearance may be utilized to add a gentle touch to funerals, special celebrations, corporate gatherings, and other occasions. Any other hue used in centerpieces or arrangements looks better with white, which gives them a fuller, more rich appearance. It's a solid rose color on its own and also works well as a complementary color.
The white rose is one of the most well-known and conventional bridal flowers. For their weddings, new brides frequently try to find more unusual flowers but end up preferring white roses since nothing else exactly fits the bill. In the flower industry, they are unmatched for tenacity alone.
The white rose is ideal for bringing refinement to any occasion since it may express kindness, purity, admiration, unity, sincerity, and romance. Whether you want to create a floral arrangement or start growing these elegant roses in your garden, you have quite a few different options to choose from. In this guide, we'll explore a number of beautiful and popular white rose varieties so you can make a more informed decision.
What Do White Roses Mean?
White flowers stand for innocence, youth, and purity. White roses are a common option for weddings and romantic celebrations because of their symbolism of young love, enduring loyalty, and fresh starts. They are wonderful flower gifts for your spouse or significant other because of their associations with eternal love. A romantic white flower arrangement may be made by combining white roses with lovely foliage or small complimentary plants like baby's breath.
There's also the notion of ivory roses. Surprisingly, the significance of ivory roses differs from that of pure white roses. These flowers are perfect for a loved one or significant other who exemplifies these qualities since they represent thoughtfulness, elegance, and charm. Additionally, the color rose conveys perfection and wealth. Ivory flowers are a wonderful method to express your concern without conveying your passion, like white roses do. To create a magnificent impression, combine these roses with fresh broad-leaved foliage.
Gourmet Popcorn Rose
Botanical Name: Rosa 'Gourmet Popcorn'
The white semi-double flowers of the Gourmet Popcorn miniature rose with yellow centers that resemble just-popped popcorn. Even when compared to other little roses, it is undeniably gorgeous and small. Only 12 to 18 inches tall and wide, these little plants stay small but still pack some visual punch. This small rose type should bloom all season long. The Gourmet Popcorn rose thrives in full sun exposure and is hardy up to USDA hardiness zone five, like most miniature rose cultivars.
Bridal Sunblaze Rose
Botanical Name: Rosa x 'Meilmera'
The Bridal Sunblaze rose is a hybrid cultivar with a height and spread of just 12 to 18 inches. The bright white double flowers, which have 40 petals each, greatly impact even if the plants are quite small. Although these bushy roses have shiny green leaves, you might not even see them when the little shrub is blooming from spring through fall. The Bridal Sunblaze rose is a great option for container gardens or smaller growing areas. It may also create a romantic atmosphere, whether grown as part of a pathway border or along the route to a pond or pool. You won't have to spend a lot of time fussing over this variety because it is also disease resistant as well.
Snowdrift Rose
Botanical Name: Rosa 'Bairift'
Those who love growing flowers for their elegance may really appreciate this low-growing shrub. It is supremely elegant and covered with white blossoms all summer long. Although this type doesn't require deadheading, it nevertheless maintains a vibrant appearance, is disease-resistant, and grows quite fast. It spreads and develops to a height of approximately four feet, floating those lovely blossoms across empty areas of the garden or landscape. Its aromatic blossoms also entice pollinators and visitors to your garden alike. With this cultivar, effortless elegance in your garden is feasible.
Top Cream Rose
Botanical Name: Rosa 'MEIroguste'
The Star Roses and Plants Scentables collection includes this variety. The Top Cream rose is a stunning, vintage variety with full-petaled blooms and a powerful pear-anise scent. The Top Cream rose will beckon you to cut it and take it inside so you may enjoy its opulent scent. In the bud stage, this rose has a faint shell pink tint that gradually fades to pure white as it unfolds. The Top Cream rose, which is a strong hybrid tea rose, prefers full sun. It is ideal for cottage gardens because of its full, vintage bloom form. Plant it in a bed with delicate pinks and purples for a whimsical look. The USDA hardiness zones five through ten are ideal for growing this stunning white rose, which may grow to a height of six feet.
JFK Rose
Botanical Name: Rosa 'BOEgif'
The hybrid tea JFK rose features enormous, flawlessly shaped alabaster flowers that are traditional and radiant. This gorgeous rose bears the former American president's name and is a fitting homage. JFK roses are excellent for cutting gardens. It produces elegant, gorgeous, fragrant bouquets; the flowers may be up to six inches across! The JFK rose is slightly prone to black spots; to maintain its health, water it at the base in the morning to avoid moistening its leaves. This rose will shine under the stars and is ideal for a moon garden. Put it in the middle of the border with other graceful, sculptural plants for a calm, elegant appearance. This rose may readily grow to a height of five feet and thrives in USDA hardiness zones seven through 10.
Snow Goose Rose
Botanical Name: Rosa 'AUSpom'
Look at the adorable Snow Goose rose if you adore the appearance of white roses flowing gracefully over arbors and sculptures. This remarkable English rose, the star of the Shakespeare collection at the Huntington Botanical Garden in California, will also steal the stage in your yard. The Snow Goose rose is a rambling perennial that blooms often and has delicate, daisy-like blossoms. Rambling roses seldom bloom more than once a year, but the Snow Goose rose will bloom intermittently all summer long. Ramblers enjoy climbing, and with adequate support, this fluffy little rose may grow as high as 10 feet. When used to lighten the formality of sculptures and topiaries in the garden, the Snow Goose rose creates a striking aesthetic effect. After the initial flush of spring blossoms, deadhead it to promote additional blooms. USDA hardiness zones five through 11 are ideal for growing this rose.
White Drift Rose
Botanical Name: Rosa 'Meizorland'
The White Drift rose is a little worker and has the cutest white ground cover available. This little rose, which is incredibly floriferous and hardy, will be covered with totally double, tiny white blooms all season long. For an adorable, quick border, plant a row of White Drift roses. The ideal fluffy flowers will elicit awe from both adults and kids. The robust "White Drift" flower is lovely when blended in with tall salvias and lavender, as it brilliantly highlights your other flowers. 
The White Drift rose can withstand adverse conditions and yet bloom profusely since it is extremely disease-resistant and cold-hardy. Anywhere you need a bright spot, plant this sweet tiny shrub and watch it blossom! The USDA hardiness zones four through 11 are ideal for this plant, which thrives in direct sunlight.
White Flower Carpet Rose
Botanical Name: Rosa 'NOAschnee'
The Flower Carpet White rose will cover bare spots with an abundance of icy white blossoms, giving your garden the peaceful appearance of a carpet of snow-white roses. This easy-care rose is sturdy, disease-resistant, and will bloom lavishly all season, adding to your sense of serenity.
Only reaching a maximum height of two-and-a-half feet, the Flower Carpet White rose is ideal for creating low hedges or serving as a ground cover plant. This rose, a gold medal winner, is a dependable option for novice gardeners or anybody looking for maximum bloom with the least hassle. This rose tolerates shadow and is great for bringing some brightness to dark areas. For a lovely, shining white flower bed, plant them in large numbers. This rose thrives best in USDA hardiness zones five through nine and may thrive in either full sun or moderate shade.
Bolero Rose
Botanical Name: Rosa 'Meidelweiss'
The Bolero rose, another popular choice, has a neat and compact habit that makes it ideal for patio planters or the front of a border. A floribunda, this shrub has colossal clusters of densely petalled white flowers. The Bolero rose is a gorgeous cut flower beloved for its lovely tropical fruit scent. It blooms profusely, so feel free to trim frequently through the end of summer. Allow blooms to wither on the shrub as fall approaches so they can produce lovely hips for winter appeal.
Use this rose to fill up gloomy spaces with much-needed light since it thrives in dappled shade. This rose should be shielded from the intense afternoon light so that its petals don't become burned or browned. This rose thrives in USDA hardiness zones five through nine.
Pope John Paul II Rose
Botanical Name: Rosa 'JACsegra'
The John Paul II rose, arguably the most popular white rose boasts exquisite florist-quality hybrid tea blooms and is extremely fragrant. The focal point of the exclusive Vatican gardens is this traditional, snow-white rose. Thanks to their divine citrus aroma, Pope John Paul II roses have won several prizes for their fragrance in international and American competitions. 
If you want stunning bouquets of crystal-clear, snow-white roses suited for an exhibition, plant this rose! All hybrid tea roses require a little bit more care than more robust cultivars, despite the fact that they are strong, successful growers. To ensure that it grows to its maximum potential, take care of this plant with proper feeding and trimming routine. It grows well in either full sun or moderate shade and may be cultivated in USDA hardiness zones five through nine.
The white rose comes in many different varieties, so finding the perfect one for your floral arrangement or gardening project shouldn't be too difficult. And with so much versatility, your white rose selection will look absolutely beautiful regardless of the cultivar you pick.
Up Next:
More from A-Z Animals
---
The Featured Image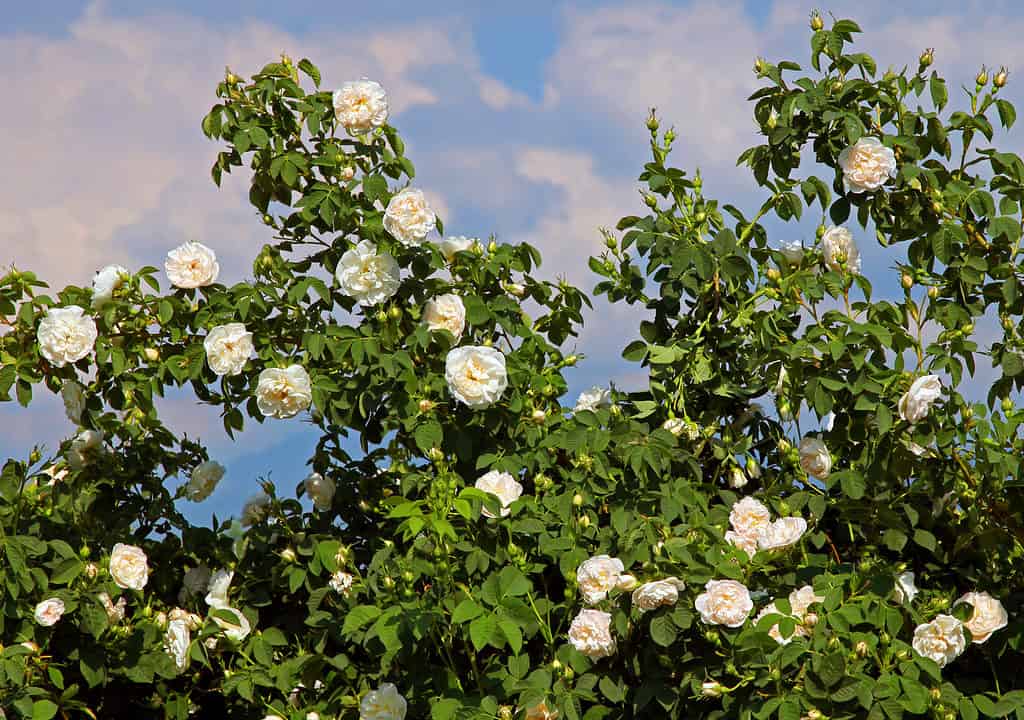 ---
FAQs (Frequently Asked Questions) 
What do white roses symbolize?
White roses symbolize purity and innocence. They can also symbolize new beginnings.
Can white roses be used in weddings?
White roses are popular wedding flowers because they symbolize everlasting love.
Do white roses exist in nature?
Yes. White is one of the natural colors of roses grown in the wild.
Sources

NCSU Staff, Available here: https://plants.ces.ncsu.edu/plants/rosa/
Sheryl Geerts, Available here: https://www.bhg.com/gardening/flowers/roses/ultimate-rose-care-guide/
Viveka Neveln, Available here: https://www.bhg.com/gardening/flowers/roses/white-roses/