People sometimes forget that the state of California is rife with volcanoes that could erupt at any time. In fact, many of them haven't erupted in years, and there is a high chance they will in the future. This could mean a massive state of destruction, or it could just mean a fascinating view like the eruptions we see consistently in Hawaii. Instead of being afraid, let us take the chance to educate ourselves on the volcanoes in California.
How Many Volcanoes are in California?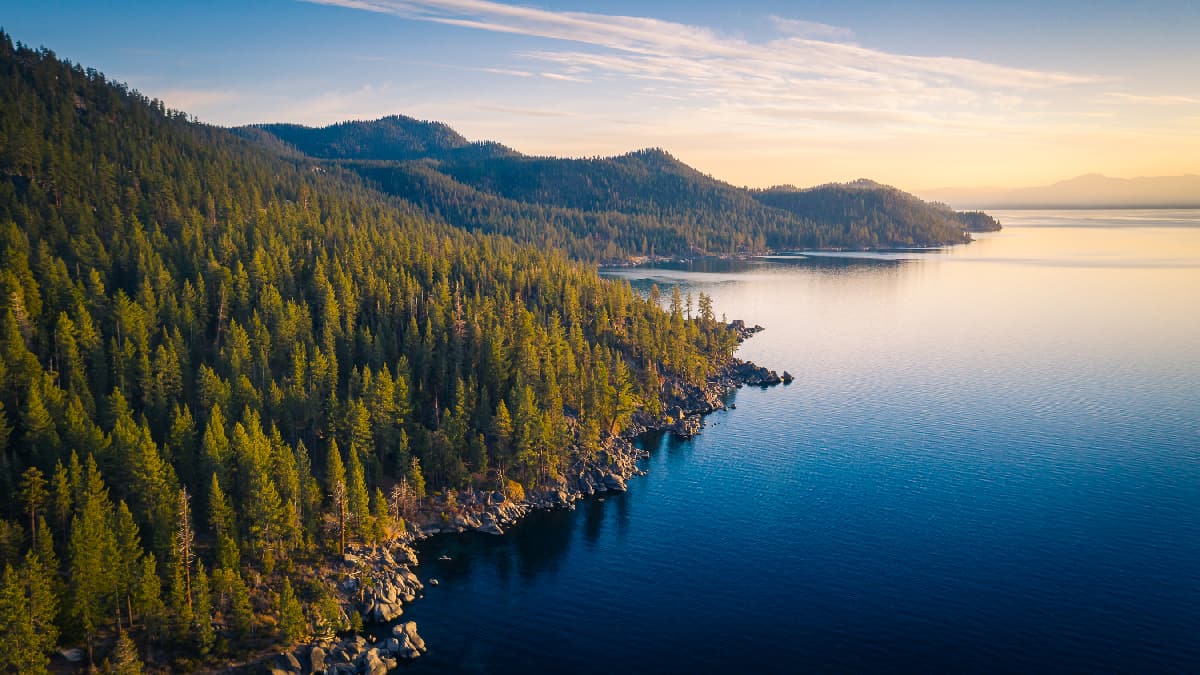 "The Golden State" of California is known as such because gold prospectors traveled across the country to hunt out gold in this beautiful state, and it has always been a place for innovation and invention. What California is not so well known for are its volcanoes.
Yes, California has many volcanoes across its landscape, so it's wild to think that nearly 40 million people live there. That's 40 million people whose lives could be uprooted if these sleeping giants choose to awaken.
There are twenty volcanoes known in the state of California. Those volcanoes include:
Amboy Crater
Clear Lake Volcanic Field
Coso Volcanic Field
Eagle Lake
Escanaba Segment Volcano
Golden Trout Creek
Lassen Volcanic Center
Lavic Lake
Long Valley Volcanic Region
Mammoth Mountain
Medicine Lake
Mono Lake Volcanic Field
Mono-Inyo Craters
Mount Shasta
Mono Lake
Salton Buttes
Silver Lake
Twin Buttes
Tumble Buttes
Ubehebe Craters
Not all the volcanoes listed here are an active threat to California, but enough are for us to need to take notice and prepare for the day California may eventually face.
Volcanic Activity
Volcanoes are a wondrous example of the earth's resilience and beauty. They're a considerable part of the earth's makeup and teach us a lot about how places were formed and how people lived.
We all know the story of Pompeii and the destruction that Mt. Vesuvius caused. Every volcano is capable of such destruction and helping the earth rebirth. Volcanoes give great insight into what's going on beneath the crust of the earth.
A volcano is a release spigot for the magma churning beneath the earth's crust, keeping the planet whole and sustained. Volcanoes have a vent releasing magma as lava, often bursting outward in pyroclastic flows.
A pyroclastic flow is the lava, a mixture of hot molten rock fragments, ash, and gases from inside the earth that come up and cover the existing ground above.
Volcanoes are both stunning and alarming because they can change the world in an instant with a single eruption.
Are Any Volcanoes in California Likely to Erupt?
There are seven known volcanoes that have active magma deposits. These volcanoes include:
Clear Lake
Coso Volcanic Field
Lassen Volcanic Center
Long Valley Volcanic Region
Medicine Lake Volcano
Mount Shasta
Salton Buttes
These volcanoes have enough magma deep below to suggest that they will definitely expel magma in the coming years, though science cannot say precisely when.
The problems that can happen because of these eruptions will differ depending on the volcano. There are many different types of volcanoes, and the places they are located change how they can affect the land around them.
The types of volcanic hazards that can unfold depend upon the specific volcano and the kind of eruption.
The last known eruption of a volcano in California was on May 22, 1915, only a hundred years ago. Mount Lassen exploded out pyroclastic material and frightened the whole country.
What Types of Volcanoes Are in California?
There are five types of volcanoes, and every style is located in California, believe it or not.
The five types of volcanoes are:
Cinder Cone Volcanoes
Complex Volcanoes
Composite/Strato-Volcanoes
Shield Volcanoes
Spatter Cone Volcanoes
Now we will explore each volcano type and which volcanoes in California are each type. Many of the places named are regions with multiple volcanoes, and some volcanoes listed are from those sites.
Some volcanic regions will be listed twice or more as they have multiple types of volcanoes present.
Cinder Cone Volcanoes
A cinder cone volcano is made up of the fragments it shakes off. So when it erupts and lava flows, it pushes up the rocks that have broken off and builds it upward in a cylindrical manner.
The cylinder of a cinder cone volcano is the vent in which magma escapes. When the volcano erupts, it releases the lava and more pyroclastic material to build it higher.
Cinder cone volcanoes that can be found in California include:
Amboy Crater
Clear Lake
Coso Volcanic Field
Eagle Lake
Golden Trout Creek
Lavic Lake
Mono-Inyo Craters
Mono Lake
Silver Lake
Twin Buttes
Cinder cone volcanoes are definitely the most prevalent type of volcano found in California.
Complex Volcanoes
A complex volcano is, well, complex. It is what a volcano can eventually form into after millions of years. Most volcanoes start as shield volcanoes, lower to the ground, and more spread out. Over time the eruptions cause the material to pile up and help grow volcanoes.
We know that cinder cone volcanoes are made when material builds upward. Complex volcanoes are created when different substances help build it into a more mature volcano.
These volcanoes may move as the years go on, the vents from which they release their magma changing. They may be built from pyroclastic flow and fragments or even bits welded together. This depends on where the volcano is located on earth.
Location does genuinely affect how a volcano may mature and develop over time. A few complex volcanoes in California are:
Lassen Volcanic Center
Long Valley Volcanic Region
Mammoth Mountain
A complex volcano can seem to grow very large, as is the case with Mammoth Mountain. Other lesser volcanic types surround Mammoth Mountain, which is why it has grown so far.
Composite/Strato-Volcanoes
Composite volcanoes, or strato-volcanoes, are less common because they take millions of years to form and are one of the final forms of an elder volcano.
A strato-volcano is composed of lava and rock-like other volcanoes. First, it forms a cylinder over time and then a crater that stretches outward after every eruption because of how the lava flows. 
This is why so many volcanoes and volcanic regions coincide with one another because they grow together but not always in the same way.
Strato-volcanoes in California include:
Lassen Volcanic Center
Mammoth Mountain
Mount Shasta
These volcanoes and regions are definitely on the list of most beautiful to view in California.
Shield Volcanoes
When volcanoes first form, they form as shield volcanoes. These volcanoes have a low vent from which the magma flows. Once magma reaches the earth, it mixes with the debris outside and becomes lava.
The lava spreads outward into a shield-like shape. This forms the base of what could one day become a much larger strato-volcano. Shield volcanoes are the most common type of volcano to find, especially in places like Hawaii, because they are the beginning of the volcano's life.
Many of the volcanoes are older but surrounded by smaller shield volcanoes in California. Some shield volcanoes are:
Escanaba Segment Volcano
Medicine Lake
Lassen Volcanic Center
Spatter Cone Volcanoes
The name spatter cone volcano pretty much describes what these volcano types do. Like cinder cone volcanoes, they are made up of the material they eject. The difference is they spatter material upward. As a result, it all welds together to make their cones.
With a cinder cone volcano, the cone is loose material packed together that holds its shape. Spatter cones are solid and more destructive when they do eventually erupt.
Spatter cone volcanoes are found:
Lassen Volcanic Center
Ubehebe Craters
Should We Worry About Volcanoes Erupting?
As you may have noticed, some of the volcanoes mentioned are just broad volcanic regions because they hold a volcano surrounded by lesser lavic fields. That just means they expand outward and aren't just one fixture.
It is true what scientists say that eventually, several of these volcanoes will erupt, especially based on their history. In the next 30 years, we will likely see some sort of volcanic activity take place in California.
That doesn't mean we need to live in fear, worrying our society on this side of the United States will crumble. Yes, nature is terrifying, but that doesn't mean we have to be afraid. It is just as likely that we won't see volcanic activity for the next 50 or 100 years.
Volcanoes have been erupting for millions of years. It is part of how the earth releases the pressure of gasses and heat from inside itself. It's a good thing in the end. 
The photo featured at the top of this post is © BlueBarronPhoto/Shutterstock.com
---