Continue reading for our analysis...
For us as humans, coming face to face with a lion usually consists of a local trip to the zoo. And one very important thing separates us from them. And that is usually some thick glass where the lion has no hope of protruding through to get to us. Now and then, we get to be even closer in the case of a zookeeper or a circus act walking a lion around for us all to see without the glass in between. 
Then, other times, as the one in this video posted below, we see a lion face to face on a safari. This video was posted by the YouTube page "The Mapogo Lions." According to their channel description, they "Follow six Mapogo lions and their domination of the Sabi Sand landscape." In this particular video, they state that this "Black Rock Male Olobor" was ready to attack tourists. According to a Facebook page, the "Lions of Africa," they have this to say about the black rock male Olobor.
"Black Rock male Olobor has grown into one of the most impressive male lions of the Mara – and that at the young age of just five years. He's big, he's bulky, and he is sporting a thick dark mane."
Lion Vs. Safari
As the video below starts, we immediately see a full-grown lion standing at the door of this tourist's safari vehicle. If we pause the video at five seconds, it is astonishing to see just how close this lion was able to get. For some reason, lions look larger than life when they are not separated by some glass at a zoo.
Throughout the video, we see the lion lowly growl and walk around this vehicle. He doesn't feel threatened, but he is merely checking it out. We can only imagine how still the tourists were in this vehicle, trying their best not to spook him. They also likely got some incredible photography as well!
How Many Teeth Do Lions Have?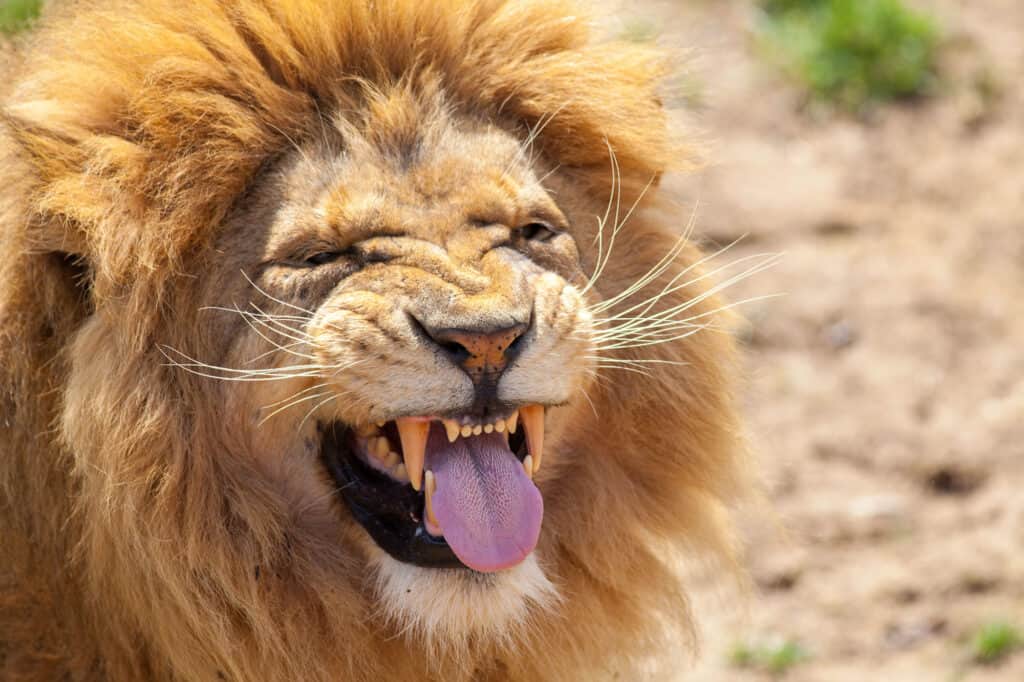 As we saw from the video posted below, this lion was able to get incredibly close to these tourists. So close, it was easy to see every outline of this lion's face. And once he opened his jaw and gave a low roar, it was difficult not to miss the large teeth!
Lions have 30 teeth. Not only that, but they also have the four large canine teeth that we see in this video when he growls.
Is this Normal Lion Behavior?
While a lion wouldn't generally hesitate to attack an individual human, they don't typically attack vehicles as they don't see them as prey or view a vehicle as something that they would be able to do battle with. Since they don't view the vehicle as a food source, they don't usually view what is in the vehicle as a food source either. Lions don't habitually attack safari vehicles, although should a person be wandering on foot in an area where lions are residing, the likelihood of them being attacked is far greater.
It is always important to remember that lions are predators and as wild animals, they are unpredictable. They tend to avoid humans as we are often dangerous to them. However, lions are also dangerous to us and if given the opportunity, they can attack.
---