↓
Continue Reading To See This Amazing Video
Missouri, famous for the Gateway Arch, the Missouri River, and much more, is home to a vibrant collection of lakes and reservoirs. A lake is a body of water that exists entirely naturally—with no human interference. In contrast, a reservoir, also known as a man-made lake, is either entirely due to human construction or is augmented by it. Humans construct dams and water management systems for several reasons: energy production, irrigation for agricultural purposes, and water usage for urban areas. Missouri is no exception to humanity's predilection for constructing dams on rivers of every size. Here, we'll learn about the largest man-made lake in Missouri. 
Read on to learn not only where this lake can be found but what towns lie near it and what kinds of activities the area has to offer.
What is the Largest Man-Made Lake in Missouri?
With a surface area of over 55,000 acres at normal level, Truman Lake is unquestionably the largest man-made lake in Missouri. The lake serves as a flood control outlet, so its surface area increases to around 200,000 acres when it's flooded. A popular spot for both water recreation and camping, Truman Lake and its surrounding lands makes for an excellent place to spend a day or even just an afternoon. 
Officially known as Harry S. Truman Lake, the reservoir is part of Harry S. Truman State Park. But, the lake wasn't always named after a U.S. president. Prior to the completion of the current dam, Truman Lake was actually known as Kaysinger Bluff Dam and Reservoir. The lake sits just north of Springfield, Missouri, and to the southeast of Kansas City. Its shape follows the routes of several watersheds, appearing like four fingers snaking their way west from the dam.
Other Man-Made Lakes in Missouri
Truman Lake is easily the largest man-made lake in Missouri, but what about the state's other reservoirs? First, there's Bull Shoals Lake, which covers about 45,000 acres. Despite its name, Bull Shoals is actually a reservoir. It's a popular destination for tourists looking to swim, fish, and boat. There's also Table Rock Lake, at about 43,000 acres. This lake sits in the Ozark Mountains, which provide an unparalleled backdrop of natural beauty. Finally, there are many, many more man-made lakes in Missouri, many of which are just waiting for your visit!
History of Truman Reservoir
Truman Lake wasn't always so big. In fact, prior to the completion of the dam in 1979, it was much smaller. Today, the town of Warsaw sits on the lake's banks, but for thousands of years, before Europeans arrived, Native Americans occupied the land. Warsaw itself was first settled in the 1820s. Small ferry boats were constructed along the river that would eventually morph into Truman Lake. At that time, a local land formation known as Kaysinger Bluff was one of the most noteworthy landmarks in the area. 
Over the next 200 years, the history of Warsaw and the surrounding county grew rich and vibrant. Even before the Civil War, the town would see its share of violence. But through it all, the waters of the Ozark River would flow steadily. Of course, Truman Lake didn't exist then. Today, the lake's full scale can be attributed to the U.S. Army Corp of Engineers, who completed the dam in 1979.
Wildlife Around the Reservoir
Truman Lake isn't just a pretty landscape; it's also home to hundreds of species of animals. These include birds, reptiles, amphibians, fish, and even mammals. Venturing through the lands surrounding Truman Lake, you might encounter opossums, muskrats, beaver, woodchucks, cottontails, foxes, or even skunks. Larger, rarer animals include black bears and bobcats, which only rarely come in contact with people. White-tailed deer also call the lake their home, as do badgers and raccoons. 
And when it comes to birds, Truman Lake has plenty. Waterfowl, including grebes, herons, geese, mallards, and wood ducks, dominate the tranquil waters. Nearby, you might hear the warbling songs of robins or encounter red-winged blackbirds, chickadees, and flickers.
Things To Do at Truman Reservoir
Camping, fishing, swimming, and hiking top the list of outdoor activities in and around the largest man-made lake in Missouri. But what if you've been outside all day, and you're ready for a hot meal and a nice bed? Look no further than the small, historic town of Warsaw. Warsaw has several places to eat, drink, and stay, as well as lots to see. Start with the Benton County Museum, before taking in the beautiful Drake Harbor. Then, wander the historic streets of the town, and learn more about the rich history of the area.
Fishing at Truman Lake
What fish species can you expect to find in Truman Lake? There are catfish of the blue, channel, and flathead varieties. Large flathead catfish can be found at the Tebo arm of the reservoir, and also at the Osage and Grand arms (at the upper extremities of the latter location). Blue and channel catfish can be caught on flats, with the former available for most of the year.
Bass are also available including varieties such as largemouth, spotted, striped, and white. White bass are best caught between March and May, when they can be found making spawning runs along the Osage branch of the reservoir.
Up Next:
More from A-Z Animals
---
The Featured Image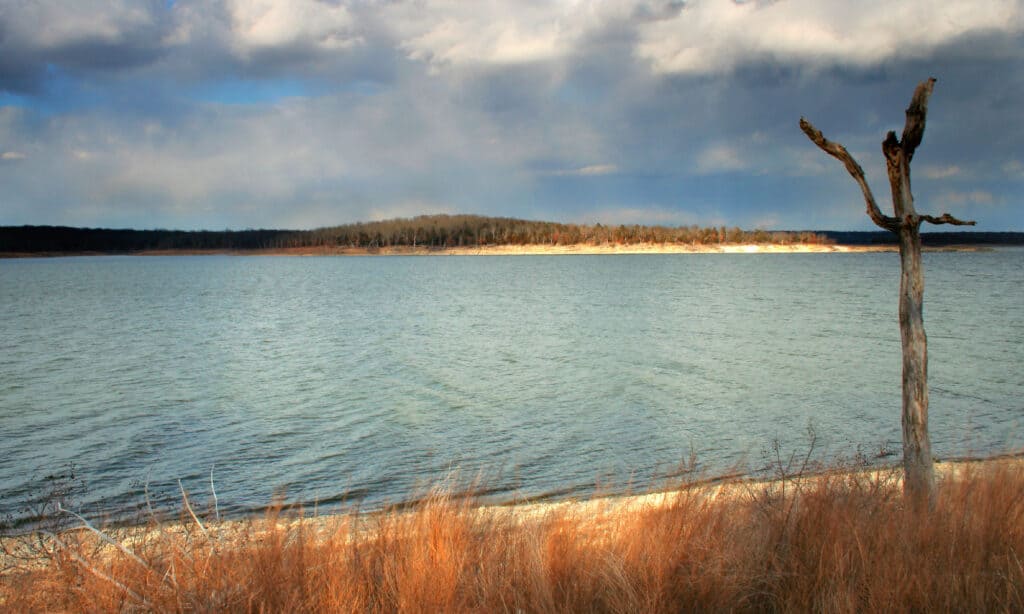 ---