Antennae have many functions and vary by appearance based on the species. But because they are so variable, it makes it easier to identify different insects.
Antenna (Animal) Meaning
Antenna, or antennae, are a pair of sense organs or appendages used for sensing. They are located in the front of an arthropod's head and are often referred to as "feelers." They are long, thin organs made of jointed segments, but they look different based on the species. And they also function differently too, with some sensing touch and motion while others use them to smell and taste. But they have many purposes detrimental to an insect's or crustacean's survival. Arthropods have a common ancestor that likely possessed antennae similar to trilobites and modern crustaceans.
Antenna Pronunciation
Antenna is pronounced |An| – |Teh| – |Nuh|.
Antenna Plural
The plural of "antenna" is antennas or antennae.
What is an Antenna Example?
Crustaceans, like lobsters, crabs, and shrimp, all have antennas. And almost all insects have antennae, such as ants, butterflies, beetles, grasshoppers, centipedes, etc.
Antenna Structure
The antenna is mounted in a socket in a raised portion of the insect's head capsule. The first segment is embedded into the socket and closed off by a membrane. But it pivots on a projection called the antennifer, which allows the insect to move the antennae as a whole by using internal muscles.
The antenna consists of three basic segments:
Scape (base)
Pedicel (stem)
Flagellum
The flagellum contains many units called flagellomeres. And the pedicel contains clumps of sensory cells called the Johnston's organ, which detects motion in the flagellum. The flagellomeres differ in shape and movement based on the species it adorns.
Antenna Functions
Insects and crustaceans use their antennas for many things such as detecting odors, humidity, concentration in water vapor, sounds, airspeed, and tastes.
Antennae have olfactory receptors that bind to free-floating molecules, which send signals to the antennal lobe of the brain. The neurons in the lobe connect to structures in arthropod brains called mushroom bodies that can identify odors.
Some other unusual functions include:
Flight stabilization in hawk moths
Gathering information about a host plant (taste and odor) in diamondback moths
Detecting sounds in mosquitos
Signaling courtship in leafworms
Gauge air speed in flies
Solar compass orientation during migration in monarch butterflies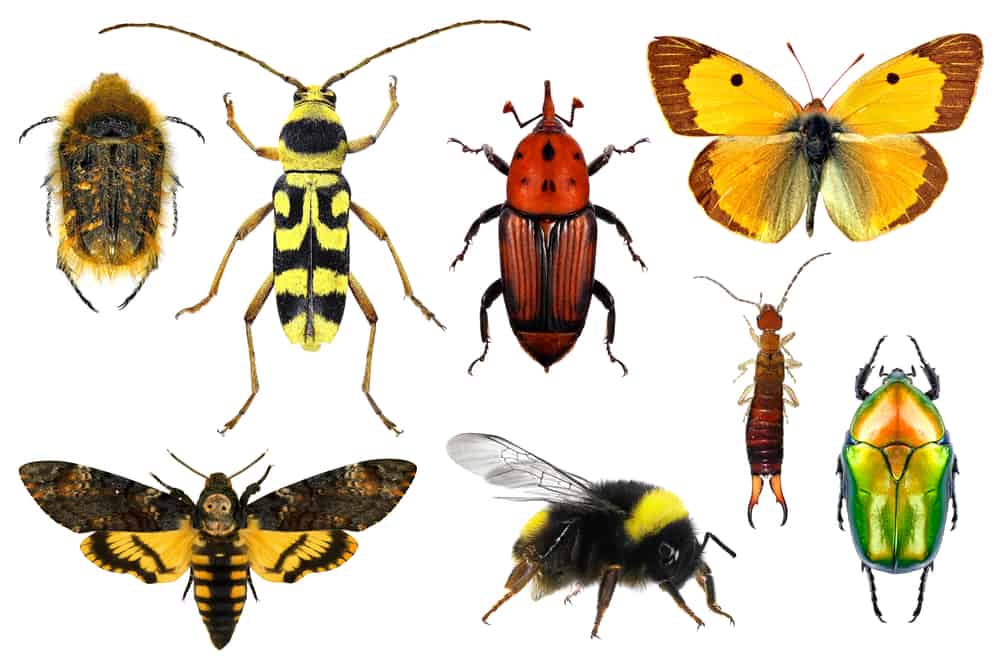 Types of Antennae
Antennae have many functions and vary by appearance based on the species. But because they are so variable, it makes it easier to identify different insects.
Filiform: They are slender and threadlike with consistent cylindrical segment sizing. Examples include dragonflies and cockroaches.
Moniliform: They appear like a string of beads with spherical segments of a similar size. Some examples of a moniliform antenna include termites and wrinkled bark beetles.
Serrate: These saw-like antennae feature triangular segments that are notched on one side. Beetles are a good example of serrate antennae.
Setaceous: These antennae are tapered from the base and bristle-shaped. Some examples include mayflies, dragonflies, and damselflies.
Lamellate: The tip segments are flattened and extended, appearing like a folding fan. The scarab beetle is an excellent example of a lamellate antenna.
Pectinate: The segments on these antennas are longer on one side, giving them a comblike appearance. You can see this type of antennae on sawflies and the fire-colored beetle.
Plumose: Most segments have branches of long hair attached, giving them a feathery look. Some good examples of this include moths and mosquitos.
Clavate: A type of clubbed antennae that indicates a gradual increase. You will most often find this feature in carrion beetles and a few others.
Capitate: A clubbed antenna that suddenly enlarges. Butterflies often feature this type of antennae.
Aristate: These antennae are pouch-like, with the final segment typically enlarged and featuring a lateral bristle. True flies usually have aristate antennae.
Stylate: The last segment contains a finger-like process known as a style. You will find this antenna on the robber fly.
Geniculate: This antenna is angled. The first segment is long, and the rest of the segments are short and at an angle. The stag beetle is an example of this.
---