The brood parasite tricks the host into raising its young, typically by mimicry of its eggs.
Brood Parasite Meaning
A brood parasite is an animal that relies on other species to raise its young. Parasitism is a symbiotic relationship, a long-term biological interaction between two species (a parasite and the host). The brood parasite tricks the host into raising its young, typically by mimicry of its eggs. This interaction is known among birds, insects, and fish.
Parasitic parents benefit from this relationship because they do not bear the responsibility of raising their young. They get to spend all of their free time finding food and producing more offspring to lay in other nests.
Brood Parasitism as an Evolutionary Strategy
Raising young takes time and energy, even in the animal world. Parents spend all day, every day, looking for food for not only themselves but their young. This can make it difficult to get through the winter when food is scarce. But parasitic parents relieve themselves of this duty. Their primary focus is now to find themselves food and breed. All the good times and none of the responsibility, if you will.
Brood parasitism is an evolutionary strategy that mitigates egg loss. The parasitic parents distribute their eggs in multiple nests of different species. And their eggs evolved to look like their host's eggs. Many parasitic eggs have tougher shells, decreasing the risk of damage from the host. They are also tougher because they can crack the host's eggs when dropped, but won't sustain any damage if a host's eggs are dropped on it.
Because they are parasites, it's essential that they find either willing hosts or ones that can be easily tricked. But the host has also evolved many defenses against brood parasites, putting this situation in an evolutionary arms race. Which species will produce the most young and continue its lineage the longest?
Why is Brood Parasitism Bad?
Brood parasitism is damaging to the host species. Brood parasites don't simply lay their eggs in other nests, they drop them. By dropping their eggs onto the host's eggs, they damage them. Parasitic parents are also known to eject the host's eggs, allowing more room for their own. And if both the hosts and the parasite's eggs survive, less food goes to the host's nestlings, causing many of them to die from malnourishment. Host parents often struggle to provide for their entire brood, let alone another species.
But hosts have evolved some defenses against these parasites. Many species can easily recognize a parasite's eggs from their own, and they will eject them from their nests. However, egg mimicry can make this tougher for them. But many hosts try to avoid parasitism altogether, as they don't want the parasite to destroy their eggs.
Avoiding parasitism can take several forms:
Placing their nests in a site difficult to reach or find
Aggressively defending their nests from parasites
Starting incubation earlier in the season so that females are sitting on the eggs by the time a parasite tries to make a move
Some host species will raise and care for the parasite's young as if they were their own. The "Mafia hypothesis" theorizes that some parasites retaliate against hosts that eject their eggs by destroying the host's entire nest. To avoid this unfortunate situation, some species have resolved to just take care of the parasite's young. And some will raise the parasite's offspring because they can't distinguish them from their own.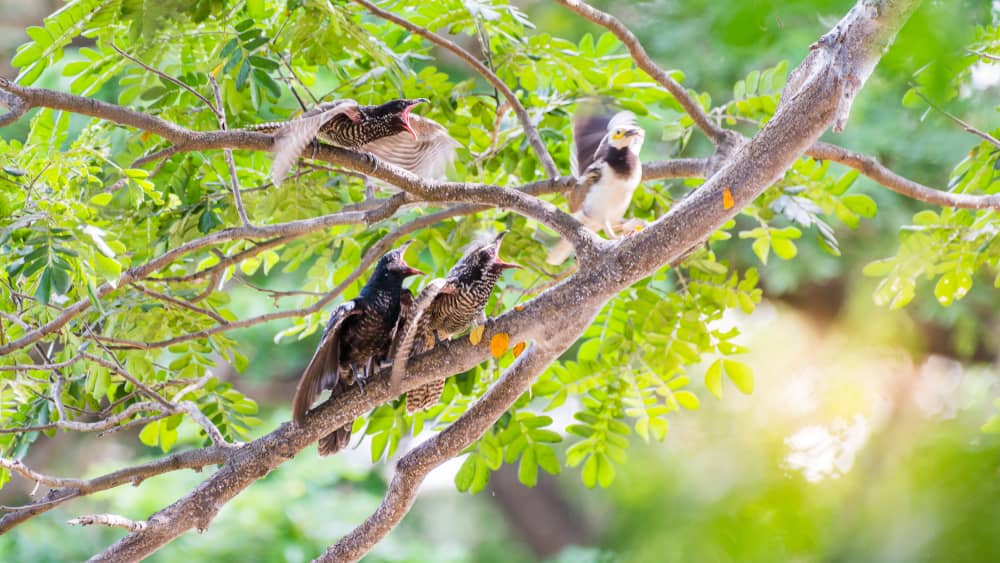 Brood Parasitism in Birds
Birds feature interspecific and intraspecific brood parasitism. Interspecific parasitism is the most common, as described above. And the most prolific brood parasite in the bird world is the brown-headed cowbird. While many parasites specialize in parasitizing only a select few species, the cowbird will drop its eggs in over 220 host nests, laying around one egg per nest.
Intraspecific parasitism refers to when an individual lays their eggs in the nest of another from the same species to avoid caring for the eggs and nestlings.
More than 250 bird species engage in some form of brood parasitism.
Brood Parasitism in Fish
Several fish species partake in parasitism. Some catfish are parasites of mouthbrooding cichlid fish. The cichlid incubates its eggs along with the parasite's eggs. But the catfish eggs hatch first and eat all of the cichlid's eggs. There are also some nest parasites among fish, specifically the cyprinid minnow, which is a brood parasite of freshwater perch.
Brood Parasitism in Insects
Insects also feature true brood parasites, but it is rare. Some species of ants, wasps, and butterflies use brood parasitism to raise their young. A species of paper wasp is not able to build a nest, so it relies on other wasps to raise its brood. And the host often feeds the parasite's young. The most common form of parasitism in the insect world is kleptoparasitism, where the young are not directly fed by the host. But instead, take food and benefit by just being around.
---