In the wild, rabbits spend morning and night gnawing on blades of grass as their diet. Try as you may, you cannot replicate the same for your pet rabbit using only pellets. This is why most rabbit owners introduce hay into their rabbit's food. It keeps their rabbits healthy and happy.
Hay can, however, make for messy feeding, and as all rabbit parents know, it doesn't come cheap. So, to prevent your precious hay food from ending up as bedding, hay rabbit feeders help you dispense the hay.
There are, however, many types of hay feeders in the market. Some do the job well while others don't. This review looks at some of the best options on the market.
1. Best Overall: Niteangel Hay Rabbit Feeder
The Niteangel Hay Rabbit Feeder is our best overall Hay Rabbit Feeder for 2022. It is one of the top options in the market when it comes to appearance, sturdiness, comfortability, and security. You'll also love that this feeder offers space for both kibble and hay.
The Niteangel Hay Feeder is also very versatile, and you can hang it or keep it nestled in a corner. Choose whichever works best for your rabbit. It has small spaces that keep the mess to a minimum and is made from rabbit-safe hardwood, durable, and won't break.
While this rabbit hay feeder is a great find, you might have to go for another if your rabbit is a large breed. It also isn't too practical for feeding multiple rabbits at once. Not to worry, we have some other great options that accommodate this in this review.
Overall Best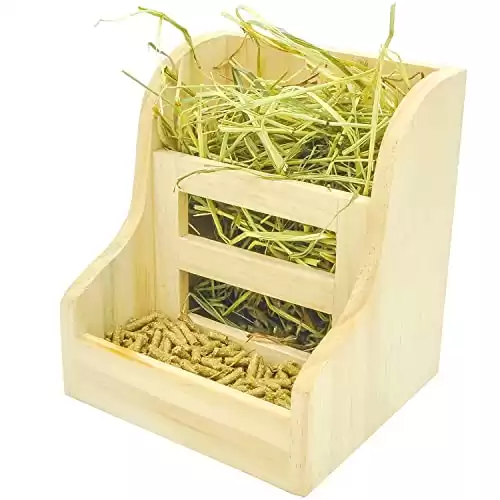 2. Best Premium: Andwe Hay Rabbit Feeder with Cover
You'll love the Andwe Hay Rabbit feeder for its natural look and the good amount of hay it can carry. This feeder also comes in a chic design that is easy to fill with hay and reach. As a bonus, your bunny can also roll this cylindrical feeder around as a toy.
The design of the Andwe Feeder makes it great for multiple rabbits. The cover also keeps the hay safe during play and even feeding, as long as you don't overstuff it. The design is smooth, so your rabbit won't get injured, and the construction is sturdy too. It's made of birch wood.
This feeder could, however, get a little messy when your rabbits are feeding from it. This feeder is, however, great for large breed rabbits and can contain a lot of hay. It's a little pricey, but we think these features make the Andwe Feeder well worth it.
Best Premium
3. Best for Value: SunGrow Hay Rabbit Feeder
The Sun Grow Hay Rabbit Feeder is a no-mess dispenser with a wonderful design. It keeps your bunny's food safe from dirt and is effortless to maintain. This bunny feeder is made from metal and plastic.
It works with a spring-loaded catch door that closes onto the hay to keep it in place. Testers also love that there is a tray underneath that further helps to prevent a mess by catching stray pieces. You'll, however, need a horizontal wire for this feeder to be mounted.
One issue that testers, however, had with this feeder is that it is fairly small in size. If you have a bunny that loves to chew on plastic, you might also want to go for other options on our list. Asides from these, however, this feeder is still one of the top picks in 2022 for its other great features.
Best for Value
SunGrow Rabbit, Bunny Hay Feeder Rack
The no-mess design keeps your bunny's food clean
Constructed from metal and plastic
A spring-loaded door secures the hay in place
A tray underneath catches stray pieces of hay
Not a good option for large rabbits or those that chew on plastic
Check Chewy
Check Amazon
4. Best Metal Hay Feeder: Kaytee Hay Rabbit Feeder with Salt Hanger
The feeders we've mentioned so far have been mainly wooden, plastic, or made with plastic and metal. The Kaytee Hay Rabbit Feeder is, however, completely made of metal. So if you have a plastic chewing bunny, this could be it.
This feeder with adjustable length is great for keeping your rabbit's hay clean and off the floor. It also comes with a spool hanger, which is great for holding treats. It attaches easily to any wire cage that you have.
Some testers, however, considered this hay feeder too small for their bunny. This would mean refilling it often, which can be a little stressful. It also has only two hooks, making it easy for your bunny to pull off.
Best Metal Hay Feeder
Choosing the Best: What to Look For
When buying the best hay rabbit feeder, there are some important factors that you should consider. We discuss four of them below:
Durability
Your hay feeder needs to be able to withstand gnawing from your rabbit. If your feeder is not made to last, a moment's notice is all your rabbit needs. This could also be dangerous for your rabbit's health.
Compatibility
The hay feeder you choose should work well with your rabbit's cage. So, make sure the spacing on the cage will make it easy for installation and that it'll fit.
Accessibility
A good hay feeder is meant to feed your rabbit hay. So access to the hay should not be too difficult. As much as the goal is to prevent a mess, your rabbit should still be able to eat comfortably.
The Different Types of Hay Rabbit Feeders: Pros and Cons Compared
Rabbit hay feeders come in many types. This review has mainly dealt with three types: wooden, metal, and plastic. Here's a little more on each feeder and its pros and cons.
Wooden Hay Rabbit Feeder
 Wooden hay feeders can be made of hardwood or softwood. Hardwood is best for your rabbit as you won't have to worry about it being chewed through and destroyed. Wooden hay feeders also look great and can add to the aesthetic beauty of your rabbit's space.
Metal Hay Rabbit Feeder
Metal hay rabbit feeders are also great as your rabbit cannot chew through the metal. You, however, should watch that there aren't any sharp edges that could injure your pet.
Plastic Hay Rabbit Feeder
If a hay feeder is made solely of plastic, you should probably avoid it. This is especially important if your rabbit likes to chew plastic. The shards could be dangerous. Some combination feeders are, however, made of plastic that is hard to chew and, in that case, okay.
Verified Users' Experiences
Niteangel Hay Rabbit Feeder
Our testers loved the hay feeding function of this rabbit hay feeder. "This works great for our bunnies. Much better than the "food bowl" we'd had. Attaches to the side of the cage to keep them from moving it around and spilling food, and encourages eating more hay while keeping it neat and tidy. Nice solid construction. The pellet area is a bit small, but just right for feeding a good amount each day."
One tester, however, had some parts of the feeder come off, which seems to be a one-off. "I love this feeder! I got it because the wire one I was using leaked hay continually, and wasted hay. This one solved the problem! The rabbit hasn't taken it apart yet. I do want to note that the wooden slats on the front came off easily, within the first couple of weeks of use. Not sure why they weren't attached better. It's still functional, though!"
Andwe Hay Rabbit Feeder with Cover
Testers of this hay rabbit feeder love it and say it works great for their rabbit. "Love this thing. It's pretty big, so I don't have to keep refilling their bowl all day. It's surprisingly sturdy too; I was worried the rabbits would chew right through the bars and that would be it, but their chewing hasn't done much damage to it. Glad I bought this."
This feeder can be a little messy, especially when you overstuff. "My bun loves this hay feeder! It is much bigger than I thought it was going to be considering that I'd have a large 12lb rabbit and this hay feeder is as big as he is. If you're buying this to try to cut down on mess that's not what it's going to do for you. It's a more interactive toy for your pet to get him stimulated by digging to get to his hay. There IS going to be hay everywhere. So this is not a clean mess-free solution for hay feeding it is more of an interactive toy/way to store larger amounts of hay as well."
SunGrow Hay Rabbit Feeder
Testers of the SunGrow Hay Feeder say it worked well for their bunnies. "I bought two of these, one for each pet rabbit I have. These are highly functional and durable and easy to refill. They effectively keep the rabbit hay separate from bedding, aside from bunny's munching and making a little bit of their own mess. The racks hold about 2 days' worth of feeding for my small dwarf and medium lion head. It is the best product that I have found, and it is proving to be well made. I've had both for some time and at this point, I am very happy with this purchase!"
One tester, however, wishes the feeder was bigger in size. "My rabbit could easily eat triple the amount this holds in one day. I thought it would be bigger, but it is not big enough, and my rabbit didn't really understand how to use it anyways."
Kaytee Hay Rabbit Feeder with Salt Hanger
Testers who used the Kaytee Hay Feeder say it kept the hay right for their bunny just as they wanted it. "I love this, we have 2. It keeps our rabbit cage or hutch (depending if they are inside or outside) clean and holds a ton of hay if you stuff it right. Attached is a picture of it loaded with oat hay, but we also feed the rabbits orchard grass and timothy hay from this hay manger. Having the spot for the salt rock is a bonus."
Testers, however, had a problem with the size of this feeder and wish it could be bigger. "Although durable and a quality product, the design could use some work. It is definitely too small, and would require a lot of refills."
Keep Reading
The Best Rabbit House (Hutch) for 2022: Reviewed and Ranked
Rabbit's Tail: Everything You've Wanted to Know
The Best Guinea Pig Hay Feeders for 2022
The Best Rabbit Hay Feeders: Ranked and Reviewed FAQs (Frequently Asked Questions) 
Which feeder type is best for a rabbit?
Our review contains some of the best feeders for rabbits. The best feeder should be durable, easy to install and give good access to hay for your rabbit. It should also be able to prevent messy feeding.
Where do you put a rabbit hay feeder?
Your rabbit hay feeder can be hung on the cage or put in a corner, depending on its design. Some rabbit hay feeders come with materials you can also use for installation.
What do you put hay in for rabbits?
The best way to do this is to use a hay feeder. A hay feeder helps give your rabbit hay without making a mess and contaminating the hay.