If your dog has experienced scratching, red or puffy eyes, hives, or excessive licking, it may be suffering from seasonal allergies. Instead of keeping them indoors all day, a supplement to calm a reaction can be a great way to make them more comfortable.
Dog supplements are becoming more and more popular with pet parents who want their dogs to maintain optimal health during a long, healthy life. But like choosing dog food, it's important to research was ingredients go into pet supplements and what they do for your dog's health. Pethonesty was founded on the principles of food safety and science-backed nutrition for your pet. One of the things that make this company stand out is its commitment to following the advice and recommendations of veterinarians, who are included on their staff.
Pethonesty Allergy Immunity supplements are some of our top recommended over-the-counter remedies for your pet's seasonal allergies. Not only do they support a healthy immune system, but they also work well with other Pethonesty products and supplements for overall health.
Summary
Choosing a supplement for your dog can be a challenging process. With so many options, many of them quite expensive, you want to be sure that you are spending your money on something that is healthy and will provide relief, especially when it comes to allergies. Pethonesty Allergy supplements have a transparent ingredient list and many pros.
You can search through their products by health concern or try a sample pack. The Allergy Support line has some of their bestselling products, which can be purchased in bulk as well. This can be a great way to stock up on supplements. One reviewer said "It takes consistent daily doses, but my dog feels much better and actually likes the taste of the soft chews. She thinks they are treats!" Great taste and great performance set Pethonesty apart from other options.
You can find Pethonesty supplements from online retailers like Chewy or Amazon, from a local pet supply store, or directly from the manufacturer. The Allergy Immunity variety often comes bundled with other supplements that will also help your dog stay healthy. As with any supplement, it's important to stay up-to-date on recalls or potential issues that could impact your dog's digestive system. Pethonesty is very up-front with consumers about the ingredients in their products, where they are made, and anything that pet owners need to know before or after buying.
Our Top Pick
Pethonesty Allergy Immunity Benefits and Features
Helps alleviate seasonal allergy symptoms
Many dogs like the flavor
Easy to chew
Made with natural ingredients to support immune health
Pethonesty Allergy Immunity: Pros & Cons
PROS
Most dogs experienced improved symptoms after taking the Pethonesty Allergy Immunity supplements.
The supplements work well with other Pethonesty vitamins and products.
You can save money by subscribing or buying in bulk.
CONS
It can be hard to find Pethonesty Allergy Immunity and may require a special order.
Some dogs did not like the flavor and needed their chews wrapped in cheese or coated in peanut butter.
Some pet owners said that the chews had a strong odor.
Where is Pethonesty Allergy Immunity Made?
Pethonesty was founded by three entrepreneurs, including a former U.S. Air Force Officer, and keeps their manufacturing and production in the United States. While they do not specify where their production facilities are, they do make sure that they are registered with the FDA and use safe manufacturing practices. The company is also a member of the National Animal Supplement Council. When you visit the Pethonesty website, you can see pictures of the three founders, who use Pethonesty supplements with their own pets. This kind of personal connection between company founders and customers is rare and a nice benefit to buying from Pethonesty. You know that they stand behind their products because they give them to their own dogs!
There are three veterinarians on staff with Pethonesty. They help develop products, make recommendations for pets, and answer questions directly from customers to help them find the right supplement for their dog or cat. Having this specialized knowledge available is another great resource for Pethonesty customers.
As a company, Pethonesty is very transparent about the ingredients that go into their supplements and how they can help your pet. They also describe their cooking process, a unique no-heat process that preserves the nutrients and benefits of the ingredients as they are made into chews.
Pethonesty Allergy Immunity Ingredients
The soft chews contain colostrum, turmeric, Wild Alaskan salmon oil, Vitamin C, organic mushrooms, apple cider vinegar, and probiotics. All of these ingredients can help symptoms of allergies, such as scratching and runny eyes, while still keeping a strong immune system. The fatty acids from the fish oil help with skin health, while probiotics keep the digestive system working as it should.
The bovine colostrum is the main ingredient that helps target the immune response in dogs. This ingredient encourages a normal histamine response to environmental triggers. Many reviewers said that they noticed a difference right away but that they had to keep up the regimen to maintain results. This is to be expected and one of the reasons that opting to subscribe for periodic shipments is a great way to make sure you always have chews on hand and save money at the same time.
Which types of dogs is Pethonesty Allergy Immunity best suited for?
Pethonesty Allergy Immunity works for all breeds and sizes of dogs. The dosage guidelines included on every bottle are given by weight. Dogs that are 25 pounds or less should get one chew. 26-75 pound dogs should get two chews. Dogs that are 76 pounds or more should get three chews. These can be given all at once or at intervals throughout the day.
Pethonesty Allergy Immunity Recalls
The supplements from Pethonesty Allergy Immunity do not have any current or archived recalls in the FDA database.
Pethonesty Allergy Immunity: Where to Buy
It might be difficult to find Pethonesty Allergy Immunity at mainstream retailers, which is why ordering from a company like Chewy can be so beneficial. Other places to find Pethonesty Allergy Immunity supplements include:
Amazon
Pethonesty website
Walmart
PetSmart
Tractor Supply Co.
Our Top Pick
Pethonesty Allergy Immunity Specs
Safety
It's important to know that the supplements you feed your pets are safe for their health. Pethonesty supplements comply with FDA standards and source high-quality ingredients. The company also has three veterinarians on staff to help with product development and communicate with consumers about the best options for their pets. You can connect with the vets through the Pethonesty Pet Parent Facebook group or by emailing them directly.
Nutrition
Quality nutrition is the cornerstone of Pethonesty's supplements. Every ingredient in their supplements serves a purpose to improve your pet's overall health. The Pethonesty Allergy Immunity is a supplement and not meant to replace your dog's food. It does work with their body to help calm symptoms of allergies while still giving a boost to their natural immune system.
The ingredients in Pethonesty chews are included in every product. They also go into detail about the purpose of each ingredient, a helpful guide for pet parents who may be new to supplements or just want to know more about keeping their dog healthy. The no-heat manufacturing method ensures that the benefits of these ingredients are maintained through the cooking process and make it all the way to your dog's system.
Price
These are pricey supplements but less expensive than prescription medication. If your dog suffers from allergies, chances are that you have explored or even tried more expensive options to provide them with relief. The great thing about investing in your dog's health by buying supplements is that you can address potential triggers before they become bigger (and more costly) problems. One of the best ways to save money on Pethonesty Allergy Immunity supplements is to subscribe, either through Pethonesty or another retailer like Amazon or Chewy.
Pethonesty Allergy Immunity vs. Zesty Paw Aller-Immune Bites
Another popular supplement that pet parents turn to for dogs with allergies is Zesty Paw Aller-Immune Bites. Both products have similar ingredients, with colostrum, salmon oil, probiotics, and apple cider vinegar appearing on both lists. Zesty Paw does offer smaller chews for small dogs and senior chews for older dogs. The biggest difference between the two is taste. Pethonesty Allergy Immunity is salmon-flavored while the Zesty Paw Aller-Immune Bites are lamb-flavored. Some dogs like both interchangeably. If you find that your dog does not like the taste of one, give the other option a try.
Best Alternative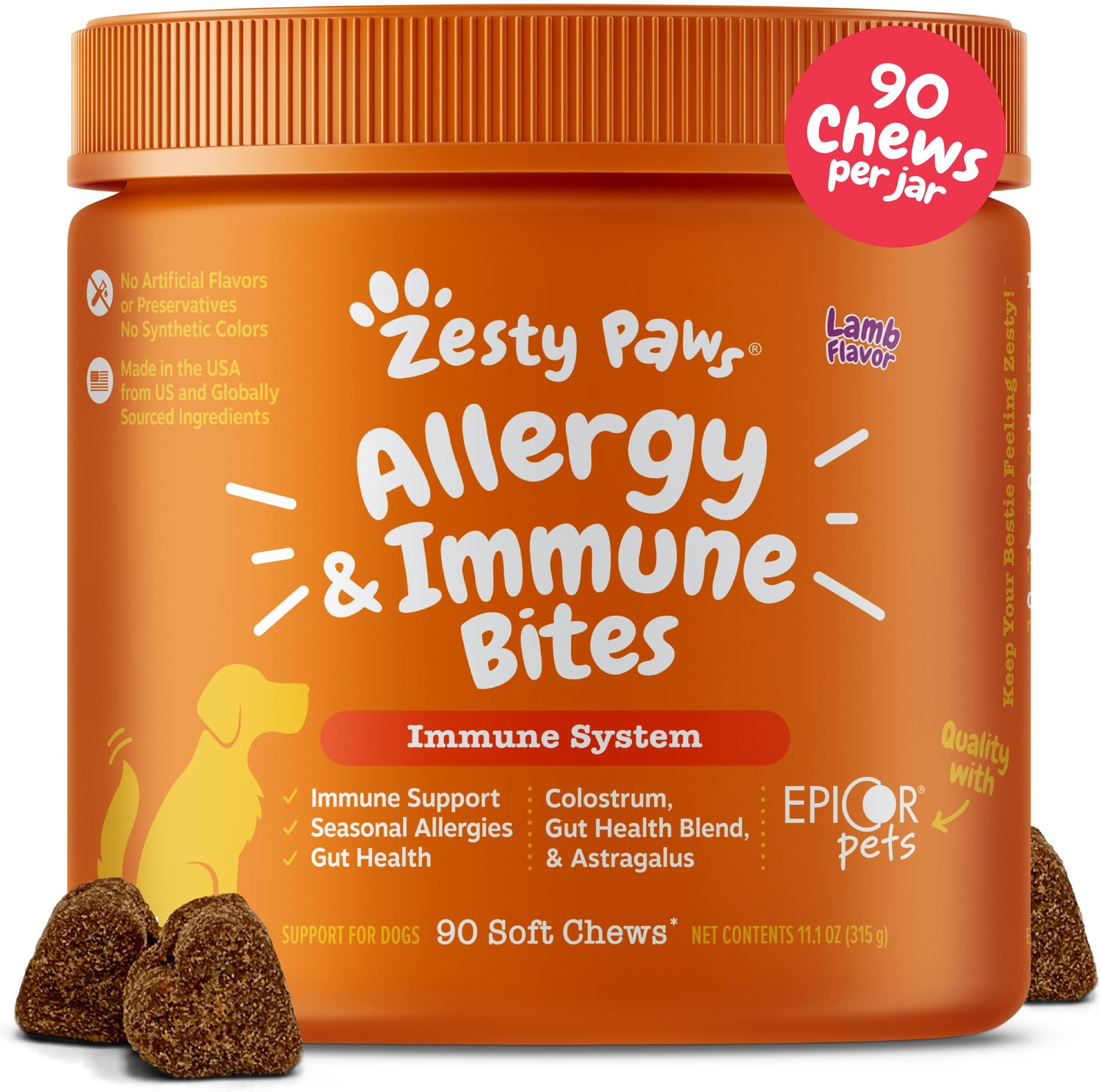 Pethonesty Allergy Immunity vs. Zesty Paw Aller-Immune Bites
| Attributes | Pethonesty Allergy Immunity | Zesty Paw Aller-Immune Bites |
| --- | --- | --- |
| Contains colostrum | Yes | Yes |
| Flavor | Salmon | Lamb |
| Contains probiotics | Yes | Yes |
Bottom Line
When you feed your pet the Pethonesty Allergy Immunity supplements, you can expect to see an improvement in their allergy symptoms pretty quickly. Most reviewers noticed a change once they added these supplements, especially in their dog's scratching. "We have noticed after only a few days that her eyes are not tearing as much and she's scratching and licking less," said one reviewer.