While mice are often viewed as cute and harmless, they have the potential to be quite destructive and carry a wide array of diseases. There are simple steps you can take to prevent an infestation of mice such as:
Sealing gaps and other entry points for mice that are a quarter inch or larger. This can include weatherstripping, door sweeps, and expanding insulation foam, along with other methods.
Discard your indoor & outdoor clutter. Mice will nest in materials such as cardboard and paper. If mice activity goes unnoticed you can have a serious situation on your hands as mice reproduce quickly.
Overgrown vegetation such as vines, tree limbs, and other plantings should be kept trimmed back, not allowing access for the mice to climb from the ground and access the roof or attic. 
However, if like many of us, you've left your cardboard shipping boxes stacked in the garage too long, or haven't had a chance to tackle the yard in a few weeks, you may find you're in need of choices for extermination. There are 3 popular applications for poison – bait stations, traps, and electric zappers. With any choice, it's important to consider if pets or children will have access to the areas you'll be targeting as safety and proper application are very important. Thoroughly read and follow all instructions provided by the manufacturer and regularly check that your choice is secure and safe. 
d-CON Refillable Corner Fit Mouse Bait Station
We have selected d-CON Refillable Corner Fit Mouse Bait Station as our number one choice for effectiveness and ease of use. Along with its proven track record of killing mice by the third day or sooner, it also contains no anticoagulants or neurotoxins. Additionally, it comes with 18 bait refills which make it financially appealing. The small, compact corner design makes it an excellent choice for garages, attics, various appliances, and many other tight indoor and outdoor locations. I've used this product in my own home and liked the clear window over the bait which allowed me to see if the mice were eating it, and if not I knew to move the station as needed. For the price, being both child and pet-resistant and additional baits included, we thoroughly recommend d-CON Refillable Corner Fit Mouse Bait Station to meet your needs. 
The Best Overall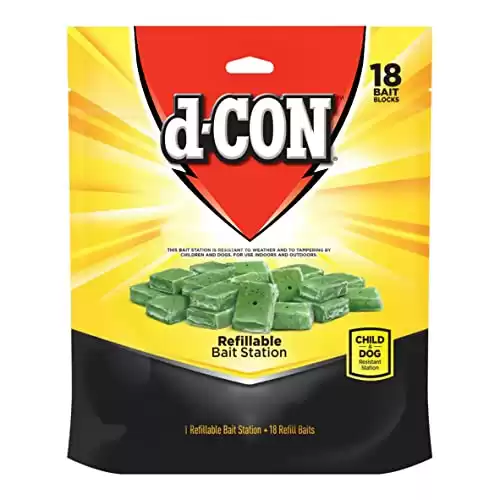 Tomcat Mouse Killer Refillable Station
If you're on a budget then Tomcat Mouse Killer Refillable Station is the perfect solution to your mice problem. Included are 16 bait refills along with 1 refillable bait station, and since 1 bait block can kill up to 12 mice each, it's money well spent. Additionally, it's child and pet safe and allows for repeated use. Users loved how quick acting the bait was however some did notate the smell of the bait itself. It's a non-anticoagulant and rather a neurotoxin and is a faster and safer choice for extermination as it's suitable for both indoor and outdoor applications. 
The Best On A Budget
THarris Rat & Mouse Killer, 64 Pack Bait Bars
If you have a large outdoor area that's been infested Harris Rat & Mouse Killer Bait Bars are an excellent choice. The package includes 64 bait bars, which can be placed in a variety of bait boxes or used on their own. This is a great investment so you can continue additional treatments as needed to eradicate your infestation. Users commented on the quality of the bait and the fact it could be used outside as it is resistant to mildew and mold. However, the main ingredient is Diphacinone, which requires repeated ingestion to become more toxic and effectively kill. As a result, it can take up to 1-2 weeks before the mice will die. Additionally, it can be used indoors, however, it must be kept away from pets and children and all instructions followed for safe application.
The Best for All Weather
The Best for Safety: Mouse Bait Stations by Eco Pro
If you have a determined child or mischievous pet at home who is more skilled at getting themselves into trouble, you may still have reservations about how safe tamperproof options are. We found the best choice for safety is Mouse Bait Stations by Eco Pro. While they cost more you are getting 4 separate bait boxes that only allow access to the bait by a key. Users were happy they could securely lock the bait station and know their children and pets were thoroughly protected. Though they did address that the purchase doesn't include any bait, only the 4 bait stations. Additionally, users found the Eco Pro bait stations would accommodate bait from a variety of brands which made using the bait stations easy and effective. 
The Best Humane Option: Teal Elite Rat Zapper
By far the best humane choice for extermination is the Teal Elite Rat Zapper. Requiring only 4 D batteries it's a portable choice that is convenient and easy to use. Upon entry, the wireless sensor will engage and instantly kill the mice with a strong electric shock. Additionally, there is no contact after extermination as you dispose of the mice by opening the lid and discarding the remains. Users praised how effectively and quickly the Teal Elite Rat Zapper worked. The only complaint was the restricted indoor use of the product, as outdoor use is not permitted. 
Best Humane Solution
Teal Elite Rat Zapper — Safe & Clean
This trap detects rats with sensitive sensors and kills them immediately
Easy to install
Simply insert 4 D batteries, turn the Zappers on and leave them where there is high rat traffic
Bait the traps before use with something attractive to rats, like peanut butter
Rat disposal is easy and hands-free
Check Amazon
Just One Bite II Rat & Mouse Bar 8pk
If you maintain a farm or ranch you've probably dealt with your fair share of infestations. We found Just One Bite II Rat & Mouse Bar to best poison for tackling infestations in these agricultural settings. Included are 8 individually wrapped, 1-pound bars making them suitable for tackling any infestation. Death is delayed a few days after the mice first ingest the bait, so one does have to be patient for results. Users were very satisfied with how the product performed as it can kill a variety of rodents. As it's for use in and around agricultural buildings, you must be mindful of any other animals, pets, or children on the property and keep them from accessing this product. 
The Best for Agricultural Settings
RinneTraps Flip N Slide Bucket Lid Mouse Trap
The idea of setting up multiple traps or handling poisonous bait may not be appealing to everyone and for those who want to avoid that physical contact, the RinneTraps Flip N Slide Bucket Lid Mouse Trap is an excellent alternative. The kit includes a lid, flap, and ladder for the mice to climb into the bucket (not included). Made from nontoxic material this is safe around pets and children. If you have a small infestation this provides the option to catch and release in a field or outdoor setting away from your home, or, for more humane extermination you can fill the bucket up with water. The capacity to hold over 2 dozen mice and as well as catch medium-sized rats make this an excellent choice to quickly address your problem. Users loved the ease and repeated use of the RinneTraps Flip N Slide Bucket Lid Mouse Trap and felt it was a great investment and money well spent.
The Best Lid Trap
Choosing the Best Mice Poison: What to Look For
When selecting the best mice poison there are a few variables to consider such as how quickly the poison will take effect, the method you choose to administer the poison, and the environment in which your problem persists. After consulting the options below you'll be able to determine the best approach to address the rodent issues in your home. It's always important to thoroughly read the instructions and consider who else may access the option you select, such as pets or children, to ensure you choose the best and safest choice. Always read any labels and instructions that accompany your selection.
Let's look at the following in more detail:
Quick Or Slow Acting – 
Depending on your situation and tolerance for cleaning up after the poison has taken effect, you'll want to know how long it takes before the mice will begin to die. Most poison bait will require 2-3 days before death occurs, with some taking a week or longer. If you want immediate results choices such as a trap or electric zapper will effectively kill the mouse on contact.
Indoor or Outdoor – 
If your infestation is indoors rather than outdoors this will help you narrow down the best choice. Outdoors is more suited for pellets and bait bars but you must follow the instructions carefully. If children or other animals will have easy access to the areas of application you'll want to use boxes or containers so only the mice have access. Additionally, bait boxes are a great choice for allowing the mice to come and go while offering tamper resistance safety for children & pets. Traps as well can be used inside or outside, however, you'll want to be mindful of the clean-up process and placement of the traps. 
The Different Types of Mice Poisons: Pros and Cons Compared
When purchasing the best mice poison you'll want to consider any other parties that have access to the option, such as pets or children. If your household contains either you'll want to find a safe yet effective option. There are bait stations, pellets, traps, and electric zappers, as well as repellents (if you're not wanting to exterminate the rodents). Each choice provides its conveniences and should be used properly. We've expanded on the different choices above to help you clearly define the pros and cons to select the best option to suit your needs.
Bait Stations – A tamper resistance container that securely keeps the bait safe while allowing mice to come through the opening, eat the bait, and effectively die within 1-2 days 
Pellets/Bait Bars – Easily application that is suitable for outdoors & indoors, instructions must be followed and consider if children or pets will have access. If so, use a bait box or place it on a rod out of reach so only the mice have access to it.
Traps & Electric Zappers – Easy and kills on contact though often one-time use that can only kill 1 at a time. Electric Zappers have easy, no-contact disposal options and allow for repeat use. 
Let's look at the pros and cons of each type:
Bait Stations
Pro's
Tamper-resistant offers safety for pets and children
Allows for use year-round as issues persist
An easily refillable and cost-effective option that provides repeat use
Con's
Can be unattractive and bulky
Requires contact when refilling bait
Not always tamper proof
Traps 
Pro's
Quick results
Cost-effective
Can be disposed of or re-used
Con's
Usually requires multiple traps to address the problem
Can be messy and requires contact when disposing 
Can result in injury to pets, children, and adults
Electric Zapper
Pro's
Works with mice and rats
Quick and humane
Repeated use and no touch disposal
Con's
Requires batteries 
Larger size
Indoor use only
Verified Users' Reviews
Frustrated homeowners who were tired of hearing scratching and finding dropping around their home loved the easy use of the d-CON Refillable Corner Fit Mouse Bait Station. They commented on how quickly this product took effect. Often if the location permitted the bait itself was successful in extermination the mice. 
A homeowner said: "Did not expect it to work so fast or so well, and so easy. I didn't even use the small trap. Just placed the bait in strategic places. Have not seen hide 'nor hair of any critters since!!"
Another highly rated bait station that users praised was the Tomcat Mouse Killer Refillable Station as it's easy to use and child and pet tamper resistant. Additionally, the clear window allows you to see if the mice are taking the bait, if not simply move to the bait station to another location.
A satisfied user wrote "We normally put out just the bait but are reluctant to use it around our dogs. We found this bait station on Amazon and set it out as soon as it was delivered. Two days later the mice were gone and none have been seen since. The best part is we don't have to worry anymore about the dogs getting to the bait".
When it came to the electric zapper users were thrilled to not have to handle traps or dead mice. They also commented how effective it was at addressing their problem. A homeowner wrote: "Little pricey, but hey you get what you pay for. High Quality. Well worth the money that you paid for it. I am very pleased with my purchase. No more fear of catching my fingers on a rat trap. This is great."

Keep Reading…
Top Ultrasonic Snake, Rodent, and Garden Pest Repellents – Chemical Free for 2022!
5 Best Natural Home Remedies and Products for Getting Rid of Rats