We all know that April showers bring May flowers, which means that there are plenty of flowers to plant in April! While many spring bulbs needed to be planted during the wintertime, there are a number of flowers that you can grow from seeds or start during early spring. If you don't know your Hardiness Zone, now is the time to find out so that you can accurately and safely plant any number of beautiful blooms!
So, what are some of the best flowers to plant in April? There are a number of flowers that are easy to grow during the month of April as either annuals or perennials, depending on your Hardiness Zone. Some foolproof flowers to consider include poppies, bachelor's buttons, and even violets. Plus, some summertime bulbs can also be planted in April, such as calla lilies and gladiolus flowers.
In this article, we will take a closer look at a number of different types of flowers that can be planted in April, no matter your region or average temperature! From beautiful ranunculus varieties to sweet-smelling honeysuckle, let's get started and discuss some of the best flowers to plant during the month of April.
The 11 Best Flowers To Plant In April
April can be a somewhat tricky time of year for planting both flowers and vegetables, given the fact that frost conditions can still occur during this month. In Hardiness Zones 7 through 11, you are likely good to plant all of these flowers outside. However, colder Zones may need to start certain flowers from seed inside. Let's discuss some of the best blooms to plant during this early springtime month in more detail!
Forget-Me-Nots
While technically considered invasive in the Midwest and not recommended for planting there, forget-me-nots make fantastic flowers for both ground cover and containers. Controlling the growth of this particular flower is important, as it readily spreads and reseeds itself year after year. Forget-me-nots are hardy down to Zone 3 and come in more colors other than their signature blue shade. They enjoy full sunlight but likely won't tolerate extremely humid summers. Purchase an established plant if you want flowers during this springtime, but otherwise, forget-me-nots typically bloom the following year they are planted.
Poppies (Many Types)
One of the easiest flowers to grow from seed, poppies can be found in multiple cultivars and colors. They are another annual plant that comes back year after year without you having to do anything, often popping up in sidewalk cracks and narrow growing areas. Make sure to sow poppy seeds on the surface of your soil, as they need sunlight in order to germinate. If you cut your poppies while they are in bloom, this will encourage even more beautiful flowers to follow!
Violets
Incredibly petite and also easy to grow, violets are often called pansies or violas. These small flowers can be found in a variety of colors, but dog violets have a gentle purple color to them alongside dark foliage. You can directly sow violets outdoors in the springtime or purchase established plants from your local garden center. These delicate blooms prefer partial shade, especially during the height of summertime. They are more cold-tolerant than heat tolerant, so keep this in mind when choosing an adequate planting spot!
Ranunculus
With plenty of cultivars and intricate petal formations, ranunculus flowers are striking in any garden. Grown from corms, ranunculus flowers are a bit tricky compared to some of the other blooms on this list. However, with proper cold weather protection and good timing, you can produce striking flowers in containers, garden beds, and border planting. Make sure to plant your ranunculus corms in full sunlight, and starting them indoors during the month of April may be your best bet for success.
Bachelor's Buttons
With frizzy petals and a bushy growth habit, bachelor's buttons are a fantastic addition to any garden. Also known as cornflower, this particular plant comes in a signature shade of blue as well as a few other colors. You can directly sow bachelor's button seeds outside during the month of April, so long as your ambient temperatures are above 50 degrees Fahrenheit day and night. This is a flower that reseeds on its own and will greet you with its unique flowers year after year!
Nemesia
Starting nemesia flowers indoors before the month of April is likely your best bet when it comes to enjoying these blooms in the springtime. However, you can plant them outdoors and enjoy them during the fall, as they are cool-weather flowers. They come in a variety of colors and do best in full sunlight, either in the ground or in container planting. Regular pruning and a slow-release fertilizer help this flower thrive!
Calla Lillies
If you missed your opportunity to plant springtime bulbs, you can always plant calla lilies for the summertime. Ensure that your soil temperatures are over 45 degrees Fahrenheit before planting calla lilies in a mostly sunny location in your yard. You should make sure that these delicate flowers have some afternoon shade so that they don't wilt in the heat. Once established, calla lilies return year after year and can be found in a variety of colors besides pure white.
Gladiolus
Like ranunculus flowers and calla lilies, gladiolus blooms come from corms. With some varieties reaching up to 5 feet tall with 6-inch flowers, gladiolus flowers are impressive to see and make a striking backdrop behind other shorter blooms. Plant the corms in full sunlight for the best flowers, and gladiolus corms can be planted until early summer for multiple flower harvests. If you live in Hardiness Zones 7 and up, you don't have to dig up your corms for the winter as well!
Lobelia
Given just how small lobelia seeds are, you may want to purchase an established plant from your local garden center. However, it is extremely affordable to directly sow lobelia seeds in your garden, so long as your temperatures are averaging above 50 degrees Fahrenheit. Lobelia flowers are small, intricate, and found in a variety of colors. You can deadhead them throughout the year to have a continuous amount of flowers, and this is certainly a bloom that is easy to care for! It thrives in full sun to partial shade conditions.
Nigella
Also known as love-in-a-mist, Nigella flowers are striking, delicate, and can be found in multiple cultivars. You can directly sow Nigella seeds outdoors, so long as your soil temperatures are over 60 degrees Fahrenheit. This is a tricky flower to transplant, given its delicate root system. While Nigella flowers rarely last an entire growing season, you can reseed them until they are capable of reseeding themselves. Once this happens, you'll have love-in-a-mist flowers in your yard for years! Full sunshine helps this plant produce the most flowers as well.
Honeysuckle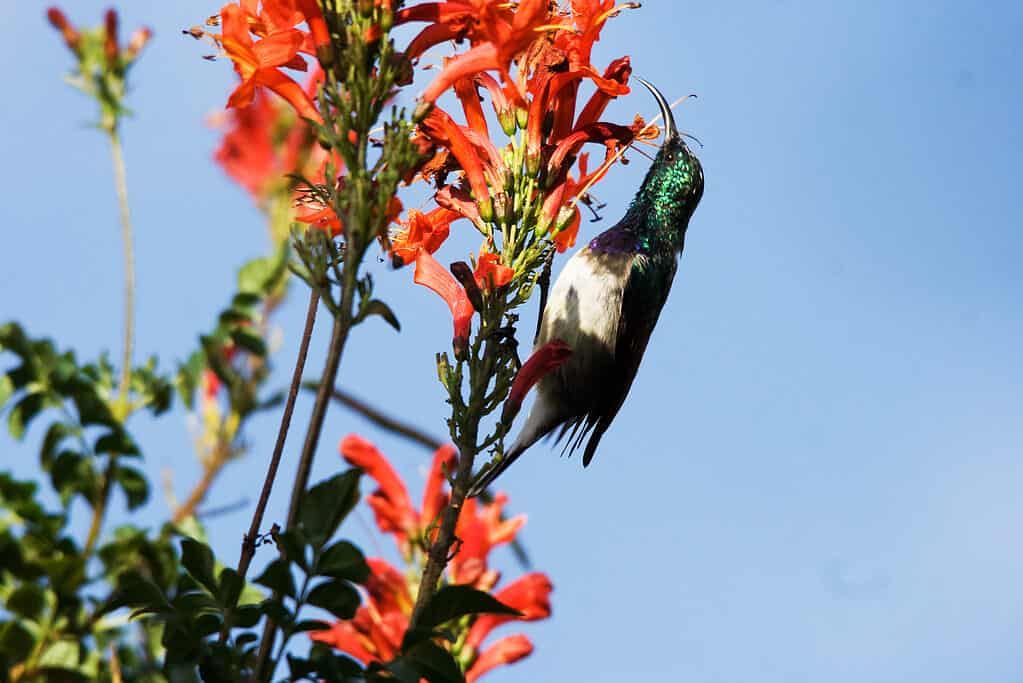 With plenty of cultivars, some hardy down to Zone 3, honeysuckle is a fantastic vining perennial to consider for your garden. It attracts plenty of pollinators and hummingbirds, with sweet-smelling blossoms in a variety of colors. Plant your honeysuckle as soon as the soil is workable, allowing it plenty of time to establish itself before winter comes. You may not have flowers in your first year, but honeysuckle is relatively easy to care for in both full sunlight and partial shade.
Summary Of The 11 Flowers To Plant In April
| Rank | Flower |
| --- | --- |
| 1 | Forget-Me-Nots |
| 2 | Poppies |
| 3 | Violets |
| 4 | Ranunculus |
| 5 | Bachelor's Buttons |
| 6 | Nemesia |
| 7 | Calla Lillies |
| 8 | Gladiolus |
| 9 | Lobelia |
| 10 | Nigella |
| 11 | Honeysuckle |
The photo featured at the top of this post is © Sodel Vladyslav/Shutterstock.com
---