Key Points:
Lobelia and phlox have similar flowers and come in many of the same colors
Lobelia is a tender plant and cannot withstand cold winters. Phlox is perennial to 40 degrees Fahrenheit.
Lobelia has no fragrance, while some varieties of phlox have a strong scent.
Lobelia and phlox look very similar and are often confused with each other, especially the plant's low-growing spreading varieties. They both come in blue, pink, red, and purple and flower in the spring. However, there are some significant differences, which we will discuss in more detail below.
Comparing Lobelia vs Phlox
| Characteristic | Lobelia | Phlox |
| --- | --- | --- |
| Scientific Family | Campanulaceae family | Polemoniaceae family |
| Native Area | South Africa | North America |
| Flower Description | Simple alternate leaves, two-lipped tube-shaped flowers with 5 lobes | Oval or linear leaves. Tube-shaped flowers with 5 lobes |
| Flower Color | blue, lavender, pink, red | blue, violet, pink, red, white |
| Origin of Name | Named after the botanist Matthias de Lobel | Originates from the greek word phlox which means flame |
| Climate | Tender, USDA hardiness zone 9-11. Winter temperatures above freezing. Hot summers | Hardy perennial, USDA hardiness zone 4-8. Winter temperatures above -30 degrees Fahrenheit. Cool summers |
| Attractive to pollinators | Attracts members of the Lepidoptera species of butterflies and moths, whose young larvae feed on the plant | Attracts members of the Lepidoptera species of butterflies and moths, whose young larvae feed on the plant |
| Fragrance | No fragrance | The scent is described as similar to spicy vanilla and clove |
| Size | Annuals are 12 inches tall. Perennials are 4 feet tall | Creeping or moss phlox is 6 inches tall. Garden phlox is 3 feet tall. |
| Growing requirements | Require an area with full sun but will tolerate partial shade. Rich, well-drained soil. 4-6 hours of direct sun | Cool, sunny climates with well-watered soil. Full sun or slight shade. 6 hours of direct sun. |
The Differences Between Lobelia vs Phlox
The key differences between lobelia and phlox are fragrance, climate and region, color, and size.
Lobelia vs Phlox: Fragrance
One big difference between lobelia and phlox is the scent. Lobelia has no scent at all, while some varieties of phlox do have a fragrance. Phlox smells like vanilla and clove with a hint of spice.
If you are looking for a window box plant, creeping phlox or moss phlox will drape over the side of the container and provide you with a heady scent through your open window. If you need a slightly larger plant, annual lobelia is double in height, at 12 inches tall.
Lobelia vs Phlox: Climate and Region
Lobelia originated from South Africa. As a result, it prefers a hot summer and a temperate winter. It does not tolerate any frost but can be grown as an annual plant if you live in a cooler climate.
Phlox is originally from North America and thrives in many diverse habitats, from tundras to prairies. It prefers a cool summer and doesn't mind a hard frost in the winter. It is often grown as a perennial that comes back year after year.
Lobelia vs Phlox: Plant Description and Color
Lobelia has an alternating leaf pattern, with oval leaves and hairy stems. Phlox has an opposite leaf pattern, with oval leaves and smooth stems. Tall phlox has large sword-shaped leaves, while shorter varieties have small needle-like leaves.
In lobelia and phlox, you can find blue, purple, pink, and red flowers. Phlox also comes in white, which you can't find in lobelia. Both plants have tube-shaped flowers with five lobes. The blooms of each are intense and brightly colored.
Lobelia vs Phlox: Size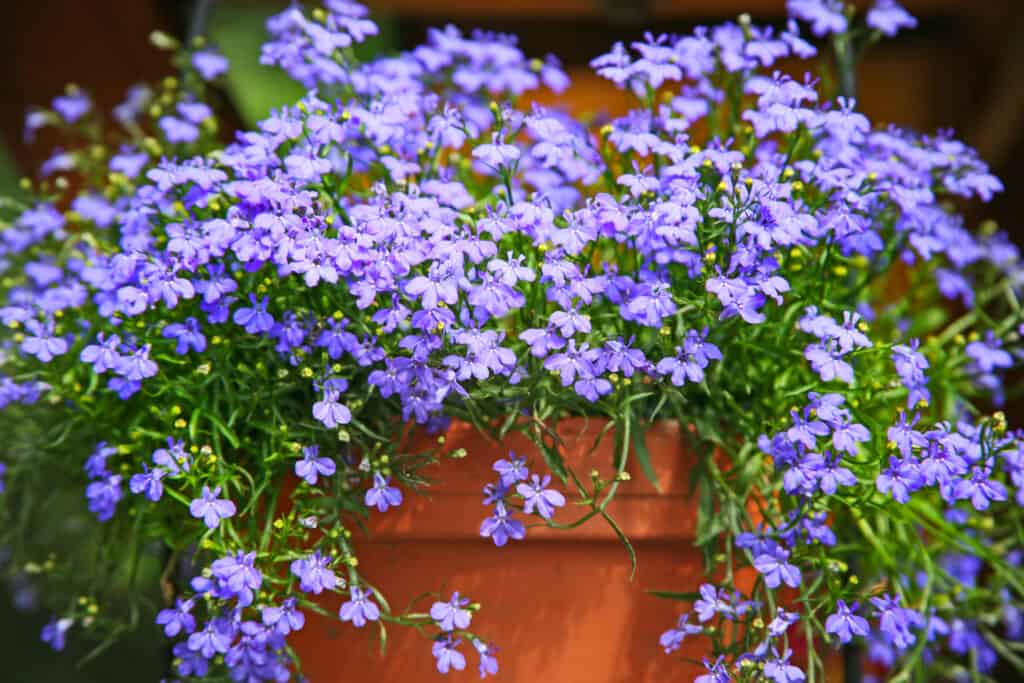 Both phlox and lobelia are large groups of plants with hundreds of varieties, so there is sure to be a variety to fit your garden needs.
One of the most popular varieties of lobelia is lobelia cardinalis, or cardinal flower, which grows 2-4 feet tall. The popular lobelia erinus or bellflower grows 6-9 inches tall. Lobelia siphilitica, or blue lobelia, grows 2-3 feet tall.
Phlox paniculate or garden phlox grows to 3-4 feet. The much shorter phlox stolonifera, known as creeping phlox, stays 8 inches tall. Phlox subulata, or moss phlox, grows to a maximum height of only 6 inches.
All varieties of phlox and lobelia are a favorite food of butterfly and moth larvae of the Lepidoptera family, making them a great addition to any pollinator garden.
NEXT UP…
The photo featured at the top of this post is ©
---