New Zealand is known for its spectacular natural beauty. When traveling to this modest country, you can experience secluded beaches, majestic mountains, colorful lakes, world-class skiing, surfing, and native culture. One of the best ways to explore the topography of an area is to visit its popular national parks. Discover the 10 most beautiful national parks in New Zealand, including their flora, fauna, and recreational activities.
Fiordland National Park
With over three million acres, the Fiordland National Park is the largest in New Zealand. It is also one of the most popular tourist attractions, drawing hundreds of thousands of visitors yearly to its dramatic landscape. When visiting, you will find stunning fiords, ancient rainforests, shimmering lakes, waterfalls, and snow-capped granite peaks.
Because the area has been preserved, it looks virtually the same as it did thousands of years ago. The park offers many activities, such as hiking, kayaking, helicopter rides, scuba diving, and cruising. Additionally, you may spot wildlife, such as bottlenose dolphins, penguins, and fur seals.
Abel Tasman National Park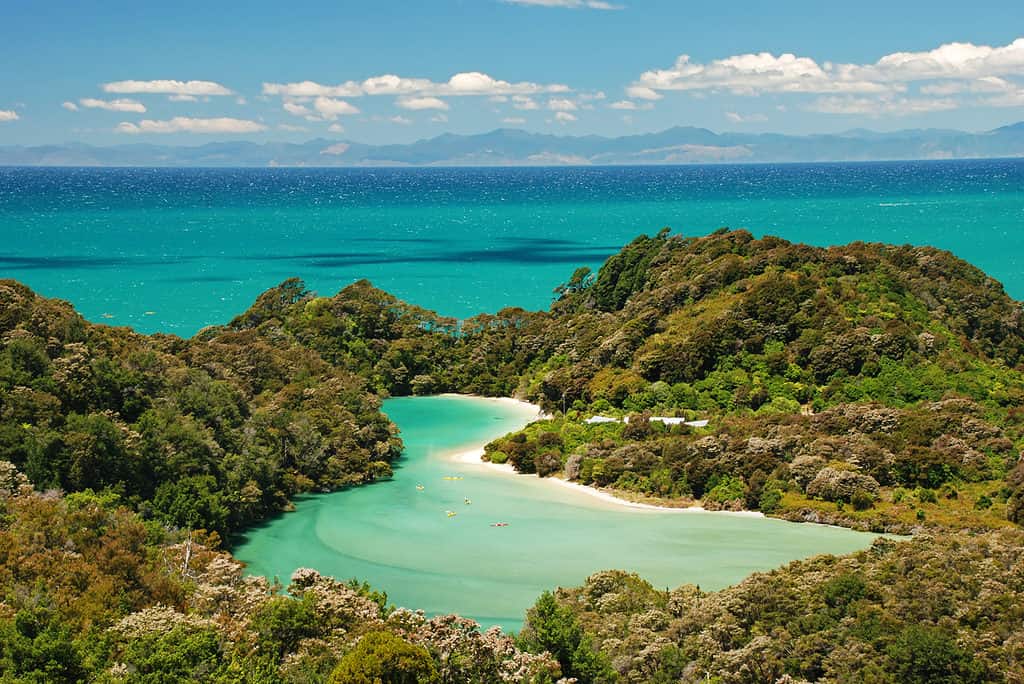 Located on the north end of the South Island is Abel Tasman National Park, named after the first European explorer to find New Zealand. At nearly 60,000 acres, it is the smallest national park in the country, but it offers the perfect mix of relaxation and adventure. For instance, the park features sandy beaches, clear streams, forested hills, and mossy valleys. 
The best way to experience the area is by hiking, camping, kayaking, sailing, swimming, and zip-lining. Additionally, you can grab an umbrella and relax on the beach. The wildlife is one of the best parts of visiting Abel Tasman. Look for little blue penguins, fur seals, cormorants, wild pigs, deer, and much more.
Arthur's Pass National Park
Also on New Zealand's South Island is Arthur's Pass National Park, featuring primarily mountainous terrain. Arthur's Pass includes the heart of the Southern Alps and consists of high, rugged mountains, steep gorges, wide rivers, and tributaries. Because it is a somewhat different experience from the other national parks, it is not typically an area for beginner recreationists.
The area is not as developed as other parks and requires visitors to have knowledge of route-finding and river-crossing, especially for those tramping (backpacking). However, there are a couple of easy, well-mapped paths for beginners and families. Other activities include camping, mountain biking, climbing, and hunting.
Tongariro National Park
Tongariro was the 6th national park established in the world and the oldest in New Zealand. It's been open to the public since 1887 and is the perfect destination for thrill-seekers and those that appreciate mother nature. The park contains three active volcanoes and features world-famous crossings for some of the best hiking and skiing in the world.
You can also participate in horseback riding, mountain biking, fishing, hunting, and rafting. The villages near the volcanoes provide lodging, restaurants, and other activities. While exploring the area, keep your eyes open for rare endemic species like blue ducks and North Island brown kiwis.
Nelson Lakes National Park
At the northern end of the Southern Alps lies Nelson Lakes, covering 393 square miles. This national park covers stunning geography, from snow-covered mountains to beech forests, glimmering lakes, and glacial valleys. It provides the perfect backdrop to fun, leisurely activities, like camping, fishing, hiking, bird-watching, boating, hunting, and mountain biking. The Nelson Lakes National Park is an excellent area for viewing wildlife, especially birds. Some of the unique fauna include the New Zealand wood pigeon, yellow-crowned parakeet, kakapo, cupola gecko, and the long-tailed bat. While the area is beautiful and contains many family-friendly areas, some tramping trails are designed for advanced backpackers and should be avoided if you are a beginner.
Whanganui National Park
Whanganui National Park borders the Whanganui River on New Zealand's North Island. While the river is not part of the park, you can see it wind its way through mountains to the Tasman Sea. The park consists of lowland forests and countless hills and valleys. Hiking is a popular attraction in the area, with most visitors walking to the abandoned bridge, known as "the bridge to nowhere."
Other park recreational opportunities include camping, fishing, hunting, kayaking, canoeing, and mountain biking. The area protects several thousand North Island brown kiwis and the endangered blue duck. There are many other bird species in Whanganui, offering an excellent spot for bird-watching.
Aoraki/Mount Cook National Park
The Aoraki/Mount Cook National Park contains the tallest mountains and longest glaciers in New Zealand. The park, along with Mount Cook, the tallest mountain in the country, is located on the South Island and contains mainly alpine terrain. Mt Cook Village sits along Lake Pukaki and provides a base for the 23 peaks. Many skilled mountaineers come to Aoraki/Mount Cook for some of the best climbing in Australasia. But you can also visit the area for skiing, glacier viewing, and easier mountain walks. The unique flora is enough reason for a visit. Walk the trails and look for buttercups, Russell lupin, and wilding pines.
Westland Tai Poutini National Park
Westland Tai Poutina National Park is located on the western coast of South Island and borders Aoraki/Mount Cook along the main divide of the Southern Alps. The topography of Westland Tai Poutini is exceptionally diverse. High mountain peaks give way to rugged, wild beaches. You will find everything from forests to glaciers, grasslands, snow-capped peaks, wetlands, and beaches. You can enjoy activities like hiking, camping, climbing, hunting, mountain biking, canoeing, and kayaking. The diverse landscape provides a lush haven for many species of flora and fauna, including rare animals like the endangered rowi.
Mount Aspiring National Park
Mount Aspiring covers the southern end of the Southern Alps, featuring a vast wilderness of towering mountains, native forests, alpine lakes, and river valleys. Because it offers an escape from the real world, it is renowned as a hiker's paradise. There are trails for beginner to advanced skill levels. And if you don't prefer to hike, you can jetboat, mountaineer, and heli-ski. Or you can take in the natural beauty and watch for native wildlife. 
Kahurangi National Park
Kahurangi lies in the northwestern portion of the South Island and is the second-largest national park in New Zealand. This park offers a perfect mix of beginner walking trails in popular areas to untracked wilderness for advanced trampers. Take in the beautiful scenery of coastal forests, alpine herb fields, tidal bays, pristine freshwater swamps, and limestone bluffs. In this park, you can participate in hiking, camping, caving, birdwatching, fishing, hunting, kayaking, canoeing, and mountain biking. Look out for the great spotted kiwi, giant cave spiders, and a carnivorous land snail.
The photo featured at the top of this post is © Nokuro/Shutterstock.com
---