You may have heard of two different names for a very particular dog breed: Dachshund vs Doxin. But is there truly a difference between these two dog breeds, and do the names signify anything in particular? Knowing how lovable and adorable Dachshunds are, how adorable are Doxins too!?
In this article, we will endeavor to explain the differences between Dachshunds and Doxins. You may find that these two names may have more in common than you originally thought! Let's get started and learn all about the notorious weiner dog now!
Comparing Dachshund vs Doxin
| | Dachshund | Doxin |
| --- | --- | --- |
| Origin of Name | Germany, 15th Century | Modern in origin |
| Appearance | Elongated body with short, capable legs for digging and slender tail; long snout and floppy ears | Same as Dachshund |
| Originally Bred For | Hunting badgers and other rodents or game | Same as Dachshund |
| Behavior | Stubborn and capable hunting dog. The perfect blend of terrier and hound; can smell and dig with the best of them! Now a capable lap dog with a mischievous streak | Same as Dachshund |
| Other Names | Dachs, Dashie, Weiner Dog, Sausage Dog | Doxy, Doxen, Daxen, Doxie, Dotson |
Key Differences Between Dachshund vs Doxin
There are no differences between Dachshunds and Doxins. They are both names that describe the purebred Dachshund dog, but the name Doxin likely came about as an alternative spelling to the original German name. There are a great deal of other names that the Dachshund is called as well, and we will address these in this article.
Let's talk all about the origin of the Dachshund name and how it has changed over the years!
Dachshund vs Doxin: Origin of Name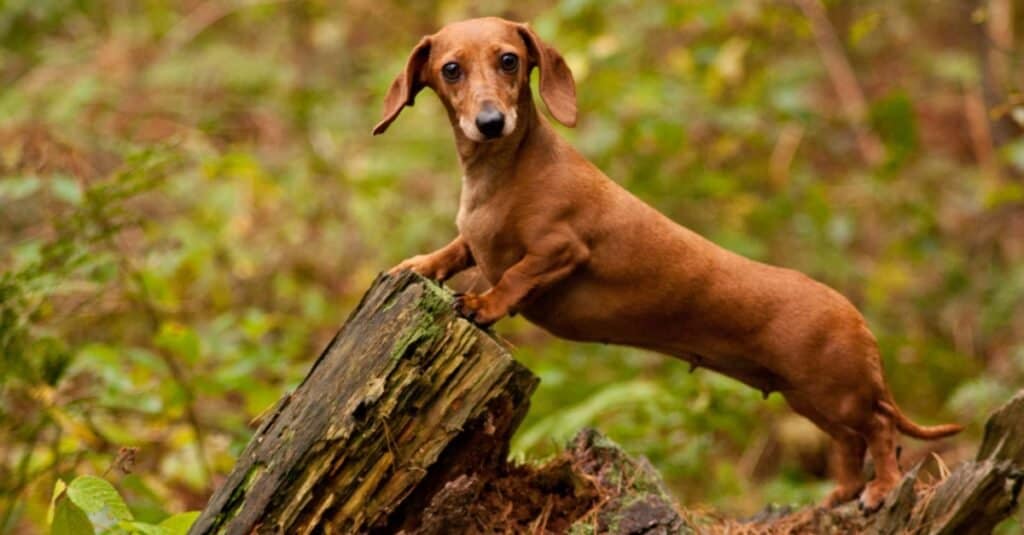 While it isn't quite clear where the origin of the name Doxin came from, the name Dachshund came from Germany in the 15th century. The purebred dog name for these adorable sausage dogs is indeed Dachshund, while Doxin is a more modern abbreviation or alternative spelling of the original name. However, it is totally unclear where exactly the name came from!
Dachshund vs Doxin: Appearance
The appearance of a Dachshund versus a Doxin are identical, given that they are the same dog. However, Dachshunds are notoriously short legged and long-bodied, making them adorable as well as capable. Given the fact that they were originally bred to hunt badgers, these dogs are designed for digging and traveling through burrows and tunnels underground. 
Dachshunds are built with a large barrel chest and lungs, which makes it easier for them to get oxygen when digging underground. They are also equipped with floppy ears to keep dirt and debris out of their ear canals. Finally, Dachshunds have long and capable snouts, ideal for tracking a variety of scents. 
Dachshund vs Doxin: Original Reason for Breeding
The original reason that Dachshunds were created and bred was for hunting. The name "dachs" means badger, and "hund" means dog- so their name quite literally translates to badger dog! Given the large and powerful front feet on the relatively small body of the Dachshund, you can imagine that these dogs are built for digging and hunting a variety of mammals and rodents that live underground. 
Dachshund vs Doxin: Behavior
Dachshunds are delightful little dogs, but they are often misunderstood because of their small size. Many dog owners misunderstand wiener dogs as lap dogs or calm and relatively carefree toy breeds. However, Dachshunds are notoriously stubborn and mischievous, often biting off more than they can chew in more ways than one. 
They are fierce and loyal companions, albeit a bit noisy and difficult to train at times. However, with positive reinforcement and proper training, Dachshunds are reliable and hilarious members of your family.
Dachshund vs Doxin: Other Dachshund Names!
If you thought two names for the same dog was confusing enough, there are a great deal of other names that dachshunds are known by. Some of those names include:
Dachs
Dashie
Weiner Dog
Sausage Dog
Doxy
Doxen
Daxen
Doxie
Dotson
As you can no doubt tell, it is likely due to the fact that very few people know how to spell Dachshund that we have so many alternative names for one dog. However, there's no mistaking a wiener dog or Dachshund when you see one walk by, and you may want to take to calling them Doxins!
The photo featured at the top of this post is © Utekhina Anna/Shutterstock.com
Ready to discover the top 10 cutest dog breeds in the entire world?
How about the fastest dogs, the largest dogs and those that are -- quite frankly -- just the kindest dogs on the planet? Each day, AZ Animals sends out lists just like this to our thousands of email subscribers. And the best part? It's FREE. Join today by entering your email below.
---