Below you can find a complete list of types of animals in Germany. We currently track 319 animals in Germany and are adding more every day!
Germany is a European country famous for its magnificent forests, soaring Alps, and two major rivers, the Danube and the Rhine. Germany is bordered in the north by Denmark, in the south by Switzerland and Austria, in the east by Poland and the Czech Republic, by France in the southwest, and by Luxembourg, the Netherlands, and Belgium in the west. Germany also borders the North Sea and the Adriatic Sea in the north. Germany is unique in sharing borders with nine European countries. Only Russia borders more European countries–ten in all.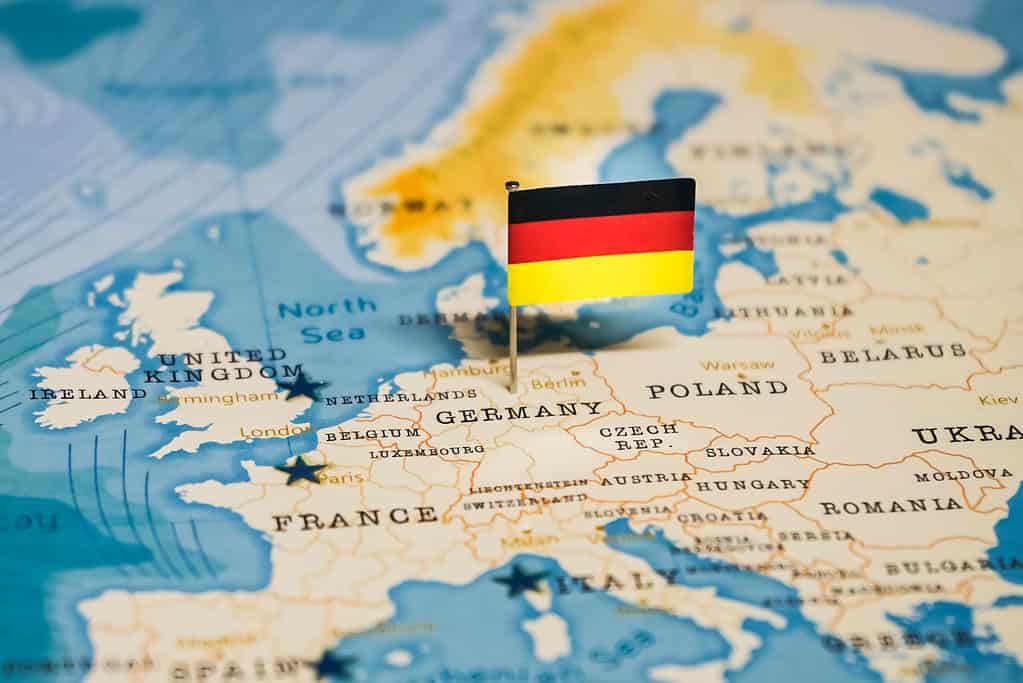 ©Hyotographics/Shutterstock.com
This varied geography means you can find a huge variety of wildlife here. The mountains are home to wolves, chamois, and Alpine ibex. In the forests, you will find European wildcats, European badgers, lynxes, bats, deer, red squirrels, and red foxes. Germany's native birds include the boreal owl, bean goose, carrion crow, and mistle thrush. Whales, porpoises, and sharks live in the ocean waters.
Unique Wildlife in Germany
Common species of the world do reside in the country; however, there are many unique native species to Germany.
The chamois is a goat antelope that lives in the German Alps. Herds of chamois regularly run through the mountain passes.
The European badger has distinctive black-and-white striping. This fastidious animal is known for daily cleaning of its burrows and building latrines in its territory. The badger inhabits Germany's forests and woodlands.
The European wildcat inhabits Germany's forests. It is a small, feral cat that resembles a domestic house cat. It has a thick, shaggy pelt, a large head, and a long tail. The typical wildcat weighs about three pounds. The European wildcat is endangered in Germany and the rest of the world.
The fire salamander is a lizard that lives in the rocky parts of Germany's mountain areas. It has a black body with bright yellow stripes and reaches a length of about 10 inches. The fire salamander's bite is poisonous to humans, so keep a respectful distance if you see one.
The Alpine ibex lives high in the Alps. Its shaggy coat and long, curved horns make it stand out. Male ibex use their horns to fight each other during mating season.
What Is Germany's National Animal?
The national animal of Germany is interestingly an emblematic eagle known as German Imperial Eagle (Reichsadler). The German coat of arms and other official emblems all feature a black eagle. The design dates back to the time of Charlemagne, who was crowned the Holy Roman Emperor in 800 AD.
©BreizhAtao/Shutterstock.com
The black eagle was sometimes depicted with a double head to signify the title "Emperor" and with a single head for the title "King of the Romans." It was utilized in coats of arms and favored by varied rulers of Germany and some neighboring kingdoms like Luxembourg. It continued to be used into modern times, with the design being altered at times, whether it was used to represent the German Empire, the German Confederation, the Weimar Republic, or even Nazi Germany. Post WWII, the Weimar Republic's black eagle design was adopted by the Federal Republic of Germany.
While there is a true imperial eagle native to southeastern Europe and parts of Asia, and a black eagle in Asia, neither of these animals is actually the national animal of Germany. The general consensus is that the golden eagle is the actual national animal of Germany.
Where To Find the Top Wild Animals
Hiking and walking are popular pastimes, and they are the best ways to see the many types of animals in Germany. Walking in scenic areas gives you a chance to spot ibex, chamois, and bears.
There are many national parks and protected areas in Germany.
The Lower Oder Valley National Park protects large expanses of meadowland and riverside areas. On the banks of the Oder river, it attracts many wildlife enthusiasts. It is a major resting site for thousands of migratory birds and a huge attraction for bird watchers.
Müritz National Park offers guided trails through ancient beech forests, marshland, and over 100 lakes. It's a picturesque protected area where you can see hundreds of birds, reptiles, and mammals.
The Black Forest is a large mountain range in southwestern Germany. Established in 2014, the Black Forest National Park is a protected area where you can spot unusual species like the Alpine marmot, a large groundhog-like critter that lives in burrows in the mountains.
Native Birds
Germany is surrounded by several countries and is bordered on the north by the North Sea and the Baltic Sea. The Alps lie at the southern end of the country. The various landscapes and the moderate climate make for an ideal home or resting spot for hundreds of species of birds, migratory or resident. Listed are some important avifauna of Germany:
Cranes – Great bustards are of particular note here because their last remaining population of northern Europe is in Bradenburg, Germany.
Raptors- Summers are filled with osprey, lesser spotted eagles, and kites.
Waterfowl- Marshes and lakes provide shelter and nesting sites for rare little egrets and more common great egrets. Grebes, crakes, and sandpipers also roam the shorelines and reeds.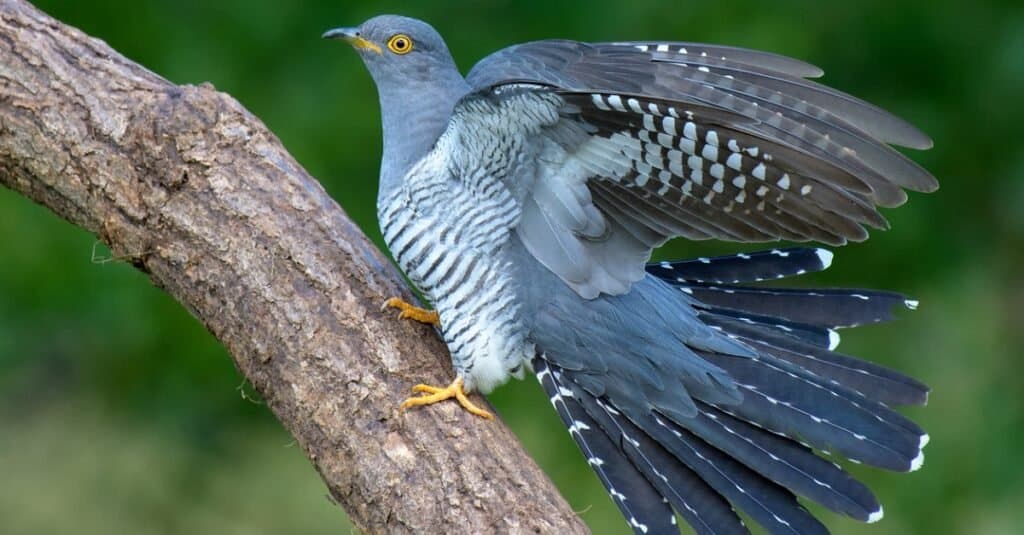 Unfortunately, like many other places in the world, the beautiful birds of Germany are under threat of endangerment and extinction. When visiting, respect rules and regulations regarding avifauna and the nature of the country.
National Bird of Germany
In Germany, the eagle symbolized power and freedom throughout the country's history. Even today an eagle is front and center on Germany's Federal Coat of Arms, something that hasn't changed since 1950. The type of eagle represented as the Federal Eagle, the national bird of Germany, is understood as an abstract concept of eagles vs. a representation of a specific subspecies, however, it may have been based in part on the eastern imperial eagle (Aquila heliacal).
Native Fish
Northern Germany offers visiting and local fishermen plentiful fishing opportunities in the North and Baltic Seas as well as rivers and lakes, which also dot the southern part of the country. As in most countries, fishing permits must be acquired prior to trips, usually through local fishing shops or clubs. Below we will further discuss areas of fishing and common species found to catch!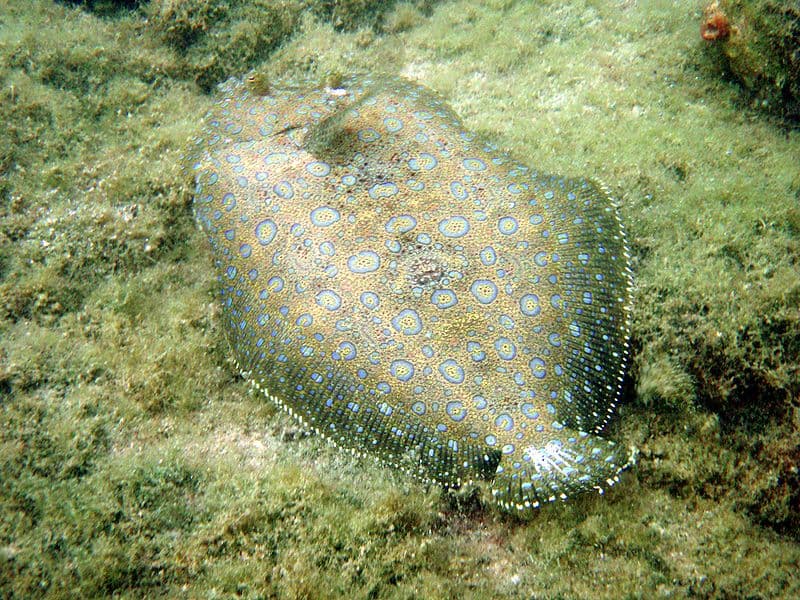 Baltic Sea – Uniquely, the waters of the Baltic Sea are brackish, meaning a combination of salt and freshwater. Accordingly, both freshwater and saltwater species able to survive and adapt to these conditions are found in these waters. The slightly saline waters also attribute to larger-sized fish, perfect for incoming anglers. Species often caught here include sea trout, salmon, northern pike, zander, European flounder, and many more! Fishing here is relatively good year-round and available in many fun places.
North Sea – The North Sea is a hotspot for commercial fishermen trawling for cod and other popular species. However, it is also a beautiful sea for sport fishermen to prowl. May to October is the perfect time to find mackerel, while October to May is when cod fishing is permitted. Sole fishing is only allowed 100 days out of the year.
Lakes – Lakes full of fish are available to visiting and local fishermen, usually home to whitling, perch, eel, pike, trout, zander, char, and bream. Again, it depends on where in the country fishermen are looking to go, but fishing is available year-round in the country.
Rivers – Fly fishing is particularly accessible and fun in the rivers of Germany. Various trout species, graylings, and barbel are popular finds in the multitudes of rivers in the country. The best season for fly fishing is between March and around September.
Native Snakes
Out of the many animal species of the country, snakes only hold a few places with 6 different species, two of which are venomous. Listed are the species and some interesting facts about them.
©iStock.com/Zdenek Macat
Grass snake – Found near water sources and feeds on amphibians primarily.
Aesculapian snake – Smooth scales give adult snakes a metallic gloss, while juveniles are often bright green.
Smooth snake – Smooth snakes come in a variety of patterns but are most commonly brown, grey, or red with dorsal dark spots.
Dice snake – These snakes are distinguishable by their brightly colored underbellies of yellow or orange dotted with black.
Common European adder (venomous) – Widespread throughout Europe, these snakes are found in many colors and pattern variations. European adders rarely bite and only when provoked or disturbed.
Asp viper – The upturned nose and large, triangular head of this snake are highly distinct. Males tend to be grey while females range from grey to brown to orange.
While snake bites are rare in Germany, they may occur. To prevent adverse reactions, it is important to seek medical attention after a bite, regardless of species.
Extinct and Endangered Animals In Germany
Hunting and overdevelopment have caused some native species of Germany to become extinct or nearly extinct.
For example, gray wolves became extinct in the country, but conservation groups reintroduced them in the 1990s. However, they are still endangered, and only a few packs live in the mountain forests.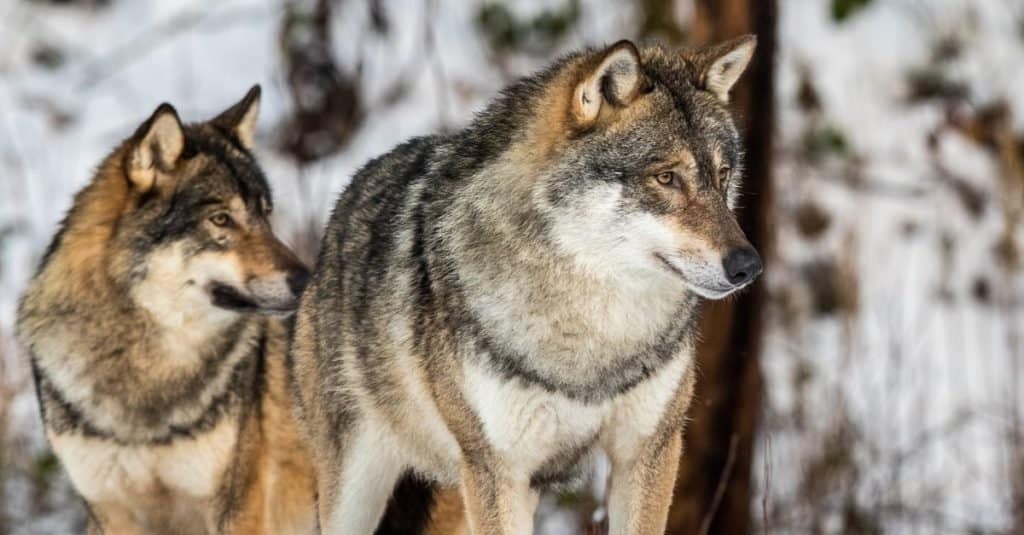 The Eurasian otter was also extinct after being hunted for its pelt. Recent conservation efforts have reintroduced Eurasian otter populations to German lakes and streams.
The Danube salmon is the world's largest salmon. It can reach five feet in length. It's an inhabitant of the river that gives it its name, but it's the most endangered salmon in the world.
Bears became extinct in Germany in 1835. In recent years, however, biologists have spotted bears in the forests on Germany's borders. Many believe bears will soon return to Germany.
The 7 Largest German Wild Animals
When looking for large wild animals in Germany, they really don't compare in size to animals of other continents like Africa. But there are some animals that tip the scales, which we've listed below:
European Bison: The rarest of European animals, it can be found in the Rothaar Mountains in Hesse, Germany. It weighs an average of 1,398 lbs for males and 935 lbs for females.
Red Deer: Red deer can grow up to 4 feet tall and weigh as much as 530 lbs.
Wild Boar (Eurasian Wild Pig): This wild pig can stand as tall as 4 feet and weigh as much as 220 lbs.
Gray Wolf: European gray wolves average up to 150 lbs and can reach heights of 33 inches.
Alpine Ibex: This wild mountain goat species can weigh up to 258 lbs and reach a height of 40 inches.
Chamois: This goat antelope can get up to 31 inches tall and weigh as much as 121 lbs.
Eurasian Lynx: This endangered cat species can reach a max weight of 80 lbs and a max height of 30 inches.
The 5 Rarest German Wild Animals
There are certain German animals that are rare to spot in the wild but will thrill the hearts of any lucky animal watcher. One such animal is the beaver, which almost went extinct in the late 1800s, but made a conservative comeback due to conservation programs. Places that tourists go to witness these lovable creatures are the Spessart mountain range in southwestern Germany, as well as Lake Chiemsee in Bavaria.
©Lukasz Lukasik / Creative Commons
The Kalkberg Cave, located in the northern German state of Schleswig-Holstein is one habitat to witness many varieties of Germany's 15 bat species. The cave is the biggest spot for bats to congregate in the winter months in all of central Europe. Some bats spied there include Bechstein's bat and Brandt's bat, both highly rare.
On the northern German border where the North sea rests, it's possible to see grey seals and harbor seals. And rare birds one could see include the hoopoe, the crane, and the kingfisher.
Zoos in Germany
Wildlife in Germany is easy to find and fun to see along with the incredible views of the country. Other good places to see both native and exotic animals are the zoos of Germany, many of which exist for the purpose of wildlife conservation and preservation. Here are some of the most famous zoos and animal parks in the country.
Zoo Leipzig – Originally a personal collection, this zoo was opened to the public in 1848. The zoo now holds around 10,000 animals of hundreds of different species including rhinoceros, tapir, wild horses, maned wolves, and many more eccentric animals. Three pillars serve as the backbone of Zoo Leizig: conservation of species, education of the public, and scientific research.
Zoo Rostock – Setting the zoo apart from others is the Darwineum – an exhibition based on evolution and how species diverged and became what they are today. The zoo is also home to multiple species of animals, such as orangutans, lions, polar bears, and seals. Along with education on evolution and ecology, the zoo aims to present visitors with information on the conservation of species, as well.
Wildpark im Grafenberger Wald – Settled on 36 hectares (64 acres), the park is the largest game park in Germany. Solely native species are on exhibit here, including wild pigs, raccoons, deer, and more. Visitors are able to get up close and personal with the local wildlife and experience them in their natural habitats.
While these animals are on display, it is essential to maintain park boundaries and regulations. Zoos play an important role in helping preserve and continue critical species of the world, both native and not.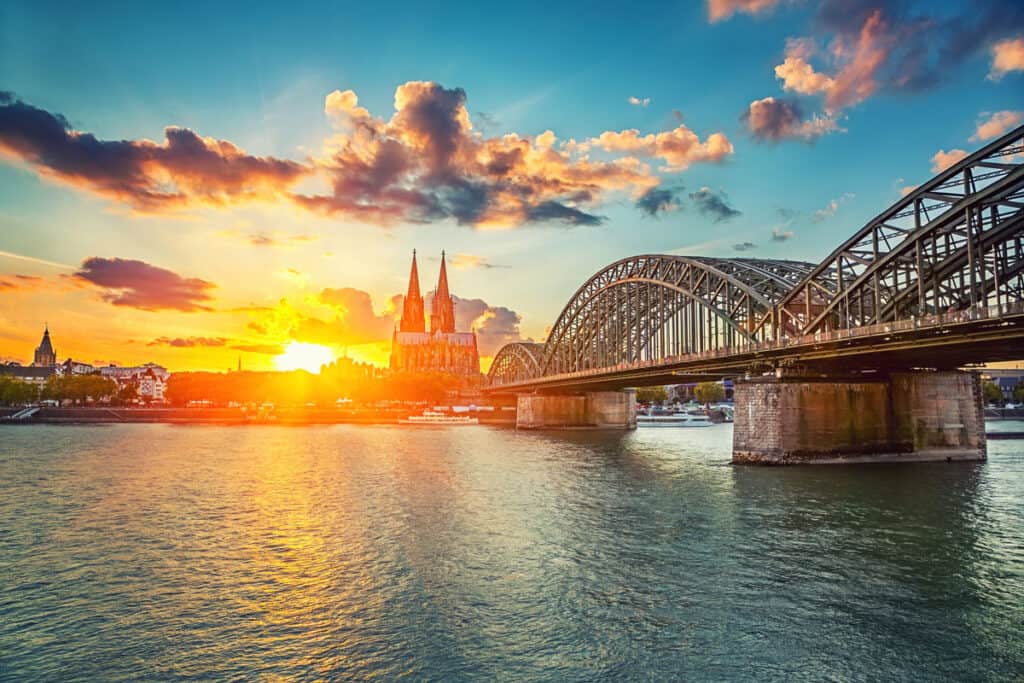 Rivers in Germany
Germany is home to 15 different rivers that stretch 300 km (186 miles) or more. The largest river in the country is the Danube, which enters or borders 10 different companies and has a length of 1,777 miles. It has fish like trout, sturgeon, slam, mullet, tench, and Wels catfish.
Other major German rivers include the Rhine, Elbe, Oder, and Moselle.
Flag of Germany
The German flag is fairly simplistic, though it represents a country rich in history. Three color blocks run horizontally in black, red, and yellow from top to bottom. This flag was the official flag of West Germany before the Berlin Wall fell in 1989. Once the country unified, the tricolor stood for the entirety of Germany.
German Animals
German Animals List
Germany FAQs (Frequently Asked Questions)
Are There Wild Animals in Germany?
There are many wild animals in Germany. Although Germany has major cities and a global economy, it also has vast expanses of forest and untouched mountain areas. Its unique animals include Bavarian pine voles, West Europan hedgehogs, bicolored shrews, greater mouse-eared bat, humpback whales, common minke whales, Eurasian lynxes, and other exotic animals.
What Dangerous Animals Live in Germany?
Wild boars are the most dangerous animals in Germany. These large, feral members of the pig family will attack humans who get in their way, especially during the mating season or when protecting their piglets. There have also been many car and motorcycle accidents involving wild boars.
Ticks are another dangerous animal in Germany. These tiny bloodsuckers can transmit dangerous conditions like Lyme disease and encephalitis. You can pick up ticks while hiking or camping.
What Is the Most Common Animal in Germany?
The most common animal in Germany is the roebuck. It is also known as the Western roe deer or roebuck. The roebuck is the male of the roe deer, which is a small, graceful deer common to European forests.
A roe deer typically stands about 36 inches in height and weighs about 66 pounds.
There is a small population of totally black roe deer that inhabit the northern forests of Germany. This is the only place you can find them, and they make up about 5% of the total roe deer population.
The population of European pine martens has exploded in Germany, and Germans regularly report finding these cute but destructive critters in their attics and cars.
Red foxes have also thrived. There are hundreds of thousands of red foxes in Germany.
Red squirrels are exotic in other countries, but they are common in Germany's woodlands. Their bright orange fur and pointed ears make them stand out in the landscape.