Connecticut is in the northeastern part of the U.S., an area that was greatly impacted by erosional forces in the past. As a result, fewer fossils from the time dinosaurs were alive remain in this area. Yet, some dinosaur fossils exist. We can use the fossils of dinosaurs that lived in Connecticut to determine which ones resided in the area and when they were around.
Let's take a quick look at five of the dinosaurs that once thrived in this part of the United States. You'll learn about the various large reptiles that lived here and why scientists can't identify some of them. First, let's consider the state dinosaur in Connecticut.
What Is Connecticut's State Dinosaur?
Connecticut's state dinosaur is Dilophosaurus, and it was appointed in 2017. Dilophosaurus has been mistakenly portrayed as a small dinosaur with large neck frills and the ability to spit venom. However, that's not the case. Instead, Dilophosaurus was a large reptile that measured about 23 feet long and weighed upwards of 880 pounds. This biped was known for the two crests on its head.
Scientists estimate it lived between 201 and 182 million years ago. Also, scientists confirmed the presence of the genus' tracks in Rocky Hill, Connecticut, and that is the only evidence of their existence in the state. However, the fossil remains don't definitively show that the creature was Dilophosaurus. The uncertainty is why most sources refer to the tracks as belonging to Eubrontes, an ichnogenus.
What Are the 5 Dinosaurs that Lived in Connecticut?
Connecticut was once home to a wide variety of dinosaurs. Unfortunately, evidence of their existence is lacking. Scientists have not recovered any dinosaur fossils older than the Triassic Period due to most of the sediment older than 200 million years being eroded during that time.
However, scientists have recovered and preserved fossil evidence and trace fossils of five dinosaurs that lived in Connecticut. Let's take a closer look at each of them.
1. Anchisaurus polyzelus
Fossils of Anchisaurus polyzelus were first discovered in Springfield, Massachusetts in the mid-1800s. Yet, many of those specimens were recovered in poor condition. Meanwhile, paleontologists recovered high-quality specimens in Manchester, Connecticut in 1884.
Anchisaurus polyzelus was a sauropodomorph dinosaur that featured a long neck and tail like many other members of the clade. This particular species was small, measuring about 6.6 feet long and weighing about 60 pounds. This creature was most likely an herbivore that used gizzard stones to break down food rather than chewing it.
However, Anchisaurus polyzelus is not the only species of Anchisaurus that was found in this state. A larger species named Anchisaurus major, also called Ammosaurus, was also discovered in the region. Scientists estimate that Ammosaurus measured up to 7 to 13 feet with a weight of 44 to 70 pounds.  
2. Coelophysis
It was a small, thin bipedal dinosaur that lived between 228 and 201 million years ago. This dinosaur lived near the end of the Triassic Period. The reptile was found in the Connecticut River Valley, possibly in Middletown, Connecticut.
The fossils consisted of ribs, backbones, and a single leg bone. Coelophysis was a carnivorous creature that used sharp teeth to kill small creatures like lizards. Some scientists believe that the dinosaur may have hunted in packs to bring down larger prey.
The average Coelophysis measured about 10 feet long, stood about 3 feet tall at the hips, and weighed between 30 and 55 pounds. While true fossils of this dinosaur were recovered, other trace fossils from the state may be Coelophysis as well.  
For example, a series of tracks from Middletown, Connecticut currently labeled as Grallator may actually belong to Coelophysis.
3. Dilophosaurus
Dilophosaurus is the state dinosaur of Connecticut. Scientists attributed the tracks to a genus of dinosaurs rather than a species. These reptiles left trace fossils in the form of tracks at an area now called Dinosaur State Park at Rocky Hill. However, no true fossils of this genus are in the state.
The tracks were once considered part of the ichnogenus, Grallator giganteus. These dinosaurs are only known by the imprints they left in the sediment that was preserved over time. However, given the size and shape of some of the tracks, scientists deduced that Dilophosaurus had once lived in the same area.
This dinosaur was large, weighing over 800 pounds and growing about 23 feet long including its tail.   
4. Eubrontes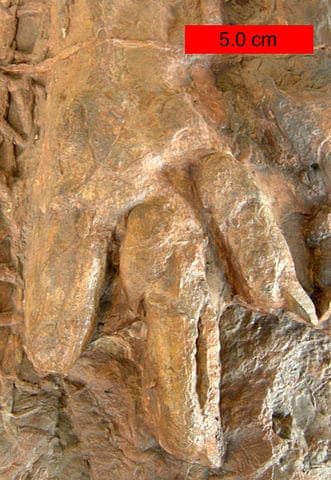 An unidentified dinosaur genus, whose trace fossils are Eubrontes, once lived in Connecticut. The footprints produced by this ichnogenus are very similar to Dilophosaurus and Coelophysis. However, little else is known about these creatures aside from the fact that they had three toes on each foot.
Scientists have estimated that some of the dinosaurs that left these tracks were close to 30 feet long and weighed 1,300 pounds to 2,400 pounds. These dinosaurs left over 2,000 tracks throughout Rocky Hill, and those tracks are the state fossil of Connecticut.  
5. Grallator
Their prints are throughout the Connecticut River Valley trackways. The dinosaurs that made these tracks were smaller than Eubrontes, and they may have belonged to diminutive theropods like Coelophysis and Anchisauripus. Originally, the people that discovered the tracks thought that they may have belonged to birds!
Where Can You See Fossils of Dinosaurs That Lived in Connecticut?
The best place to see fossils of the dinosaurs that lived in Connecticut is the Dinosaur State Park. In Rocky Hill, Connecticut, you will find this park and arboretum in the center where people made dinosaur discoveries in this state.
Dinosaur State Park has one of the largest dinosaur tracks in all of North America. If you go into their exhibit center, you can see about 500 of these fossil tracks. Specifically, visitors can see the tracks left behind by what scientists believe to be Dilophosaurus.
The park is open from 9 a.m. until 4:30 p.m., and the trails close at 4 p.m. However, the exhibit center featuring the trace fossils is only open Tuesday through Sunday.
Summary of 5 Dinosaurs That Lived in Connecticut
| Number | Dinosaur |
| --- | --- |
| 1 | Anchisaurus polyzelus |
| 2 | Coelophysis |
| 3 | Dilophosaurus |
| 4 | Eubrontes |
| 5 | Grallator |
---
The Featured Image
---
FAQs (Frequently Asked Questions) 
Why are fewer fossils found in Connecticut?
Connecticut is in the northeastern part of the U.S., an area that was greatly impacted by erosional forces in the past. As a result, fewer fossils from the time dinosaurs were alive remain in this area.
What is Connecticut's state dinosaur?
Connecticut's state dinosaur is Dilophosaurus, and it was appointed in 2017.
Sources

Adam Yates, Available here: https://onlinelibrary.wiley.com/doi/full/10.1111/j.1475-4983.2010.00952.x