People from all over the world travel to Yosemite National Park every year. Located in Mariposa County, CA, this national park has something for everyone. Whether you're looking for a series of challenging hiking trails, a swimming hole to cool off, or a blanket of forest to birdwatch, Yosemite has it all.
Today we're going to be exploring a unique area of the park called the Half Dome. Yosemite's Half Dome was formed roughly 65 million years ago when solidified rock was pushed to the surface of the earth.
This History of Yosemite's Half Dome
No other location on Earth has as many domes as Yosemite. Half Dome, the area's most well-known landmark, can be observed from Yosemite Valley and Glacier Point. It is an 8,800-foot-tall granite monolith that is regarded as Yosemite National Park's most iconic feature.
The domes in this particular area were created several million years ago after molten igneous rock buried beneath the Earth crystallized to form granite and was forced to rise to the surface thanks to immense pressure. The raised, bent rock layers broke off, leaving the granite in a configuration of domes.
Half Dome was never whole despite what one may believe. Half Dome was formerly significantly bigger than it is now, but it has never had a corresponding portion that stood in front of the steep rock face.
Glaciers swept by and undermined Half Dome's base, exposing a wide vertical crack that was hidden deep beneath the massive chunk of rock. Around 20 percent of the structure was lost to glaciers, and when more granite blocks split out of the crack through time, the stark edge
The Initial Ascent of Half Dome
At an altitude of 8,844 feet above sea level, Half Dome soars 4,737 feet above Yosemite Valley's base. Half Dome was once called "Tis-sa-ack," an Ahwahnechee term for Cleft Rock.
George Anderson made the inaugural documented ascent there in 1875 by drilling holes into the flat granite in order to climb up the face of the rock. Numerous individuals have since scaled Half Dome, particularly a select few courageous and skilled climbers who have done so with little to no climbing gear.
Climbing Half Dome 
Instead of climbing the steep rock wall of Half Dome, hikers scale the curved "back" portion of the cliff. Let's be honest, you have to be incredibly fit to tackle this climb. It's a 17-mile roundtrip journey to Half Dome from Yosemite Valley.
This journey takes 10 to 12 hours and involves a 4,800-foot elevation increase. The last 400 feet of the trek are climbed on a stairway with cable reinforcements that serve as railings. Previously, up to 1,000 people a day would swarm on the path to ascend Half Dome's back on the weekends, resulting in intolerable congestion and hazardous conditions.
Every hiker must now obtain a permit in preparation for the climb. As a result, only 300-day hikers and 100 overnighters are permitted daily on the Half Dome Trail. There are no same-day permits provided, and permits are needed every single day, with no exceptions.
Tips For Climbing Half Dome
Put on appropriate hiking footwear and treat the journey seriously. Even a small error on this large, slick slab of stone may be the last mistake you make. A half-mile from the trailhead, at the Happy Isles shuttle stop, the majority of hikers begin their ascent of Half Dome. 
Half Dome Village, which is just shy of one mile away and has parking available. Upper Pines, Lower Pines, and North Pines Campgrounds are the closest options if you want to camp close either prior to or following your Half Dome walk, but all are well-known, so you should make reservations in advance.
Best Viewpoints of Half Dome
While the rock fixture is noticeable from places all around Yosemite National Park, here are some of the best places to view the jaw-dropping natural wonder.
Glacier Point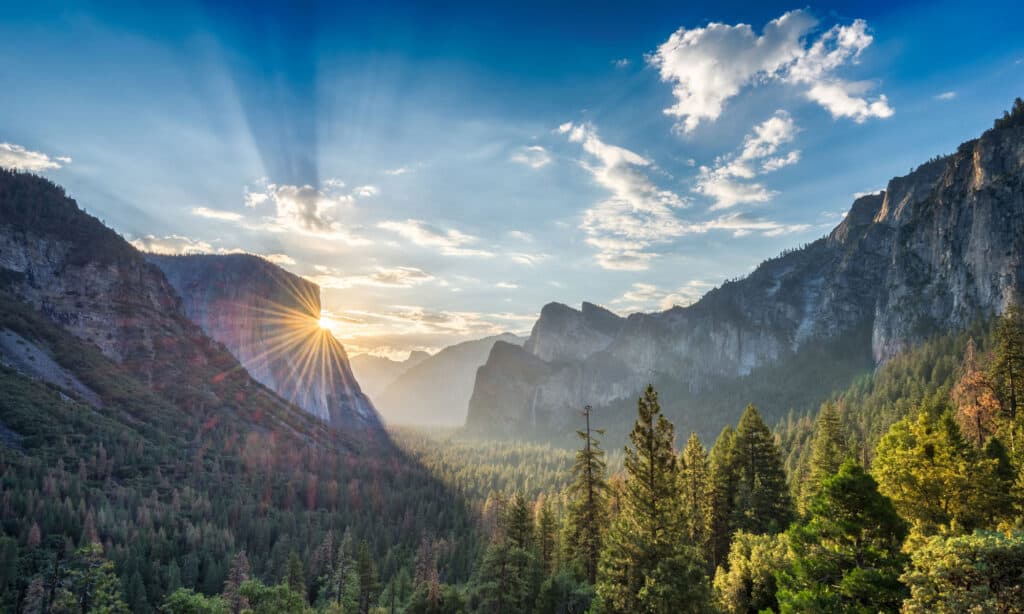 The most well-known and clear vantage point is Glacier Point, which is nearly directly across from Half Dome. Because it is so big, the valley in front of you makes a great background for photographs.
The silhouette of Half Dome may be seen beneath the stars, making this the finest location to observe the stars. It is also a popular sunset location where you can take stunning pictures of the sun setting above Half Dome. In general, it is arguably the greatest location to see Half Dome.
Mirror Lake
The following viewpoint is accessible through a quick climb in Yosemite Valley from Mirror Lake. You can see Half Dome's face down below from this perspective. The rock is quite noticeable from your modest vantage position, making it among the most distinctive sights.
Washburn Point
Washburn Point, which is only one mile from Glacier Point, offers a stunning and distinctive glimpse of Half Dome. The dome doesn't appear as clearly apparent as one might anticipate it to be because Glacier Point is more directly ahead and Washburn Point is slightly farther to the side. However, it's still a fantastic way to explore the Yosemite wilderness.
Sentinel Dome
One of the less well-known treks in Yosemite, this two-mile loop on Glacier Point Road offers a panorama of Half Dome that is comparable to the one from Glacier Point. It's from a higher elevation, which many visitors prefer. It is quite impressive that the peak of Sentinel Dome is nearly as high as Half Dome.
Wildlife Near Yosemite's Half Dome
Although you're bound to see plenty of natural beauty while visiting Yosemite National Park, it's sprawling with wildlife as well. Considering the park's different terrain and altitudes, Yosemite's wildlife population is diverse.
Even though some are undoubtedly seen more often than others, spotting animals in their natural habitat is cause for celebration. Remember to maintain your distance and be respectful. Here are some of the animals that call this national park their home.
Mule Deer
In Yosemite Valley, there is a good probability that you may see mule deer on the highways and in the meadows. The one and only deer species that live in Yosemite are mule deer.
They may also be seen in the summer at higher altitudes, such as in Tioga Meadow. Even while these delicate animals might seem placid, it's never a smart idea to approach wildlife, particularly when it's breeding season.
Coyote
Coyotes are most frequently spotted scavenging in the grasslands of Yosemite Valley in the wintertime. The coyote is a creature that many residents of California are very acquainted with and frequently encounter in rural as well as urban environments.
Throughout the winter, coyotes migrate to lower places such as the Yosemite Valley, to search for prey like mice and other small creatures. In fields covered in snow, they wait for the rumblings of these creatures, and when they hear them, they pounce like a cat to catch their target.
Black Bear
Black bear sightings have been reported all across the park. One is probably to be found in Sequoia Groves, Yosemite Valley, and close to campsites in the High Country. About 300 to 500 black bears reside in the park.
In Yosemite, no one has been fatally attacked or severely wounded by a bear, as they are accustomed to humans. You should still keep a good gap between you and them. Keep 50 yards between you and them as a general rule of thumb.
Pika
Despite the pika's many rodent-like characteristics, it is a lagomorph and very similar to bunnies. Tourists in the High Sierra are the ones most likely to witness these creatures. One must be quiet and quite close to a rock slide to see a pika.
They scream out loudly and squeak while frequently perched atop rocks. They can be found in rocky outcrops and rock slides beyond the tree line. On the steep sections of the trail leading to Mount Dana, look out for pikas.
The photo featured at the top of this post is © Pung/Shutterstock.com
---