Get set to experience spine-chilling beaches in the U.S. with the largest waves! From California to Hawaii, we'll conquer towering waves and crash against the shores, unveiling awe-inspiring surfing havens that even the boldest daredevils will find daunting.
From the rugged coasts of California to the pristine shores of Hawaii, these destinations offer some of the largest waves for avid surfers and enthusiasts. So gear up, slather on sunscreen, and prepare for an extraordinary voyage through the nation's 12 grandest wave-laden beaches!
Jaws, Maui – Hawaii: Up to 80 feet high
Mavericks Beach – California: Up to 60 feet high
Banzai Pipeline, Oahu – Hawaii: Up to 20 feet high
Hanalei Bay, Kauai, Hawaii: Up to 20 feet high
Waimea Bay, Oahu – Hawaii: Up to 20 feet high
New Smyrna Beach – Florida: Up to 15 feet high
Nelscott Reef in Lincoln City – Oregon: Up to 40 feet high
Westport: Grays Harbor – Washington: Up to 30 feet high
Montauk: Long Island – New York: Up to 20 feet high
Wilderness – Puerto Rico: Up to 12 feet high
Ghost Trees, Monterey Peninsula – CA: 50 feet or higher
Newport Beach: CA: Up to 30 feet high
Beaches with the Largest Waves in the United States
1. Jaws, Maui, Hawaii
Jaws Beach, off Maui's North Shore, is infamous for its savage demeanor, living up to its fearsome name. Inspired by Spielberg's 1975 thriller, it embodies the terror one feels when faced with a killer shark. It's also known as "Pe'ahi," symbolizing a beckoning hand motion resembling a wave, and "Ke Kai 'o Waitakulu," meaning "The Teary Eye," representing its traditional identity.
Jaws boast towering wave heights of up to 80 feet. Its thunderous roar can send shivers, even to distant spectators. To surf on this water requires skill, courage, and a stroke of luck. Its unforgiving nature has claimed lives and injured numerous surfers who dared to challenge its colossal waves and treacherous reef. Alongside surfers, windsurfers and kitesurfers gather at Jaws, exhibiting breathtaking aerial maneuvers on the waves.
2. Mavericks Beach, California
In 1967, three Half Moon Bay locals, Alex Matienzo, Jim Thompson, and Dick Knottmeyer, stumbled upon a surf spot that caught their attention. The three named it "Mavericks" to honor their faithful dog who tagged along that day. Unaware of his impending legacy, Maverick bravely swam out to join his human companions who had abandoned him on the beach. This unexpected act impressed the trio, so they immortalized Maverick by giving the spot his name.
In 1975, a few years later, Jeff Clark stumbled upon this hidden gem and unleashed its untapped power. Mavericks, over time, would grow in stature, claiming its throne as California's ultimate hotspot for monstrous waves. Enchanting the fearless surfers, Mavericks Beach boasts towering waves, reaching an astonishing height of 60 feet and more. These colossal swells mercilessly crash against a rugged reef just off the coast, offering a thrilling spectacle. It's situated beyond Pillar Point Harbor, north of Half Moon Bay.
Surfing at Mavericks demands skill, courage, and luck, making it unsuitable for the faint-hearted. The sheer power of the waves and the treacherous reef below have led to numerous injuries and fatalities among surfers. Windsurfers and kitesurfers frequently visit Mavericks, where they showcase their impressive aerial maneuvers on the breathtaking waves.
3. Banzai Pipeline, Oahu
The Banzai Pipeline or Pipe is a vibrant surf reef break in Hawaii. It graces Ehukai Beach Park in Pupukea, situated on the North Shore of O'ahu. During winter, the waves at this spot can skyrocket to 20 feet, nearly two times the average height of 9 feet.
These waves are notorious for their unpredictable nature, crashing forcefully onto a razor-sharp and deep-seated reef, sculpting massive, hollow tunnels. Riding these waves is a daring feat reserved for seasoned surfers, as numerous lives have been claimed by their unforgiving power.
4. Hanalei Bay, Kauai, Hawaii
Hanalei Bay in Hawaii is a stunning and expansive bay with a beautiful crescent shape situated on Kauai's picturesque north shore. Towering green mountains, reaching an impressive altitude of 4,000 feet serve as a magnificent backdrop.
The bay boasts a splendid 2-mile (3.2 km) stretch of sandy beach, catering to various surfing abilities with diverse surf breaks. The typical wave height around here measures roughly 4 feet. Nevertheless, it could rise to 20 feet or higher if you ever catch it during major winter waves.
5. Waimea Bay, Oahu Waimea
Waimea Bay, situated on the north shore of Oahu, Hawaii, is a renowned surfing destination. Its massive waves can reach heights of up to 25 feet during the winter. The bay marks the meeting point of the Waimea River and the Waimea Valley, with the name "Waimea" signifying "reddish water." This designation stems from the presence of red silt that once freely flowed out of the river mouth.
Notable details about Waimea Bay include:
Hosting the Quiksilver Big Wave Invitational, commonly known as The Eddie, a prestigious surfing competition exclusively held when the waves exceed 20 feet
Serving as a popular destination for summer activities such as diving, snorkeling, and swimming when the waves are gentler
Featuring a prominent rock on the beach's southern end, frequently utilized for exhilarating jumps into the water
6. New Smyrna Beach, Florida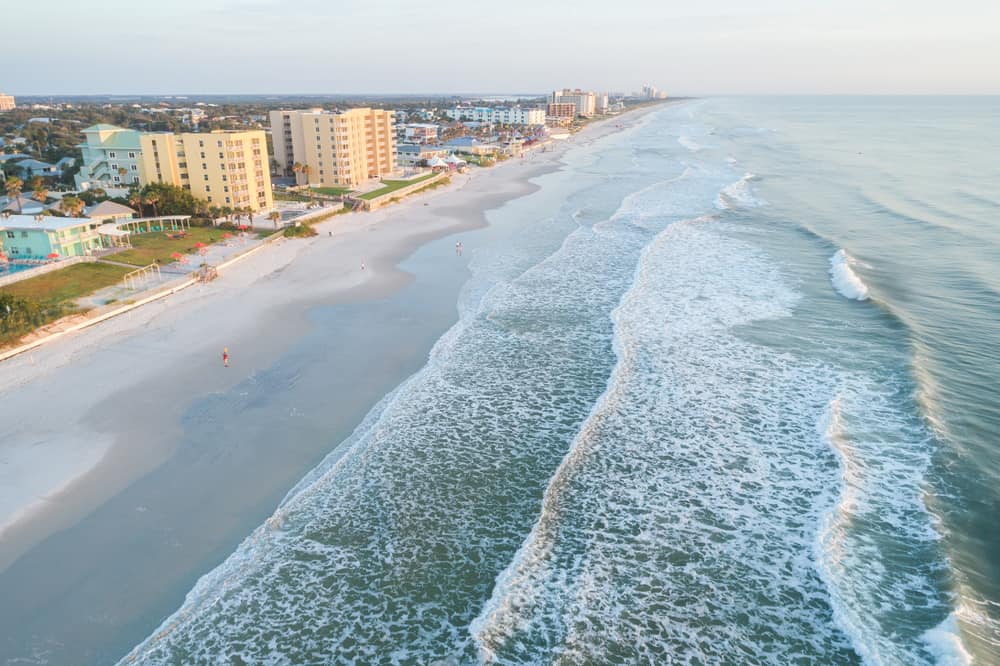 New Smyrna Beach, Florida, is renowned for its consistently high waves, reaching up to 15 feet. This beach breaks on the Ponce Inlet just south of Daytona Beach and offers reliable surf breaks throughout the year.
Whether you visit in summer or winter, you can count on catching powerful left and right waves along various beach points. The locals call it "the wave magnet" due to its unwavering surf conditions. Consequently, this popular spot attracts surfers from far and wide, resulting in fierce competition for waves.
As a bustling tourist destination, New Smyrna Beach provides numerous accommodation options and activities, such as renting electric bikes to explore the scenic coastline. If you're bringing less experienced friends, you'll be glad to know a surf school is available where they can enhance their skills.
7. Nelscott Reef in Lincoln City, Oregon
Nelscott Reef in Lincoln City, Oregon, is a surprising addition to the list of beaches with the largest waves in the U.S. What sets it apart is a massive underwater rock shelf that creates incredible 40-foot waves. This reef break attracts surfers looking for an adrenaline rush.
The best time to catch these impressive swells is from October to March, but it's important to note that winter winds and storms can make conditions hazardous. Nelscott Reef is notorious for its powerful and unpredictable waves, making it unsuitable for inexperienced big-wave surfers. However, visitors can still enjoy the stunning and misty Pacific Northwest coast if the sea is too rough.
8. Westport: Grays Harbor, Washington
Westport, located in Grays Harbor, Washington, is a hidden gem in the northwest. The ideal time to experience its impressive waves, reaching heights of up to 30 feet, is from October to April. However, caution is advised as fierce winds and aggressive storm patterns can create slightly hazardous conditions.
You can anticipate wind gusts and occasional rainfall on the best surf days. The most remarkable big waves are inside the sandbar along the 50-mile coastline. As you explore this picturesque stretch, the town of Westport will welcome you with various hotels, charming lighthouses, and abundant local wildlife.
9. Montauk: Long Island, New York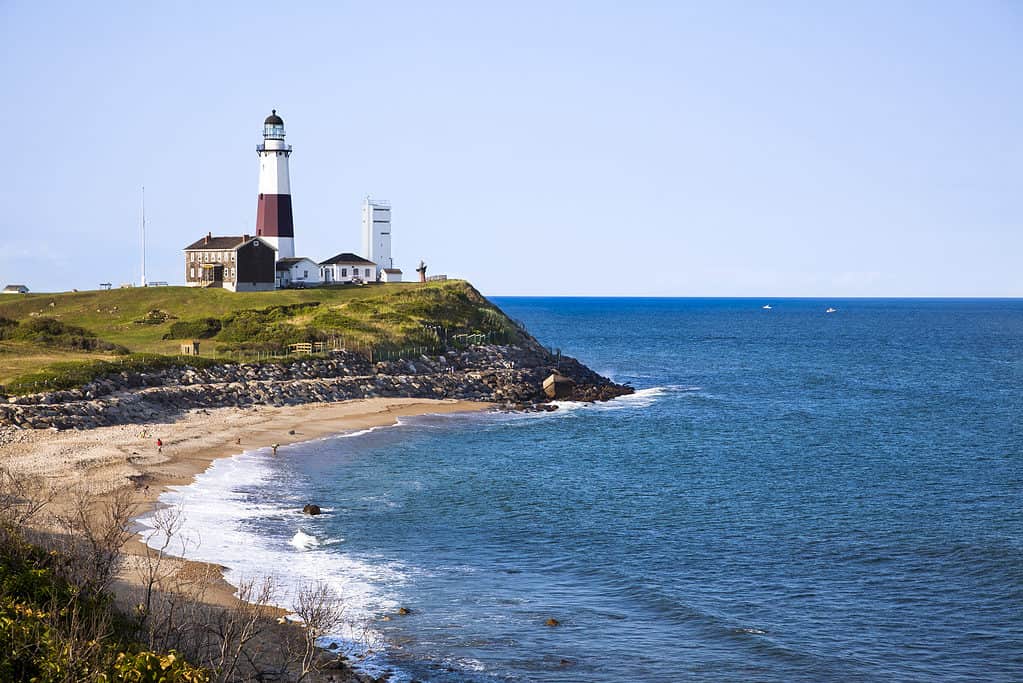 Montauk, located on Long Island, New York, offers incredible big wave surfing opportunities, with waves reaching up to 20 feet high. The exposed reef break creates perfect conditions for surfers. Surprisingly, this surfing haven is only 120 miles away from bustling Manhattan. The northeastern Atlantic Ocean generates powerful and consistent waves, hitting Montauk at the ideal angle.
For the best surfing experience, plan your visit between September and April. However, be prepared for cold water, as temperatures average around 50° degrees Fahrenheit. Although boasting exorbitant costs, Montauk holds its reputation as a prized destination recognized globally for exceptional angling opportunities and seafood cuisine. Traveling from neighboring locations could prove advantageous for those who prefer cheaper alternatives.
10. Wilderness, Puerto Rico
Wilderness Beach, Puerto Rico, enters the list of beaches with the largest waves in the United States among the top ten. Although not widely recognized as a major surfing destination, Puerto Rico harbors one of the premier spots featuring enormous waves.
The waves here are swift, demanding quick directional adjustments. Catching a wave at Wilderness delivers a captivating experience, provided you possess the necessary skills. This locale can generate big swells exceeding 12 feet. Exercise caution around the rocky reef, and remember that this spot is exclusively recommended for experienced surfers.
11. Ghost Trees, Monterey Peninsula, CA
Beaches with frightening names often signal the presence of massive waves. These waves, measuring up to 50 feet or even higher, make this new location a haven for big-wave riders. Don Curry, a seasoned veteran, first discovered this spot in 1974. It's located approximately three hours away from Mavericks.
In 2007, professional surfer Peter Davi lost his life here, a testament to the immense power of the waves. Spectators can delight that the waves crash 300 feet from the shore, making it an ideal viewing spot. Ghost Trees is near Pebble Beach, CA.
It's renowned for its extreme nature, featuring storm waves that can reach heights of 60 feet.
In 2009, authorities declared Ghost Trees inaccessible due to its inherent danger.
Although the location is dangerous due to its rocky terrain, it has garnered fame among daring surfers who seek the thrill it offers.
Yet, surfers are often encouraged to watch from afar and return once they've honed their skills at different locations.
12. Newport Beach, CA
Newport Beach has gained fame for its renowned surf spot, the Wedge. The area nestles next to the jetty. It showcases enormous waves renowned for their steepness and rolling motion, crashing into the jetty that marks the entrance to Newport Harbor. These waves have even been notorious for breaking surfboards. So it's essential to come prepared.
The Wedge attracts local surfers and tourists, making it a popular destination. Newport Beach, located in Orange County, also houses the renowned Newport Beach Pier.
Meanwhile, the Balboa Pier stands out as a favored tourist spot. It features an ocean-view Ferris wheel within its lively boardwalk amusement park. Besides the Wedge, visitors can explore Corona del Mar State Beach.
The Wedge produces enormous waves, reaching up to 30 feet, at the eastern tip of the Balboa Peninsula. Newport Beach offers an ideal family vacation setting. Parents and children can hit the waves while the rest of the family indulges in other attractions.
Other Beaches Worth Mentioning
Cocoa Beach, FL
Florida's Cocoa Beach shines as one of the top surfing destinations in the United States. Yet, the majority of these locations exist along the west coast. Kelly Slater, one of the world's top surfers, grew up and sharpened his skills here. Its proximity to the Kennedy Space Center in Cape Canaveral attracts many tourists, adding to its popularity.
Cocoa Beach provides a distinctive surfing experience that distinguishes it from the West Coast. It's a compelling reason to explore the state, even though the West Coast usually has better surfing opportunities. Moreover, visitors can explore the East Coast Surfing Hall of Fame and the renowned Ron Jon's, which draws two million visitors.
Cocoa Beach is home to the Ron Jon Easter Surfing Festival and the National Kidney Foundation Pro-Am Surfing Festival. This vibrant coastal town is also the birthplace of surfing legend Dana Brown, who, like Kelly Slater, has won over 10 World Championships.
Trestles, Orange County, CA
Five separate sections comprise the beach itself. Lower Trestles is the most popular due to having better quality waves, albeit larger crowds than other parts. Located in Orange County, California, it's no surprise why it attracts large audiences. The place hosts many international surf competitions annually.
Although the conditions might only suit some, the residents seem very welcoming. They're willing to share valuable knowledge on wave patterns and weather forecasts with visitors. The scenery at Trestles is quite striking. Mountains surround it and offer stunning vistas on both sunny and misty mornings.
Honolua Bay, Maui, HI
Honolua Bay in Maui, Hawaii, can be tricky to locate if you're new to the area. You might encounter locals who could be kind enough to guide you or ones who would tell you to head back. It's a rocky beach with giant ocean waves and a charming, sheltered cove. Getting lost should be fine since local boats offer excursions just in case.
Once you reach this spot, it'll be hard to leave because of all the marine life that calls this place their own. Fishing is not allowed here as it belongs to the Marine Life Conservation District. What makes this sandy shore even more remarkable? Sea turtles and surfers love this destination for surfing, diving, and playing with fish in clear blue water.
Huntington Beach, CA
Huntington Beach offers a selection of four different beaches for surfing. Alongside its beautiful coastline, it boasts a vibrant boardwalk. Many fit individuals populate it. Many bars and other captivating activities exist once you've spent your day surfing or basking in the sun.
The renowned U.S. Open of Surfing takes place in Huntington Beach. It draws a considerable number of surfers and spectators alike. The prime spot for catching good waves is Huntington City Beach. You can also find the iconic Huntington Beach Pier and the International Surfing Museum here.
A Summary of the Most Exciting Beaches for Big Wave Surfing in the U.S.
In conclusion, large wave surfers seeking the ultimate rush can find a thrilling playground at these amazing American beaches. These locations, from California's renowned Mavericks to Hawaii's fabled Banzai Pipeline, draw the boldest and best wave riders from all over the world.
For those who dare to challenge the might of the ocean, these beaches provide an unparalleled experience with their breathtaking swells and difficult conditions.
At these exceptional U.S. beaches, embark on an unforgettable surfing journey and immerse yourself in the thrilling world of large-wave riding.
Summary of the 12 Beaches With the Largest Waves in the U.S.
| Rank | Beach | Size of Wave |
| --- | --- | --- |
| 1 | Jaws – Maui, Hawaii | Up to 80 feet high |
| 2 | Mavericks Beach, California | Up to 60 feet high |
| 3 | Banzai Pipeline – Oahu, Hawaii | Up to 20 feet high |
| 4 | Hanalei Bay – Kauai, Hawaii | Up to 20 feet high |
| 5 | Waimea Bay – Oahu, Hawaii | Up to 20 feet high |
| 6 | New Smyrna Beach, Florida | Up to 15 feet high |
| 7 | Nelscott Reef – Lincoln City, Oregon | Up to 40 feet high |
| 8 | Westport – Grays Harbor, Washington | Up to 30 feet high |
| 9 | Montauk – Long Island, New York | Up to 20 feet high |
| 10 | Wilderness, Puerto Rico | Up to 12 feet high |
| 11 | Ghost Trees – Monterey Peninsula, CA | 50 feet or higher |
| 12 | Newport Beach, CA | Up to 30 feet high |
Summary Table of the 12 Beaches With the Largest Waves in the United States
The photo featured at the top of this post is © iStock.com/Javier_Art_Photography
---