Florida has some of the most beautiful beaches in the United States. That's why Florida's beaches are always packed with visitors. The amazing surf breaks in this area also attract many surfers. It's hard to go wrong with a day trip to one of Florida's coasts. However, despite this, one beach, in particular, has been making headlines lately, and not for the reasons you might anticipate. 
Find out why one Florida beach is being called the "shark capital of the world" and why so many shark attacks continue to happen. 
New Smyrna Beach Is Known As the "Shark Bite Capital of the World"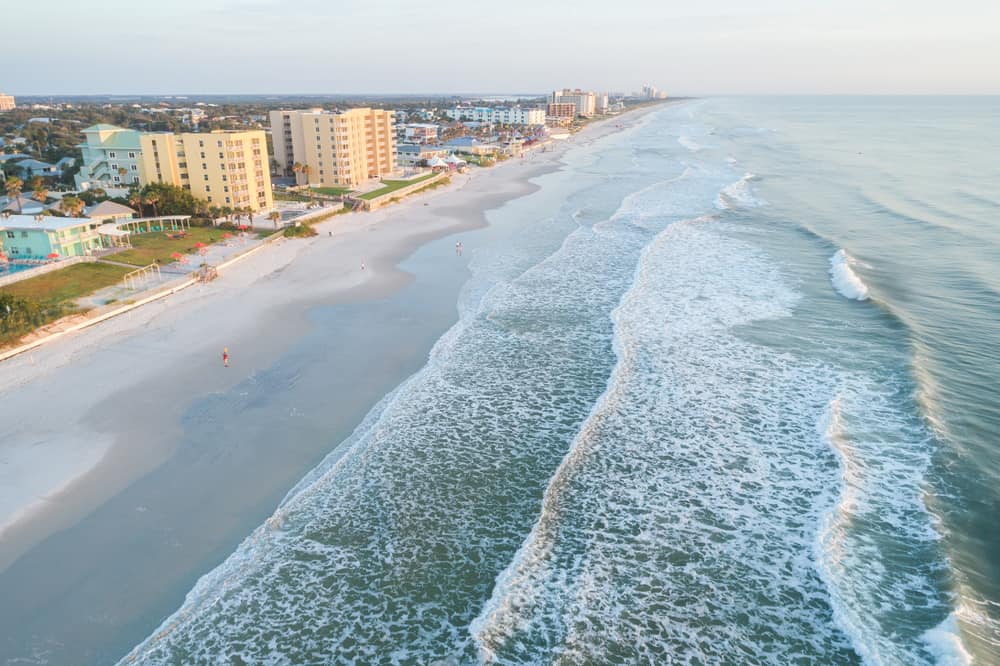 New Smyrna Beach, which boasts 17 miles of beautiful coastline, is located just south of Daytona Beach, Florida. Surfers flock to this beach for its amazing waves and Canaveral National Seashore is also nearby. The New Smyrna Beach area is known worldwide for its family-friendly attractions as well. It's no secret why people keep coming back to New Smyrna Beach, from the pristine beach to the unique shops and restaurants.
However, there's one huge downside that continues to plague visitors with fear! New Smyrna Beach is also known as the "shark capital of the world." Over the years, there have been several terrifying shark encounters at the beach. The most recent attack occurred on July 5, 2022, when an unnamed 28-year-old man was bitten while surfing in New Smyrna Beach at 11:43 am. Fortunately, the man was treated at the scene for minor injuries. However, this is not the first incident this year. Another incident occurred back in March, when two men in their early twenties, a fisherman and a surfer, were bitten on their legs and feet. 
The attacks seem never-ending as last September while surfing in New Smyrna Beach, a 16-year-old boy was bitten in the arm. Nine stitches were required to close his wounds.
So why are shark attacks so common in this area? Let's find out! 
What Causes The High Number Of Shark Attacks In New Smyrna Beach
There are nine unprovoked shark attacks per year in Volusia County where New Smyrna Beach is located, according to the International Shark Attack File (ISAF). In fact, Volusia County recorded a surprising 17 shark bites out of Florida's 28 unprovoked shark bites. Anyone who has gone swimming at New Smyrna Beach has been within ten feet of a shark, according to the International Shark Attack File.
Although you might assume that this would discourage people from visiting this Florida beach, it actually does the opposite. For many surfers hoping to catch a glimpse of the sharks, the abundance of them only adds to the surfing experience.
Gavin Naylor, ISAF's director, explained that the county experiences more shark attacks than anywhere else in the world. In New Smyrna Beach, the chances of getting bitten by a shark are ten times greater than anywhere else nationwide. But what causes there to be so many shark and shark attacks in the area?
According to Naylor, the strong tidal flow in the Ponce de Leon Inlet increases baitfish populations, increasing shark numbers in the area. In addition, there is a patch of water good for surfing on the Atlantic side of the inlet. The sharks are then provoked by people splashing their hands and kicking their feet.
Where is New Smyrna Beach Located on a Map?
New Smyrna Beach, the shark bite capital of the world, lies just south of Daytona on Florida's eastern coast. The beach borders the Atlantic Ocean and is located in Volusia County.
Typical Locations For Shark Bites To Occur
You may not have known this but the majority of shark bites actually occur near surf zones. There's actually a pretty logical explanation for this. It seems that surfers and sharks both enjoy similar types of water. Sharks and surfers both love the part of the ocean where waves crash against the rising coastline.
During high tides, fish take advantage of the shallow seafloor to search for new food and rummage for aquatic plants and invertebrates along the marine coasts. Sharks often mistake humans for prey as they hunt these smaller fishes in these tides. 
As we mentioned above, in Volusia County, due to the strong tidal flow in the Ponce de Leon Inlet, more baitfish are present. In turn, this attracts more and more sharks every year, causing many surfers to become shark snacks. In this observation, shark attacks are most likely to occur when surfers ride waves.
So how can you protect yourself if you are planning on visiting New Smyrna Beach or any other Florida beach?
How To Stay Safe In The Ocean & Avoid A Run-In With A Shark
It might be exciting and fun for some thrill-seekers to run into a shark, but most of us aren't as enthused. After all, most of us would rather avoid running into a shark than get a chance to see one. Luckily, even in a place like New Smyrna, shark attacks are rarer than you might think. Although you're unlikely to be bitten by a shark, taking steps to decrease your chances is definitely a good idea.
To reduce the probability of being bitten by a shark, the ISAF offers several suggestions. A good example of this is to avoid splashing in open water. This is because sharks may mistake you for struggling fish when you do so. A few other tips to avoid being bitten by a shark include staying close to shore, staying away from schools of fish, and avoiding swimming just before or after dusk.
Keeping all of these beach safety tips in mind can ensure your Florida beach trip is as safe as possible!
---
The Featured Image
---