Beginning in the 1800s, the history of rodeo is intertwined with the history of horses. Commonly known as broncos or broncs, bucking horses have been prized for rodeo competitions since Buffalo Bill's time. But just how large are most rodeo horses, especially nowadays? And what about the history of some of the largest, most infamous broncos in the American rodeo industry?
In this article, we will give you a brief overview of one particularly famous bucking horse known as Midnight, including just how large this impressive bronco was. We'll address who (if anyone) was able to tame Midnight in competition as well as some of the other types of horses that are well-suited to rodeo careers. Let's get started, cowboy!
Meet Midnight, the Largest Bucking Horse in Rodeo History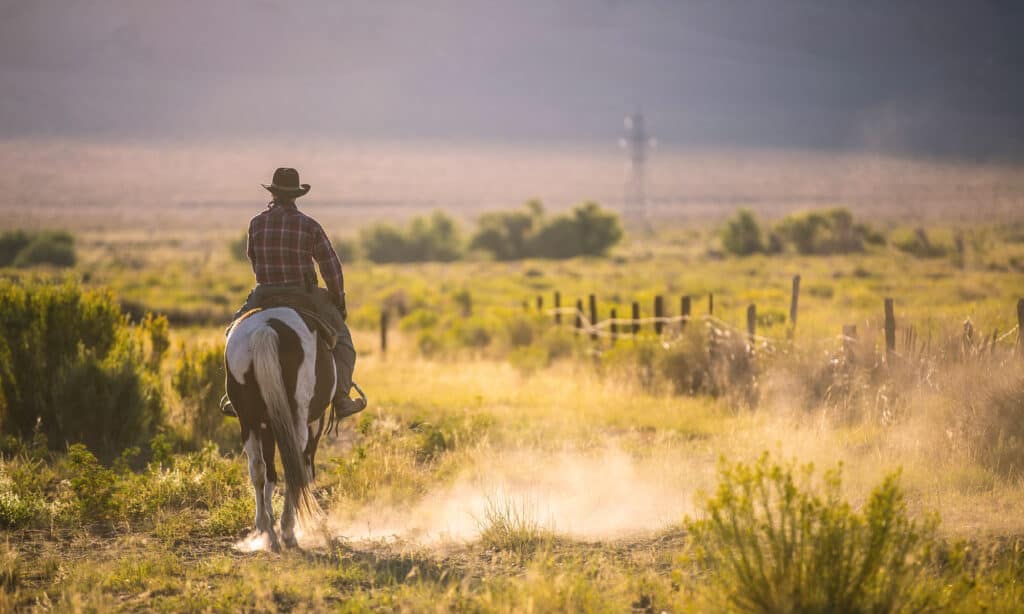 Born in Alberta, Canada in the year 1916, Midnight was only briefly owned by a rancher named Jim McNab. It didn't take McNab long to realize that this beast of a bronco wasn't destined for a tame life on a farm– Midnight was made for fame and rodeo fortune. In fact, Midnight's bucking horse journey began in 1924 at the Calgary Stampede Rodeo, where he took the championship prize for the best bucking horse in all of western Canada!
But what exactly made Midnight such a fantastic bucking horse, and just how large was he?
How Large was Midnight, the Bucking Horse?
Midnight measured roughly 15 hands tall (or over 60 inches) and weighed 1,300 pounds. McNab, his original owner, claims Midnight was a cross between a Thoroughbred and a Percheron, a large type of draft horse. This isn't necessarily larger than the average rodeo horse, though Midnight was more massive than average, according to many cowboys who rode him. Many bucking horses hover around 14 hands tall and 1,200 pounds nowadays, but Midnight's size was what gave him his immense strength and rodeo fame!
A Brief History of Midnight's Rodeo Career
In theory, Midnight led a quiet existence for the first 4 years of his life. Originally intended as a cow horse to help with long cattle treks, Midnight made his fearsome presence known to his owner, McNab, by the age of five. It was impossible to ride him for long periods of time due to his bucking nature, so McNab eventually turned to rodeo competition for Midnight, selling him after his championship win at the Calgary Stampede Rodeo.
Even at the age of 12, Midnight remained unridden by anyone save McNab, shortly becoming an infamous rodeo horse and bucking bronco. Exchanged by a few owners during his lifetime, Midnight traveled throughout the United States, performing and challenging cowboy after cowboy. Some of the most famous rodeo stars could not tame Midnight, including Pete Knight, a prolific bronc rider.
Even the very best were tossed from Midnight's bucking back in as little as 2-4 seconds; 10 seconds was the time needed to successfully claim that you've ridden a bronco back in the day. By the time he retired in 1933, not a single cowboy tamed Midnight, though Pete Knight got close on his fourth or fifth attempt. He currently holds the professional record for riding Midnight, but it still only amounted to 7 seconds!
What Types of Horses are Best for the Rodeo?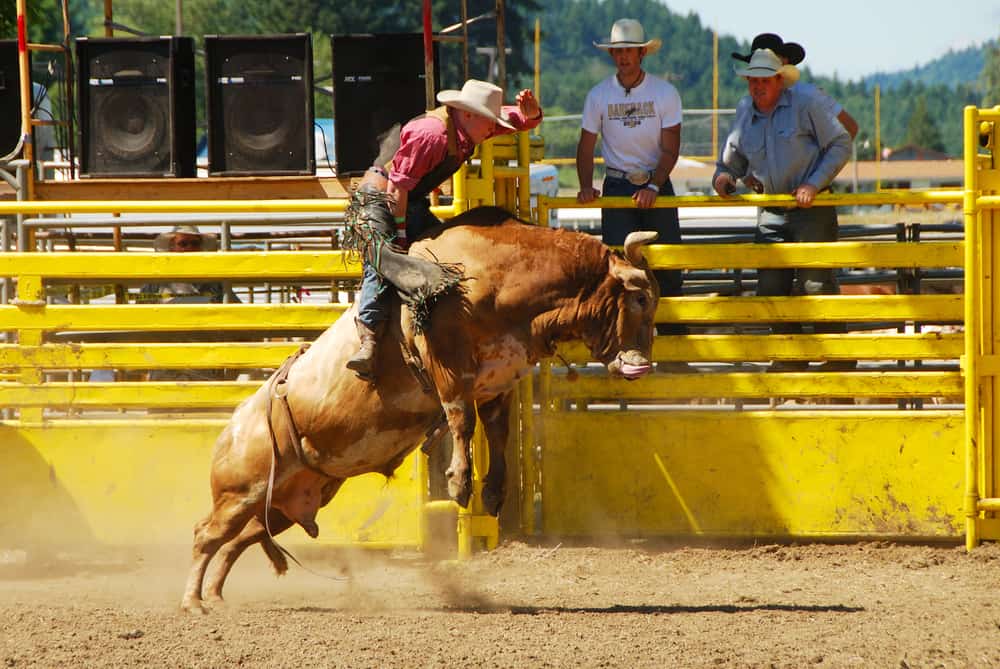 There are no set rules or regulations for the types of horses allowed in rodeo competitions. However, many horse breeders stick with a particular bloodline or breeding stock to breed bucking horses, as some individual horses are more predisposed to bucking than others. This helps maintain professional and safe breeding habits of rodeo horses, though rodeos also give a home to many horses that simply buck too much for their owners to handle!
When it comes to specific breed types, most bucking broncos come from quarter horse stock. However, there are also many different draft or cart horse breeds also used in this capacity. Again, a successful bucking horse can be any breed, and most rodeo careers are made by the personalities of individual horses rather than an entire breed as a whole. Some horses just have natures that work well for rodeo environments and bucking, while others maintain calm personalities!
Other Large Horses (Broncos or Otherwise!)
While Midnight's size and strength are unmatched in the rodeo world, there are a number of large horses on our planet, larger than even Midnight! Most of these horse breeds are used in other capacities besides used as bucking horses, primarily for pulling and other agricultural chores. Some of the largest types of horses include:
Shires
Belgians
Suffolks
Percherons (Midnight's father may have been part Percheron!)
Various other draft horse breeds
You should also check out our great list of some of the largest horses in the world. That way, you can get an even closer look at what some of these majestic creatures have to offer in terms of their power, size, and beauty!
---