↓
Continue Reading To See This Amazing Video
Ohio is home to a diverse range of forests, including deciduous, coniferous, and mixed woodlands. These forests benefit the state in many ways, providing clean air and water, a large habitat for wildlife, and recreational opportunities like camping, hiking, hunting, and fishing.
But have you ever wondered which forest in Ohio is the largest of them all? If so, you've come to the right place! In this article, we'll discuss the largest state forest in Ohio, and get to know the amazing creatures that call it home.
The Largest State Forest In Ohio: Shawnee State Forest
The Shawnee State Forest is located in eastern Adams County and western Scioto County. Spanning 63,747 acres, this expansive area is a haven for a wide variety of flora and fauna. The forest is also a habitat for hundreds of different animal species. Its diverse ecosystem supports an array of wildlife.
Some of the unique features of the forest include its old-growth oak-hickory and beech-maple forests, which provide a home for a wide range of species.
The Shawnee State Forest is an amazing place, with six different natural regions coming together to create lots of diversity. It's a popular spot for people living in cities to get away from it all. In fact, over a million people come to visit every year, and it's only a six-hour drive from more than 30 U.S. cities. It is especially close to the significant population centers of Cincinnati, Columbus, Dayton, Louisville, Cleveland, Pittsburgh, Lexington, and Indianapolis.
One interesting fact about the Shawnee State Forest is that it is home to the largest block of public land in Ohio. This means it is a popular destination for outdoor enthusiasts who enjoy hiking, biking, hunting, fishing, and many other recreational opportunities in the forest.
The forest is also home to the Shawnee State Park, which has a lodge and conference center, as well as cabins and campsites for visitors to stay in.
Another unique aspect of the Shawnee State Forest is its rich cultural history. The forest is home to several historic sites, including the Shawnee Lookout Tower, which offers panoramic views of the surrounding landscape.
Overall, the Shawnee State Forest is a beautiful and diverse natural area that is well worth a visit. This is the perfect destination if you're in southern Ohio or the surrounding states and looking for a beautiful nature area to get away from city life, even for a short while.
History Of Shawnee State Forest
Did you know that the Shawnee State Park in Ohio gets its name from a group of Native Americans who lived in the region? The Shawnee people were originally from the Potomac area, but they eventually migrated to the Ohio Country.
In the early 1750s, there was a Shawnee village called "Shawanese Cabins" located just south of Schellsburg.
Back in the 1700s, General Forbes and his army camped within the park's boundaries while they were marching on the Forbes Road during a campaign against the French at Fort Duquesne in Pittsburgh.
Fun fact: George Washington led the rear guard of the army and even slept in the park on October 15, 1758. When strolling around the area, you can still see remnants of the Forbes Trail within the park.
In 1947, the Pennsylvania legislature gave the green light for the creation of a park. Just four years later, work on the dam began, and the park was officially opened to the public. From that point on, people could experience the natural beauty and recreational opportunities offered in the park.
Hiking And Camping In Shawnee State Forest
If you love to spend your free time in the great outdoors, Shawnee State Forest is the place to be! There is a wide range of fun and exciting activities to enjoy here, like hiking through the lush woodlands or setting up camp in one of the secluded campsites. 
If you're feeling a bit more adventurous, try your hand at fishing in one of the many streams or rivers that flow through the park. And when the sun starts to go down, there's nothing quite like a campfire and some s'mores to end the day!
Let's look at some fun activities you can enjoy in the forest.
Hiking And Camping
Shawnee National Forest is a paradise for outdoor enthusiasts, with over 300 miles of marked trails winding through its hills and valleys. Whether you're an experienced hiker or a beginner simply wanting to try it out, you'll find plenty of trails to suit your skill level.
Some of the most popular hiking trails in Shawnee State Forest are
Copperhead Fire Tower And Bear Lake Loop 6 miles
Day Hike Trail or "Little Smokies Of Ohio" 7.3 miles
Main loop 40.9 miles, multi-day hike
But that's not all this beautiful forest has to offer – it's also an excellent place for camping, with a variety of campsites available for tent and RV camping.
If backcountry camping is your thing, you'll be happy to know that there are several backcountry camping areas in the state parks inside the state forest. Burr Oak, East Fork, and Tar Hollow.
Just be sure to come prepared for the elements, as wilderness areas like Shawnee National Forest can pose inherent risks such as adverse weather conditions, isolation, physical hazards, and lack of rapid communication.
If you encounter any issues, search and rescue may not be able to get to you as fast as you might expect, so it's important to be prepared and take necessary precautions.
Fishing
If you're an expert fisherman or just starting to learn the ropes, you'll love the variety of lakes and ponds found within Shawnee National Forest. From small, secluded pools to large, sprawling bodies of water, there's something for every type of fisherman. And the best part? All of these natural wonders are open for fishing and other water-based activities all year round.
But that's not all – the Forest Service has made efforts to improve the fishing experience by stocking the waters on a rotational basis and installing submersible fish attractor structures. Most of the ponds were originally stocked with catfish, bluegill, and bass, but due to the ability of bluegill and bass to self-sustain their populations, channel catfish are now the only fish that are supplementally stocked. It is required to have an Ohio Fishing License before doing any fishing in the park, so make sure to obtain this before your trip!
Cross-Country Skiing
If you're looking to hit the slopes this winter, Shawnee State Park is the place to be. With its prime location in the Appalachian Mountains, this beautiful state park offers some of the best cross-country skiing in the region.
Most of the trails at Shawnee State Park are suitable for skiers and snowshoers of all skill levels, so whether you're a beginner or a seasoned pro, you'll find plenty of terrains to explore. The Lake Shore trail is particularly popular due to its picturesque scenery.
Wildlife Watching
If you're a nature lover, you'll love Shawnee State Park. From the diverse habitats at the base of the Allegheny Front to the tranquil waters of the 451-acre lake, this beautiful park is home to an array of fascinating wildlife.
In the spring and fall, the lake serves as a stopping point for various migratory birds, and if you're up early or stay out late, you'll have a good chance of spotting a variety of animals during their most active times of the day.
To get a closer look, take a leisurely stroll along the Lake Shore Trail, or venture out onto the water in a canoe or kayak to see waterfowl like ducks and geese. And if you're looking for something a bit more strenuous, the Field Trail offers the chance to traverse through different habitats and catch glimpses of birds and mammals in their natural habitat.
Wildlife In Shawnee State Forest
Shawnee State Forest is home to an incredible 500 different species of wildlife. From majestic mammals to colorful birds and everything in between, this diverse ecosystem is teeming with life. In fact, there are 48 different types of mammals, 52 reptiles,  237 species of birds, 57 amphibians, and 109 types of fish living within the park's boundaries.
But that's not all – the Shawnee State Forest is also home to seven threatened and endangered species that are protected by the federal government. Additionally, 33 species are considered "regionally sensitive".
It's clear that the Shawnee State Forest is a true haven for wildlife, offering a safe and thriving home for a wide variety of species. 
Try your luck to catch a glimpse of the following animals.
American Beaver
American beavers are pretty cool – they're native to the Shawnee State Park and are known for their impressive dam-building skills. They're actually one of the most skilled engineering species on the planet, using branches and mud to create elaborate systems of dams, canals, and lodges.
They're pretty amazing to watch in action! Plus, their dams help to create new habitats for other wildlife, making them an important part of the local ecosystem.
Smooth earth snake
If you're a fan of reptiles, you should definitely keep an eye out for the smooth earth snake when you visit Shawnee State Park. These little snakes are native to the area, and they're known for their smooth, shiny scales and small size (they usually only grow to be about 8-10 inches long).
While they're not the most flashy or attention-grabbing snakes, they're actually pretty fascinating creatures. They're nonvenomous, so they're not a threat to humans, and they're often found near wooded areas, streams, and other bodies of water, where they like to hunt for small insects and worms.
American Bullfrog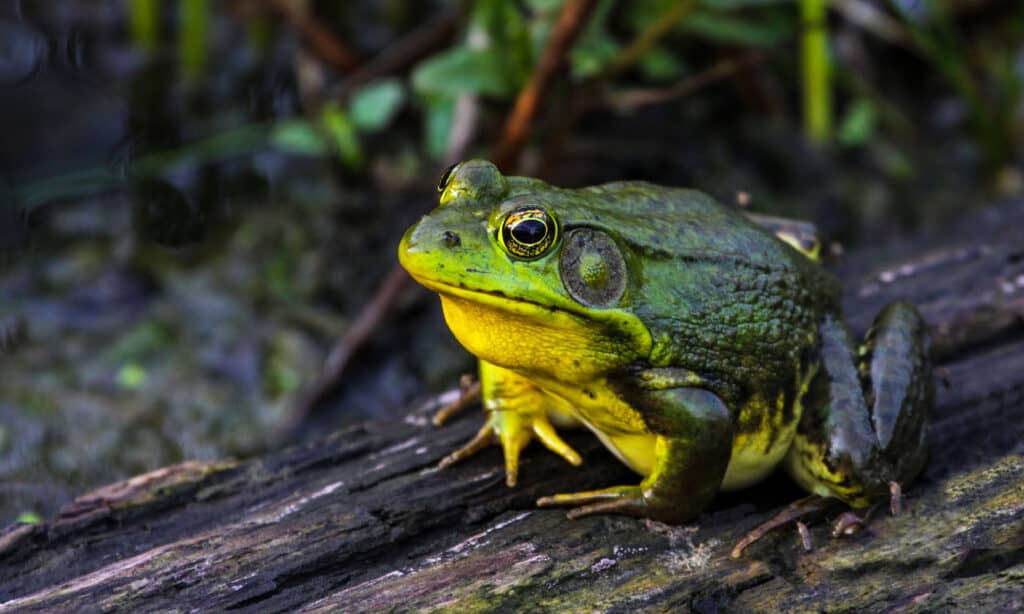 Have you ever visited Shawnee State Park and heard a loud "jug-o-rum" noise coming from the wetlands? That's probably the American bullfrog, one of North America's largest and most well-known frog species.
If you're looking to spot an American bullfrog in the park, your best bet is to visit during the warmer months (late spring through early fall) and head to a wetland area. Keep your ears peeled for their distinctive mating call, and you might just catch a glimpse of one of these hefty amphibians sunning themselves on a log or lily pad. Just be sure to give them their space and observe from a distance.
Greengill Sunfish
If you're an avid angler or just love spending time near the water, you might have come across a greengill sunfish while fishing in this forest. These brightly colored fish are a common sight in the park's streams, creeks, and ponds and are known for their vibrant greenish-yellow hue and distinctive "ear" flaps.
To spot a greengill sunfish in the park, look for shallow, vegetated areas with slow-moving water. These fish are often found around aquatic plants, logs, and other structures and can be caught using a variety of baits and lures.
Scarlet Tanager
If you want to catch a glimpse of the stunning scarlet tanager, Shawnee State Park is a great place to start. These vibrant red birds can often be seen flitting through the trees, their bright plumage standing out against the green foliage. In the spring and summer months, they can be found throughout the park, but they are most commonly spotted near the edges of the forest or in open wooded areas. 
So if you're looking for these beautiful birds, keep your eyes open as you wander through the park – you never know when you might spot one!
Are There Black Bears in Shawnee Forest?
Once in the 17th century, these ursines roamed the area freely. However, by 1870, their numbers had plummeted. About two decades ago, a certain black bear with a penchant for snacks and soda was spotted in the area enjoying a refreshing can of Mountain Dew. It was gifted some baked goods and taken to the refuge in Shawnee Forest.
It is worth noting that the neighbors of the Prairie State are home to significant black bear populations. Hence they may pass through the state of Illinois at any location, including Shawnee Forest which is considered prime real estate for bruins.
As a result, hikers, fishing enthusiasts, and hunters are advised not to approach any bruin they spot, maintain a safe distance, and avoid feeding them, since bears however adorable they might seem remain wild animals capable of delivering 300 lbs of fanged and clawed aggression.
Up Next:
More from A-Z Animals
---
The Featured Image
---