When you think of dangerous animals, what comes to mind? A ferocious tiger, mighty bear, or venomous snake? Well, dynamite comes in small packages, and plenty of tiny species can inflict serious harm on humans. This is definitely the case for Mississippi because the most dangerous flying animals in the state are all relatively small.
Mississippi is a state in the south known for its magnolias, hospitality, and the mighty Mississippi River with its abundance of catfish. The state shares its borders with Louisiana, Alabama, and Arkansas. However, a tiny portion of its southern boundary runs along the coast of the Gulf of Mexico. Mississippi has a diverse landscape that includes forests, wetlands, prairies, and marshes. As a result, the state is also home to a wide variety of wildlife. Below is a list of the top 6 most dangerous flying animals in Mississippi and why they are so feared.
1. Mosquito
Despite being one of the smallest animals in Mississippi, they are also one of the most dangerous. These bloodsucking pests are a nuisance in the Magnolia State as well as the world. Many species don't prey on humans, but several others do, and they sometimes carry various diseases. For example, mosquitos are carriers of:
Zika
Malaria
Dengue fever
West Nile Virus
Some species target livestock or pets, transmitting Equine Encephalitis, heartworm, and other diseases affecting animals. There are a few ways of preventing mosquitos from spreading these diseases, and they include:
Prophylactic drugs or vaccines help prevent infection rates, even if people and animals are still bitten.
Controlling or Eradicating the mosquito population will prevent the spread of diseases.
Using a mosquito net, insecticide, or bug repellent will help keep the mosquitos at bay, and it helps keep the mosquitos away.
While all of these tips are effective, using them all together at once is the best way to ensure your environment stays mosquito-free.
2. Kissing Bugs
Don't be fooled by their names; these repulsive bugs derive their name from their terrifying habit of biting their prey on or near the mouth. Kissing bugs can carry a parasite that causes Chagas disease called the Trypanosoma cruzi. If left untreated, this disease can cause chronic lifelong issues. Symptoms of Trypanosoma cruzi include body aches, fever, headache, fatigue, loss of appetite, rash, diarrhea, and nausea. Long-term symptoms include:
Heart failure
Enlarged heart
Difficulty swallowing
Digestive issues
Inability to eat solid food
Now that you've seen what this bug can do, it's easy to see why they are one of the most dangerous flying animals in Mississippi. However, there are ways to prevent Kissing Bug bites, like using insect repellent or mosquito netting. You must book a doctor's appointment if you see any bites or sores around your mouth and nose.
3. Wasps, Yellowjackets, and Hornets
Wasps, also known as hornets and yellowjackets in Mississippi, are insects with a terrible reputation for aggression. They are a nuisance across the state and country. However, while they are extremely aggressive and sometimes attack for no reason, it doesn't mean you should kill them because they are important pollinators. Therefore, as long as they are not affecting your routine or preventing you from enjoying your home, don't interfere.
The Difference Between Bees and Wasps
Many people mistake wasps for bees, but here are the key differences:
Their actions are a dead giveaway. For example, wasps like hornets and yellow jackets are more aggressive than regular bees. Like the bees, they will buzz close to your ears and sometimes fly straight into you.
Wasps are carnivores, so they are natural hunters and scavengers. They gravitate toward flowers, nectar, or open cans of soda. In addition, these insects will eat their own kind.
Wasps are easily identifiable by some specific traits, like spines on their legs instead of hair, their bodies are elongated, and they have the appearance of a tiny waste due to the space between their thorax and abdomens.
4. Bats
Mississippi finds bats with rabies within its borders every year. Unfortunately, these dangerous flying creatures are the most common rabies risk to humans. And the worst part is, you don't even have to get bitten by a bat to contract rabies; even contact with one of these animals can result in high-risk exposure. Furthermore, bat bites are minuscule, sometimes painless, and unnoticeable to the naked eye.
Bat Safety
Never handle live or dead bats.
Because bats are nocturnal, avoid them if they are flying around during the day, especially if they display aggressive or erratic behavior, are found in unusual places, or are found on the ground.
If you have come into contact with a bat, it is important to seek out a health professional immediately for examination and maybe treatment, depending on the results.
What to Do When There is a Bat in Your House
Do not release the bat
Leave the room and close the door behind you
Call a Professional
5. Bees
While most bees are non-aggressive and don't usually sting people, they can be dangerous, especially if you are allergic. Many people are deathly allergic to bees, making them one of the most dangerous flying animals in Mississippi and the world. However, please do not kill them! They are essential in pollinating our planet, and without them, life as we know it will cease to exist. Keep a lookout for these flying creatures during late spring through early fall when they are most active.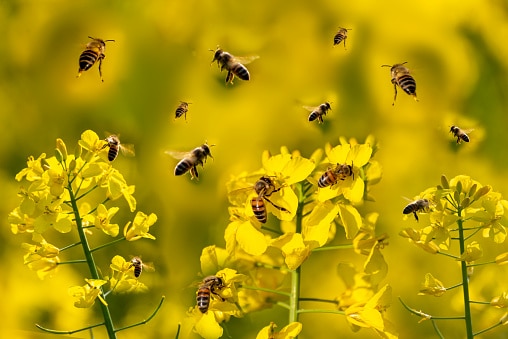 6. Birds of Prey
While there are many myths about eagles carrying away toddlers while their parents weren't looking, not all of them are true. However, there is some truth to the legends, but attacks are extremely rare. So, what makes a bird of prey attack a human? Raptors, hawks, and eagles have the ability to attack small children and pets, but there are only a handful of reports ranging back as far as 200 years.
But, while these attacks are few and far between, the National Audubon Society admits that bird attacks are increasing in the state. Theories as to why this is happening include loss of habitat due to urbanization. However, it is more likely that these occurrences likely happen during nesting season when unsuspecting locals or tourists venture too close to a nest. So, what is the next step? How do you protect your family from birds of prey?
How to Prevent Attacks From Birds
Always wear a hat or carry an umbrella for cover. The umbrella also comes in handy when fending off birds if they attack.
Keep vigilant when with small children or babies in nature. They should never be unsupervised.
Avoid known nesting areas while hiking
Shiny objects attract birds, so do not wear anything that shines.
The photo featured at the top of this post is © jiade/Shutterstock.com
---