↓
Continue Reading To See This Amazing Video
The distinction between Dungeness crab vs king crab may be more than you realize. The purpose of this article is to compare the Dungeness crab and the king crab. While there will undoubtedly be numerous parallels, we will focus on six important distinctions below. Let's get started!
Dungeness Crab vs King Crab: A Comparison 
| Key Differences | Dungeness Crab | King Crab |
| --- | --- | --- |
| Size | 9 inches wide; 1.3 – 3 lbs. | 5 – 6 feet wide; 6 – 20 lbs. |
| Looks | Purplish Brown w/ White Tipped Pinchers | Brownish to Bluish Red |
| Location | West Coast, Pacific Ocean | Pacific and Arctic Oceans |
| Eating Habits | Crustaceans, Clams, Fish | Algae, Worms, Mussels, Small Fish |
| Consumption | $3 – $4 a pound | $60 – $70 a pound |
| Life Expectancy | Up to 10 years | Up to 30 years |
Key Differences Between Dungeness Crab vs King Crab
There are many key differences between Dungeness crabs and king crabs. King crabs prefer chilly water to dwell in, while Dungeness crabs enjoy temperate and warm waters. Throughout the west coast of North America, the Dungeness crab can be found on eelgrass beds and ocean bottoms, while the king crab lives in Arctic seas. In comparison to the King crab, the Dungeness crab is considerably smaller.
Let's discuss all of these differences in more detail now.
Appearance
Dungeness Crab vs King Crab: Size
The shell of a male Dungeness crab can grow up to 9 inches broad. Most Dungeness crabs harvested commercially are between 1 1/2 and 3 pounds in weight. King crabs typically average between 6 and 10 pounds, although some can weigh up to 20 pounds and have a limb span of 6 feet.
Dungeness Crab vs King Crab: Looks
Commercially, King crabs are the largest crabs caught. They have robust spines and a brownish to blue-red appearance. They walk on three sets of legs and have one pair of claws. Dungeness crabs are purplish-brown in hue and have pincers that are white-tipped. The claw tips have a sharp edge and two or three obvious teeth; however, they are not saw-toothed like those of the market crab. The final three joints of all walking legs are hairless.
Habitats & Habits
Dungeness Crab vs King Crab: Geographic Location
King crabs live off the shores of Japan, Russia, Alaska, Canada, and British Columbia, in the frigid Pacific and Arctic waters. The northern Atlantic Ocean near Russia now has King crabs as well. Every year, King crabs travel to shallow water areas to breed.
The Dungeness crab reigns supreme on the West Coast, where it lives in the icy waters of the Pacific Ocean off the coasts of California, Oregon, and Washington. As far south as Baja California and as far north as Alaska's Aleutian Islands, they've been harvested commercially since the 1800s.
Dungeness Crab vs King Crab: Eating Habits
When it comes to crabs, they will eat anything that they can get their hands on, and King crabs are no exception. Smaller King crabs commonly devour algae, small worms, and tiny mussels, amongst other small invertebrates. Larger crabs prey on several other aquatic species such as sea stars, sand dollars, and brittle stars, among other things. Dungeness crabs are predators and scavengers, and they prey on mollusks, crustaceans, clams, and fish. Their consumption also varies according to their age.
Health
Dungeness Crab vs King Crab: Human Consumption
The price of a pound of King crab fluctuates from $60 to $70 for people who like to eat crab. Although these crabs have become an invasive species in the Barents Sea, the Pribilof's blue king crab stock has been "rebuilding" since 2004; and is "overfished." There has been a decline in crab populations in the Bering Sea and Aleutian Islands region during the past few years, most likely owing to overfishing, as well.
Since last year, the price of Dungeness crab has fluctuated between $3.10 and $4 per pound. This winter, Dungeness crab collected off the coast of Central and Northern California has seen an upsurge in demand due to the depletion of the Alaskan king and Snow crab stocks.
Dungeness Crab vs King Crab: Life Expectancy
For the male King crab, life spans of up to 30 years are possible. A Dungeness crab, however, has a ten-year lifespan.
Wrapping Up Dungeness Crab vs King Crab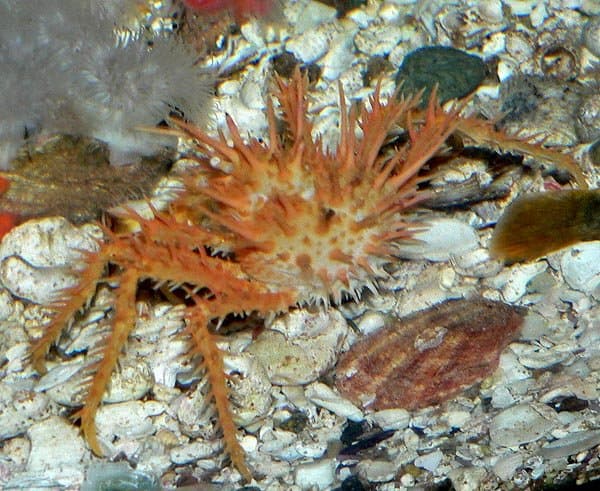 The King Crab is a crab-like creature, not a genuine crab like the Dungeness. Hermit crabs are direct ancestors of the King Crab. The King crab is much larger and meatier than the Dungeness crab, and as a result, it is more frequently fished. As of 2022, the Dungeness crab is a "Good Alternative" to overfished species of fish produced in methods that affect other marine life or the environment, according to Seafood Watch. As of 2022, wild-caught Red king crab from the United States is considered a safe seafood choice as well because it is carefully handled and produced, and the Pribilof Islands stock is over the target.
---
The Featured Image
---