↓
Continue Reading To See This Amazing Video
If you haven't heard of a hinny yet, you may be wondering how they compare to mules. While there are many things separating a hinny vs mule, there are even more things that bring them together. These two hybrid working animals are bred from horses and donkeys, but did you know their parents are what separates them more than anything else?
In this article, we will address the differences between a hinny and a mule, including their breeding, personalities, and appearance. Both of these hooved hybrids deserve some love and attention for all of the hard work they do, so let's get started and learn about them now!
Comparing Hinny vs Mule
| | Hinny | Mule |
| --- | --- | --- |
| Behavior | Easygoing and strong; more mellow and friendly overall | Strong and adventurous; stubborn and difficult to control at times |
| Appearance | 500-800 pounds on average; thicker mane and body than horse, with stocky legs and face | Often over 800 pounds; horse hooves and thin mane. Large like horses, but still have donkey legs |
| Reproduction | Born from a male horse and female donkey; most hinnies are born sterile | Born from a female horse and a male donkey; most mules are born sterile |
| Purpose | Usually accidental, but still useful | Bred for centuries for manual labor |
| Trainable? | Yes, with ease | Yes, after some time |
Key Differences Between Hinny vs Mule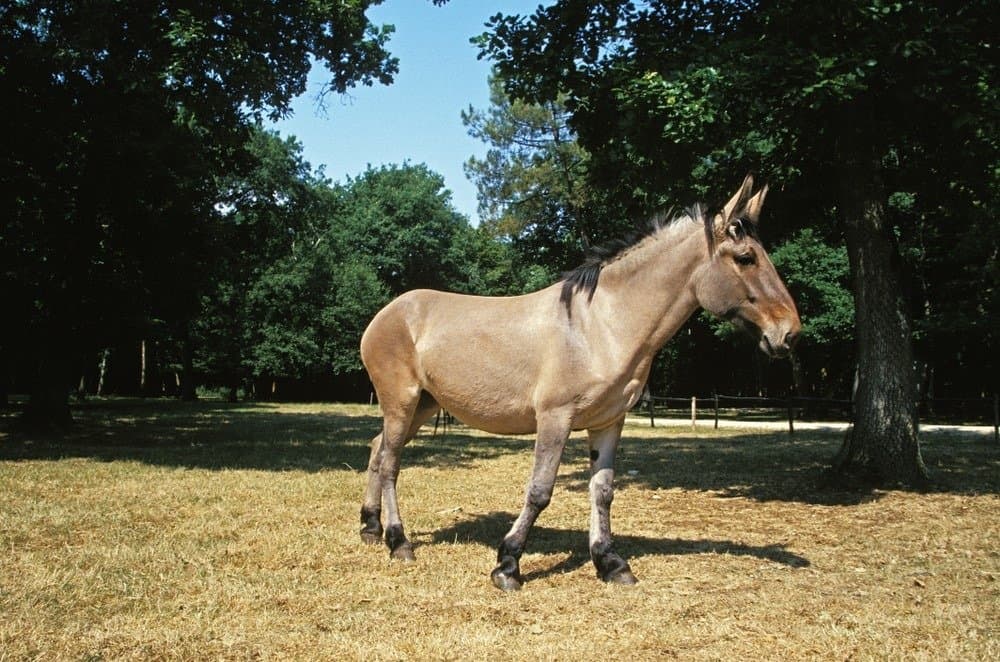 There are many differences between a hinny vs mule. Hinnies are born from a male horse and a female donkey, while mules are born from a female horse and a male donkey. Mules are larger than hinnies on average, and have a more adventurous and stubborn personality. Hinnies are often born on accident, while mules have been bred on purpose for centuries.
Let's go over some of these differences in more detail now.
Hinny vs Mule: Overall Behavior and Personality
One of the main differences separating a hinny vs mule is their behavior and personality traits. While both of these hybrids have the tendency to need special training, hinnies are more mild and gentle when compared to mules. A mule prefers adventure and can even be more flighty than a hinny, while hinnies are docile and approachable.
Both of these hybrids are ideal for farms and working environments, whether or not their births are intentional! Given the overall stockiness and mellowness of a hinny, they are often better suited to work over a mule. While mules are indeed capable of a wide variety of farmwork and tasks, a hinny has more endurance and a stronger stature than a mule.
Hinny vs Mule: Appearance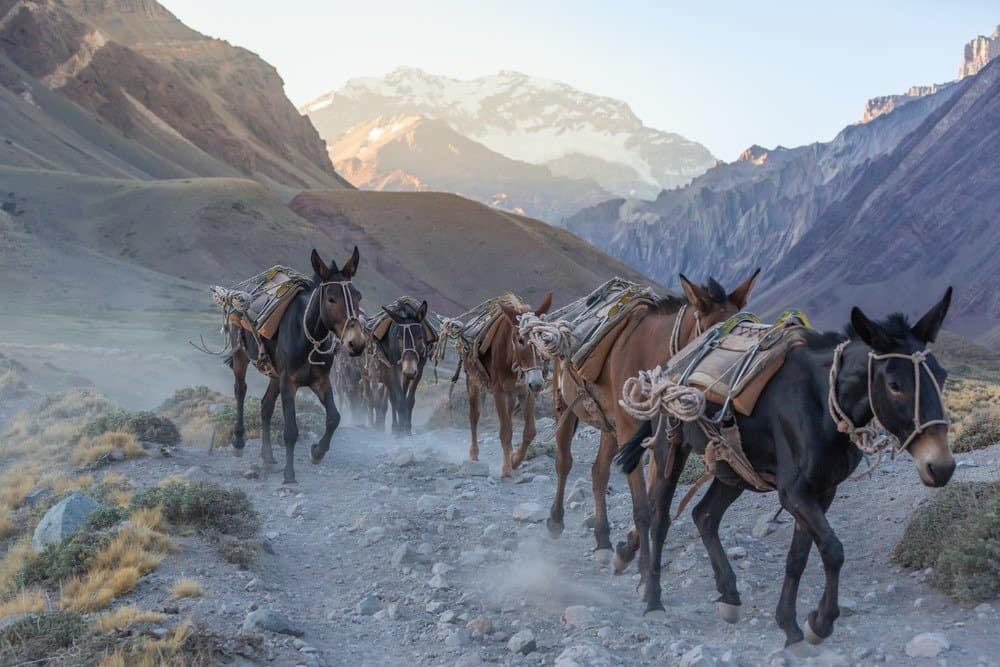 Another difference between a hinny and a mule lies in their overall appearance. You may be surprised to hear this, but hinnies and mules look very different, despite them having the same two species as their parents. Let's discuss some of these physical differences now.
Hinnies are smaller compared to mules, often closer resembling the body of a donkey. This makes sense when you consider the female species that give birth to both hinnies and mules, respectively. A female horse can produce a much larger offspring than a female donkey, which is why mules are much larger!
However, mules are born with the legs of a donkey, as well as a face that more resembles a donkey's face, while hinnies look more like miniature horses. Despite this, hinnies usually have donkey hooves, while mules have horse hooves. You may not notice these differences unless you are looking at the two creatures side by side!
Hinny vs Mule: Reproduction and Offspring
As we have already mentioned, a key difference between these two animals is who their parents are. A hinny is the offspring of a male horse and a female donkey, while a mule is the offspring of a female horse and a male donkey. This leads to their personality and appearance differences, but it also means they are typically born without the necessary chromosomes to mate.
This means that both hinnies and mules are typically born sterile and unable to breed themselves. However, a rare birth may still occur, as both hinnies and mules have been recorded as giving birth!
Hinny vs Mule: Purpose and History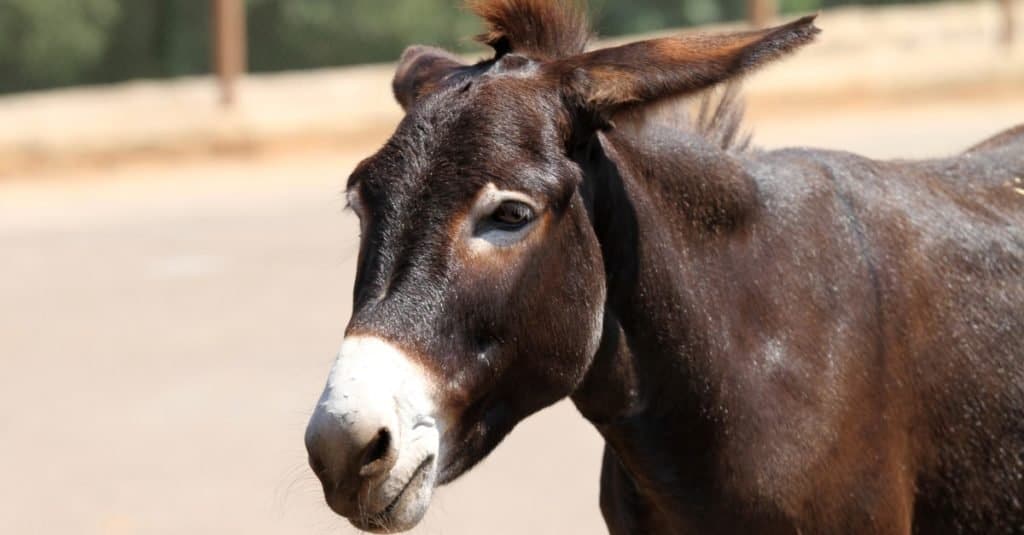 Another difference between a hinny vs mule is their purpose and history. While both animals are fantastic farm workers and pack animals, mules have been purposefully bred for centuries, while hinnies often occur by accident. However, this isn't to say that hinnies are less capable working animals- far from it!
Both hinnies and mules are fantastic workers, and hinnies tend to have as much if not more endurance when compared to mules. However, it would seem that stallions are not often bred with female donkeys, which is why there are far more mules used on farms than hinnies.
Hinny vs Mule: Training and Care
A final difference between a hinny vs mule is their training and care levels. Both of these hooved hybrids have a similarly long lifespan of 30-40 years, and both require specific training that isn't the same training for horses or donkeys. However, given the environment in which hinnies and mules are raised as babies, hinnies tend to be easier to train than mules.
This is because a baby hinny is raised among donkeys, while a baby mule is raised among horses. This could have something to do with a mule's independent streak, while hinnies remain more docile and approachable overall.
Up Next:
More from A-Z Animals
---
The Featured Image
---