South Carolina is known for its charming southern hospitality, delicious cuisine, and lush scenery. However, the state's weather has also made headlines in recent years, with fluctuating temperatures and occasional natural disasters. 
In this article, we'll take a closer look at how this winter compares to South Carolina's warmest winter ever.
South Carolina's Winter of 2022/2023
South Carolina's winter of 2022/2023 was quite an interesting one, indeed! First, the state saw above-average precipitation, reaching up to 150% of normal levels. This largely beneficial precipitation proved to be a boon for winter wheat emergence.
But that's not all. The temperatures during this winter season were also above average from December 2022 to February 2023. The sun's warmth was enjoyed by many, especially in Charleston. The daytime temperatures in Charleston were consistently above average throughout the season. And on February 21, 24, and 28, the temperature climbed to record highs of 83°F, 86°F, and 86°F, respectively.
While there is no statewide information available as of yet, the city of Charleston had an average high of 58°F and an average low of 49°F in December, 63°F and 50°F in January, and 67°F and 56°F in February.
South Carolina's Warmest Winter Ever
While there is no specific data to determine which winter was the warmest ever in South Carolina, the evidence suggests that winters in the state are certainly getting warmer overall. This trend has been ongoing since at least the 1970s. In recent years, we have continued to see above-average temperatures during the winter months.
In fact, 2021 saw winter temperatures in major South Carolina cities averaging 2 to 3 degrees above the 20-year average from 1991 to 2020. The winter of 2021/2022 saw average highs of 67°F and lows of 55°F in December. January and February, though, were colder than this past winter's average highs and lows.
And while winter 2022 started off unusually warm in December, it was even much warmer in January and February, with no snowfall recorded. Overall, this aligns with the pattern of increasingly warm weather that South Carolina has been experiencing in recent years.
Scientists attribute this trend to greenhouse gas emissions that contribute to global warming. As temperatures continue to rise, the impacts on South Carolina's natural environment, including its plant and animal life, could be significant. 
South Carolina's Average Winter Temperatures
South Carolina has a diverse climate, and the average winter temperatures vary depending on the region. Winter temperatures range from average highs ranging from 50 to 60°F to average lows ranging from 32 to 38°F.
The northwestern mountain area, also called the Upstate, has cold and snowy winters that last from December to March. The temperatures range from 26°F at higher elevations to 40°F in the plains. As a result, this region sees more snowfall than other areas, with 2-3 small snow events annually and occasional totals of 8 inches or more.
On the other hand, the Low Country along the Atlantic Coast experiences milder winter temperatures with little to no snowfall. The temperatures in this area range from 40 to 60°F, making it a popular winter destination for those who want to escape the cold elsewhere in the states.
The Midlands region is the most unpredictable part of the state when it comes to snowfall events, with freezing rain being more common than the snow around and southeast of the city of Columbia. 
Animals That Migrate to and From South Carolina
South Carolina's varied ecosystems attract a diverse range of animal species. Many migrate to and from the state seasonally. From the coastal marshes to the Blue Ridge Mountains, these animals play an essential role in the state's ecology.
Loggerhead Sea Turtle
The state reptile of South Carolina, the loggerhead sea turtle, has been considered to be endangered since 1978. It is safeguarded under the Endangered Species Act of 1973.
These turtles have a diet that primarily consists of invertebrates living on the ocean floor, such as horseshoe crabs, mollusks, whelks, and various crabs.
Their top shell, or carapace, is reddish-brown and slightly heart-shaped. On the other hand, the bottom shell, or plastron, tends to have a pale yellowish tint. These turtles' necks and flippers of these turtles are typically a dull brown to reddish brown shade on the top. On the other hand, the sides and bottom usually feature a medium to pale yellow coloring.
Between April and November, loggerhead sea turtles can be observed in the near-shore waters of South Carolina. Additionally, from May to October, they can often be spotted nesting on the beaches. Using satellite tracking technology, it has been found that loggerhead sea turtles embark on an incredible trans-Pacific migration that spans almost 8,000 miles.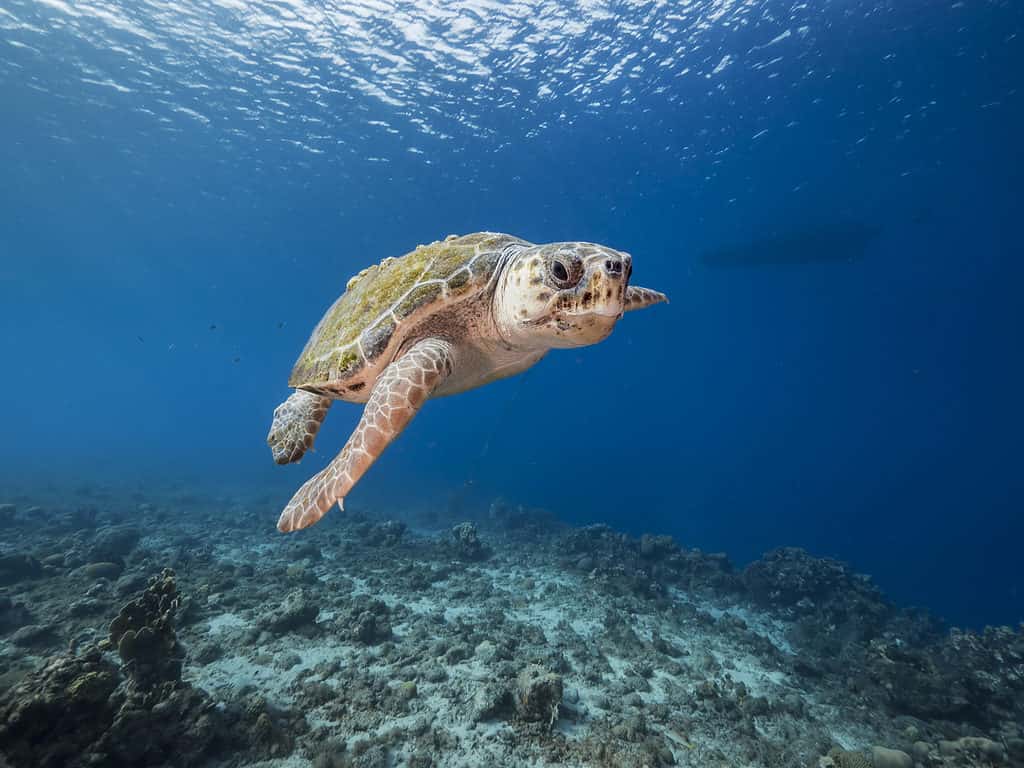 Eastern Brown Pelican
A prominent feature of the eastern brown pelican is its 18-inch long bill and its sizeable throat pouch. The bird's head displays a two-tone appearance with white in the front and dark brown in the back, which extends to the neck and back. Additionally, the white plumage changes into a vivid yellowish-gold color during the breeding season.
The eastern brown pelican primarily feeds on mid-sized fish and some types of invertebrates. For nesting, these birds prefer small and secluded coastal islands that are less accessible to predators, such as raccoons and coyotes. Presently, their nesting is limited to specific areas, including South Carolina, Louisiana, Florida, and North Carolina.
Depending on the weather and prey availability, eastern brown pelicans tend to reside within their breeding range throughout the year. However, certain populations of these birds migrate after the breeding season.
Great Egret
The great egret belongs to the heron family and is recognized for its lanky physique, lengthy legs, and pristine white feathers. Dark legs and feet accentuate its sleek body. In the breeding season, the yellow bill may appear to have a reddish-orange hue. It also grows long plumes of feathers, known as aigrettes, that extend beyond its tail.
Great egrets are versatile when it comes to finding food sources. Although their primary diet consists of fish, they have also been known to consume crustaceans, amphibians, and even small mammals. The natural habitat of the great egret includes various wetlands such as salt and freshwater marshes, tidal flats, and marshy ponds.
Great egrets have a resident to medium-distance migratory pattern. In the winter, they tend to migrate southwards, covering significant distances that may extend to places such as the West Indies or southern Central America.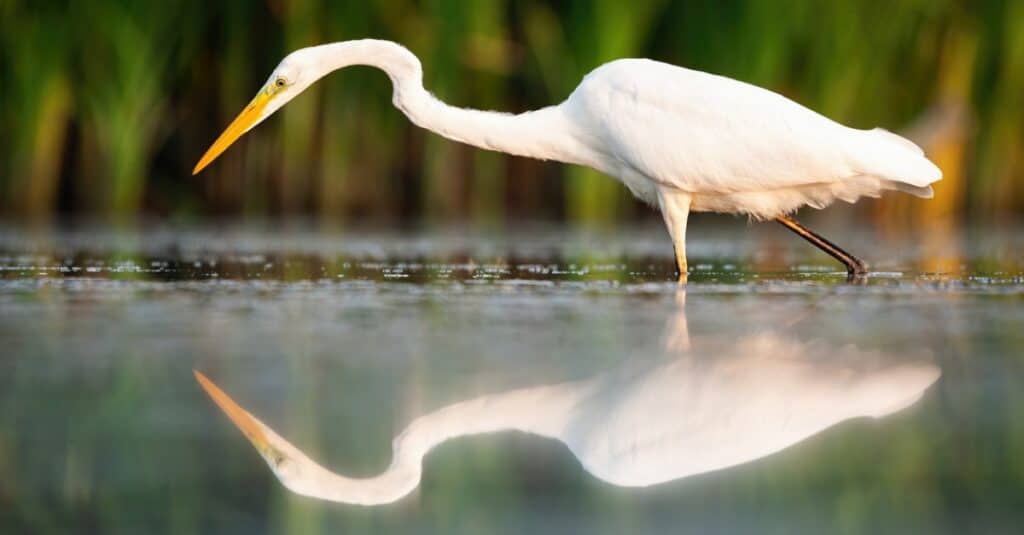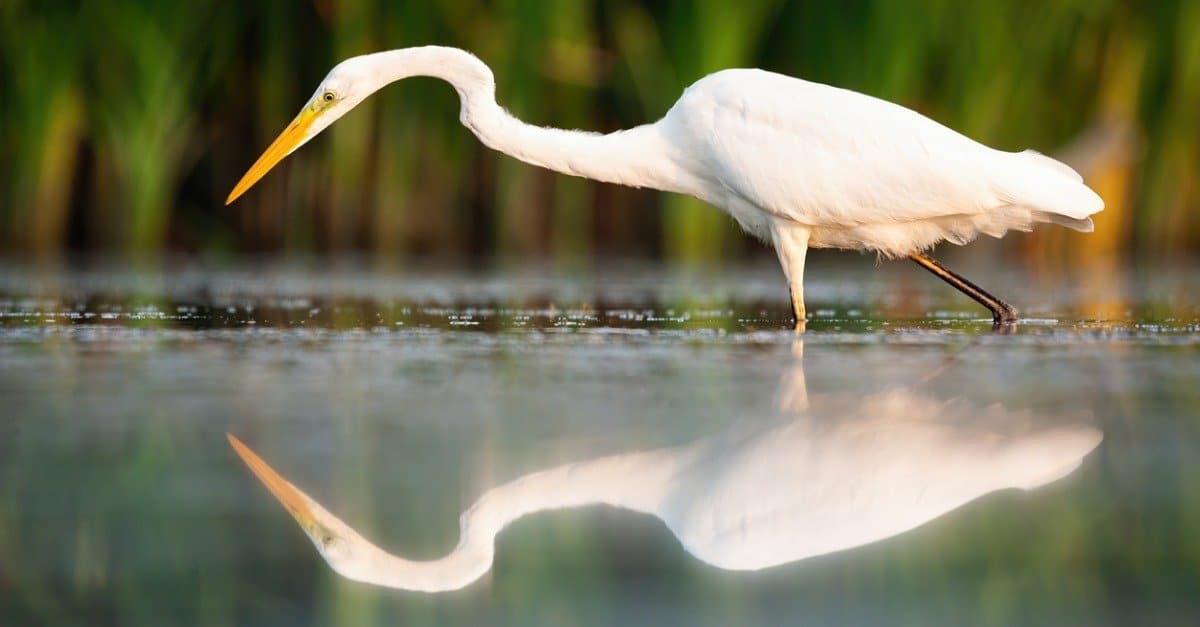 Brewer's Blackbird
Male birds of this species have a striking appearance, with glossy black plumage all over their body. They possess a pair of bright yellow eyes that appear to be staring at you, and a blue sheen can be seen on their head that gradually transitions to a greenish iridescence on their body.
On the other hand, the females have a more plain appearance, with darkest brown feathers on their wings and tail. They also have dark-colored eyes. The juveniles of this bird species resemble the females, but their brown feathers appear washed out and lighter in color.
Brewer's blackbirds primarily consume a diet that consists of insects and seeds, with the occasional intake of berries. Although sightings of these bird species are rare in South Carolina, they can happen during the winter season. These birds are commonly found in fields, prairies, farms, and parks.
During the winter season, Brewer's blackbirds have been observed to migrate toward South Carolina. In addition to this, some populations of this bird species can travel even further distances, as far as southern Mexico.
Up Next:
More from A-Z Animals
---
The Featured Image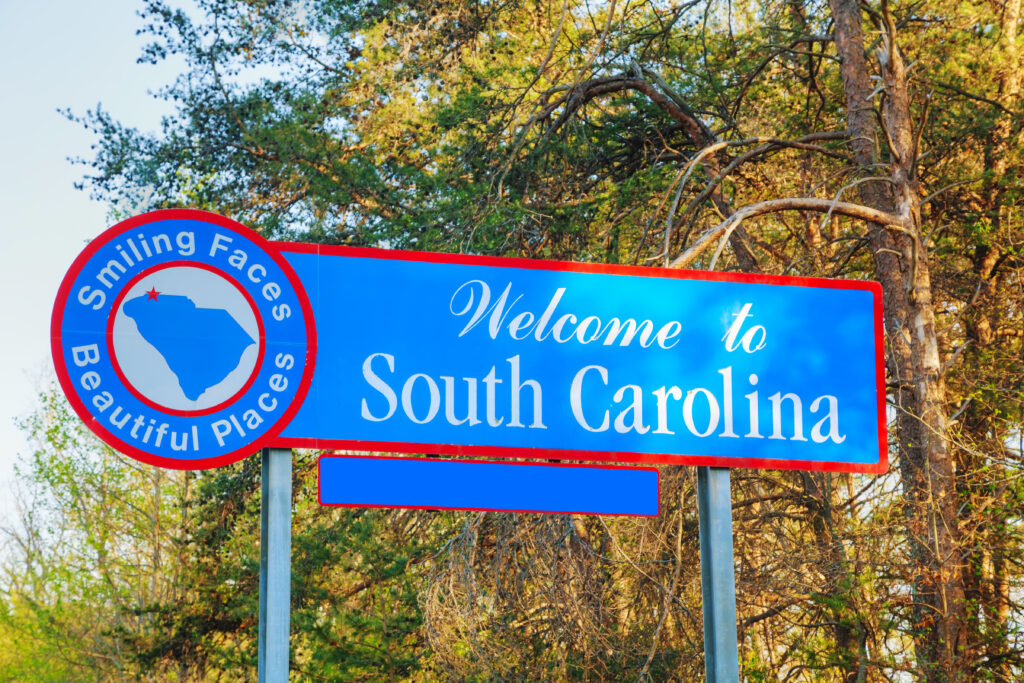 ---