Whether you enjoy eating this leafy green or want to try your hand at growing something new, kale seeds are easy to grow and care for. Known for being cold-hardy, kale is popular in cooler seasons and in a variety of hardiness zones. But can you grow kale from seed, and is it possible to harvest kale seeds from your very own crop, season after season?
You can plant kale seeds in the spring or fall, and even throughout the wintertime, depending on your location. Simply direct-sow your seeds when temperatures are cool, thin your seedlings as they grow, and some varieties are ready for harvest after as little as 30 days! Your kale plants will also turn to seed and die after two years on average, so remember that you can collect seeds at this point in time for next year.
However, this is only a brief overview of how you can grow kale. Read on to check out our step-by-step guide for planting kale seeds in your garden!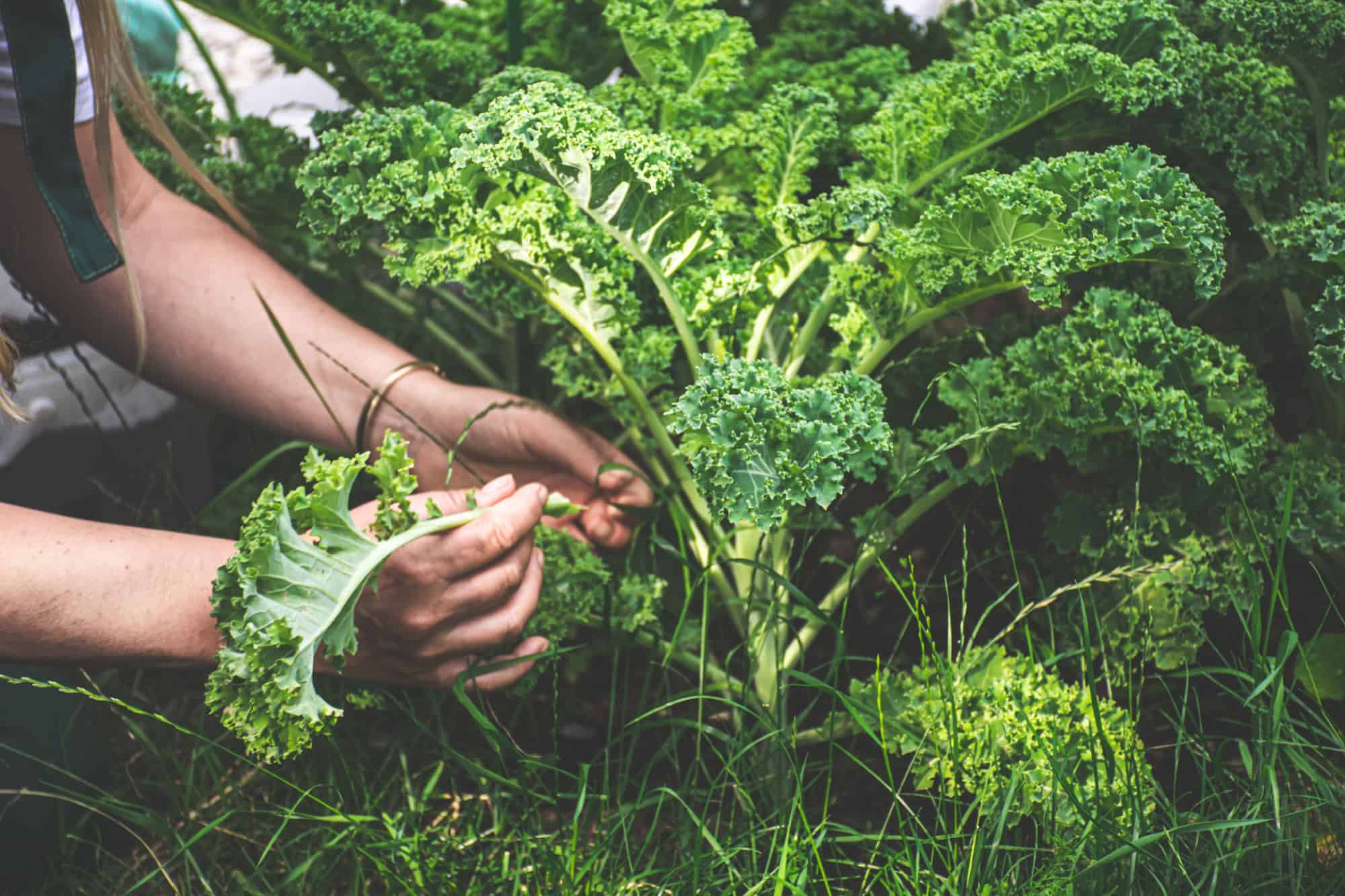 | Kale Seeds | How to Grow |
| --- | --- |
| Hardiness Zones | 7 through 10, with cold weather preferred |
| Number of Kale Varieties | Dozens of cultivars, separated by leaf type |
| Time of Year to Germinate Seeds | Direct sow in late winter or early fall |
| Time of Year to Plant Seedlings | Early spring or mid-fall |
| Things to Note | Kale loves compost and fertilizer! |
Types and Varieties of Kale Seeds
Before you get too excited, you should determine what type of kale you want to grow in your garden. There are a few different varieties of kale, separated by their leaf style and shape. Here are the most popular types of kale leaves, as well as some associated cultivars of interest:
Curly Leaf Kale. The most iconic and popular type of kale has to be curly leaf kale. This variety is likely the one you know and love (or hate!), but there are a few different cultivars you may want to plant. "Blue Scots" kale seeds may bring you the most iconic leaves around, while "Redbor" is a fantastic red-leaved alternative.
Bumpy Leaf Kale. Also known as lacinato or dinosaur kale, bumpy kale gives you a more tender leaf compared to curly kale. "Cavalo Nero" is a great bumpy kale cultivar to try, or you can try "Black Magic". This lacinato kale cultivar is especially cold tolerant and produces beautiful dark leaves, eaten raw or cooked!
Feather Leaf Kale. In between curly and plain kale lies feather leaf kale. These varieties have some ruffling along their edges, but they have a fairly smooth appearance. Some popular cultivars include "Red Russian" and "Scarlet" kale, both of which come in beautiful red hues!
Plain Leaf Kale. Often mistaken for collard greens, plain leaf kale is exactly how it sounds: smooth and simple leafy greens. Check out "Tronchuda Beira" for huge and tender leaves, ideal for soups in the wintertime!
Germinating and Growing Kale Plants from Seed
It's easy to grow kale plants from seed, whether you are a seasoned gardener or not. Here's how you can best grow kale, step-by-step:
Directly sow your seeds at proper temperatures. Hot weather is what kills kale the most, particularly its delicate flavor. For best-tasting leaves, plant your kale seeds outside, roughly 2 months before your final spring frost date or your first fall frost date. Avoid temperatures above 75 degrees Fahrenheit, as kale planted in full sun will struggle.
Add fertilizer or compost to your soil before planting. Kale thrives with added nutrients to its soil, and adding either fertilizer or compost will ensure you the most success!
Space your seeds an inch apart, and only plant up to a half-inch deep. You may need to thin your kale plants as they grow, but properly spacing your plants to begin with should help mitigate this process. As your seedlings grow, thin them to ensure every plant has enough space!
Water often, and make sure to re-up on fertilizer! Kale loves to feed on anything and everything, so make sure your plants are well-watered and given plenty of nutrients for the tastiest leaves.
Harvesting Kale Grown From Seed
Once you have a proper selection of kale growing in your garden, you may be wondering when it's time to harvest your leaves. Here's how and when to harvest your kale, after plenty of chilly temperatures!
Wait until your leaves are at least palm-sized. Choosing smaller leaves too early may affect your plant's growth, and larger leaves taste bitter. Make sure to wait until your kale is a good size for harvesting.
Choose the outer leaves only. These leaves are often the oldest, while the inner leaves of most kale plants remain tender and sweet. Let the inner leaves continue to grow, and harvest the outer ones first!
Add a protective cover if your kale is still growing come wintertime. Frosty conditions only make kale happier and more delicious, so be sure to protect your crops if you want to overwinter them. Leave the centers of all of your kale plants alone, as this section is key for continued production.
Collecting Kale Seeds: Is it Possible?
While the answer may surprise you, kale seeds can be harvested from the plants you grow yourself. However, most kale plants will not go to seed until their second year of growth, but some may go to seed at the end of their first and only viable year. Here's how to harvest kale seeds from your own garden crop!
Wait until your kale bolts or flowers. You can't miss when kale starts to flower. It sends up thin stalks covered in bright yellow blooms, and these flowers transform into delicate seed pods. Wait all summer for this, as it can take time.
Wait as seed pods form. You'll want to make sure your kale seed pods are dry and brown before attempting to harvest them. Just be patient as your kale gets to work!
Cut your kale stalks near the soil. Once your seed pods are dry and old, cut your kale, stalk and all. You can easily harvest your kale seed pods by storing the entire kale stalk in a mesh or fabric bag.
Allow the stalks to dry further. Once cut, you need to ensure that your stalks and seeds are fully dry before storing them. Leave your kale seed pods in a dry location for up to 20 days.
Shake or hit your stored stalks to release seeds. Kale seeds are unmistakably dark and round in color, in direct contrast to their beautiful green pods. By leaving your stalks in a bag, you can release your kale seeds with only the slightest bit of impact!
Up Next
The photo featured at the top of this post is © Photour.1904/Shutterstock.com
---
Sources

Cold stress modifies bioactive compounds of kale cultivars during fall-winter harvests, Available here: https://agro.icm.edu.pl/agro/element/bwmeta1.element.agro-e49626c4-abfe-4c5f-8ce7-f25df9f86dd7
Kale in the Garden, Available here: https://digitalcommons.usu.edu/cgi/viewcontent.cgi?article=1274&context=extension_curall