When it comes to comparing some of the fluffiest possible dog breeds, what are the differences between a keeshond vs samoyed? They are both covered in thick, warm fur- but what other similarities do they have, and what things set them apart from one another? 
In this article, we will endeavor to compare and contrast everything you've ever wanted to know about keeshonds and samoyeds. We will go over their appearances, behaviors, ancestry, and more so that you can get a full understanding of the breed. Let's get started and talk about keeshonds and samoyeds in depth now! 
Comparing Keeshond vs Samoyed
| | Keeshond | Samoyed |
| --- | --- | --- |
| Size | 17-18 inches tall; 35-45 pounds | 21-23 inches tall; 35-65 pounds |
| Appearance | Fluffy, double-coated fur found in dark or silver colorations. Dark and wise eyes with erect, triangular ears. Curled tail remains fluffy and they have a mane around their necks | Only comes in a solid white or cream color; huge and fluffy coat that truly impresses everyone who sees it. Small triangular ears and huge fluffy tail |
| Ancestry | Bred in the 18th century to hunt mice on sailing ships; a companion dog for the common people bred from pomeranians and samoyeds | Bred for hunting and herding reindeer in Siberia; also pulled sleds and capable of running in snowy climates |
| Behavior | Incredibly friendly and open, though still makes an excellent guard dog. Very good with families and children, and easy to train | Alert, friendly, and ideal for families with young children. Often extremely stubborn and difficult to train, and can show destructive tendencies if not exercised adequately |
| Lifespan | 13-15 years | 12-14 years |
Key Differences Between Keeshond vs Samoyed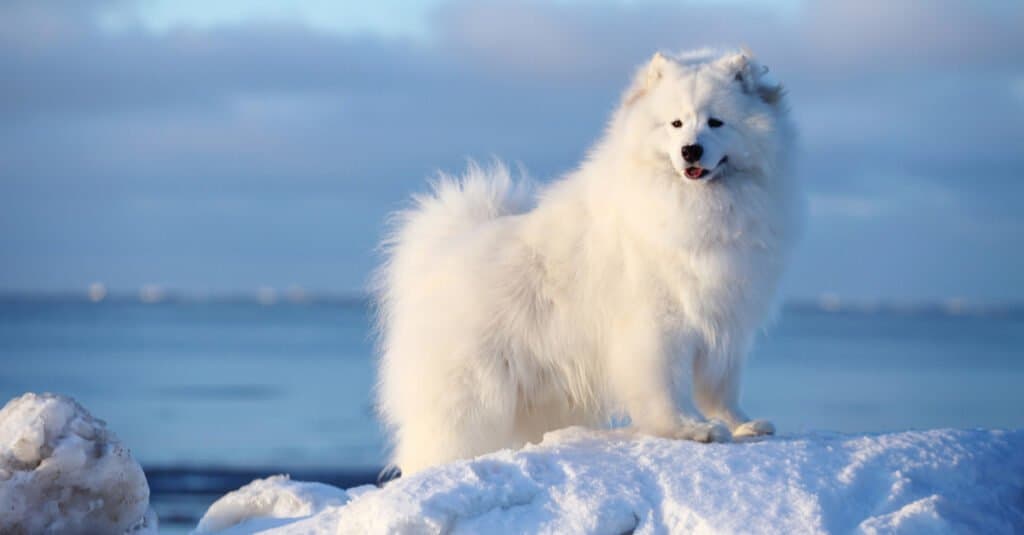 There are many key differences between keeshonds and samoyeds. The samoyed is taller and heavier than the average keeshond, though their weights can overlap. The samoyed is only found in white or cream, while the keeshond is only found in dark or silver colors. Finally, the keeshond was bred to hunt mice, while the samoyed was bred to pull sleds and herd reindeer.
Let's take a closer look at all of these differences now.
Keeshond vs Samoyed: Size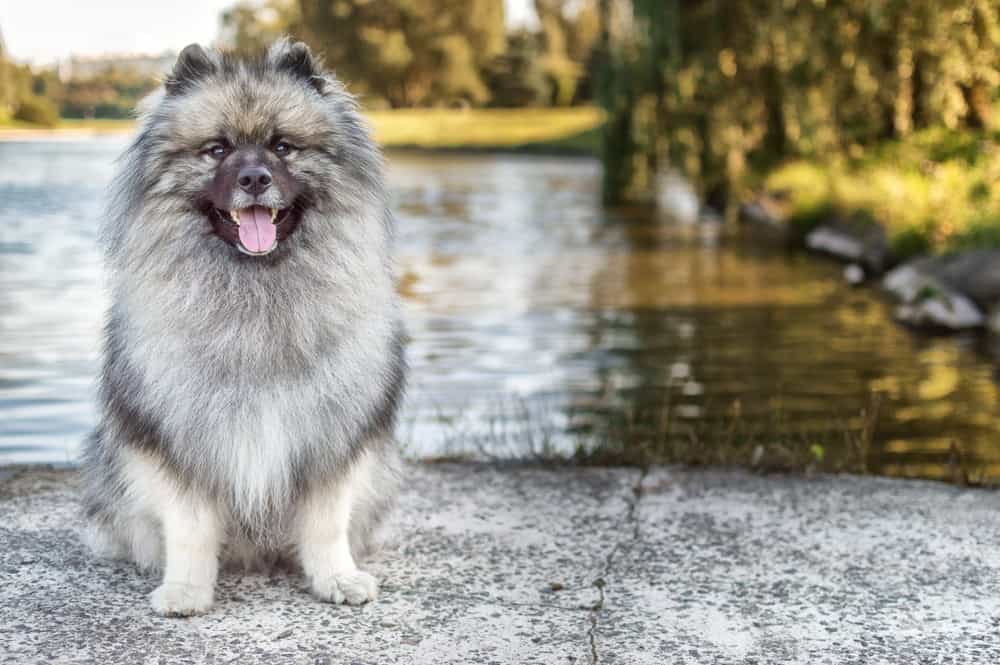 It may be difficult to tell at first glance, but there are some size differences between the keeshond and samoyed. For example, the keeshond is much shorter than the samoyed, but a few inches on average. Additionally, the samoyed weighs more on average than the keeshond. But by how much? Let's take a closer look at these figures now.
The samoyed weighs anywhere from 35-65 pounds, depending on gender, while the keeshond weighs an average of 35-45 pounds. As you can see, the weight differences between these two breeds overlap slightly, but the samoyed is a larger dog than the keeshond overall.
Keeshond vs Samoyed: Appearance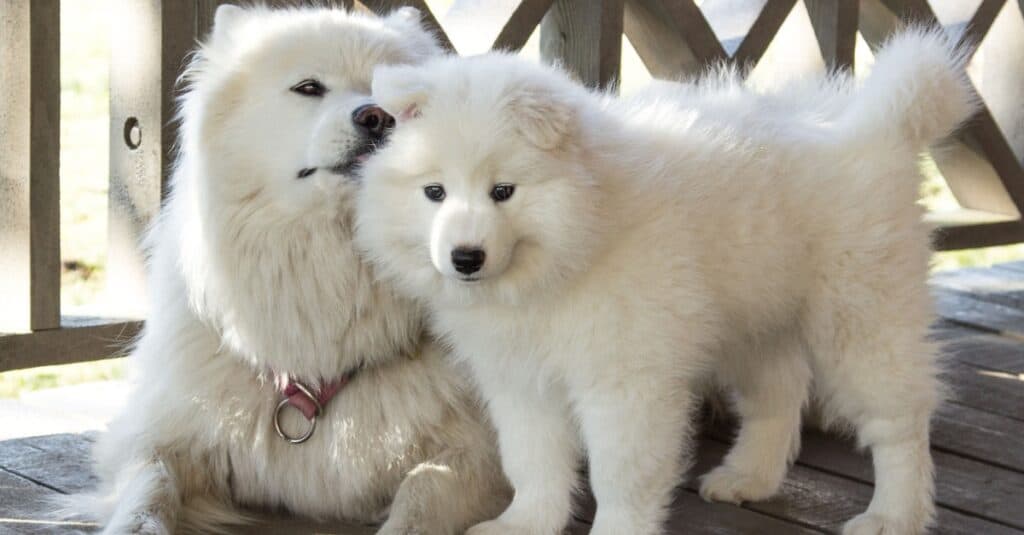 The appearances of the keeshond and the samoyed are similar in many ways, save one: their fur colors. Both dog breeds have thick and fluffy coats that help them survive in winter climates, but the samoyed only comes in white or light fur colorations, while the keeshond only comes in dark or silver colorations.
Given their thick and fluffy coats, both of these dog breeds need consistent grooming and brushing to keep their appearances up. The keeshond and the samoyed are both high maintenance breeds for this reason, but their coats are simply too stunning to ignore!
Keeshond vs Samoyed: Ancestry and Breeding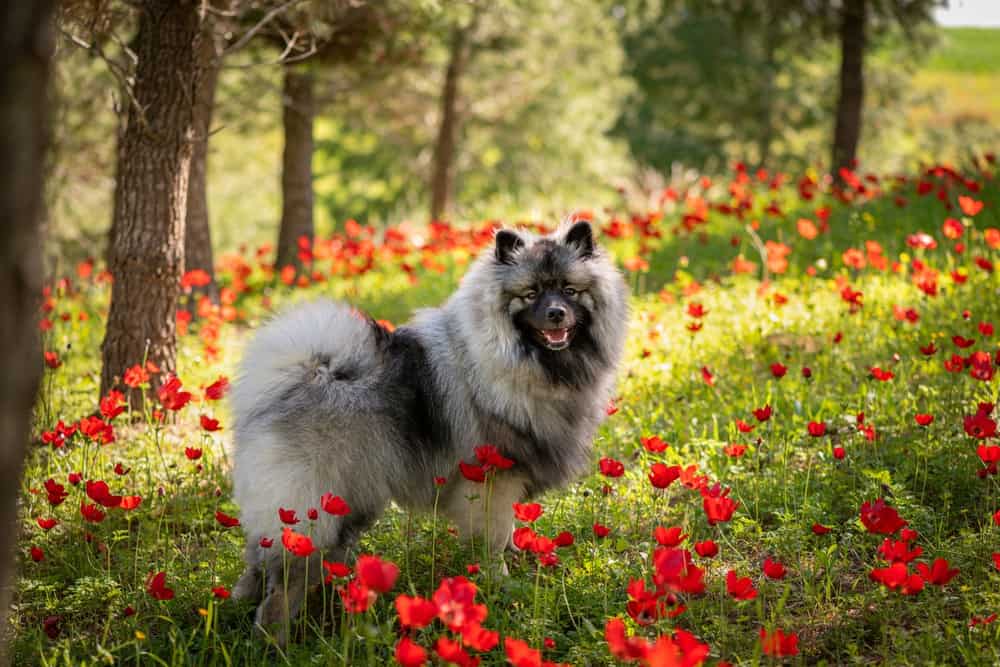 The keeshond and the samoyed were bred for very different reasons, and have differences in their ancestry. For example, the keeshond is a descendant of a samoyed and a pomeranian, while the samoyed is its own distinct breed. They were also originally bred for very different tasks- let's take a closer look at that now.
The keeshond was bred for hunting mice on sailing vessels, while the samoyed was bred for hunting and herding reindeer. Additionally, the samoyed was prized for its sled pulling abilities in cold climates, while the keeshond remained a companion animal when it wasn't hunting mice. The samoyed is also an older dog breed compared to the keeshond.
Keeshond vs Samoyed: Behavior
Both the keeshond and the samoyed are fantastic companion animals for families with young children. These dog breeds are alert, relatively friendly, and eager to please. However, the samoyed exhibits more stubbornness during training compared to the extremely easy going keeshond. Given the background of both of these dogs, they need to be exercised frequently so that they don't suffer from separation anxiety and nervous behaviors.
Keeshond vs Samoyed: Lifespan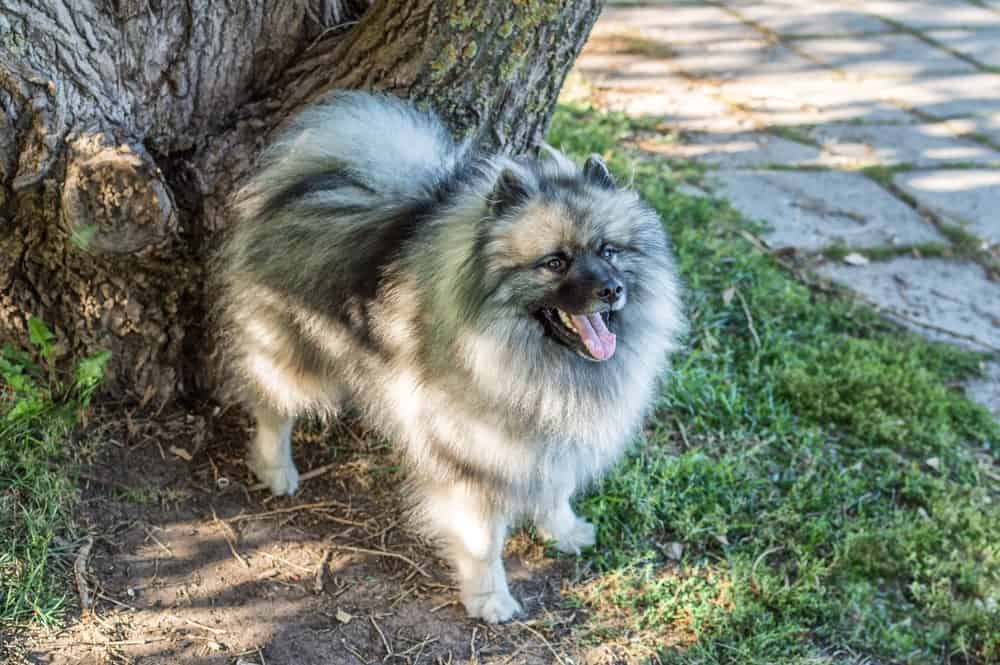 A final difference between the keeshond and the samoyed is their lifespans. The keeshond lives slightly longer than the samoyed on average, and this is likely due to their smaller size. While it is unclear why, smaller dogs live longer than larger dogs– but how much longer does the keeshond live compared to the samoyed?
While it depends on the individual dog, the samoyed lives anywhere from 12-14 years on average, while the keeshond lives 13-15 years on average. However, both of these dogs require ample exercise and proper nutrition in order to live long and happy lives, so keep this in mind if you plan on adopting either of these two dog breeds into your home!
Ready to discover the top 10 cutest dog breeds in the entire world?
How about the fastest dogs, the largest dogs and those that are -- quite frankly -- just the kindest dogs on the planet? Each day, AZ Animals sends out lists just like this to our thousands of email subscribers. And the best part? It's FREE. Join today by entering your email below.